Spider-Man: No Way Home Trailer Dropped - The Loop
Play Sound

Quotes

•

Headscratchers

•

Playing With

•

Useful Notes

•

Analysis

•

Image Links

•

Haiku

•

Laconic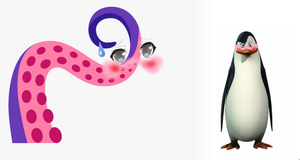 Naughty Tentacles. We know what they are. We know their intentions. We know that they never wait before leaping on a poor victim, ripping their clothes off and violating every possible hole.
Except when this trope happens.
Maybe the tentacles were ordered not to do anything without permission. Maybe the tentacles want to make sure that the victim enjoys it too. Maybe it's a case of Mars Needs Women (or men) and the tentacles explain the situation to the victim. Whatever the case, it's clear the tentacles will not lay a cell on their victim without the victim's consent. Often, the victim gives their consent and it happens anyway.
A form of Interspecies Romance. May result in Did You Just Romance Cthulhu? or (if it's Played For Laughs) Do You Want to Copulate?