Quotes

•

Headscratchers

•

Playing With

•

Useful Notes

•

Analysis

•

Image Links •

Haiku

• Laconic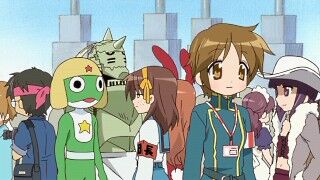 Cosplay is a Portmanteau of the words "costume play". It refers to the fan hobby of making costumes of their favorite characters from anime, TV, movies, comics, videogames, etc. and wearing them at fan gatherings. At anime conventions cosplay is one of the most popular events.
And to some people, it is Serious Business. Don't even think about trying to get them to wear the Official Cosplay Gear. They will often wear a Sexy Whatever Outfit though.
If it's a character getting cosplayers in the same universe, the actual character might get told Your Costume Needs Work. This can even happen to celebrities in Real Life.
See also Cosplay Fan Art, Cosplay Otaku Girl (characters in works being cosplayers), Whole Costume Reference, LARP.
Examples of Cosplay include:
In episode 16 of Bodacious Space Pirates, pirate captain Marika has members of the Girl's Yacht Club help out on her ship, the Bentenmaru, while the regular crew is stuck in quarantine due to a virus they got in an earlier episode. When they raid a ship, the girls all show up in various cosplay costumes. Marika chuckles nervously throughout the entire "raid", but the guests on the ship don't seem to mind the costumes overall.
Cosplay Complex is all about this.
As in the picture, Lucky Star has this at both a convention and the Haruhi Theme Cafe.

Let's not forget the Ed and Roy cosplayers that show up at one point.

Miyashita Masashi from Onii-chan to Issho (official English title: Me & My Brothers) occasionally cosplays as high school girls, and is in general a Wholesome Crossdresser. As a romance novelist, he does this in order to be more one with the female mind and thus use this as an incentive to write better stories.
In Genshiken this is Ohno's hobby, while Tanaka's is costume designer for Cosplay. She often wears his creations for the club and to conventions. In Genshiken 2 they finally officially start dating, thus creating the dream Otaku couple.
In Genesis of Aquarion there is an episode called "Cosplay for the Soul" where Fudou has all the Element Users dress and act as each other to great (and hilarious) effect.

Honestly, this Troper was expecting Aquarion itself to cosplay as a different giant robot from another anime/manga during some point.

Persona 4: The Animation has Nanako doing a cosplay so convincing that she fools some kids into thinking she's the real Loveline (an in-universe, fictional, magical girl detective).
Comics
Spider Jerusalem at one point raids a religious convention while cosplaying as Jesus.
Fan Fiction
Live Action TV
In one Freaks and Geeks episode, three of the guys dress up for a science fiction convention.
In season five of Supernatural Sam and Dean meet people cosplaying as them. They're understandably creeped out by it.

And that's before they find out that the Sam and Dean cosplayers they interacted with throughout the episode are a couple.