Wiki Targeted (Entertainment)
Play Sound

YMMV •

Radar

•

Quotes

• (

Funny •

Heartwarming •
Awesome) •

Fridge •

Characters •

Fanfic Recs •

Nightmare Fuel •
Shout Out

•

Plot

•

Tear Jerker •

Headscratchers •
Trivia • WMG •

Recap

•

Ho Yay

•

Image Links

•

Memes •

Haiku

•

Laconic

•
Source

•

Setting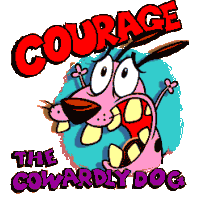 Narrator: We interrupt this program to bring you...Courage the Cowardly Dog Show, starring Courage, the cowardly dog! Abandoned as a pup, he was found by Muriel, who lives in the middle of Nowhere with her husband, Eustace Bagge! But creepy stuff happens in Nowhere. It's up to Courage to save his new home!
Eustace: Stupid dog! You made me look bad! (pulls out mask) OOGA BOOGA BOOGA!
From the mind of animator John R. Dilworth came this Cartoon Network original series, spun off from Dilworth's animated short "The Chicken From Outer Space".
The title character, the high-strung and inexplicably pink canine Courage, is the beloved pet of Eustace and Muriel Bagge, an elderly couple who live on a dusty old farm in the middle of Nowhere (literally; they live in Nowhere, Kansas). Well, he's the beloved pet of the sweet-hearted Muriel, anyway; the mean and crotchety Eustace thinks he's just a "stupid dog", and torments Courage whenever he thinks he can get away with it (and even when he knows he can't).
In every episode, Courage and his family find themselves caught up in some form of supernatural weirdness, and Courage has to steel his frazzled nerves and save his owners from it. A refreshing change of pace from many cartoons of the day was that Courage seldom used force; more often, he relied on his wits (and a bit of kindness now and then) to deal with aliens, ghosts, monsters, the military, science gone wrong, or whatever sort of freaky happenings life threw at him.
As a rather interesting note, this is one of the very few cartoons that aired in the 1990s-early 2000s that Cartoon Network still reruns on a fairly frequent basis.
Tropes used in Courage the Cowardly Dog include:
Courage: Computer. How do you get rid of bad eggplants?
Computer: Throw them in the garbage. You twit.
| | | |
| --- | --- | --- |
| | It's Doc Gerbil's World, It's Doc Gerbil's World, It's Doc Gerbil's World, It's Doc Gerbil's World... | |
Eustace: Did you break that door?!
Courage: Ooooh, forget the DOOR!!
In the episode "Ball of Revenge", Eustace assembles a number of villains in his basement. Muriel upon seeing them asks what they're doing here Eustace responds:
Eustace: Err...it's a men's club.
Muriel: Oh, all right then. [sees the Lady From the Puddle] OH! This is one of those naughty men's clubs!
"That Dam Beaver".
There were hints that Courage was viewing an adult website in "Hard Drive Courage".
"Freaky Fred". Just watch for yourself.Hard to believe that they got away with that.

Gonk: It would be considerably easier to list the characters that are not one of these in this show.

Mondo's true form and the Ulcer are particularly extreme villainous examples from the show.

Good Is Dumb: Every single other good guy is a complete idiot in the series, to the point where they even ignore neon signs pointing at the villain.
Good Is Not Nice: Shirley and the Computer.
G-Rated Drug: Water, used in "Journey to the Center of Nowhere".
Grumpy Old Man: Eustace Bagge.
Gypsy Curse: Shirley puts them on people who are rude to her. Though since she's actually not a mean person, she normally leaves a loophole to escape or undoes the curse if she feels they learned their lesson.
Hammerspace:

How, exactly, Courage managed to fit anchors and full-grown whales into pockets that he didn't even have is inexplicable and simultaneously hilarious.
Where does Eustace pull the gigantic fright mask from when he scares Courage?

Headless Horseman: Headless Horsemen appear in "Windmill Vandals".
Hell Hotel: The Katz Motel.
Heroic BSOD: When Courage is having his flashback in 'Remembrance of Courage Past' he just...sits there. He doesn't even twitch when Eustace brings out the 'Ooga Booga Booga' mask.

Courage has other moments too, including an occasion where his eyes turn to snow and static is heard.

Heroic Dog: Courage, of course.
Herr Doktor: Dr. Zalost is very-heavily implied to be one of these.
Hey, It's That Voice!: Ringo Starr is the Duck Brothers. No, really. (He didn't sing the Halftime Show, though.)
Hoist by His Own Petard:

Fusilli the magician is turned into a marionette after mistaking Courage for a phantom and falls onto the stage.
The Flan King gets this twice in a row at the end of the episode.
This is Courage's preferred method of dealing with villains, rather directly or indirectly, but Big Bayou is one of the greatest, as not only was he beaten by his a spell from his own spell book, he was defeated by his own shed skins he'd had stuffed animated in part with his own venom. And to top it all off, he was so vain that he couldn't bring himself to attack his likeness. He was hoisted by at least three or four of his own petards.
The evil vet from "Remembrance Of Courage Past" also is hoisted by several of his own petards. Not only does the dog he emotionally tramatized for life ultimately defeat him, he does so using his own rocket. He is then further hoisted when the dogs he's been launching into space see him and decide to take their revenge on him.
The Evil Weevil accidentally attaches his blood sucker to himself and then sucks himself dry.

Horny Devils/Our Mermaids Are Different: The Queen of the Black Puddle is cross between a succubus, a siren, and a Deep One.
Hypocritical Humor: Eustace always refers to Courage as a "stupid dog" even though he himself isn't aware of the dangers that goes around in Nowhere, and Courage is the one who usually has to save him and Muriel.

The aftermath of saying "no" to Flantasy Flan:
Eustace: What happened to you, woman?! You look like a house!
Muriel: Well! Look who calls the kettle black!
Follow up: Courage fixes everyone's Flantasy Flan addiction, except his.
| | | |
| --- | --- | --- |
| | Courage: Well, it's showbiz! | |
Oh, and then there's Di Lung's habit of getting in other people's ways and then yelling "WATCH WHERE YOU'RE GOING, YA FOOL" at said people...

Impossible Shadow Puppets: Courage sometimes does this; one episode even has a Living Shadow that "projects" itself to scare him.
Inherently Funny Words: "Fool", or as Di Lung prefers to say, "foo".
Intercontinuity Crossover: In one Halloween event in-between commercials, the Scooby Gang stopped at the cottage when their car broke down; leaving them with nothing to do but tell ghost stories.
Invisible Main Character: "Invisible Muriel".
It Makes Sense in Context: A majority of the plot devices fall under this. Most memorably, an episode which took place in an old west setting had Courage, who took the role as sheriff, bribe the military to send in a stealth bomber to drop a piano on a zombified outlaw.
Jerkass: Eustace (to a lesser extent) Courage's computer, Eustace's mom and brother, and Di Lung (the Chinese Punk Kid), whose catchphrase was "Watch where you're going, you fool!"
Jerkass Has a Point: While Di Lung's "watch where you're going, ya FOOL" catchphrase is usually extremely hypocritical, his reason for yelling it in Food Of The Dragon is because said episode's titular dragon stepped on his car while he was buying groceries. Still, he still shouldn't have moved to Nowhere in the first place.
Jerk with a Heart of Gold: Eustace sometimes fits this trope but just in rare cases - see "The Curse of Shirley" where at the end he gives his hat to the "kid version" of him in order to protect him from the rain.
Kangaroo Pouch Ride: In the kangaroo monster episode.
Karmic Death: The evil vet from "Remembrance Of Courage Past" is sent into space with his own rocket like he did to a huge number of dogs (including Courage's parents). For further karma, he finds himself surrounded by the dogs he launched into space who proceed to take their revenge on him. Additional karma is the fact the very dog he orphaned was the one who did this to him.
Keep Circulating the Tapes: Despite reruns popping up on Cartoon Network and Boomerang every now and again, the show was largely relegated to the modern-day equivalent of tape-trading - YouTube - until 2010, when the first season of the show was confirmed for a DVD release.

You can buy the entire series on iTunes.

The pilot, The Chicken From Outer Space, partly plays this straight and partly averts it. It's not on the Season 1 DVD, but Jon R Dilworth sells it through his online store.

Kindhearted Simpleton: Muriel especially stands out as one of these.
Lame Comeback: The Hunchback Of Nowhere countering Eustace's insults about him with "you are bald" in The Hunchback Of Nowhere; needless to say, however, that still doesn't stop Eustace from getting angry about it.

Also, Eustace countering Di Lung's "watch where you're going, ya FOOL" catchphrase with a rather-laughably weak imitation of said catchphrase after Di Lung bumps into him and then blames said collision on him in Courage In The Big Stinkin' City. At least he was pointing out Di Lung's hypocrisy, we suppose...

Lantern Jaw of Justice: It is basically a running gag for every single member of Eustace's family (not counting Muriel and Courage) to have one of these, including Eustace himself.
Laser-Guided Karma: Eustace is the victim of this in nearly every episode.

A large number of villains suffer this as well.

Leitmotif: The Hell Is That Noise that follows Katz's arrival.

Almost every character in the show has one. Muriel has soft piano music. Eustace has banjo and fiddle music. Le Quack's is french. Dr. Vindaloo's is Indian. Shirley's sounds gypsy. Cajun Fox has cajun music.
On occasion rather loud accordion music can be heard from Muriel's radio.

The Load: Eustace's stubbornness and greed alongside Muriel's innocent yet ignorant behavior turns them into this at times. Though on occasion they help Courage more actively.
Losing Your Head: "Windmill Vandals".
Lottery Ticket: "Lequack TV".
Loud of War: In "King Ramses' Curse", one of the plagues Ramses unleashes on Courage and his owners is obnoxious disco music ("King Raaamses! The man in gauze, the man in gauze!").
Lovable Coward: Subverted by Courage, who is really astonishingly brave for a coward.

Hence the name. 'Cowardly' because he's always scared, 'Courage' because he always pushes through it.

Magical Database: The Computer.
Magic Librarian: And scary, too, in "The Pixie and the Prickle Pirate".
Mama Bear: If Eustace is harassing Courage (or if it at least looks that way), Muriel is quick to bash him over the head with a rolling pin. With a One-Woman Wail.

In a few episodes, she has also expanded this to the Monster of the Week. For example, when she came upon Katz strangling Courage in "Katz Motel", she smashed a tennis racket over his head and saved Courage without a second thought.

Mass Hypnosis: ...Buy Flantasy Flan... Buy Flantasy Flan...
The Mean Brit: The Computer. You twit.
Meaningful Name: Eustace Bagge could be interpreted as 'Useless Baggage' which is what he is during most adventures.

While we're at it, Muriel Bagge could be interpreted as "merry old bag", since she's a perpetually optimistic old lady. And as for Courage's name, the fact that despite his cowardice he routinely risks his life for those he loves is extremely courageous (should go without saying). In fact, Muriel named him Courage because he showed courage (as seen in "A Remembrance of Courage Past").
Zalost means "mourning" or "sadness" in Slavic. He's on par with Itoshiki "Despair" Nozomu.

Monster of the Week: Quite literally.
Mood Whiplash: Masterfully. Depending on the episode, it switches from Tear Jerker or Nightmare Fuel to Funny in the blink of an eye. For example, there's the "Last of the Starmakers" for the former, where Courage saves the last batch of space squid babies, interspersed with moments of useless henchman and rollerskating millitary generals. For the latter, there is "King Ramses' Curse", generally regarded as one of the scariest episodes around, with a priceless jingle in the middle - "The man in gauze, the man in gauze, King Ramses!", and the man himself saying "Come onnnnnn" in the same tone as ever.
Morally-Ambiguous Doctorate: Vindaloo's inability (or unwillingness) to cure anything relevant to the plot (though to his credit he does give some advice about it). His academic title is pretty suggestive too: "Dr. Vindaloo, quack". And speaking of this...

The evil vet who orphaned Courage and sent a huge number of dogs into space For Science!.

Morally-Ambiguous Ducktorate: LeQuack, the duck brothers, Goose God, and of course "The Precious, Wonderful, Adorable, Loveable Duckling".
The Morlocks: Conway from Conway the Contaminationist, due to how much his lifestyle and his age have degraded his physical condition.
| | | |
| --- | --- | --- |
| | Courage: *long howl* Man, I gotta stop that. | |
Eustace: Would you look at that?
Muriel: It's a floating head!
Eustace: I was talking about that leaky pipe. *points to leaky pipe right next to the giant floating head* Gotta fix that leak.
Muriel: But my dear, we all must face reality.
Kitty: Really? Like how you sneak extra sweets when no one is looking!?
Muriel: (Gasps in horror and shame).
The General: That carrot ain't worth a dime! I disarmed it! I cut the green wire!
The Lieutenant: (audibly shudders)
The General: Uhh...the blue wire? Red?
The Lieutenant: Not likely...
---
The database in tatters, a lone figures approaches.
"You have not seen the last ... of LeQuack!"
Iris out, but Courage holds it open.
"I said it twice, and I'll say it again, the stuff on this page still shouldn't happen to a dog!"
Iris out (for real) and closes on Courage's nose
"Owch!"