YMMV •

Radar

•

Quotes • (
Funny •

Heartwarming •

Awesome

) •
Fridge

•

Characters •

Fanfic Recs

•

Nightmare Fuel •
Shout Out

•

Plot

•

Tear Jerker

•
Headscratchers •
Trivia • WMG •

Recap

•
Ho Yay

•
Image Links

•

Memes

•

Haiku •

Laconic

•
Source

•

Setting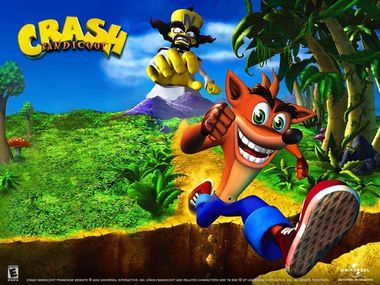 | | | |
| --- | --- | --- |
| | "Oh, how I hate bandicoots." | |

Crash Bandicoot is a video game series once seen as Sony's unofficial mascot and its answer to Mario and Sonic the Hedgehog. The games star the eponymous Crash Bandicoot, a genetically enhanced marsupial and failed experiment on behalf of Dr. N. Cortex, resident Mad Scientist and world conqueror, and more often than not the two wind up butting heads against one another, either for Crash to thwart Cortex's evil plans or just racing go-karts against one another. The games are mostly platform or action/adventure.
The series is famed for its humorous cartoony tone (losing a life often forms an amusing slapstick death for Crash and nearly all levels (and even some of the characters) have ridiculously Punny Names, for example); an element that was exaggerated more and more as the series went on, with later games featuring an overwelming amount of pop-culture based non sequitur humor spaced throughout gameplay chit-chat.
List of games:
Crash Bandicoot

(1996):: In an effort to create a bunch of anthropomorphic, hyper-intelligent animals to serve as an army to lead them to world domination, Dr. Neo Cortex and Dr. Nitrus Brio create the Evolv-O-Ray, a device that can mutate any animal into a super-strong, hyper-intelligent warrior, and the Cortex Vortex, a brain manipulation device that can make anyone and anything a blind follower of Cortex's orders. One of their first experiments with the Evolv-O-Ray is Crash, a bandicoot snatched from the local island wilderness and chosen to serve as the leader of Cortex's army. However, the Cortex Vortex fails on Crash, and he is discarded as a failed specimen while Cortex and Brio prepare to experiment on Crash's love interest, Tawna. The next day, Crash washes up on the shores of N. Sanity Beach and vows to defeat Cortex and rescue Tawna from his fortress, with the help of a native mask spirit named Aku Aku who wants Crash to take down Cortex so he'll stop polluting the islands.

Crash Bandicoot 2: Cortex Strikes Back

(1997): One year after the original game, Cortex turns to Crash for help in an effort to prevent the planet Earth from facing certain doom. All the planets in the solar system will align soon, and, according to Cortex, create enough energy to tear the world apart. His solution to the crisis lies in crystals: In the aftermath of the original game he discovered the Master Crystal, but that alone will not be enough - he needs Crash to collect 25 Slave Crystals so he can contain the energy of the planetary alignment and save Earth.

He's bluffing. He's actually going to use the crystals to power a massive Cortex Vortex and turn everyone on Earth into one of his brainless slaves.

Crash Bandicoot 3: Warped

(1998): In the aftermath of Crash 2, an evil elemental mask named Uka Uka is freed from his underground prison, and is revealed to have been the true mastermind behind Neo Cortex's schemes. Seeing as Crash had already collected all the crystals and gems on Earth at the end of Crash 2 and the planet is left without a proper power source for Cortex to use for his next scheme, Uka Uka decides to recruit a scientist by the name of N. Tropy to create the Time Twister, a time machine which Cortex and Uka Uka can use to retrieve the crystals from past and future eras. With the help of Uka Uka's counterpart, Aku Aku, Crash and Coco Bandicoot race to the Time Twister to collect the crystals again before Cortex and Uka Uka get a chance to do so.
Crash Team Racing (1999): The cast of the previous three games decide to organize a go-karting championship for no apparent reason, until an invading alien named Nitros Oxide arrives, claiming to be the greatest racer in the galaxy and inviting the people of Earth to bring forth their fastest racer to compete against him in a race. Should Oxide win the race, however, he threatens to turn the planet into an intergalactic parking lot and make slaves of all its natives, so the logical thing to do is to organize a championship to see who gets the honor of racing against Oxide and saving Earth once again.
Crash Bash (2000): The Great Uka Uka decides that it's time to settle his conflict with Aku Aku once and for all, but Aku Aku informs him that they can't fight directly as it is forbidden by the ancients, so he instead suggests that they hold a contest to determine the resolution. Uka Uka relents, and they summon Crash and Cortex to choose their partners. However, Cortex chooses too many players (Koala Kong, Dingodile, N. Brio, Tiny Tiger, and newcomer Rilla Roo), while Crash only has Coco by his side. Aku Aku forces Cortex to relinquish Tiny and Dingodile to the good side to make both sides even, and the contest finally starts.
Crash Bandicoot: The Wrath of Cortex (2001): Intending to make up for his past failures, Cortex creates a secret weapon to destroy Crash—a bandicoot named Crunch. To give Crunch the power he needs to accomplish this, Cortex frees the Elementals, a group of masks with destructive powers over earth, water, fire, and air. Meanwhile, Crash and his friends become aware of the natural disasters occurring due to the Elementals, and use Coco's new Portal Chamber to once again collect crystals in order to seal away the Elementals again and stop Crunch and Cortex at all costs. This was the first game to make a leap to a next-gen console, developed by Traveler's Tales' Knutsford division and originally released on the PlayStation 2 and later ported to the Xbox and Game Cube.
Crash Bandicoot: The Huge Adventure (XS in Europe, 2002): Cortex develops the Planetary Minimizer and uses it to shrink the earth. Crash learns of this and sets off to retrieve yet more crystals so that Coco can reverse the effects. This is the first game developed by Vicarious Visions. This is also the first Crash game developed for a handheld console (the Game Boy Advance). The selection of Video Game Settings makes this game a bit of a portable version of Crash 2, with a bit of Crash 3 thrown in.
Crash Bandicoot 2: N-Tranced (2003): After the previous game ended with Cortex trapped in his destroyed space station and lost in space, Uka Uka decides to make N. Tropy into his right-hand man in his place. N. Tropy's first act under Uka Uka's employ is to look into the future, and sees a vision of himself surrounded by Crash, Coco, and Crunch. He interprets this as the bandicoots joining their side, so he brings out a new recruit named N. Trance, with the intent on making the bandicoots Brainwashed and Crazy. They proceed to pull the bandicoots into their dimensional hideout, but Aku Aku interferes when they attempt to take Crash, and the villains unknowingly end up taking Fake Crash. Crash must now travel between dimensions, gathering crystals, freeing his friends and Fake Crash from the hypnotism, and stopping N. Tropy and N. Trance from doing any further harm. The second portable game. This one ends with Uka Uka witnessing his failure yet again and deciding to forgo all dragons and take on Crash himself. This plot thread is Left Hanging. Similarly to The Huge Adventure, the selection of Video Game Settings makes this game a bit of a portable version of Crash 3, with a bit of Crash 2 thrown in.
Crash Nitro Kart (2003): One day, Crash and his friends are going about their day when they are suddenly abducted by a UFO. Around the same time, Cortex is working on yet another plot to destroy Crash when he gets abducted as well. Crash and Cortex find themselves in a galactic racing circuit, where the ruler of the galaxy, Emperor Velo XXVII, forces them to race for his people's entertainment until they can go free, or let the Earth be destroyed. With no other choice, Crash and Cortex agree to participate in the races. The second racing game and the first console Crash game developed by Vicarious Visions, Nitro Kart was to Crash Team Racing what Wrath of Cortex was to Crash 3.

Crash Bandicoot Purple: Ripto's Rampage

(Crash Fusion in Europe, 2004): Cortex and Ripto agree to destroy Crash and Spyro the Dragon together using genetically altered Riptocs to trick them into fighting each other. This plan works for a while, but during their fight, Crash and Spyro realize what's really going on and team up to save their worlds from Cortex and Ripto. This game is a Crossover with the Spyro the Dragon franchise by Vicarious Visions. Shares a story with

Spyro Orange: The Cortex Conspiracy

. (Spyro Fusion in Europe)
Crash Twinsanity (2004): Cortex lures Crash into a trap in yet another attempt do destroy the bandicoot, but they are interrupted by the arrival of strange evil twin parrots from another dimension who want to destroy the world and seem to have some sort of grudge against Cortex. Crash and Cortex have no choice but to team up and stop the twins from wreaking havoc. Developed by Traveller's Tales' Oxford division.
Crash Tag Team Racing (2005): A popular autoracing theme park with a high casualty rate has its Power Gems stolen, and its founder, Ebeneezer Von Clutch, recruits Crash and Cortex to help find them and bring them back before the park is shut down, with Von Clutch himself going down with it, as his life depends on one of his gems. Whoever finds all the Power Gems first gets to be the new owner of Von Clutch's MotorWorld. This is the third racing game in the franchise, and the first Crash game to be developed by Radical Entertainment. The game was an attempt at combining everything the Crash games had ever been, including platforming sections and minigames in between the racing. On top of that, several changes went afoot - Crunch suddenly transformed into an Affectionate Parody of Mr. T for no apparent reason, Cortex started showing himself to be even more of a woobie than in Twinsanity, and above all, Crash finally gained a voice (Albeit talking entirely in gibberish).
Crash Boom Bang! (2006): A Tasmanian devil called the Viscount is searching for the fabled Super Big Power Crystal as it has the power to grant wishes, but as his quest is ending in failure, he decides to con unsuspecting people into helping him, so he sends them invitations to the "World Cannonball Race". Of course, Crash and Cortex are among those who are invited. The Viscount sends the contestants to find and give him four stone tablets (so the location of the crystal can be revealed), but Cortex ruins everything by attempting to steal the map and ends up tearing it apart. This makes the Viscount confess the truth of the situation to everyone, so they are willing to help him find the Crystal in turn for a great sum of money. This is the second party game to be released, and is developed by Dimps, being the first game to be developed by a Japanese company.
Crash of the Titans (2007): Cortex has been stealing mojo from the Temple of Zoom to create an army of Titans and is constructing a Humongous Mecha called the Doominator. He even goes as far as to capture Coco. However, Uka Uka decides to fire Cortex and appoint Nina in his place. She immediately takes over her uncle's operations and brainwashes Coco to work on the Doominator. Crash must stop Nina by "jacking" the various Titans they've created and using their powers to progress through the level. The first Crash game developed for seventh-generation consoles (Wii and Xbox 360, as well as the PS2, being the Daddy System it is) and the first main game developed by Radical Entertainment, it was most notable for the introduction of a major character redesign to the entire cast and a horde of Powerup Mounts in the eponymous Titans.
Crash: Mind Over Mutant (2008): Cortex and N. Brio reunite to develop a personal digital assistant called the NV in order to control the now-dormant Titans and bandicoots. Crunch and Coco become affected, but Crash does not, once again leaving it up to him to save the day.
Crash Bandicoot Nitro Kart 3D (2008): A racing mobile game published by Activision. Cortex teams up with Oxide and they stage a racing tournament to challenge the protagonists, where the losing team is banished from N. Sanity Island. Later got a sequel titled Crash Bandicoot Nitro Kart 2 which is essentially the original improved in pretty much every area.
Crash Bandicoot Mutant Island (2009): In a mashup of Titans and Mind's plots, Crash must stop Cortex when he creates a giant robot and begins distributing mind-controlling headsets to the inhabitants of the island. The game goes back to the days of old school side-scrolling platformers, with Crash running, climbing, jumping, and swinging throughout his journey. In contrast to the two games mentioned Titans are the game's bosses, where there are only 3 of them and in order to defeat them you must first climb them to tame them (by tickling them, no less) and once you've tamed them they shrink down to a more affordable size and you can summon them at any time.
Crash Nitro Kart 2 (2010): A Java-based mobile phone racing game that is a successor to Crash Nitro Kart In Name Only, bringing back some familiar faces and adding a new one (a panda named Yaya).
Crash Bandicoot N. Sane Trilogy (2017): After a seven-year hiatus (excluding his appearance in Skylanders: Imaginators the year before), Crash Bandicoot finally made a comeback with the remake of the first three Crash Bandicoot games on the PlayStation 4 (and the Xbox One, Nintendo Switch and PC the following year).
Crash Team Racing Nitro-Fueled (2019): A remake of Crash Team Racing, with content from later Crash racing games as well as some new content.
Crash Bandicoot: On the Run (2020): An endless runner style mobile game where Crash has to defeat various villains summoned by Dr. Neo Cortex from all over the multiverse.
Crash Bandicoot 4: It's About Time (2020): The eighth main series game (released twelve years after Mind Over Mutant, the previous main series game) but chronologically fourth, set directly after the events of Warped. Dr. Neo Cortex causes a rip in space-time by escaping the prison in which he was imprisoned at the end of the third game.
The following tropes are common to many or all entries in the Crash Bandicoot franchise.
For tropes specific to individual installments, visit their respective work pages.
| | | |
| --- | --- | --- |
| | Park Drone: Again, you come back to haunt me?! Like some kind of haunting thing?! Haunting... and coming back?! | |
Actually seems to be a favored trope with the newer Radical games, a large amount of random gameplay quotes not devoted to cultural parody humor usually have the characters go blank and irregularly mangle their sentence, outtake style. even Big Bads like Cortex and Uka Uka drift into this on occasion though Coco is perhaps the biggest culprit...and stuff.

Butt Monkey: Poor, poor Cortex.

Almost as bad as poor N Gin, or poor Crunch, or poor Crash, heck, nearly every character has undergone some horrible amount of Amusing Injuries in the franchise.

Card-Carrying Villain: Most of the main villains as of Crash Bash.
Cat and Mouse Boss: Crunch with Py-Ro in Crash Bandicoot: The Wrath of Cortex. Crash must run away from Crunch for a while, and soon finds a FLUDD-like waterpack, reversing the scenario.
Chased by Angry Natives: This happens to Crash near the end of the "Totem Hokum" level in Crash Twinsanity.
Chekhov's Gun:

Coco's transpalooper (aka "the purple thingy")

in Titans.
Chivalrous Pervert: Pasadena O'Possum of Crash Tag Team Racing may count as a female version, constantly flirting with the title character, the returned gesture varies from having somewhat mutual attractions to feeling physically sick.
Chuck Cunningham Syndrome: Tawna, Crash's girlfriend from the first game, was pretty much removed from the series from the second game and onward, after her intended character design was Bowdlerized from the original concept due to Executive Meddling. The designers lost interest in her and came up with a flimsy excuse for her absence (she dumped Crash for Pinstripe Potoroo of all characters). Her sole return appearance so far was in Crash Boom Bang, the lowest rated game in the series.

Jason Rubin (the co-creator of the Crash Bandicoot series) revealed that shortly after the original Crash was released, Lara Croft (ironically) took the gaming world by storm, causing the marketing director of Universal Interactive Studios (the one responsible for the meddling in the first place) to leave.

Cool and Unusual Punishment: In Mind over Mutant, Cortex starts

milking Uka Uka

for Bad Mojo to use to

control mutants

. Cortex has

Grimlies feed Uka Uka cake

while he's strapped to the machine so that he's horribly traumatized by the experience and unable to even

touch cake again

. And for good measure, they feed him a dirty piece.
Crate Expectations: Crash Bandicoot not only sees levels filled with crates, but destroying all of them in all levels are required to reach the full 100% Completion. In fact, crashing through crates is one of the series' defining gameplay elements, as well as the origin of the protagonist's name.
Creative Closing Credits / Credits Gag: Starting with Crash Tag Team Racing, the ending credits feature commentaries from assorted characters, often saying something amusing about the games' staff members. In CTTR, this was omitted from the PAL release of the game, for some reason, but the PAL versions of both Titans and Mind Over Mutant feature it. In CTTR, the commentary is provided entirely by Cortex and N. Gin, but later games feature some of the other characters, too (although less prominently).
Creepy Twins: Crash Twinsanity
Cute and Psycho: Ripper Roo after the first game.
Daddy's Little Villain: Nina Cortex.
Dark Action Girl: Nina again.
Death Course: The Crash Bandicoot games are mostly a combination of the various types of Death Courses, with most of the pitfalls included.
Death Trap: Cortex lampshades their general ineffectiveness.
| | | |
| --- | --- | --- |
| | Dr. Cortex (while lecturing the Grimlies on killing Crash quickly): And no death traps that take ten flipping hours. | |
| | | |
| --- | --- | --- |
| | Cortex: Three years I spent alone in the frozen Antarctic wastes! And I missed you! And so, I've organized a little gathering; like a birthday party, except... the exact opposite. | |
| | | |
| --- | --- | --- |
| | "How long have you had that in your pants?" | |
Half the stuff Cortex says in that game, period. A notable example for how sheerly audacious it is, particularly given that he's talking to Coco specifically.
Not to mention the cutscene in Twinsanity where Crash and Cortex go through the Moulin Cortex: "Are those real??".
| | | |
| --- | --- | --- |
| | Cortex: (in the same building) "Mother?!" | |
| | | |
| --- | --- | --- |
| | Coco: Your... hair is dumb! | |
| | | |
| --- | --- | --- |
| | Dr Cortex: Finally after all these years of abuse, who's the little guy now? | |
| | | |
| --- | --- | --- |
| | N. Gin: "Not my throat! I need that for swallowing!" | |
Shameless Self Promotion: One of the text hints in Tag Team Racing is this for Radical Entertainment, thought not spelling the promoted product outright so as to avoid getting sued by FOX, it being a Licensed Game:
| | | |
| --- | --- | --- |
| | "Have you played Hit & Run? Man, that was a great game." | |
Shark Tunnel: The Racing Game spinoffs Crash Team Racing and Crash Nitro Kart each include a Shark Tunnel as an underwater track, "Roo's Tubes" and "Deep Sea Driving", respectively.
Shorter Means Smarter: Played or subverted, Depending on the Artist, Crash and Coco interchange between being the shortest of the team. The not-too-bright Crunch is consistantly taller than either of them however. Played more consistantly straight with the villains, with the vertically challenged Cortex being much smarter than large henchmen like Tiny.
Shout-Out: Especially in the later games, there are many references - both visual and aural (some of which are homages or outright pastiches) - to movies and other aspects of popular culture. Crash of the Titans contains several, including Planet of the Apes, Lord of the Rings, Brokeback Mountain, Star Wars, Invader Zim, Braveheart, Gremlins, Lost in Space, Star Trek, Pop Idol/American Idol, The Matrix, the World of Warcraft meme Leeroy Jenkins, Mortal Kombat, Super Mario, Sonic the Hedgehog, Myspace and many others. Hell, its title itself is one.
Sibling Yin-Yang: Crash and Coco.

Aku Aku and Uka Uka much?

Slapstick Knows No Gender: While no one surpasses Crash or Cortex in this form of cruelty, the female cast often suffer a fair amount of Amusing Injuries. In her playable appearances Coco even suffers numerous comical demises for losing a life similar to her brother.
Slippy-Slidey Ice World: The Iceberg Lab in Crash Twinsanity, the Ratcicle Kingdom in Crash: Mind over Mutant.

Crash 2 seems to take place during winter, as snow is a common feature on the islands. Notably, quite a few snow levels have a gorgeous sunset coloration.

Small Taxonomy Pools: Being set in Australia, this was bound to averted.
Smelly Skunk: The Stenches. A aversion of this is the skunks in the first game and Twinsanity.
Speech Impediment: Doctor Nitrus Brio used to have one in the early Crash Bandicoot series, but was removed later on.
Sssssnaketalk: Komodo Joe in Crash Team Racing.
Stealth-Based Mission: In "Crash Twinsanity", there are a few brief sections where you have to periodically hide from a watchman down the path until you get close enough to spin attack them.
Stock Scream: The Howie Scream is heard in the first two games.
Stop Helping Me!: Kinda stretching it, but in the climax of Crash Bandicoot 3, Aku Aku holds Uka Uka off while you take on Cortex. Only problem? Aku Aku helps form half the danger of the fight thanks to friendly fire.
Suddenly Voiced: At the end of Titans, Crash utters his first proper word:

"Pancakes!"

. Crash appears to be just as stunned as Coco and Crunch at this development.
Tactical Suicide Boss: Oh, Cortex... Why do you bother shooting at Crash with green lasers that can be spun back at you, when you could simply have continued with the red and blue ones that couldn't? Also, lowering your energy shield at the same time you blow open a hole in the floor with mines is just asking for it, really...
Take Me Instead!: Cortex does this in Crash Twinsanity to save Nina from Crash's evil doppelganger.
Take That: Ads for Crash Bandicoot on the original PlayStation had a guy dressed as Crash show up at Nintendo headquarters with a megaphone to taunt "Plumber-Boy". "You're hurting my elbow!"
Temple of Doom: A large number of levels in the franchise.

Temporary Platforms

: Especially the first game.
Teen Genius: Coco Bandicoot.
That Poor Cat: Used in Mind Over Mutant - apparently cats don't like having empty bottles that once contained mutagen thrown at them.
This Cannot Be!: Uka Uka does this in the real ending of Crash Bandicoot 3: Warped.
Throwing Your Sword Always Works: The second Boss Battle in Crash Bandicoot 2: Cortex Strikes Back sees you facing the Komodo Brothers, Joe and Moe. They are shown to have been training by throwing swords towards one another, before they see that Crash has arrived. Once the fight is started, Joe is spun at Crash, while Moe tosses his magically respawning blades at him.
Toilet Humour: Cortex's unfortunate little "stuck in a pipe" incident in Twinsanity, and, of course, the Stenches' little... "gas problem".
Took a Level in Badass: Coco in Warped and The Wrath of Cortex.

N. Brio in Mind Over Mutant.

Took a Level In Dumbass: Just about every character that wasn't already dimwitted. Tiny and Crash may count as subversions actually.
Took a Level in Jerkass: Coco compared to her more innocent persona in earlier games is a much more snarky and apathetic brat in the Radical titles. Crash also became a sadistic prankster in

Crash Tag Team Racing

though this was toned down in later titles.
Tomorrowland: The future levels in Crash Bandicoot: Warped.
Trailers Always Spoil: The trailer for Crash of the Titans reveals that

Cortex is replaced by Nina

.)
Trick Boss: N. Gin in Crash Bandicoot 3: Warped starts in a robot not too different from the one he used in the game before (he even tells the player he'd "made a few modifications" to the old robot he used in Crash 2), which uses similar attacks to the old one. Needless to say, it goes down after you shoot the same areas, only for it to flee, and dock with a much larger spacecraft, complete with tougher weaponry and a new life bar.
Unexpected Shmup Level: The battle against Doctor N. Gin in Crash Bandicoot 3: Warped was basically a rail shooter.
The Unfought: In Crash Bandicoot 3: Warped, Uka Uka is introduced as the man behind the man, an extremely powerful mask that was sealed away for thousands of years. You never really fight him, all he does is act as an obstacle during the final boss battle. This isn't so bad (a mask is kind of hard to make into a full boss), but it gets really annoying in Crash Bandicoot: The Wrath of Cortex where there was a perfect opportunity to fight him. In that game, every boss is Crunch absorbing the powers of an elemental mask. There are four elemental masks, five bosses, you'd expect the final boss to be the recurring boss using Uka Uka's power, right? Nope. Instead, he just uses the other four masks at once, and Uka Uka does absolutely nothing during the fight except pull Cortex back to safety after you attack him.

Uka Uka does have boss fights in Crash: Twinsanity and Crash of the Titans, though he is not the final boss in either of these games.

The Unintelligible: Crash, of course, varies between this and Heroic Mime, but another example would be the Architect from the Ratcicle Kingdom in Mind Over Mutant. He has a female translator to relay what he's really saying to Crash, however, it is possible to make out random words thrown into his unintelligible dialogue.

Averted in Japanese localizations (considerably the first, where he says "LET'S GO!" (in Japanese, obviously) should only you start the level) and, for the first time ever in non-Japanese continuity, Crash of the Titans. In Crash Tag Team Racing though the pivot of Crash using this trope, it is possible to make out coherant words and even whole sentences out of his incoherant babble at times.

Victory Pose: The Crash Dance.
Vocal Evolution: Debi Derryberry's take on Coco was initially rather high pitched and feminine. Throughout the titles her voice eventually became deeper pitched and more obnoxious sounding, a tone much akin to one of Derryberry's other roles.

Lex Lang also used a near perfect replicant of Clancy Brown's soft spoken deep voice for Dr. Cortex in Crash Twinsanity. In the Radical titles Lang exagerrated Cortex's tone to be louder, higher pitched and upped his campness to eleven. Radical liked the take and actually evolved the character itself accordingly.

The Voiceless: Coco in Warped, despite being a half-time playable protagonist, plays this straight, no matter if she had Vicky Winters voicing her in the second installment or not.

And, again, Japanese version adds a couple of grunts to her. Because, actually, it did almost the same for Crash.

Wasted Song: Papu Papu's boss theme from the original Crash Bandicoot is surprisingly good, but considering the boss is ridiculously easy to beat (even by this series' standards) few players ever heard very much of it.
Where Are They Now? Epilogue: The first game, as well as the racing spin-off Crash Team Racing did these, with humorous intent. Interestingly though, one of the bosses, Ripper Roo, is stated as studying and becoming an academic, and in the next game you find him in a gigantic library, and you disrupt his studies. (Un)fortunately Doctor Nitrus Brio didn't stick to his bartending.
Women Are Wiser: Coco, albeit less and less as the series continues.
Wrench Wench: Coco.
X-Ray Sparks: Happens to Crash starting in the second game when he gets electrocuted. His boxer shorts also become visible.