Jurassic World: Dominion Dominates Fandom Wikis - The Loop
Play Sound

YMMV •

Radar

•

Quotes

• (
Funny •

Heartwarming •

Awesome) •
Fridge

•

Characters •

Fanfic Recs

•

Nightmare Fuel

•
Shout Out

•

Plot •

Tear Jerker

•
Headscratchers •
Trivia

• WMG •

Recap

•
Ho Yay •
Image Links

•

Memes

•

Haiku

•

Laconic

•
Source

•

Setting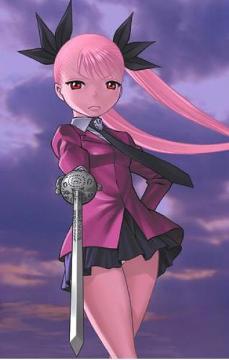 Out of the blue, Japan finds itself host to a new "mini-nation" inside of the Bund, an artificial island off the coast. Mina Tepes, heiress of the Tepes Dynasty of Vampires, announces to the world that Vampires exist, she has paid off Japan's national debt, and that they are choosing to live in peace inside the Bund from now on.
The story is told from the point of view of Akira Kaburagi, Werewolf and Mina's chosen guardian. Giving up a life as an ordinary high school student when Mina decides to out the entire vampire population, Akira has his work cut out for him, as Mina has pissed off just about everyone with her announcement—the humans want to wipe the Bund off the face of the Earth, rival vampire clans want to wipe the Bund off the earth, and even members of her own family want her for their own reasons.
An animated adaptation was released in 2010 (trailer here, NSFW) by Studio Shaft. Yes, we do mean that Studio Shaft. God help us. The animated adaptation was later licensed and released, uncensored, by FUNimation in the US; Similarly, the manga has seen a fairly faithful release by Seven Seas Entertainment in the west. There is also a side story spin off, Dive into the Vampire Bund, which likewise was released by Seven Seas Entertainment.
Now has a Character Page.
---
Tropes used in Dance in the Vampire Bund include:
| | | |
| --- | --- | --- |
| | "I just wanted... to spend some time feeling like a normal child. To feel like a normal girl, just for a little while... with him." | |
Idiot Hair: Nelly's appears to react to turn-ons such as Nanami who, being a huge breasted, glasses-wearing Student Council president, is a 'triple threat'.
Idiosyncratic Episode Naming: Every episode title is taken from a horror movie, giving us titles like "Howling", "Teen Wolf" and "Interview with the Vampire".
Immortal Immaturity: Mina treats this trope like a yo-yo, going from pensive matron contemplating how she may be robbing her teenaged knight of his happiness to a bouncing teeny-bopper brainstorming with her friend over a Boys Love story literally in a matter of moments.
Indirect Kiss: Akira and

Mei Ren

, in Episode 10,

via a piece of hard candy... which is shot from one mouth into another

.

Subverted:

The candy turned out to have been laced with a drug that inhibited Akira's ability to transform into a werewolf. This causes much hassle for him, especially after Mei Ren's true nature is revealed in Episode 12.

Interspecies Romance:

Played straight - Mina is a vampire, Akira is a werewolf, both are in love, but there's a social stigma. Thank the devil that Mina is in charge of everything.

Reinforced in the anime

Mina and Akira make a promise to each other that is tantamount to a marriage vow.

And then there's Yuki – literally the first scene of the manga (that doesn't read like a storybook) is of her confessing her feelings to Akira. She never does get completely over those feelings, either.

Lap Pillow - Yuki provides this for Mina in vol. 4 after the chastity test.
Legal Jailbait - Mina is now the hottest contender to dethrone Evangeline A.K Macdowell as the Queen/Goddess of this trope.

This show is probably the only one to ever justify this trope as we learn that

Mina actually has an adult form and she keeps her child form to prevent her from a pregnancy that would otherwise be forced on her by one of three vampire counts - all more or less creepy old men with no redeeming values whatsoever

.

Les Yay:

Part of Hysterica's treatment of Nanami; also heavily implied to be part of her relationship with Vera in olden times.
Mina and Yuki, once they've settled their differences, have these sorts of moments all the time. Mina has explicitly stated that Yuki is her most precious person after Akira, flirts with her, and even cops the occasional feel. For her part, Yuki has a tendency to turn a lovely shade of red at all of the above, and has more than once commented on how beautiful Mina's true form is. Yuki may have lost her shot at getting Akira all to herself, but if she plays her cards right...

And as if the Yuki/Mina Les Yay wasn't obvious enough already, they have apparently started bathing together at Yuki's apartment, meaning the two of them were willing to inconvenience Mina's entire bodyguard unit and risk an international incident so they could have a sleepover with just the two of them. Wow.

Lotus Eater Machine: Mina goes through one in vol 6. While in a life-threatening coma, she dreams she and all the other characters are ordinary people, her mother is still alive, there are no supernatural beings, and everyone is happy. She forces herself to wake up, right before she (as a grown-up) marries Akira.
Luminescent Blush: We get quite a few of these in the lighter moments. Yuki is especially prone to this, with Mina nearly as often. Doesn't exactly help that Nozomu Tamaki's drawing style makes her look absoultely adorable. Even Akira isn't immune.
Manchurian Agent:

The Mole in Mina's palace is revealed in volume seven to be one of these. She's just a random maid, infected with a nanomachine that causes her to believe that any order she receives comes from Mina.
Nanami becomes one in vol. 9, nearly destroying the Bund before Mina forces Yuzuru to kill her. His anger over this is the fuel behind his apparent Face Heel Turn.

Manipulative Bastard: Almost every vampire. Mina is queen bitch of this trope, however. For example, she

kidnaps and infects a 5-year-old with vampirism just to blackmail a politician, only to cure him when the politician surrenders.

That's nothing. Try maneuvering the biggest opponent of the Earth Clan among her followers into giving up any hope of taking over her personal security... and executing the entirety of his own forces within the Bund afterwards as a precautionary measure.

The real Mina

is even worse, and in a purely malicious fashion.

Marshmallow Hell:

Yuzuru-chan

gets a good dose of it in Episode 10 of the anime.
Mars Needs Women: The Vampire race is Mars, Mina is the woman in question, and her potential suitors are the most disgusting things on this planet.
Mayfly-December Romance: If Duke Ivanovic is any indication, Mina will actually grow old eventually, and Akira's regeneration will probably extend his lifespan some decades beyond the human norm, but we are still looking at life expectancies differing by an order of magnitude here.
Meaningful Name:

Akira, pledged to serve the Princess of Vampires from birth, has a name meaning "Daybreak" (which, for vampires, would connote something along the lines of Horrible Burning Death). Make of it what you will.
And then there's his little brother Yuuhi ("evening sun"). It seems ol' Wolfgang really does have a sense of humor, after all...

Also possibly a stealth Shout-Out: Akela, the leader of the wolf pack in Rudyard Kipling's The Jungle Book, becomes "Akira" when spoken through Japanese phonetics. (The name also means "single, solitary" in Hindi, which rather accurately fits Akira's personality as well, after

Graham's death

.)

Meido: Mina's ladies-in-waiting.

Nanami joins them.

Mercy Kill:

Akira is forced to do this to one of his former childhood friends when said friend (already brain-damaged and incurably insane) ends up pumped full of what amounts to Werewolf-grade PCP and is sent to assassinate Mina.

Mook Horror Show: Chapters 1 & 2.
Ms. Fanservice: Vera or Mina.
Murder the Hypotenuse:

Angie tries. He almost succeeds.

My Master, Right or Wrong: Gerhard, Rozenmann's werewolf retainer. He knows Rozenmann is wholly unworthy of his loyalty, but he's still the master Gerhard's sworn to, even if Gerhard has to stoop to dishonorable tactics.
The Necrocracy: Type II, more or less.
New Transfer Student: Mina. No, she does not seem to regard having secretly founded the school and commissioned the construction of the campus to her specifications as causing a conflict of interest.
No One Could Survive That: Played straight with

Sanin (skull crushed and thrown off a cliff)

, much to Akira's eventual regret. Beowulf learn their lesson, and when they cannot find the body of Angie (throat ripped out and toppled off a skyscraper) they promptly warn Mina of his probable survival.
Not Safe for Work: When your boss looks over your shoulder at what you're reading and sees a naked twelve-year-old girl, do you really think he'll let you explain how deep and engaging the plot is?
Older Than They Look:

Many vampires, but notably Mina, who appeared to be six or seven when she met Akira as an infant. He is now sixteen, and she appears to be around twelve of thirteen.
Anna, one of the Fangless kids in the Volume 5, looks four. She's explicitly said by Jiji to be the oldest of the three, and actually goes to high school, eventually ending in Mina and Akira's class.

Omake: Each volume features one or more, in Yonkoma format. They generally revolve around Mina's maids, and are quite funny...until the plot takes a serious turn for the worse, in which the humor becomes mixed with drama.
Ordinary High School Student: Subverted. Akira's really a werewolf, and

several students become vampires

.
Our Vampires Are Different: They really aren't. However, some vampires remove their fangs and become "Fangless", and are hated by just about everyone. Well, except for the whole "attending a Catholic School (with nuns, no less) thing". Looks like someone doesn't have an issue with crosses.

Vampirism in this story is transmitted simply through feeding rather than a blood exchange. The change takes 48 hours to become permanent, and can be stopped with a vaccine. Not to mention that the vampires don't HAVE to have blood to survive (Fangless, etc.) There is also a synthetic substitute for blood called (conveniently) Stigma.

Vampires also don't HAVE to be the merciless predators as shown in other places as well. The Fangless children get along perfectly well with humans, for example—as does any vampire with a ideal to hold onto (Mina herself, Nanami, Vera, etc). Only those without a strong belief become hedonistic animals (ordinary humans themselves become the same way - see Caligula for examples).

Parental Abandonment: A short scene when Yuzuru find Nanami's parents moving away after their daughter was turned.

Yuzuru's mother had already pretty much abandoned him, which brought him and Nanami together. This woman would make a lizard proud.

Pietà Plagiarism: Wolfgang with Akira in the end of volume 5. Subverted in that Akira was only wounded and recovered completely, thanks to inspector Hama's help.

Pinky Promise

/ The Promise: Akira and Mina make one at the end of the anime.

Problem is, it's tantamount to a vow of marriage; Akira asks as his wish from the Princess that she be with him always; she agrees and says that "their lives will be entwined until one of us dies"

Poor Communication Kills: A great deal of trauma and violence could have been avoided if Mina had just sat down with Akira and explained in detail that yes, she was taking measures to protect the students and no, she was not really going to let the corrupt minister's five year old grandson be turned into a vampire.

This was not a unique occurence. Some of the biggest strains on Mina's and Akira's relationship are caused by one of them either hiding something from the other for their own good or putting their foot in their mouth.
In vol. 11,

the Mina doppelganger

reveals to

Yuki

that the confrontation between Mina and Akira hurt Mina more than anyone could imagine, and that

she intends to use the emotional damage to play on Akira's loyalties.

Public Secret Message: Mina makes a public announcement, speaking in an ancient language as a challenge to another vampire, but with fake subtitles in Japanese.
Rape as Drama: This shows up a few times, although mostly as subtext:

The vampire attack in the church has heavy rape undertones (lots of ripped clothes, bites in...delicate areas, and Mina telling Yuki that the victims are going through specialized counseling after their rescue and vaccination).
The virginity test, although it's not truly "rape" given the circumstances.

Angie

gets raped in ch. 41.

Ivanovic

does his best to assualt Mina in vol. 9, and tries again in vol. 10 after

assimilating his shapeshifing assassin. Of course, by this point the Telomere leader has replaced Mina.

Real Place Allusion

: One of the Bund's underground levels was precisely made with appearance of Tokyo, but vampire safe lights to simulate sunlight.

It was made for those that are homesick.

Really Seven Hundred Years Old: Mina is the poster child, though it's debatable (she could be as young as her nineties). She still looks twelve, though.
Right Behind Me: Akira,

right behind Mina as she and Yuki plot out the next step in the creative process in Yuki's Boys Love story at the end of Chapter 33.

Hilarity Ensues.
Right in Front of Me: The chairperson of the student council stormed into the office of the school's director to demand an explanation for the admission of a New Transfer Student without informing them, only to find said student (Mina) in said office.
Nanami: "We don't have time to waste sitting around. Where is the Director?"
Mina: "Yes... I know, I know." <sits behind the empty desk> "What is it you have to say?"