Wiki Targeted (Entertainment)
Play Sound

YMMV •

Radar

•

Quotes

• (

Funny •

Heartwarming

•
Awesome

) •

Fridge •

Characters •

Fanfic Recs

•

Nightmare Fuel

•
Shout Out

•

Plot

•

Tear Jerker

•

Headscratchers

•
Trivia •

WMG

•

Recap

•

Ho Yay

•

Image Links

•

Memes

•

Haiku

•

Laconic

•
Source

•

Setting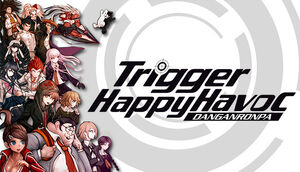 Dangan Ronpa[1]: The Academy of Hope and the High School Students of Despair is a "high-speed mystery action adventure" released in Japan for the PSP back in 2010. There was no localization for quite a while, but a translated Let's Play of the game was in progress on the Something Awful forums. It combines mystery-solving with elements of shooting and even rhythm gameplay.
The story takes place at Hope's Peak Academy, an illustrious private school that only accepts "super" students: the best of the best of the best. The criteria extends to any niche, so in addition to super-geniuses and super-athletes, they take super-idols, gang leaders, and geeks. Makoto Naegi, the protagonist, is still baffled as to how he got in, as his only outstanding trait seems to be his super "good" luck - and that's only because he was randomly chosen to be accepted by the school. In fact, he hasn't even started his first day of school when he suddenly loses consciousness and wakes up in a creepy alternate version of the academy.
It's soon revealed that Naegi and fourteen other new students have all been abducted by a sadistic teddy bear named Monokuma, who refuses to let them leave. The only way out of the locked-down dark school is to graduate...by killing another student. Once a murder is committed, Monokuma holds a trial so that the class can try to figure out which one of them is the culprit, culminating in a vote. If they make the right choice, the murderer will be messily executed. Make the wrong choice, and not only does the murderer escape, but the rest of them will take the punishment in their place...
As Monokuma, hungry for a spectacle, introduces "motives" for them to kill, tension builds in the school, and it isn't long until the students begin to snap. It's up to Naegi to make sure that the culprit of each murder is found so that the rest of them can try to escape.
This game was subject of an ongoing LP and translation effort (see above). Then it was brought to the West in 2013, released on the Play Station Vita world-wide, and later re-released through Steam and PlayStation 4. As of August 2021, there is news of a Compilation Rerelease of all three mainline entries for Nintendo Switch that will happen in November/December 2021.
The game went on to become a lengthy and profitable franchise, spanning three mainline entries (the original, the 2014 sequel Danganronpa 2: Goodbye Despair, and the 2017 release Danganronpa V3: Killing Harmony), a Gaiden Game in Ultra Despair Girls, a Grand Finale anime mini-series, and tons of other side material.
---
The series as a whole contains examples of:
"...This is where my flashback ends."
"Who are you talking to?"
"You wouldn't understand..."
| | | |
| --- | --- | --- |
| | Monokuma: "The murder we just had occurred because you bastards want to get out, wasn't it!? It's you bastards, who can't let go of the outside world, who are the bad eyes here!" | |
| | | |
| --- | --- | --- |
| | Monokuma: "We aren't living in a Shounen manga story. There is no such thing as dying without dying. This is reality!" | |
↑ literally, Bullet Rebuttal