Jurassic World: Dominion Dominates Fandom Wikis - The Loop
Play Sound

YMMV •

Radar

•

Quotes

• (
Funny •

Heartwarming •

Awesome) •
Fridge •

Characters •

Fanfic Recs •

Nightmare Fuel

•
Shout Out

•

Plot

•

Tear Jerker •
Headscratchers •
Trivia • WMG •

Recap

•
Ho Yay

•
Image Links

•

Memes

•

Haiku

• Laconic •
Source

•

Setting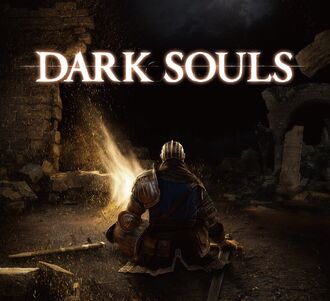 "I remember the first time I died. Facing down my foe was to be expected. Even inevitable. Resurrected, my soul awoke and my battles were fought harder. Death became my friend. I remember the first time I died. But dying gets easier; it's how you die that leaves your mark. Prepare to die..."

Dark Souls Hardcore Trailer

Dark Souls is the Spiritual Successor to Demon's Souls. The game is developed by From Software and is published by Namco-Bandai.
In ages long past, the world was unformed and colorless, and ruled by powerful stone dragons. Then came the fire that birthed life, and gave the world disparity: heat and cold, life and death, and light and dark. From the dark came the four lords; Nito, the First of the Dead, the Witch of Izalith and her daughters of chaos, Gwyn, the Lord of Sunlight, and his faithful knights, and the easily forgotten Furtive Pygmy. They challenged and brought an end to the dragons, and ushered in a golden age called the Age of Fire. But now the flames are fading. The world suffers through endless nights, and mysterious brands called the Dark Sign are cursing humans. These brands turn the victim into an immortal undead, but dooms them to eventual madness as they lose their humanity. The undead are captured and locked away in an asylum in the north to await the eventual end of the world.
Players take the role of one of these undead as they break out of the Undead Asylum, and begin a quest to ring the twin Bells of Awakening, which are prophesized to reveal the fate and purpose of the undead.
Dark Souls is very similar to its predecessor, Demons Souls, both mechanically and thematically. However, there are some significant changes that drastically change the pace and rhythm of the game. Gone is the hub world and level select, instead replaced with a huge nonlinear world, with branching paths and hidden passages. There are also factions to join. Players can enter covenants with each of the four lords mentioned above, as well as several other factions. These factions have an extremely varied amount of benefits, and can affect the story, what bosses you fight, and how you interact with other players online.
Dark Souls is unique from other RPGs, aside from its spiritual precursor, in a large number of ways. Dark Souls features real time combat, but is by no means a Hack and Slash. Combat is of a slower, weightier and methodical pace and the difficulty strongly encourages players to take on things one at a time and learning their attack tells and when it is safe to attack them. This goes double for bosses who can easily destroy players in only a few hits. Weapons are unique as well, with each weapon type having a completely different move set and many differentiate themselves from other weapons of the same category. Weapon types all feel extremely different from one another, and it is important to find a weapon that fits with your play style. Upgrading your weapons is a huge part of the gameplay, with ten different paths to follow such as simply making your weapon stronger, or turning it into a weapon that does a mix of lightning/fire/magic and physical damage.
Dark Souls also abandons classes for the most part, and is much more of a Stat Grinder style RPG. Character classes do exist, but they simply determine your Starter Equipment and what Stats you start with. Leveling in Dark Souls involves spending souls to increase a specific stat, such as Strength or Vitality (Health). Your build has less to do with which class you play and more to do with which stats you chose level up. Each time you level a stat, your Soul Level increases, which increases your armor defense, but the players you can play with online must be within a certain range of your own Soul Level.
The difficulty isn't the only thing that is considered a throwback to the old 2D days of gaming. Dark Souls is very narrative light. There is a lot of story and lore if players care to look for it, but it is very unintrusive and requires players to go out of the way to look for it in the form of item descriptions, bits of NPC dialogue and being observant of your surroundings in a way that is very reminiscent of Metroid Prime.
Dark Souls also differentiates itself from other RPGs with its online component, and most of it has returned from Demons Souls. When other players die while playing online, they leave behind blood stains which is used will replay the last ten seconds of their life, tipping players about potential hazards. Players can also leave behind messages to tip players about potential enemies, hazards, and treasure. Players in human form can summon two other players to help them take on boss fights. Players can also invade other players' world and kill them. There are nine covenants and all of them offer unique variations on, some of them prioritizing other players of the same covenant when cooping, and others offering unique ways to invade other players such as the Darkmoon Blades who specifically invade players who have accumulated Sin either by killing lots of players or offending NPCs.
It is also hard. Oh so very and infamously hard. Dark Souls is quite possibly the most difficult and absolutely unforgiving game to ever come out in 2011. As the Tagline says, Prepare to Die. A lot.
Dark Souls was released on September 22, 2011 to rave reviews and high sales in Japan, significantly higher than its predecessor Demons Souls. It was then released in North America and Europe on the 4th and 7th of October 2011 respectively for the PlayStation 3 and Xbox 360. It will be coming to PC as Dark Souls: Prepare To Die Edition on August 24th 2012, released in Microsoft Marketplace and Steam as well as a limited retail release in Europe. The Prepare to Die edition will be available for the PlayStation 3 and Xbox 360 in Winter 2012 as Downloadable Content. In May 23, 2018, Dark Souls Remastered, a remastered version of the game has been released on Steam, PlayStation 4, Xbox One and Nintendo Switch.
---
The game provides examples of:
A-F
| | | |
| --- | --- | --- |
| |  PREPARE TO DIE. FIGHT. STRUGGLE. ENDURE. SUFFER. LIVE | |
G-L
M-R
S-Z
| | | |
| --- | --- | --- |
| |   "One day, will this be over?" | |
| | | |
| --- | --- | --- |
| | | |
---
| | | |
| --- | --- | --- |
| |   "Well, now you know... And I can die with hope in my heart." | |