Spider-Man: No Way Home Trailer Dropped - The Loop
Play Sound

YMMV •

Radar

•

Quotes

• (

Funny

•

Heartwarming

•
Awesome

) •

Fridge

•

Characters •

Fanfic Recs

•

Nightmare Fuel

•
Shout Out

•

Plot

•

Tear Jerker

•

Headscratchers

•
Trivia •

WMG

•

Recap

•

Ho Yay

•

Image Links

•

Memes

•

Haiku

•

Laconic

•
Source

•

Setting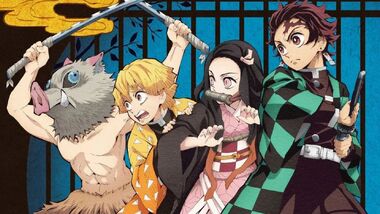 Demon Slayer: Kimetsu no Yaiba (Japanese: 鬼滅の刃, Hepburn: Kimetsu no Yaiba, lit. "Blade of Demon Destruction") is a Japanese manga series written and illustrated by Koyoharu Gotouge. It was serialized in Shueisha's Weekly Shōnen Jump from February 2016 to May 2020, with its 205 chapters collected in 23 tankōbon volumes. It's also had a 26-episode TV series by Studio Ufotable in 2019 (covering until the first part of chapter 54), a sequel film from 2020 (which covers from the rest of chapter 54 to chapter 69, and also is by Ufotable), two video games, some light-novels and spin-offs, etc.; even more, a second anime season began in October 2021.
The story begins in the Japan of the Taishou era and follows a teenaged charcoal maker/vendor named Tanjiro Kamado and his younger sister Nezuko, who are the sole survivors of their family. Their father Tanjurou died of illness last year, whereas their mother Kie and their younger siblings (Takeo, Shigeru, Hanako and Rokuta) were slain by demons; Tanjiro survived because he wasn't there when this happened, but Nezuko's survival comes from her having been turned into a demon when the killer's blood fell on wounds that should've been fatal.
As poor Tanjiro is assessing the horrible blow dealt to the family, a young man from the Kisatsutai aka Demon Slayer Corps named Giyu Tomioka arrives and tries to strike Nezuko down since she's a demon girl and not a human anymore. But when Tanjiro is still determined to protect Nezuko no many times Giyu insists that she's beyond salvation AND Giyu sees that Nezuko retains enough humanity to be willing to protect Tanjiro as well, he temporarily incapacitates Nezuko rather than slaying her and tells Tanjiro to visit his master, Sakonji Urokodaki, who can give him the training he needs to join the Corps. From then on, Tanjiro becomes a member of the Corps alongside Nezuko and his new companions, two boys around their ages named Inosuke Hashibira and Zenitsu Agatsuma; he's completely determined to both slay as many demons as it's needed and to find out how he can heal Nezuko and make her human again...
Tropes used in Demon Slayer: Kimetsu no Yaiba include:
This page needs more trope entries. You can help this wiki by adding more entries or expanding current ones.