Doctor Strange in The Multiverse o Madness - The Loop
Play Sound

Quotes

•

Headscratchers

•

Playing With

•

Useful Notes

•

Analysis

•

Image Links

•

Haiku

•

Laconic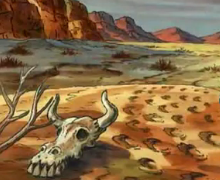 Whenever a show features or references a desert, savannah or other barren land, odds are good that a bovine cranium will be involved to set the mood.
Often accompanied by cacti.
Compare Ribcage Ridge, a sister trope.
Examples of Desert Skull include:
Bleach has Neliel Tu Odelshvanck, who has part of such a skull attached to the top of her head. She lives roaming around the desert that is Hueco Mundo.

The arrancar Rudbornn also has a more traditional-looking desert bovine skull around his head, like a helmet.

The opening scene of Gun X Sword has Van looking down at an animal skull in the desert and questioning why the creature isn't still alive for him to eat.
Shows up in many

Georgia O Keefe

paintings.
Film — Animated
The owl mariachi band from Rango stood on one of these while singing about Rango's journey.
On An American Tail: Fievel Goes West, Tiger runs into a buffalo skeleton that seems to come to life when he's not looking. Turns out it's being manipulated by native mice, who then capture Tiger.
The Lion King: As Simba returns to the Pridelands, he finds it riddled with wildebeest skeletons to show how Scar's rule has ruined the land. At the end, as Simba returns to power, there's a brief shot of a skull being washed away by the rain, to symbolize the end of the old regime.
Cars featured a variation of this: since all animals in their world are also vehicles, in the desert surrounding Radiator Springs, there appear to be rusted-up car parts lying among the rocks and cacti.
In

Pioneer Trail

(formerly Frontier Ville), these keep popping up on disused parts of your homestead.