Cobra Kai Season 4 - The Loop
Play Sound

Quotes

•

Headscratchers

•

Playing With

•

Useful Notes

•

Analysis

•

Image Links

•

Haiku

•

Laconic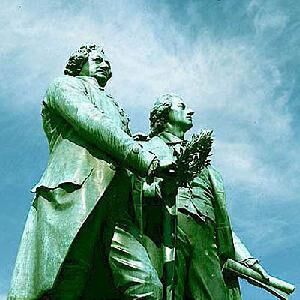 "Das Land der Dichter und Denker" ("The land of poets and thinkers") is a common nickname Germans give their country. The German self-identity has always laid emphasis on a shared culture and language, due to Germany not being a unified country at the time nationalism became the latest craze in Europe. And because of certain events during the years 1933 - 1945, seeking patriotic feelings in military accomplishments (or, as is even often the case, expressing any patriotism at all) is no longer en vogue in Germany. This fact has perhaps even strengthened the German emphasis on cultural and scientific achievements.
It's worth noting that even some Allied wartime propaganda acknowledged this, portraying the Nazis as crushing Germany's widely-admired cultural output with their unsophisticated militarism (this is in contradistinction with most other propaganda both in WW 2 and WW 1, when German Kultur was depicted as being brutal Prussian militarism [1]).
And so without further ado, we present you a list of some famous German "Dichter und Denker":
Dichter
Actual Poets and Other Writers
Musicians
Painters
Architects
Denker
Philosophers
Theologians and Clerics
Hildegard of Bingen (1098 - 1179) — Called the Sybil of the Rhine and Germany's First Woman Scientist, was a Catholic mystic, Benedictine abbess, author, linguist, naturalist, scientist, philosopher, physician, herbalist, poet, and composer. She wrote theological, botanical and medicinal texts, letters, poems, dramas, and liturgical music which has had a resurgence in popularity in recent years.
Albertus Magnus (ca. 1200 - 1280) — AKA Albert the Great, Albert of Cologne, and "The Universal Doctor", was a Dominican friar, bishop of Regensburg, scholar, philosopher, and reputed magician, in which capacity he or his spell-books tend to show up in fiction. Albert was canonized and proclaimed a Doctor of the Church in 1931 by Pope Pius XI.
Nikolaus von Kues (1401 - 1464) — AKA Nicholas Cusanus, was a Catholic cardinal, as well as a philosopher, theologian, jurist, mathematician, and an astronomer (in which capacity, he was an early advocate for heliocentrism and the elliptical orbits of the planets). He is noted as a profound writer on mysticism.
Martin Luther (1483 - 1546) — His criticisms regarding the Catholic Church triggered the founding of Protestantism. Also, together with his buddy Melanchthon, he translated the Bible into German. Unfortunately, some of his own writings are unambiguously anti-Semitic. Not to be confused with this other historically important Protestant minister!
Dietrich Bonhoeffer (1906 - 1945) — Lutheran pastor and German Resistance member during the time of Nazi Germany and double-agent of the Abwehr. Considered by some to be a Nietzsche Wannabe because of his unconventional views on Christian religion. Also he was an important inspiration for Dr. King.
Joseph Alois Ratzinger (1927 - ) — A well established theologian, Ratzinger taught matters of Catholic theology at the University of Tübingen for years as a reformist. It's said he acquired a 'slight' conservative bent while on the job. He left after a series of promotions. Nowadays he goes by the moniker Pope Benedict XVI.
Maria Sibylla Merian (1647 - 1717) — Female naturalist during a time when this was still very unusual. Did an expedition to Surinam and was the first to research the metamorphosis of caterpillars into butterflies in great detail. Also showed artistic talent by drawing her objects of study. Was portrayed on the '90s-version of the 500 Deutsche Mark banknote.
Alexander von Humboldt (1769 -1859) — Naturalist, famous for his scientific expeditions, mainly to South America. Like Goethe, he was quite omnidisciplinary.
Carl Friedrich Gauß (1777 - 1855) — Nicknamed Prince of Mathematicians, most famous for the Gaussian Distribution (also called Normal Distribution—the one with the characteristic bell-shape).A lot of other mathematics-related stuff is named after him too. Was portrayed (with a picture of the graph of the distribution) on the '90s-version of the 10 Deutsche Mark banknote.
Gregor Johann Mendel (1822 - 1884) — Nicknamed Father of Genetics. Scientist and Augustinian priest. Famous for his incredibly long-winded and statistical study of the inheritance of certain traits of pea plants, leading to his discovery of the Mendelian Laws named after him, which established genetics as a science.
Max Planck (1858 - 1947) — The father of quantum physics. Named after him are the Planck Constant and the Planck Units. Also didn't like how the Nazis treated Jewish physicists, and tried to help out Fritz Haber and others.
Fritz Haber (1868 - 1934) — Speaking of whom, Haber is a primary reason the 20th and 21st centuries have so many people and so many interesting ways to kill them: Haber discovered the revolutionary Haber process for synthesizing ammonia from nothing more than hydrogen (which can be obtained easily from natural gas and less easily, but still fairly cost-effectively, from the electrolysis of water) and atmospheric nitrogen (no prizes for guessing where that comes from). Ammonia can then be used to make nitrates and nitrites—key ingredients in both fertilizer and explosives (including all forms of gunpowder), sparing countries the embarrassment of literally fighting wars over bird poop to make these vital products. He also did serious research into the military applications of chemistry, particularly during World War One, leading to the unfortunate nickname Father of Chemical Warfare (although in fairness, he also helped develop the gas mask). A patriotic German decorated by the Kaiser, he was (being Jewish) nevertheless run out of Germany when the Nazis took over (leaving with Planck's help), and died in 1934 in Switzerland, never living to see Zyklon-B (a product of his laboratory underlings) be used to kill thousands of Jews.
Otto Hahn (1879 - 1968) — Discovered nuclear fission, together with Lise Meitner and Fritz Straßmann, and later became a vigorous opponent of nuclear weapons. He later caught a lot of flack for claiming more of the discovery than some said was his due; he got a particularly bad reputation with the Jewish community, as (unlike Straßmann), he did little to protect Jewish scientists (including Meitner) when the Nazis went after them (Straßmann, for the record, is considered among the Righteous Among the Nations, so Jews, feel free to say, "Screw Otto Hahn").
Albert Einstein (1879 - 1955) — Did have a cool hair style. His Theory of Relativity revolutionized physics. Had to flee from the Nazis because he was a Jew. The Nazis even denounced modern physics as "Jewish physics" and tried to replace it with their own "Aryan physics". Needless to say, this approach didn't lead anywhere.
Alfred Wegener (1880 - 1930) — Developed the theory of Continental Drift. Sadly, Wegener's theory wasn't widely accepted until after his death (during an expedition to Greenland, by the way).
Werner Heisenberg (1901 - 1976) — Quantum physicist. Because he was a proponent of Einsteinian physics (Why did the Nazis consider that bad? See above!), some Nazis considered him a "white Jew". Nevertheless, he stayed in Germany, where he had to research nuclear physics. His Uncertainty Principle has become a stock element of nerd humour, right up there next to Schrödinger's Cat. Also, the Heisenberg compensator is named after him.
Johannes Gutenberg, born as Johannes Gensfleisch (1398 - 1468) — Invented movable type printing[3] and the mechanical printing press. From now on, mass-production of books and other writings was possible.
Philipp Reis (1834 - 1874) — Inventor of the telephone! Well, actually, the answer to the question "Who exactly invented the telephone?" is a bit complicated. Reiss' device was the first to be actually called Telephon.
Ferdinand Graf von Zeppelin (1838 - 1917) — An actual count (which is what Graf means) who invented the type of airship named after him. Although the popularity of airships did considerably shrink for some reason, the company founded by Graf von Zeppelin (after decades of producing airship-unrelated stuff) has started to construct new Zeppelins since the 1990s.
Karl Benz (1844 - 1929) — Added a combustion engine to a carriage and thus invented the car as it is known today, (or at least was the first to patent this contraption). The Daimler-Benz company (Gottlieb Daimler being another German automobile pioneer, and one of the competitors regarding the "Who exactly invented the car?"-issue) as well as the trademark Mercedes Benz bear his name.
Willy Messerschmitt (1898 - 1978) — Built airplanes for the Nazis. The fact that his planes (along with Ferdinand Porsche's ground vehicles) were (in their time!) considered high-tech, probably gave rise to this trope. After the war, Messerschmitt was in prison for two years (put on trial for using slave labour and convicted as "fellow traveller"). After his release it was not allowed to produce airplanes, so instead his company produced sewing machines, pressing irons, prefabricated buildings—and little cars that looked like airplane cockpits!
Konrad Zuse (1910 - 1995) — Inventor of the computer! Well, actually, the answer to the question "Who exactly invented the computer?" is a bit complicated, but Zuse's Z3 is a serious competitor for the title World's First Computer. The original Z3 was destroyed during an Allied air raid, but a fully functioning replica was built in the 1960's for the Deutsches Museum, by a company founded by Zuse himself after the war. And it is definitely true that his computers used the binary system, the floating point system and the clear seperation of RAM and hard disk before American computers did.
Wernher "Not My Department" von Braun (1912 - 1977) — Rocket pioneer who is very controversial due to his cooperating with the Nazis and even entering the NSDAP (the Nazi Party) and the SS. His lifelong dream was human space exploration, and apparently he was of the opinion that the end justifies the means. The result was that instead of transporting people into space, his rockets were used to bombard London. More people died building the V-2 rockets than were killed by it as a weapon. After the war, he and other scientists were brought to the United States, where he became a key figure in the American space program. The "Program Head" in the film The Right Stuff is based loosely on him, as is Dr. Strangelove.
↑ Notice the club carried by the ape in the Unfortunate Implications picture
↑

Nietzsche, not God

↑ Or rather re-invented: it had been known in East Asia for centuries, but was rendered utterly useless by the nature of East Asian writing. A typical printer needs to keep anywhere from half a dozen to dozens of copies of each character in order to print. This is difficult enough with the Latin alphabet's 26 letters; imagine that with the 3,000+ characters of Chinese, or the ~1,000 Japanese Kanji. (Hangul doesn't count, as it was invented four years after Gutenberg's press).