Jurassic World: Dominion Dominates Fandom Wikis - The Loop
Play Sound

YMMV •

Radar

•

Quotes

• (
Funny •

Heartwarming •

Awesome) •
Fridge •

Characters •

Fanfic Recs

•

Nightmare Fuel

•
Shout Out

•

Plot

•

Tear Jerker •
Headscratchers •
Trivia • WMG •

Recap

•
Ho Yay

•
Image Links

•

Memes

•

Haiku

• Laconic •
Source

•

Setting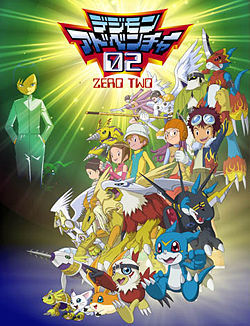 | | | |
| --- | --- | --- |
| |  Three years have passed since the summer we could never forget... | |

The second Digimon anime series, and the only direct sequel to another series, Digimon Adventure 02 is set three years[1] after Digimon Adventure. As a point of clarification, the "02" in the title refers to the series being set in 2002, not to its status as a sequel (though yeah, it's obviously that).
The original Digidestined have moved on and grown up after saving the Digital World, and T.K. Takaishi (Takeru), the former cute helpless kid of the group turned confident Lancer, has transferred to a new school which fellow former Chosen Kari Kamiya (Hikari Yagami) attends. They meet brash goggle boy Davis Motomiya (Daisuke), girly tech geek Yolei Inoue (Miyako), and stoic Cody Hida (Iori). A distress call from Agumon draws Tai, T.K. and Kari back into the Digital World, taking Davis with them; there, they find that the Digital World is under siege from the Digimon Emperor (Digimon Kaiser), a human child who controls Digimon, blocks evolution, and aspires to conquer the Digital World. With new, stronger Mons, a few new tweaks to the evolution system, and an enemy their own age from their own world, these five have to work on their own few experiences with Digimon and work through having been sheltered at that time as children.
Its Distant Finale epilogue is infamous as the subject of much fandom ire, partially for much of what became of the Chosen not particularly fitting their in-series characterization, and partly because Sora married Matt and not Tai. Even so, it was still fairly popular, continuing the phenomenon set by Digimon Adventure. It was succeeded by Digimon Tamers.
It was accompanied by a pair of Short Anime Movies, neither of which are canon. Hurricane Touchdown, also known as Transcendent Evolution! The Golden Digimentals, is set before Ken joins the Chosen, and details their adventures in America and dealings with Wallace, a Chosen with twin Digimon; it was dubbed as the third part of Digimon: The Movie, and suffered for it. The second film, Diablomon Strikes Back, is set within a year of the finale and is about the Chosen's response to the resurrection of Diablomon, the antagonist of Our War Game who came dangerously close to defeating them last time; it aired in the US as a television special in the lead-up to the start of Digimon Savers.
Official releases of the Japanese version with English subs (of questionable quality) of Digimon Adventure 02 are available from Hulu, Crunchyroll, and Animax, but only to residents of the United States.
---
Digimon Adventure 02 provides examples of:
 Tai - Crest of Courage - orange

Matt - Crest of Friendship - blue

Sora - Crest of Love - red

Mimi - Crest of Sincerity - green

Izzy - Crest of Knowledge - purple

Joe - Crest of Reliability - black

T.K. - Crest of Hope - yellow; Digivice - green

Kari - Crest of Light and Digivice - both pink

Davis - Digivice - blue

Yolei - Digivice - red

Cody - Digivice - yellow

Ken - Digivice - black; Crest of Kindness - violet
 Davis: "Sticks and stones can break my bones, but when Magnamon gets a hold of you, he'll kick your-"

Ken: "But! you didn't let me finish!"
Dark Is Evil: The Dark Ocean, the Dark Gate, the Dark Spore... redundant, but effective.
Dead Sidekick: Even though he's alive and well now, Angemon's sacrifice in Adventure is the source of Takeru's anger towards evil Digimon.

Wormmon sacrifices himself to help beat Kimeramon, and is resurrected two episodes later.

Depending on the Writer: With two producers and at least seven writers, inconsistencies are unavoidable.
Deus Ex Machina: A literal example with Azulongmon ending the conflict in episode 37.

Up to Eleven with the last episode where with very little explination Davis and Veemon managed to break into Myotismon's Illusions for the Digidestned Snapping them out of it and bringing them back to the fight and they do it Simultaneously at that by splitting into multiple selves.

Distant Finale

Ridiculously Successful Future Self: Most of the Chosen end up in glamorous positions, and those that don't end up in nonetheless highly satisfying positions; for example, Davis is a millionaire food-chain owner, Sora is a Fashion Designer, Tai is the Digital World's ambassador, Mimi has her own cooking show, and Matt is an astronaut; on the slightly less ostentatious side, Kari is a Kindergarten Teacher, Ken is a detective, and Yolei is a housewife (and with her and Ken's three children, the most, ah, productive mother in the show).

Don't Ask: The Digidestined, when they are found in a pile on the computer room floor, after returning from the Digital World.
Does This Remind You of Anything?: Listen to any discussion of DNA evolution and try not to think about sex. It gets worse when you take into consideration how the Chosen act and react to get it to work for the first time.
Dub Induced Plot Hole: In creating Digimon: The Movie, the dub shoehorned the events of Hurricane Touchdown into continuity, which confuses people as to why Seraphimon and Magnadramon don't appear in the penultimate episode.
Establishing Character Moment: The first thing MaloMyotismon does upon emerging from his host is brutally murder Arukenimon and Mummymon in cold blood in such a way the Chosen, who were the two's enemies, cover their eyes and can't bear to watch. This shows that not only is MaloVamdemon still as horrible as he used to be, he's even worse
Everything Is Online: The Digidestinted are able to use their school's computer club as an alibi for their work in the Digital World.
Evil Is Not a Toy: And failure to realize that will really piss off T.K.
Evil Laugh: Parodied by the Digimon Emperor in the dub:
| | | |
| --- | --- | --- |
| |  Digimon Emperor: Ahahaha hahahaHAHAHAHAHA it's not that funny... | |
| | | |
| --- | --- | --- |
| |  Gatomon: I found Catnip; it cures it all! | |
 Digimon Emperor: [turns to Wormmon, speaking in a much weaker voice than before] There's only one Digimon suitable enough for me...

Wormmon: H-huh...?

Digimon Emperor: AND THAT'S KIMERAMON!
| | | |
| --- | --- | --- |
| |   Digmon: Digmon, the Drill of Knowledge! ...I used to say the Drill of Power, but I think this makes me sound smarter! | |
 Mimi: TK? Kari?

TK and Kari: (beaming) Yep!

TK: Everyone, this is Mimi. She's a member of the DigiDestined who moved to America.
Ship Sinking: Every ship other than

Ken/Yolei & Sora/Matt

after the Distant Finale. The former is explicitly stated in the narration, while the latter is left to visual cues and inference (

the fact that the little girl who looks like Matt has a Yokomon and the little boy who looks like Sora has a Tsunomon, plus the fact that they were together in the series proper

), with a later Word of God confirmation in V-Jump magazine. Die-hard TK/Kari fans take solace in the fact that no one said they weren't.
Ship Tease: The dub teases TK and Kari in episode 13.

Also, Veemon is shown to have a crush on Gatomon in a couple of episodes (in the dub, anyway; it was a one-episode thing in the original).

Shoot the Shaggy Dog: BlackWarGreymon's Heroic Sacrifice fails to stop Oikawa plans and BlackWarGreymon is simply forgotten in the Distant Finale.
Shout-Out: Yolei's "Mimi fantasy," in which Mimi suddenly has blue eyes so that she looks more like Utena.

The Dark Ocean and Dragomon, to the Cthulhu Mythos (the episode was written by Chiaki Konaka, who actually has written Cthulhu Mythos stories).
Diablomon Strikes Back has Armageddemon, whose appearance is reminiscent of an Angel. Furthermore, when Omegamon is severely wounded in the battle, he is left standing up with his arms having fallen off in a pose that echoes Unit 02 after being defeated by Zeruel.
There is a quick blink-and-you-miss-it shout out in episode 15; when ShogunGekomon sees the dark tower erected, he cries out "GeGeGe no Ge!"

Sidekick Glass Ceiling: For TK, Cody, Yolei and Kari.

TK and Kari hit it earlier on, each only receiving one usable Digimental; Angemon and Angewomon were grouped in the "combat" group with Flamedramon, Shurimon, and Digmon; though they were unable to be used for the duration.

Sorry I Left the BGM On: Audio drama: a Digimon Analyzer screen is read off, as always, prompting Yamato's dad's coworker to ask if Yamato's dad said something. Naturally, he answers, "Idiot, that's the narration, isn't it?" Of course, both Yamato's dad and the narrator are voiced by Hiroaki Hirata.
Sorting Algorithm of Evil: Actually subverted to a degree.
Spoiler Opening: The series' second Japanese ending, which started at the time of Paildramon's introduction, was arguably one of the franchise's most egregious examples. It showed Silphymon, Shakkoumon and even Imperialdramon, in both Dragon and Fighter Mode! And one episode later, the opening was revised, which in case you hadn't already seen the ending, showed the then-unintroduced Silphymon, Shakkoumon and Imperialdramon Dragon.
Stock Footage: The evolution sequences, as usual. Also, there was a set of stock footage for the partner Digimon using their attacks, but it wasn't used as much as in Adventure. A bit of it also shows up during battles; notably in repeat Bakemon fights within the Kaiser's base.
Storming the Castle: The chosen board the Kaiser's floating fortress out of necessity in order to bring a faster halt to Kimeramon's country-ravaging destruction. While eventually successful, it remains poignantly bittersweet.
Synchronization: DNA evolution between the partners of two chosen can only be achieved if the Chosen's hearts are beating in synchronisation, characterised by a deep understanding of each other's motives and beliefs.
There Are No Therapists: Lampshaded at one point in the English dub.
Time Skip: Digimon Adventure 02 starts 4 years after Digimon Adventure ends.
Tokyo Is the Center of the Universe: Zigzagged; this is the only Digimon series where things happen in other parts of the world, but the bulk of it does happen to Tokyo.
Too Dumb to Live: Episode 16, trapped inside an offshore Oil platform, running out of Oxygen. So what do the kid do? They start digging up the floor. Both using up precious oxygen and risking creating a leak.

In episode 22, Davis attempts at making Veemon evolve to win Kari's heart, leading to a scene of Davis destroys a bridge that he is standing on.
Episode 28 has the children entering Arukenimon's trap without thinking of telling anyone.

Chasing after Oikawa through the gate in episode 48 even after seeing him fatally wound BlackWarGreymon.

Took a Level In Badass: Davis in the three final episodes, when his Idiot Hero ways start paying off.

Takeru definitely took one between Adventure and 02, best evidenced when he

stops the Digimon Emperor's whip attack WITH HIS BARE HAND and then proceeds to beat him senseless

. And that's after

he took a whip strike to the cheek without flinching or changing expression

.

Took a Level In Kindness: Just guess.
Trap Is the Only Option: In an aptly named episode "The Insect Master's Trap", the chosen children enter into Arukenimon's trap to find out what she is up to.
Trapped in Another World: The Dark Ocean.
True Companions: Kari and T.K. actually belong to two sets, including the first crew, something that Davis is occasionally envious of.
Twenty Minutes Into the Future: Released in 2000 and set in 2002, hence its title, Digimon Adventure 02.
Two-Headed Coin: Davis attempts to pull this on T.K. when deciding who will go to rescue Kari. Since Davis has a crush on her, he uses an American quarter with tails on both sides. After Davis has supposedly won and is gloating to T.K., T.K. swipes the coin back and calls him on it, noting that he knows where they sell such quarters.
Upgrade Artifact: The Digi-Eggs.
Urban Fantasy: More so than Adventure.
Video Game Cruelty Potential: The Digimon Emperor exploits this to its fullest, not grasping that the Digital World isn't a video game.
Villains Never Lie: Oikawa says that the Dark Spore is what gives Ken his talent, and uses a similar line to get a bunch of kids to go along with his plan. Everyone, including Ken, seems to believe him. Ken's marks at school do take a drop after his stint as the Emperor, but nobody seems to consider that this may be because of trauma, or some related, but entirely normal, psychological problem.
Voodoo Shark: The explanations for why the original chosen children could not use the power of their crests.
Wake Up, Go to School, Save the World: The bread and butter of this series.
Webcomic Time: Often weeks of time pass in show between episodes.This is to keep the show in sync with real time... four years into the future.
Wendigo: Yes, there's a Digimon based on this; though he's not named onscreen, Kokomon spends most of Hurricane Touchdown in his corrupt Champion form, Wendigomon.
What Could Have Been: The Dark Ocean was introduced by guest writer Chiaki Konaka and was originally supposed to be used as a larger plot point. The rest of the writers then proceeded to mostly ignore it.
What Happened to the Mouse?: The Dark Ocean, and Dragomon and Daemon therein; the mysterious flashbacks of how Ken got infected with the Dark Spore.

In the original version, Gennai's newly youthful form is never really explained. In the dub, this is handwaved by a throwaway line about him taking some "Digi-Vitamins."

The Worf Effect: All the original Digidestined's partner Digimon.
You Fight Like a Cow: Some of Paildramon's lines are written this way in the dub; it lightens the mood a little bit.
| | | |
| --- | --- | --- |
| |   Do you even know what the word "aim" means? Desperado Blaster! | |