Doctor Strange in The Multiverse o Madness - The Loop
Play Sound

YMMV •

Radar

•

Quotes

• (

Funny •

Heartwarming

•
Awesome) •

Fridge •

Characters

•

Fanfic Recs

•

Nightmare Fuel

•
Shout Out

•

Plot

•

Tear Jerker

•

Headscratchers •
Trivia •

WMG

•

Recap

•

Ho Yay

•

Image Links

•

Memes

•

Haiku

•

Laconic

•
Source

•

Setting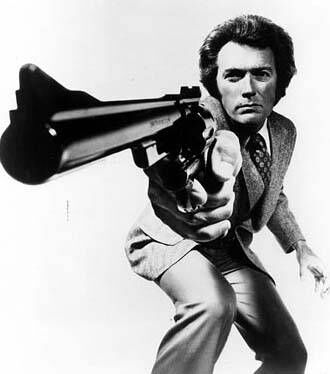 "Go ahead, make my day."

—Harry Callahan, Sudden Impact
"You don't assign him to murder cases. You just turn him loose."

—Tagline for the original film

This is a series of 5 films all starring Clint Eastwood as San Francisco Police Department detective "Dirty" Harry Callahan. He is one of the earliest examples of the Cowboy Cop. His main weapon is the Smith & Wesson Model 29 .44 magnum revolver.
Dirty Harry, the first film, is credited with inspiring the tone and themes of modern cop films. Clint Eastwood portrays the iconic blunt, cynical, "the buck stops here" kind of law enforcer constantly at odds with his incompetent, strictly-by-the-book bosses. The hero's relentless pursuit of justice kicks, stomps on, and blasts gaping holes through constitutionally protected rights, causing many to accuse the film of carrying a fascist, or at least authoritarian, undertone. As a result of the controversy surrounding the first film, the sequels tried to balance out the ideology, having Harry's bad guys span the length of the political morality spectrum.
Films:
Dirty Harry (1971): Callahan tracks down a Serial Killer who goes by the name Scorpio.
Magnum Force (1973): Callahan goes up against some renegade cops who have formed a death squad.
The Enforcer (1976): Callahan and his new female partner go after a terrorist group that has kidnapped the mayor.
Sudden Impact (1983): Callahan investigates a series of killings done by a rape victim on her quest for revenge.
The Dead Pool (1988): Callahan investigates a series of celebrity deaths who had been predicted to die in a dead pool racket — and finds that his own name is on the list.
---
Tropes used:
Accidental Pervert: "Now I know why they call you Dirty Harry."
Arc Words: Repeated several times over in Magnum Force, which explores the lengths Harry is willing to go to in his war on crime, as well as setting up a supposedly Not So Different group of rookie cops who go to worse lengths than Harry.
| | | |
| --- | --- | --- |
| |  Harry Callahan: Man's got to know his limitations. | |
 The Mayor: I don't want any more trouble like you had last year in the Filmore district. Understand? That's my policy.

Harry Callahan: Yeah, well, when an adult male is chasing a female with intent to commit rape, I shoot the bastard. That's my policy.

The Mayor: Intent? How did you establish that?

Harry Callahan: When a naked man is chasing a woman through an alley with a butcherknife and a hard-on, I figure he isn't out collecting for the Red Cross.
Dead Partner: Pretty much all of Callahan's partners end up dead or in the hospital, as he notes.
| | | |
| --- | --- | --- |
| |  Harry Callahan: "I know what you're thinking, punk. You're thinking 'Did he fire six shots or only five?' Now, to tell you the truth, I forgot myself in all this excitement. But being this is a .44 Magnum, the most powerful handgun in the world and will blow your head clean off, you've gotta ask yourself a question: 'Do I feel lucky?' Well, do ya, punk?" | |
 Bobby: Did Wanda deliver the [Ransom Note] tape to the cops?

Lalo: I don't know, I don't know, I don't know. I wasn't with her.
| | | |
| --- | --- | --- |
| |  Bank Robber: "I gots to know." | |
 Di Georgio: Ah that's one thing about our Harry. Doesn't play any favorites! Harry hates everybody. Limeys, Micks, Hebes, Fat Dagos, n****rs, Honkies, Chinks, you name it.

Gonzales: How does he feel about Mexicans?

Di Georgio: Ask him.

Harry Callahan: Especially Spics.*winks at Di Georgio*
Also in Sudden Impact he got sent to another town after he killed a bunch of rapists in self-defense.

The Red Stapler: Sales of Harry's iconic Smith & Wesson Model 29 shot through the roof after the movie's release.
Revolvers Are Just Better: Although Harry's not above settling for a semi-auto Hand Cannon should he lose his trusty Model 29.
Ripped from the Headlines: Dirty Harry fought obvious stand-ins for the Zodiac Killer (in Dirty Harry) and the Symbionese Liberation Army (in The Enforcer). This is lampshaded in the 2007 movie Zodiac, where the detective who served as the inspiration for Dirty Harry sees the movie and has to face the fact that Real Life crimes can't be solved by just shooting someone.
Salt and Pepper: With new partner Smith in Magnum Force.
San Francisco: All five movies, although in Sudden Impact the location moves to fictional seaside town farther south called San Paolo (Santa Cruz in Real Life).
The Seventies: The films don't indulge in the groovier aspects of the decade, but it's wide neckties, ugly dun-colored suits and giant sedans for everybody!
Shoot the Hostage ("Go ahead, make my day.")
Shooting Gallery ("Magnum Force")
Shout-Out (In The Dead Pool, the chase scene

with the explosive RC car

, is a shout out to The Chase Scene in Bullitt).
Take That, Critics!: The film critic murdered in The Dead Pool is based on Pauline Kael, in response to her accusing the first film of promoting "fascism." Something about this woman seems to rub directors the wrong way, since she got another Take That in Willow.
Television Geography: Just try to go to the same places in San Francisco that Scorpio had Harry do for the money drop, in the same order, on foot and under an hour. It's impossible.
Two Shots From Behind the Bar: It was a liquor store and this was how the villain, an ex-con, was able to get a gun to battle with Dirty Harry.
Title Drop: His partner in the first film wanted to know why people call inspector Callahan, Dirty Harry. He gets mixed answers. It wasn't until after Harry talks a man out of jumping by insulting him, that he tells his new partner the real reason:
| | | |
| --- | --- | --- |
| |   Harry: Now you know why they call me Dirty Harry. Every dirty job that comes along... | |
Unbuilt Trope: Harry's methods aren't actually shown all that positively. His interrogation of the Scorpio killer is downright horrific, and ends up doing no good anyway. And in the end,

he throws away his badge after disregarding his orders and endangering innocents

.
Vigilante Man: Magnum Force. Hard to believe that it isn't Harry. Even harder to believe he opposes them. But then again, they

killed a cop

.

Not only one. Until the end of movie they murder two cops on-screen, lead to the death of another and try to kill another one. Add two

bombings (one prevented)

in densely populated areas and murder of roughly dozen innocent bystanders.
Actually, it's not hard to believe that at all. The whole point of the second film was to counter the accusations the first film received, and show that Harry actually had standards. Plus, the worst Harry did in the first film was torture Scorpio. He never killed anyone in cold blood like the vigilante cops did.
But it just doesn't add up. Harry spends most of his time complaining about how the system doesn't work, he rarely manages to convict any of his suspects, so he often ends up shooting them, he never follows the rules and yet, according to the logic of this film, he's somehow FOR the system? How does that work?

"Briggs, I hate the goddamned system. But until somebody comes along with some changes that make sense, I'll stick with it!"

He shoots them if they are in the process of committing a crime; he doesn't hunt them down and kill in their home or when they are driving around, never mind that the bad guys didn't stop at the criminals, but killed witnesses, innocent bystanders, Harry's partner, their own partner, and anyone who happened to be in the wrong place at the wrong time. With explosives and machine guns too, so they clearly aren't worried about collateral damage. And unlike Harry, they were enjoying it; The Reveal even comes when you see one of them cheerfully smiling for the camera after

murdering another cop.

They are in it for the glory and the thrill as much as any pretensions of justice.
Callahan also resorts to lethal force only in self-defense and when facing extremely dangerous criminals (like the psychopathic Scorpio). He is perfectly happy if the criminals end up behind bars instead of six feet under. The first scene when do I feel lucky speech appears shows this well. Callahan actually taunts the robber to grab the gun, so he might could him in self-defense, but leaves calmly when the robber yields, even though seconds earlier the latter tried to kill and even managed to wound Harry.

Harry isn't trying to taunt the robber into grabbing the gun so he can shoot him; he's bluffing him into giving it up because Harry's gun is empty.

Villainous Breakdown: Scorpio seems to suffer it every time his plans are thwarted, like when he is caught and shot in the leg by Callahan in the stadium.
Wag the Director: Eastwood apparently took over a lot of the directorial duties on Magnum Force after the director that they originally hired turned out not to be up to the job.

According to Wikipedia, the director (Ted Post) would often want to do retakes when Clint was happy with a shot.

What Could Have Been: John Wayne lobbied hard for the role of Harry but the studio felt he was too old for the part.

Frank Sinatra was intended to play Harry, but he had a broken wrist at the time.

Working Title: The title of the first film's script was Dead Right.
Wounded Gazelle Gambit: Scorpio

pays some black guy to beat him up, just so he could frame Callahan for it

. Understandably, said black guy evidently enjoys the job.
You Look Familiar: Albert Popwell played mooks in most of the films. This sets up a nice subversion of his typecasting as a mook in Sudden Impact when he creeps up on Harry with a shotgun only to be revealed as a colleague from the department.
You Need a Breath Mint: Harry tells Captain McKay, after McKay gives Harry a too close dressing down, "Your mouthwash ain't cutting it".