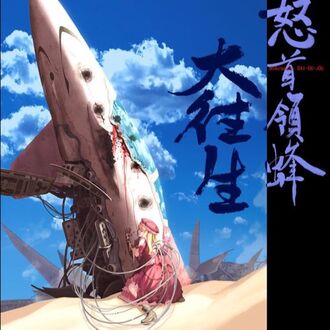 Do-do-do-do-do-do-do! Do DON Pachi!

—Title Screen, DoDonPachi

The DonPachi series (also known as the DoDonPachi series, after the second game) is a series of Shoot Em Ups by CAVE. It is by far one of Cave's most iconic game franchises, with DoDonPachi being one of the earliest Bullet Hell titles.
At first glance, it appears to be yet another game about flying a ship and blasting alien/robotic invaders, but many dark secrets lie beneath the surface. Art design for the first three games is done by "Joker" Junya Inoue.
The series spans seven games:
DonPachi (Arcade / Saturn / PlayStation, 1995)
DoDonPachi (Arcade / Saturn / PlayStation, 1997)
DoDonPachi: DaiOuJou [DEATH Label] (Arcade / PlayStation 2 / Xbox 360, 2002)

DoDonPachi: DaiOuJou Black Label EXTRA (Xbox 360, 2009)
DoDonPachi Blissful Death (iOS, 2012)

DoDonPachi: DaiFukkatsu (Arcade, 2008; JP Xbox 360, 2010; iOS and Android (as DoDonPachi Resurrection), 2010; EU Xbox 360, 2011 (as DoDonPachi Resurrection))

DoDonPachi: DaiFukkatsu BLACK Label (Arcade, 2010; Xbox 360 port released on February 3,2011 [Two versions: As add-on in form of DLC, or as stand-alone game with an exclusive Arrange Mode, which basically is a crossover of Daifukkatsu and Ketsui])

DoDonPachi Maximum (Windows Phone 7, 2012)
DoDonPachi SaiDaiOuJou (Arcade, Spring 2012)
There was also a game named DoDonPachi II: Bee Storm released for the Arcade in 2001. It was developed by the Taiwanese company IGS, designed to show off the capabilities of the PolyGame Master arcade hardware (which DaiOuJou and Ketsui would later be developed for).
Compare Mushihime-sama, one of Cave's other big Bullet Hell series.
Not to be confused with that spike orange guy from Bobobobo Bobobo.
---
Three, two, one, go!:
 Copyright statement: Warning: This game is for use in <country> only. Sales, export, or operation outside this country may be construed as copyright and trademark infringement and is strictly prohibited. Violator and subject to severe penalties and will be prosecutedt to the full extent of the jam

Boss alert: This is not similation. Get ready to destoroy the enemy. Target for the weak points of fuckin' machine. Do your best you have ever done.
The announcers of DoDonPachi and DaiOuJou also speak in English, in DaiFukkatsu, the announcer speaks in Japanese.
In the trailer for DaiFukkatsu BLACK Label's Arrange mode: "JUST A COUPLE MORE SHOTS desu"

Harder Than Hard — Strong Style in DaiFukkatsu BLACK Label. It grants your ship immense firepower...at the cost of making the enemies ALSO powerful.
Hitbox Dissonance — The games have relatively small hitboxes compared to the ship sizes. There's an odd example with the Type-B helicopter; in Donpachi the hitboxes are on the large side and Type-B's extends pretty from the main rotor to a ways down the tail). In Dodonpachi, the hitbox is noticeably smaller and is actually moved back a bit so that it's located behind the main rotor in the thin segment of the tail fuselage between the main rotor and the tailfin (much like how the later Ketsui's hitboxes are not centered on the main rotor but placed behind them).
Humans Are Ungrateful Bastards: Put this in perspective: all of the pilots are not human, forced to work for a shady organization, and ordered

to initiate a genocide

as a training exercise that makes up an entire arc in DonPachi.
Image Song — For DaiFukkatsu, DoDonPachi Dai Ondo.
Imperial Stormtrooper Marksmanship Academy: Does the enemy really need that many Mooks and bullets just to take down one pilot?
Incendiary Exponent — "Hibachi" means "Fire Bee"... and indeed, Hibachi is often on fire when it fights.
Interspecies Romance — Leinyan's ending in

Dai Ou Jou

, to an EXTREME
Joshikousei — AI from DaiFukkatasu.
Kill All Humans — Apparently the motive of the enemies throughout the series.
Killer Robot — All of the enemies in the series are this. Or are they? Hibachi is the most killer of them all.
Knight Templar — Colonel Longhena
Last of His Kind — Only one copy of DoDonPachi Campaign Version (also known as the Blue ROM or Blue Label from the color of its title screen) is known to exist. In a 2010 interview, CAVE said that they had lost all copies of the source code. If the board dies, it will be Lost Forever.
Last Starfighter — In DaiOuJou, the two available ships are the only ships that could be constructed in order to fight against the threat.
Leitmotif — Since DaiOuJou, Hibachi's had an extremely fast-paced drum 'n bass boss theme.

"Longhena Cantata" is Colonel Longhena's theme, played during

the boss battle with him

.

Logical Extreme — Of the Bullet Hell genre itself, which it created. For comparison, let's have Touhou Project: in that series, you normally have to go through the game once to get to the ending, and then go through Extra Mode on 1-Clear-Continue (since you can't continue on Extra Mode). DonPachi takes that, and decides you have to go through the game twice, with the second as Extra Mode, while normally beating every boss in the game on one life, and then beating the True Final Boss (which would be best described as Extra++ Mode). There are fans who are dedicated enough to do exactly that.
---
Just a couple more tropes desu!