YMMV •

Radar

•

Quotes

• (
Funny •

Heartwarming

•

Awesome) •
Fridge •

Characters

•

Fanfic Recs

•

Nightmare Fuel

•
Shout Out

•

Plot

•

Tear Jerker

•
Headscratchers

•
Trivia •

WMG

•

Recap

•
Ho Yay

•
Image Links

•

Memes

•

Haiku

• Laconic •
Source

•

Setting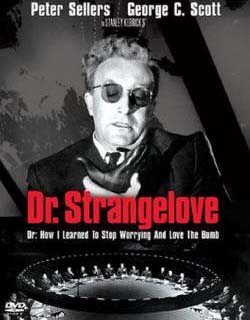 Dr. Strangelove or: How I Learned To Stop Worrying And Love The Bomb is a 1964 Black Comedy film by Stanley Kubrick. The plot is largely lifted from the 1958 novel Red Alert by Peter George.
One day, General Jack D. Ripper (Sterling Hayden) goes mental. He orders the nuclear bombers under his command to carry out a surprise attack on the Soviet Union. He puts his entire military base in lockdown with all communications cut, ordering all radios confiscated (so that Communist infiltrators can't receive outside commands) and all troops to fire on anyone who tries to enter the base, even if they appear to be fellow Americans (because they will surely be Communists in disguise). Ripper's aide, British Group Captain Lionel Mandrake (Peter Sellers), discovers one last unconfiscated radio - playing dance music. Realizing that civilian stations wouldn't be playing dance music while the country was under attack, Mandrake confronts General Ripper. Ripper explains that after he felt "a profound feeling of emptiness" following "the physical act of love" one night, he realized that the Communists were trying to contaminate America's "precious bodily fluids" by means of fluoridation and that a preemptive strike on the Soviet Union was necessary to force America to end the Communist threat once and for all.
In Washington, U.S. President Merkin Muffley (Peter Sellers again) holds a meeting in the War Room. The President's wheelchair-bound, ex-Nazi science adviser, Dr. Strangelove (also Peter Sellers), and the Soviet ambassador both confirm that an attack on the USSR will trigger The Doomsday Machine: a computer programmed to detonate a cobalt bomb that will kill nearly all life on Earth's surface with its radiation over the course of months, if the Soviet Union is attacked or if any attempt is made to disable the Doomsday Machine). The president gets on the hotline and desperately attempts to convince the drunken Soviet premier that the American attack is just a silly mistake as they attempt to call off the attack.
The film was supposed to be released in November of 1963 (see Too Soon below), but was eventually released in January of 1964.
---
This film includes examples of:
 Gen. Turgidson: "Gee, I wish we had one of them doomsday machines!"

Strangelove: "We briefly investigated making a similar machine ourselves. Based on the findings of the report, my conclusion was that this idea was not a practical deterrent ... for reasons which at this moment must be all too obvious."
| | | |
| --- | --- | --- |
| |  Mandrake: "Well, I'm afraid I'm still not with you, sir, because, I mean, if a Russian attack was not in progress, then your use of Plan R - in fact, your order to the entire wing... [[[Beat]]] Oh. I would say, sir, that there were something dreadfully wrong somewhere." | |
| | | |
| --- | --- | --- |
| |  Turgidson: The Russki talks big, but frankly, we think he's short of know-how. You can't expect ignorant peons to understand a machine like our boys. And that's not meant as an insult. We all know how much guts the average Russki's got. Look at all of them the Nazis killed off, they still wouldn't quit! | |
 Muffley : You are talking about mass murder not war [...] I'm not going down in history as the greatest mass murderer since Adolf Hitler.

Turgidson : Perhaps it might be better, Mr. President, if you were more concerned with the American People than with your image in the history books.

Muffley : General Turgidson, I've heard quite sufficient from you. Thank you very much
↑

It is the stated position of the U.S. Air Force that their safeguards would prevent the occurence of such events as are depicted in this film. Furthermore, it should be noted that none of the characters portrayed in this film are meant to represent any real persons living or dead.