Jurassic World: Dominion Dominates Fandom Wikis - The Loop
Play Sound

YMMV •

Radar

•

Quotes

• (
Funny

•

Heartwarming

•

Awesome

) •
Fridge

•

Characters

•

Fanfic Recs

•

Nightmare Fuel

•
Shout Out

•

Plot

•

Tear Jerker

•
Headscratchers

•
Trivia

•

WMG

•

Recap

•
Ho Yay

•
Image Links

•

Memes

•

Haiku

•

Laconic

•
Source

•

Setting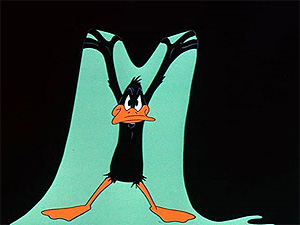 Duck Amuck is an incredibly postmodern Merrie Melodies short directed by Chuck Jones in 1953, in which Daffy Duck finds himself tormented by a sadistic animator. Seen as a large pencil or paintbrush coming into frame to make alterations, the animator screws around with the backgrounds, erases Daffy, paints him absurd colors, replaces his voice with random sound effects, redraws him as a bizarre four-legged creature, and so forth. The animator, who Daffy cannot see, is ultimately revealed to the audience as none other than Bugs Bunny.
The short was an audacious experiment — which has since come to be regarded as one of the all-time great cartoon shorts (and has in fact been named the second greatest cartoon ever made). A couple years later Jones would direct a somewhat less successful spiritual sequel in Rabbit Rampage, this time with Bugs Bunny as the victim (in a bit of Laser-Guided Karma) and Elmer Fudd holding the pens and paintbrushes. It had its moments, though.
| | | |
| --- | --- | --- |
| |  Bugs: (after the animator removes his tail) All right, you vandal, put that tail back! (the animator paints a horse's tail on Bugs) That is a horse's tail, my friend. (seething) It belongs on a horse. (the animator erases Bugs save for the tail, and paints him as a horse. Bugs is not amused, munching on a carrot) Okay, wise guy. My contract SPECIFICALLY says I am always to be drawn AS A RABBIT! | |

Duck Amuck was the basis of a Nintendo DS game of the same name, while the SNES game Bugs Bunny Rabbit Rampage is based off of Bugs' cartoon.
See it here.
---
Tropes associated with Duck Amuck include:
 (A pencil quickly draws a sketch of a crude cityscape)

Daffy: (sarcastically) That's dandy. Ho-ho, that's rich, I say. (to artist) Now how about some color, stupid?!

(Daffy's head is painted bright blue...)

Daffy: Hey!

(...followed by the rest of him painted a myriad of colors.)

Daffy: Not me, you slop-artist!
 (Daffy starts dancing, and then the frame shifts, with Daffy's top half in the bottom frame, and his bottom half on the top frame.)

Bottom!Daffy: Now what?!

Top!Daffy: What are you doing down there?

Bottom!Daffy: Down here? What are you doing up there? (to audience) Down here--

(Top!Daffy snatches Bottom!Daffy into the top frame, which then re-centers)

Bottom!Daffy Daffy!Prime: Listen, bub, if you wasn't me, I'd smack you right in the puss!

Top!Daffy Daffy!Clone: Don't let that bother ya, Jack!

Daffy!Prime: (winding up a punch) Okay, buddy, you asked for it!

(Daffy!Clone gets erased just before Daffy throws his punch, making him miss wildly.)
Cloning Blues

In Rabbit Rampage, Bugs is outraged when two other Bugs are drawn in. "Alright, OUT YOU IMPOSTOR!"

Closeup on Head: Inverted: A far-away Daffy wants a closeup, and he gets one...an extreme one.
 (Daffy washes up on an island far in the background.)

Daffy: (distant) Hey! C'mere...c'mere! Gimme a close-up! A close-up!

(The screen goes black except for the volcanic island in the far distance, which Daffy is on.)

Daffy: This is a close-up? (Beat) A CLOSE-UP, YOU JERK! A CLOSE-UP!

(The camera then rapidly zooms in on Daffy, accompanied by a Musical Sting, until the camera is aimed right between Daffy's bloodshot eyes.)

Daffy: Thanks for the sour persimmons, cousin.