Jurassic World: Dominion Dominates Fandom Wikis - The Loop
Play Sound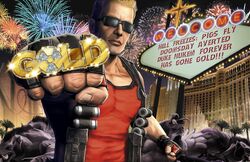 This is taking forever! Time to stop pissing around and describe this bad boy!
Duke Nukem Forever is, for all intents and purposes, two things.
Against all odds, it finally became available on June 14th, 2011 for Xbox 360, Play Station 3, and PC on DVD or via Steam, just in time for Duke's Twentieth Anniversary. The Hail to the Icons Parody Pack was released on October 11th as the game's first DLC pack. It includes four new maps, each making fun of an iconic FPS series with a parody-weapon based on said series, and three new game modes. A second DLC pack titled "The Doctor Who Cloned Me", released December 2011, has a smaller campaign taking place right after DNF's ending which gives proper closure to the story along with four new multi-player maps.
For more information about the game's extensive development history, see this page.
Tropes used in Duke Nukem Forever include:
[Please remember that tropes related to the game's development go into the Development History page]
| | | |
| --- | --- | --- |
| | "Whoa! There's somethin shakin' the crane! Come on out, ya bastard! I'll donkey punch ya in the blow hole!" | |
Back from the Dead:

Dr. Proton.

Berserk Button: This is the first time we have ever truly heard Duke angry. Not just "This really pisses me off", but tangible, human, rage. Duke loves his babes, and by God does he hate aliens.

Also, occasionally, when he messes up at the pool table in his mansion.

Bland-Name Product: the game has several instances of real-life brands being modified, usually with a Double Entendre. For example, Abercrombie & Fitch becomes Analcrumbly & Itch, while Macy's becomes Fecy's.
Bling Bling Bang: Duke's gold plated 1911 pistol. There's even an achievement for holding onto it for the entire game.
Book Ends: In the beginning of the game, you take a piss and kill a giant cyclops alien in a videogame.

The last boss is that very alien, and you piss in his eye socket after killing him. To which he remarks before fighting him, is a one liner ascended from a very familiar one: "I'll rip your eye out and piss on your brain!"

Booze-Based Buff: Duke can down a tallboy beer to drastically enhance his damage resistance in exchange for blurred vision. On top of that, multi-player features Duke-brand Whiskey that provides temporary invulnerability.
Bond One-Liner: Duke has a ton of them. What he says depends on what he kills.
Cable Car Action Sequence: In a dumpster suspended from a crane.
Call Back: You can sign "Why I'm So Great," Duke's autobiography first mentioned in Duke Nukem II.

Interacting with the "Balls of Steel" pinball machine back in Duke Nukem 3D would cause Duke to remark "Hmm, don't have time to play with myself." Now that you can play "Balls of Steel", Duke says "Now I have time to play with myself!"
The achievements for beating the game on each difficulty are named after the Idiosyncratic Difficulty Levels from Duke Nukem 3D.
The very first boss is similar to Duke Nukem 3D's

Cycloid Emperor

. In fact, the entire level is pretty similar to the last 3D's last level, right down to

the field goal

.

Captain Obvious: Done as a joke, some of the loading screen messages give obvious advices, to say the least:
| | | |
| --- | --- | --- |
| | | |
| | | |
| --- | --- | --- |
| | | |
| | | |
| --- | --- | --- |
| | "Rammed that thick skull of yours against the mountain and it moved for you, did it? I knew you wouldn't disappoint." | |
| | | |
| --- | --- | --- |
| | "Hey pal, what are you going to do? Save the world all by yourself?" | |
| | | |
| --- | --- | --- |
| | "Looks like those alien bastards drank all my beer!" | |
| | | |
| --- | --- | --- |
| | | |
Lampshaded even further when an EDF commander sends a rookie with you and even says "Try not to let him get his ass killed." Of course he immediately goes running into a hail of bullets at the first opportunity, a reference to his name and also probably a joke about terrible team AI in FPS games.

Retcon: In one level, you visit a museum containing artifacts from Duke's previous games, including screenshots from them. One is from the opening from the first game, where Duke says he'll kick Proton's ass and still have time to watch Oprah. The text has been changed from "Oprah" to "Lenoman", a talk show host that briefly appears in the game. Strangely, Duke's salmon shirt still remains.
"Ride of the Valkyries": During the opening segment of the Mighty Foot level. Intermixed with the title theme, slowly creeping from orchestral into heavy metal as the level goes on. AWESOME.
Self-Deprecation: Duke has several lines mocking the long delay.
Sequel Snark: Duke meets a dying character and merrily quips that he won't be in the sequel. "The Doctor Who Cloned Me" reveals that

he was wrong

.
Shotguns Are Just Better: Unless you're fighting a major boss (which are only harmed by explosives), the game's shotgun is generally the most useful weapon in the game.
Shrink Ray: As part of Duke's arsenal.
Step Three: Profit: Invoked during a conversation between two EDF soldiers.
EDF #1: Step three is... uh... uh...
EDF #2: Uh, profit?
| | | |
| --- | --- | --- |
| | "I'm going to run for President (Beat). Hail to the king, baby!" | |
The talking pink car Shrunk!Duke drives in the Meat Grinder chapter of The Doctor who Cloned Me intermittently spews inane phrases that are reminiscent of a talking version of a certain doll back in the 80s (although Gearbox also threw in a few exaggerated lines). Duke's response to those lines pretty much sums up how many people felt about the phrases.
| | | |
| --- | --- | --- |
| | | |
Testosterone Poisoning: Duke might be the most exaggerated example of stereotypical manliness in video game history.
Title Drop: The opening line of the game: "This is taking forever."

Also seen in a trailer close to the game's release: "What, did you think I was gone forever?"

Unexplained Recovery: Captain Dylan shows up alive and well in "The Doctor Who Cloned Me" after his apparent death near the end of the main game. The explanation is that he only passed out from blood loss.
Video Game 3D Leap: This was the game that finally brought the main Duke series into Polygons.
Viva Las Vegas: The game mostly takes place around a fictional version of Vegas, the Nevada desert and the Hoover Dam.
What Do You Mean It's Not Heinous?: Multiple times. For example:
| | | |
| --- | --- | --- |
| | "Looks like those alien bastards drank all my beer." | |
"What kind of sick motherfucker picks up wet feces?!"
"What's next, shit finger painting?"
Writers Cannot Do Math: The game claims to be set twelve years after Duke Nukem 3D, which was set in December 2007, so DNF is set in the year 2019 or 2020. However, at the beginning of the game, we are informed that the USA is on its 67th president. Even if we assume that all of the presidents in the intervening time only served a single term (four years), that would place DNF in 2104 at least. Therefore, either the writers ignored their mathematics when it comes to the passage of time, or the USA went through some serious political instability.