Spider-Man: No Way Home Trailer Dropped - The Loop
Play Sound

YMMV

•

Radar

•

Quotes

• (

Funny

•

Heartwarming

•
Awesome

) •

Fridge

•

Characters

•

Fanfic Recs

•

Nightmare Fuel

•
Shout Out

•

Plot

•

Tear Jerker

•

Headscratchers

•
Trivia

•

WMG

•

Recap

•

Ho Yay

•

Image Links

•

Memes

•

Haiku

•

Laconic

•
Source

•

Setting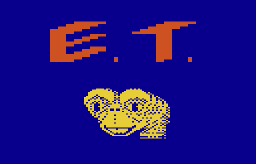 "E.T. certainly isn't the worst game or even the least polished, but I actually like having the distinction of it being the worst game. Between that and Yars Revenge, I have the greatest range of anyone ever on the machine."

—Howard Scott Warshaw, designer and programmer of E.T.

An adaptation of the movie for the Atari 2600, that became infamous as the Trope Makers for The Problem with Licensed Games. Considered one of the worst games of all time, and one of the events that led to The Great Video Game Crash of 1983.
Following the success of the movie, in July 1982 Warner Communications, Atari's parent company, paid $20-25 million for the rights to do a video game adaptation. Programmer Howard Scott Warshaw was given just six weeks to write it, in order to meet the Christmas deadline. In comparison, Warshaw's previous 2600 games, Yars Revenge and Raiders of the Lost Ark, both highly regarded, took seven months and six months respectively.
The game itself is a Three Quarters View Action Adventure game. You play E.T., and at the beginning, you are dropped off by the phonebooth-looking spaceship. You then have to find three pieces of an intergalactic telephone so E.T. can "phone home." You wander around six screens, and perform various actions by pressing the fire button; different actions are available depending on where E.T. is standing. The most important screens are the ones with pits; the phone pieces are in the pits. You can try falling into pit after pit to check them, or you can find the part of the screen where you can use an action that shows which pit has a phone piece. Once you assemble all the phone pieces, you head to one spot on one screen where the available action is phoning home. Phone home, then head to the landing site for a pick-up before a timer runs out.
Standing in your way are an FBI agent who steals your phone pieces if he touches you and puts them back in the pits, and a scientist who drags you off to study you. Also, every time you move or do an action, you use energy. Run out of energy, and E.T. dies, though Elliott will revive him.
The screens with pits also have Reese's Pieces, represented by green dots, lying on the ground. Pick them up, and a part of the screen will let you eat them for more energy. The FBI agent will steal these too. Another part of the screen will let you call Elliott, and if you have nine Reese's, he will take them, and in return, chase away the FBI agent and scientist, and return a moment later with a phone piece. If you have less than nine Reese's, Elliott will take them and go home.
If you succeed in getting home, you will see Elliott walking around his house, and you'll see the number of Reese's you've given him. These will add to your score. The game then restarts, with the phone pieces once again in random pits.
So, does this sound like one of the worst games of all time?
The game is at least complete, and not buggy. This isn't Big Rigs Over the Road Racing. But the gameplay is boring, confusing, and repetitive. It's also very easy to fall into a pit, and once you levitate back out, you often fall right back in again. Watching the movie doesn't in any way help you understand what you are supposed to do in the game; of course, reading the manual helps a lot, but who would do that anyway? Atari also published a Hints Sheet later, but the damage was already done. If this had been just another 2600 game, it would have been considered below average and quickly forgotten. But Atari's big bet on it is what made it infamous. Atari produced four million units, expecting a massive hit. One and a half million sold, but most of these were sent back. Atari lost millions, Warner Communications' stock price took a 35% hit, and within a few months, The Great Video Game Crash of 1983 was underway.
In September 1983, Atari buried a bunch of stuff in a New Mexico landfill. There's an Urban Legends that most of the E.T. cartridges were buried there, but it's not known for sure. E.T. cartridges are still very easy to find today.
Nearly twenty years later, the excavation of the landfill was conducted. About 1,178 cartridges were removed as the rest were deeper than expected. The recovery was recorded and was used as the starting point of the documentary, Atari: Game Over.
---
E.T. The Extra-Terrestrial provides examples of: