Jurassic World: Dominion Dominates Fandom Wikis - The Loop
Play Sound

YMMV •

Radar

•

Quotes

• (
Funny

•

Heartwarming

•

Awesome

) •
Fridge

•

Characters

•

Fanfic Recs

•

Nightmare Fuel

•
Shout Out

•

Plot

•

Tear Jerker

•
Headscratchers

•
Trivia

•

WMG

•

Recap

•
Ho Yay

•
Image Links

•

Memes

•

Haiku

•

Laconic

•
Source

•

Setting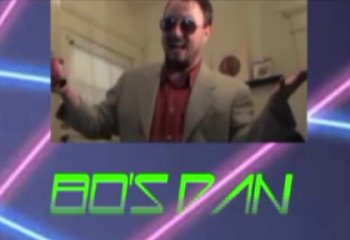 So hello, sunny skies

Goodbye, blues!

A character and show by Brad Jones as part of The Cinema Snob site. Dan got zapped from 1989 to the present when Brad opened a bottle of New Coke. Since then, Dan has settled with his roommates, Dolly and R.O.B. the Robot, and his neighbors the Crabtrees, to talk about his favorite stuff from The Eighties, no matter how stupid or schlocky it is.
Most of the show is done in a fake sitcom format, complete with canned audience reactions. Plots usually involve Dan gushing over stuff from his time, his friends getting annoyed, and R.O.B. trying to make it with Mrs. Crabtree, to her husband's increasing annoyance.
Episodes can be found on here.
---
Provides Examples Of
 "I'm that pretentious guy from that internet show!"

"The stick up his ass seemed pleasant."
Affectionate Parody: The show is one of 80's sitcoms, including a gratuitous Laugh Track and a cute buddy who's completely out of place.
Ass Shove: In the Christmas Special, Mrs. Crabtree threatens to shove ROB up her own ass. Acts as Foreshadowing to The Reveal that she really does do that kind of thing when drunk, and that the Christmas star 80's Dan and Dolly were looking for throughout the whole thing was up there all along.
Censor Box / Sound Effect Bleep: Dolly's religious aura makes it physically impossible to swear around her. But only on Christmas. Actually, the rules aren't clear.
 Snob: I can't say [bleep], but he gets to make jokes about crack and weapons?!

Dolly: It doesn't make sense to us either.
| | | |
| --- | --- | --- |
| |  Linkara: "Ah, yes. The crossover everyone demanded." | |
 Dolly: Why I am thinking of VHS tapes, all of the sudden?

ROB: Same reason I'm thinking of titties!