Doctor Strange in The Multiverse o Madness - The Loop
Play Sound

YMMV •

Radar

•

Quotes

• (

Funny

•

Heartwarming

•
Awesome

) •

Fridge

•

Characters

•

Fanfic Recs

•

Nightmare Fuel •
Shout Out

•

Plot

•

Tear Jerker

•

Headscratchers

•
Trivia • WMG •

Recap

•

Ho Yay

•

Image Links

•

Memes

•

Haiku

•

Laconic

•
Source

•

Setting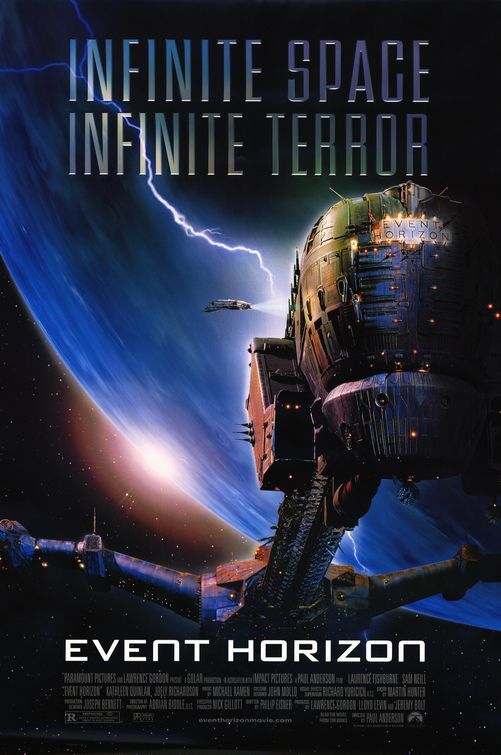 Hell is only a word. The reality is much, much worse.

—Dr. Weir

A movie where astronauts investigate an experimental ship (the titular Event Horizon) that disappeared under mysterious circumstances. Almost everybody dies.
Okay, a little more explaining...
In the year 2047, a signal from the starship Event Horizon is picked up on Earth. The ship had disappeared without trace beyond Neptune in 2040. The ship has reappeared in a decaying orbit around the planet Neptune, and the rescue ship Lewis and Clark is dispatched to investigate. The ship's crew is commanded by Capt. Miller (Laurence Fishburne) and carries the Event Horizon's designer, Dr. William Weir (Sam Neill).
No definitive trace of human life is found; inconclusive sensor readings lead the Lewis and Clark's crew to enter the Event Horizon to search for survivors. Things start to go very wrong very quickly, it appears that someone or something is toying with them, and more, the question is what has the Event Horizon become?
Notable for being pretty much the one Paul W. S. Anderson movie even haters are willing to recognize as genuinely good, Event Horizon is a very effective Cosmic Horror story, basically Lovecraft IN SPACE!
Not to be confused with Moral Event Horizon, or Despair Event Horizon. Or, for that matter, the term for the region around a black hole from which light can no longer escape. For the game that was heavily inspired by the film, see Dead Space.
---
This film has examples of:
 "Want something hot and black inside you?"

"No."

"Well, how 'bout some coffee, then?"
 Miller: Layman's terms.

Cooper: Fuck layman's terms, do you speak English?
 Cooper: Why's this shit always gotta happen to me?!

Cooper: (when the ship fills with blood) ...Oh, fuck me.
| | | |
| --- | --- | --- |
| |  Miller: I have no intention of leaving her, Doctor. I will take the Lewis and Clark to a safe distance, and then I will launch TAC missiles at the Event Horizon until I'm satisfied she's vaporized. FUCK this ship. | |
| | | |
| --- | --- | --- |
| |  "You break all the laws of physics, and you seriously think there wouldn't be a price?" | |
An orbit in atmosphere would degrade very quickly due to air resistance, especially a stormy atmosphere like Neptune's.