Cobra Kai Season 4 - The Loop
Play Sound

YMMV

•

Radar

•

Quotes

• (

Funny

•

Heartwarming

•
Awesome

) •

Fridge

•

Characters

•

Fanfic Recs

•

Nightmare Fuel

•
Shout Out

•

Plot

•

Tear Jerker

•

Headscratchers

•
Trivia

•

WMG

•

Recap

•

Ho Yay

•

Image Links

•

Memes

•

Haiku

•

Laconic

•
Source

•

Setting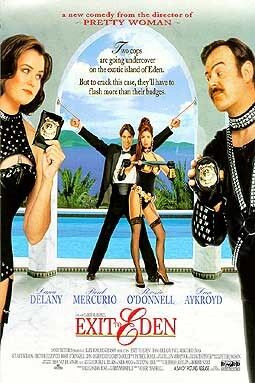 Exit to Eden is a 1985 novel by Anne Rice, that was originally written under the pen name Anne Rampling before being subsequently published under her own name, about a BDSM resort, the eponymous Eden.
In 1994 it was adapted into a movie by Garry Marshall. The result was not pretty.
Elliot Slater (Paul Mercurio) is an Australian photographer who has never managed to sustain a relationship on account of his masochistic proclivities. To come to terms with his sexuality, he signs up to go to Eden. Once there, he falls in love with the owner/head dominatrix Lisa Emerson (Dana Delany)...
Unfortunately, at the airport, Elliot inadvertently took photographs of wanted international diamond smuggler Omar (Stuart Wilson), who heads off to the resort himself to retrieve the diamonds. This forces cops Shelia Kingston (Rosie O'Donnell) and Fred Lavery (Dan Aykroyd) to go undercover at the resort to arrest him...
---
This film provides examples of: