Obi-Wan Finale - The Loop
Play Sound

Quotes

•
Headscratchers

•
Playing With

•

Useful Notes

•

Analysis

•
Image Links

•

Haiku

•

Laconic
| | | |
| --- | --- | --- |
| | "Some krogan believe that testicle transplants can improve their virility, counteract the genophage. It doesn't work, but that doesn't stop them from buying. Ten thousand credits each, that makes forty thousand for a full set. (Beat) ...Someone's making a killing out there..." | |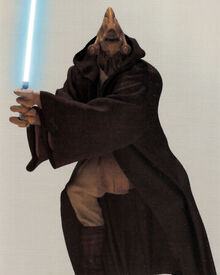 Humanoid fantasy races, Rubber Forehead Aliens, and the like will have genitalia close enough to the human model that they can get down and dirty with humans or the equivalent. (Most of the time, anyway.) However, there will usually be just enough variance to make the experience... different for the human participant.
If male, the non-human partner will also often be well-endowed. If female, she'll almost invariably lack pubic hair.
If this isn't made explicit in the canon, expect it to be explored in Fanfic.
See also: Interspecies Romance, Bizarre Alien Biology, Bizarre Alien Reproduction, Vagina Dentata, and Naughty Tentacles. Contrast Male-to-Female Universal Adaptor. Compare with the Mermaid Problem.
For other kinds of Exotic Equipment, see Impossibly Cool Weapon or Impossibly Cool Clothes.
Examples of Exotic Equipment include:
Comic Books
Fan Fic
Film
 Francisco: And that fits?

Sykes: Well, yeah. It's rubber. It stretches. [he demonstrates]

Francisco: And it still fits?

Female police officer gives Francisco a sideways look...
Literature
Live Action TV
 KIM: "I've got to be honest, I wasn't expecting something so different."

TAL: "Neither was I. Our species look so similar... well at least on the surface."

KIM: "I would've never guessed when it came down to the basics. Well, let's just say the birds and bees will be very confused."
| | | |
| --- | --- | --- |
| |  Razor (to Willow, Tara, and Anya): Now let me tell you something, children. We're not gonna fight you. We're just gonna hold you down and enjoy ourselves for a few hours. You might even live through it. Except that certain of my boys got some...anatomical incompatibilities that, uh, tend to tear up little girls. | |
Music
 "Is that your tongue?"

"One of them, yes."
And later:
 "That sure is a big piece of machinery you've got!"

"I made it myself."
Ironically, the film used Male-to-Female Universal Adaptor instead
Tabletop RPG
Video Games
Web Animation
Web Comic
 Draenei Female: "I'm sure I've got nothing you haven't seen before..."

Dwarf Male: "Actually, I've not seen that before. Does it bite?"

Draenei Female: "Only a little."
Web Original
Western Animation
↑ Of course, almost everyone ignores that statement, for various reasons, including biological evidence why it would be unlikely at best for a bipedal mammalian species to lack such assets.