YMMV •

Radar

•

Quotes

• (
Funny •

Heartwarming •

Awesome) •
Fridge •

Characters •

Fanfic Recs •

Nightmare Fuel •
Shout Out

•

Plot

•

Tear Jerker •
Headscratchers •
Trivia • WMG •

Recap

•
Ho Yay

•
Image Links

•

Memes

•

Haiku •

Laconic

•
Source

•

Setting
| | IMPORTANT: The content of this page is outdated. If you have checked or updated this page and found the content to be suitable, please remove this notice. |
| --- | --- |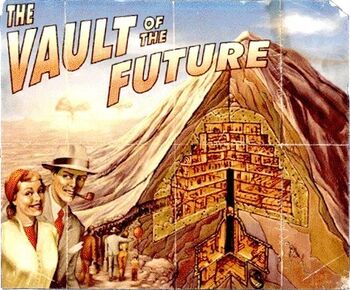 This is about the game series; if you're looking for radioactive fallout see The Deadliest Mushroom.
It has been many decades since the winds of the apocalypse blew in over America and took the old world with it, leaving only the Wasteland in its place. The event, known as "The Great War", was the culmination of a long and bloody struggle between USA and China over the last oil in the world. It came in the form of a massive global nuclear attack, which in two hours bathed the Earth in fire and radiation and ended all human civilization. But the human race is stubborn, and not so easily eradicated, and now small societies are starting to pop up all over the North American mainland, and you, the player, can either help them prosper or take away their hope, and watch them wither and die.
Arguably one of the best examples of how to make a nonlinear RPG ever, the original two Fallout games are loved by a small but passionate audience across the world, who laud the game's intuitive turn-based action and detailed world building, which takes its atmosphere from The Fifties' pop-culture and Weird Science stories from Pulp Magazines. The biggest draw is the way the games - particularly Fallout 2 - allow the player to do pretty much whatever they want.
Character creation is very flexible, letting the player specify their age, race, sex, physical and mental statistics, known skills and special talents. The player is then dumped into a post-apocalyptic wasteland with a distant end goal, no clear means of how to reach it, and a map that gives directions only as far as the one nearest settlement.
It quickly becomes clear that Fallout is very flexible when it comes to completing goals. For example, upon entering a crime-ridden area, the player can help the sheriff to take down the crooks, help the crooks take over the town, or Take a Third Option and mindlessly slaughter every living thing in sight (hey, at least there's no more crime). A Karma Meter tracks the player's behavior, and affects the reaction of other NPCs; if you're too good then criminals won't trust you with their missions, but being too evil means the same for law-abiding folks. If you ever gain "child killer" status you'll be ostracized by almost everyone.
Fallout 2 takes this even further, with the player able to gain all kinds of different statuses. They can be deputized into the police force, become a porn star, join the Slavers and sell captured tribespeople (or their own NPC friends!), join "The Brotherhood of Steel", go grave robbing, or become made men in the post-apocalyptic Mafia. They can even choose to play with an Intelligence score of 1, which makes them barely smart enough to speak, and completely changes the way the game plays.
Sadly, the multitude of options made the sequel incredibly buggy and virtually unplayable without patches (included in today's jewel case versions, so you have no excuse not to play it). Still, despite isometric 2D graphics that look distinctly crude by today's standards, the Fallout games continue to appeal to thousands worldwide because of their incredible depth.
The original Fallout games were followed by a pair of non-RPG spin-offs. The PC-based Fallout Tactics was a tactical strategy game that used settings, characters, graphics and the turn-based combat engine from the Fallout games. Fallout: The Brotherhood of Steel was a 3D, above-viewed shoot-em-up that challenged the player to wipe up the wasteland as a member of one of the clans from the RPGs. They both received variable reviews, although Fallout Tactics has built up a cult following, the console games never gained all that many equals.
Producers Black Isle had nearly completed a third game in the Fallout series, code-named "Van Buren", when parent company Interplay went bankrupt and shut them down. After spending several years as Vaporware, Interplay sold the rights to the series to Bethesda Softworks, best known for The Elder Scrolls, to save themselves from bankruptcy.
Bethesda chose to start development of Fallout 3 from scratch; their game was released October 2008, and is a fully-three-dimensional game with light FPS elements. It follows a Vault Dweller from Vault 101 as he or she searches for a lost father. The FPS elements were integrated well into the experience, and character advancement is far more enjoyable than in the Elder Scrolls games.
On April 20, 2009, Bethesda Softworks announced Fallout: New Vegas, with Obsidian Entertainment as the developers. The game came out on October 19, 2010 in North America and October 22 in Europe (the days the bombs fell) on the PC, Xbox 360 and PS3. Somewhat ironically, Obsidian is run by Black Isle refugees, the developers of the first two Fallout titles, and several Obsidian employees worked on Black Isle's original Van Buren project. Fan reaction is perhaps best described as "a tiny spark of hope shining through lots and lots of cynicism."
On May 30, 2018, Bethesda announced Fallout 76, to be released in November 2018. Among other features, Fallout 76 appears to be the long-awaited multiplayer version of the game.
List of Fallout titles:
Fallout 1: The original game. Technically titled 'Fallout: A Post-Nuclear Role Playing Game'.
Fallout 2: The extremely good sequel.

Fallout: Van Buren

: The original Fallout 3, canceled due to Interplay's bankruptcy which caused the closing of Black Isle. Surprisingly, the game is still at least partly canon, even though it was never released.
Fallout 3: The wildly popular First Person version.
Fallout Tactics: Brotherhood of Steel: A linear spinoff developed by 14 Degrees East, featuring a Genre Shift to squad-based tactics a la Jagged Alliance. Received good reviews, and is generally regarded as decent, but was poorly advertised and isn't as well known as the main games in the series. Semi-canon, with Broad Strokes.
Fallout Brotherhood of Steel: Another linear spinoff, this one developed for the PlayStation 2 and Xbox. Received mixed to terrible reviews and sold poorly. One of the last games produced by Interplay before they went bankrupt. Acknowledged as non-canon.
Fallout: New Vegas: An RPG by Obsidian very much in the same vein as Fallout 3, released in October 2010.
Fallout 4: Another RPG in the vein of Fallout 3 by Bethesda, released in November 2015. The game is mainly set 10 years after Fallout 3 in the region around Boston known as the Commonwealth.
Fallout Shelter: A simulation game where you can manage your own vault.
Fallout Extreme: Working title for a canceled project briefly developed by 14 Degrees East which would have been a sequel to Fallout Tactics released on the Xbox. It would have apparently been a first-person/third-person squad-based tactics game with strategic overworld management similar to Jagged Alliance, but never got past the concept stage.

Fallout 76

, announced in May 2018 for a November 2018 release.
Interplay, during its financial difficulties, proposed an MMO based on the Fallout franchise. They had been going forward with it, but then as of January 9, 2012, gave up the rights to carry on after a settlement with Bethesda.
See also Wasteland, the series' Spiritual Predecessor, and Arcanum, the series' Steampunk sister game.
Note: Tropes relating to the series and the Fallout Universe in general goes here. Please put tropes that applies to individual games in the series on their respective pages.
Tropes used in Fallout include:
| | | |
| --- | --- | --- |
| | ALARM! Intruders in the camp! Wake up you piss ant sons of bitches! I'll swear I'll cut the balls of anyone I don't see fighting! Get up you curs! If they escape, God help me, I'll burn you motherfucking still to the ground! | |
Cool Shades: Appear often: depending on the game, they may provide stat bonuses or just look good.
Corrupt Politician: There aren't many elected officials, but for those there are, this trope is usually in full effect.
Crapsack World: The world is a ruined, post-apocalyptic wasteland, and that's just the tip of the iceberg. It only gets worse, folks. There are giant radioactive insects and arachnids, really unsociable mutants, proto-zombies of every flavor and variety, mass starvation, dehydration, radiation sickness, rampant slavery, murder on a scale that can potentially reach genocide, and generally life itself only continues to remind the human race of how royally they screwed up the planet. Sure, there are examples of civilization trying to rebuild itself, but that results in places like the den of vice New Reno and fascist communities like Vault City. Still, the player can - should they so choose - leave the gameworld a little better than they found it. Or just make it massively worse, of course...
Critical Existence Failure: Played straight in general: everything, whether animal, vegetable or mineral, fights just as well at 1 HP as at 100. However, critical hits to a specific location (usually eyes or a limb) can cripple that part and reduce stats or fighting ability.
Critical Failure: You can drop your weapon, lose your ammo, lose your turn, injure yourself, and so on. At the extreme end, energy weapons can blow up in your hands. This can also apply to non-combat skills, jamming locks and triggering traps. Oh, and the Jinxed trait in the first two games made it happen to everyone around you, which could make the early game very very challenging since every miss had a good chance of being a critical miss. You could, however, make up for most of the negative effects of the trait by having a high Luck Stat, and you furthermore chose Unarmed, which does not have very harsh punishments for failures, as your primary combat skill, you suddenly have a very effective character build.
Critical Hit: Each game has its own Critical Hit mechanics. In general, critical hit rate is determined by the Luck stat, equipment and perks.

In Fallout 1, Fallout 2 and Fallout Tactics, called shots to specific body parts (especially the eyes) had a higher chance of being critical hits. Critical hits were resolved by rolling on a table that included results like triple damage, bypassing armour, and instant death. Infamously, it was possible to roll an instant death result that did not ignore armour, generating the "[Target] was critically hit for 0 damage and died from the pain" message.
In Fallout 3 and Fallout: New Vegas, a critical hit simply multiplied damage by a weapon-specific coefficient. In addition, a sneak attack critical did double the damage of a regular critical hit.
Fallout 4 downplays its Critical Hits to merely double-damage attacks that can't be triggered during regular combat, but instead are manually triggered during V.A.T.S. attacks where they guarantee that an attack will hit its target. Certain weapon mods can increase Critical damage and a number of perks allow the player to store more criticals or even gain criticals outright on a V.A.T.S. kill.

Cursed with Awesome: Arguably the ghouls are. Sure, they make third degree burn victims look pretty, but they are immune to radiation and can't apparently die from old age. In fact, if they were able to breed they might be considered an improvement over humanity.

Super Mutants were specifically designed to be superior to humans in coping with the harsh Wasteland, but it came at the cost of them being sterile and not very bright (with a few exceptions).

These exceptions are much more common on the West Coast, especially with the Nightkin, who are generally intelligent, stronger than the average Super Mutant, and are invisible thanks to Stealth Boys. However, due to overuse of Stealth Boys, most Nightkin have gone insane

Deadpan Snarker: Every protagonist.
Deconstruction:

The first two games (and, to an extent, Fallout: New Vegas) deconstruct the Idiot Hero. Generating a hero with an Intelligence score of 3 or less makes you have hilarious conversations with the world, true; however, you get fewer skill points from leveling-up, you are locked out about from about 90% of the quests, most of the people don't give you anything for your efforts and treat you like a joke. Furthermore, can't really make a lasting impact on the Wasteland in general. Sure, you save your hometown, but everyone else is pretty much screwed.
The entire series is a deconstruction of the supposed "moral purity" of The Fifties, showing exactly what would happen if the Moral Guardians who say this had their way and the actual 1950's continued forever.

Defector From Decadence:

The talking Deathclaws in Fallout 2: somehow, they built a moral and social structure, though their creators certainly wouldn't have encouraged it.
The Capital Wasteland branch of the Brotherhood of Steel deviated from their original mission (gathering up old technology) to helping the inhabitants of the wasteland. This change lead to a significant number of BoS members claiming Lyons was a defector. So the Defectors from the Defector from Decadence became the Outcasts, who are a lot less altruistic, especially if they see you handling any piece of technology more sophisticated than a gun.
This is actually the origin story for the original Brotherhood too, they started out as U.S. soldiers that discovered the horrific FEV experiments happening in the Mariposa Military base which they were set to guard. They executed the scientists and defected from the military, however, as this was happening the bombs were dropped and news of their defection was never received by the Government.

Desert Skull: The series loves this trope.
Dirty Communists: Going by Pre-War propaganda, the entire nation of China. You get to fight a simulation of them in the Operation: Anchorage DLC. Likewise, Liberty Prime figures anyone who gets the receiving end of one of his nuclear footballs is a communist, regardless of what he's actually fighting. Then again, that just makes it better.
Disaster Democracy: The Enclave, a descendant from the pre-war American government claims to be this, but they're really not much better than a tyrannical dictatorship trying to enforce their rule over the wasteland. The NCR is a better, more noble example, especially by the time of Fallout: New Vegas. However, they're generally handicapped by the bureaucracy and red tape that plague most democracies while their overambitious expansionist policies leave them with a lot of enemies.
The Ditz: Harry, who is easily the dumbest Super Mutant in the entire series.
Doomed Hometown: The first two games start out with the player having to stop their hometown's impending destruction.
Downer Ending: They're available if you really go out of your way to achieve them. Bear in mind that since even 'good' endings tend to be bittersweet, the "bad" endings can be hugely depressing.

The Pre-War world struggled with resource shortages, oppressive governments, and brutal warfare for twenty-five years before it all ended in a blaze of nuclear fire. Whats worse is that most of their problems could easily have been fixed as the technology for renewable energy and resources already existed before the War broke out, but the surviving nations had been fighting the same war for so long they were incapable of changing. Ironically, many of these technologies survived the war, hidden away in protected goverment bunkers, and can be found and revived by the player.

The Dragon: Lieutenant to the

Master

in Fallout 1, Horrigan to Richardson in Fallout 2, and Colonel Autumn to Eden in Fallout 3. In Fallout: New Vegas, Caesar's right hand is Legate Lanius, while President Kimball's number two is General Lee Oliver.

Benny

was this to Mr. House (and you can take his place), and

Yes Man is this to you, if you choose the Independent path

.
Dragon Their Feet: In Fallout 2 and Fallout 3, you don't confront Enclave superweapon

Frank Horrigan

or Enclave military commander

Colonel Autumn, who will "spare" you with a successful speech check

until after you've already killed the Big Bad President and wiped out the Enclave's main base. Likewise, in Fallout, the final two missions are to kill the Big Bad and to destroy the Super Mutant vats (guarded by The Dragon), and you can tackle them in any order you want (Although canonically The Dragon and the vats were destroyed after the Master's death). Likewise, in Fallout: New Vegas,

Legate Lanius and General Oliver lead the Caesar's Legion and NCR forces during the game's final battle, despite Caesar himself and President Kimball both likely having died earlier in the game

.
Drive-In Theater: You find a few in Fallout 3 and Fallout: New Vegas. In the latter, it's where you start off the Old World Blues DLC.
Drop the Hammer: Sledgehammers and Super Sledgehammers.
Drugs Are Bad: Performance-enhancing drugs (Mentats, Buff-Out, Psycho, Med-X, Jet, UltraJet) are all over the place in each game, but also can cause addictions each time they're used... and the withdrawal symptoms that result affect a player's statistics in a negative manner until cured (or unless you keep taking the drug). There are also characters like Cassidy in the second game who can die if they use drugs, and Super Stimpaks can be used as a covert method of assassination

as the side effects will cause enough damage to kill President Dick Richardson (or any other 'friendly' NPC), allowing you to take their items without fear of the reprisals that direct action would cause. One particular NPC (Councillor Westin) will explode if you use one on him!

Interestingly inverted in Fallout 3 and Fallout: New Vegas, where addiction is a non-issue if drugs are taken in moderation (ie no more than once every 30 to 48 in-game hours) but alcohol always has a chance of addiction. Considering Bethesda has a habit of making alcohol the bad item in the Elder Scrolls series while making in-universe illicit drugs useful, this isn't surprising. On the other hand, Fallout: New Vegas features the Fiends, an entire gang of junkies who are undeniably the biggest scumbags of the game.

Eagle Land The prewar United States was heavily into Type 2, so much so that they were pretty much outright villainous. The Enclave continues this trend.
Earn Your Happy Ending: Fallout 2 and Fallout: New Vegas, especially.
Elaborate Underground Base: The Vaults themselves. And let's not forget the ever so expansive Raven Rock. Both justified, as some of the Vaults are supposed to hold hundreds, and in a few cases thousands, of people, and Raven Rock is based on the actual Raven Rock government complex.
Eldritch Abomination: Prolonged FEV exposure can mess you up in an impressive manner. The Master began as a human who got dipped in an FEV vat for an unusually long time, and emerged as a formless, tormented mass of flesh that expanded throughout the entire base, merging with its electronics and computer systems, and absorbing any other life form it found into itself, becoming a demented Hive Mind that viewed itself as a perfect being.
Elite Mooks:

Fallout 1 had the cloaking-device-equipped Nightkin as the Super Mutants' Elite Mooks.
Fallout 2 had the Enclave Soldiers in the Poseidon Oil Rig, wearing Advanced Power Armor, equipped with energy weapons and full of stimpaks.
Broken Steel includes the Enclave's elite Sigma Squad. And the Hellfire Troopers.
Fallout: New Vegas has NCR Rangers and Centurions.

Escort Mission: Fairly common in this series, but most of them are pretty relaxed. There aren't very many situations where the escortee moves at their own pace. Most of the time, they're just following you.
Every Car Is a Pinto: And not just regular Pintos, nuclear-powered Pintos. Broken down, nuclear powered Pintos. That produce a mini-nuclear explosion, complete with mushroom cloud, when you shoot them. A notable example from Fallout 3 is a section of highway that is just loaded with them, and a raider camp living in between them all. Set off one on the end of the highway and watch the chain reaction.
Exclusively Evil: The majority of the Vault 87 Super Mutants in the third game (likely Justified by the FEV there having different properties). Averted with the Super Mutants created elsewhere in the first and arguably more the second, as well as Fallout: New Vegas.

The nameless Raider factions in DC definitely count, as well as the Fiends and Jackals and Vipers of Fallout: New Vegas.

The Great Khans also qualify during the time of Fallout 1 and Fallout 2, but by Fallout: New Vegas, they have suffered significant Villain Decay to hardly qualify for this trope anymore, and can even be convinced to make a full on Heel Face Turn.

Expansion Pack: Bethesda Software added a lot to the main questline of Fallout 3 with the downloadable addons, including one module that revisits a key battle in the background of the Fallout world (the Battle of Anchorage), another that allows players to visit a city mentioned in passing by another NPC, and one that promises to address the brevity of the main questline by allowing players to continue the game after the controversial ending.
Expy: In Fallout 3, the Enclave Officers greatly resemble the Imperial Officers of Star Wars.
Extremity Extremist: It is possible to play this way in all games.
Eye Scream: Eyes can be targeted, as can the groin, and is in fact a better target (blinding, one-hit kills). Get your accuracy with any weapon class up to a high enough level, and shots to the eyes can and will solve most of your combat-related problems. Eyeballs are also part of the gibs in Fallout 3, and if a critical hit to the head is scored, they will fly out at high speed, sometimes hilariously towards the camera in VATS mode. Lampshaded by one character's combat taunts: "There's nothing wrong with you that a critical to the eyes won't cure."
Fantastic Drug: Jet, Mentats, Psycho and Buffout, the series stand-bys.
Fantasy Counterpart Culture: The most blatant is Caesar's Legion, which was modeled in-universe on The Roman Empire and is sometimes hard to tell apart from the real thing. The New California Republic is very much like the pre-war United States. The Shi Empire is pretty much Imperial China reborn. And while probably not deliberate, the East Coast Brotherhood of Steel has a lot in common with early Prussia.
Fate Worse Than Death: This has been the case since the first game and was used for its Talking the Monster to Death option. The handful of talking Super Mutant NPCs in the first two games occasionally mention it.
Fighter, Mage, Thief: Technically the S.P.E.C.I.A.L. system is classless. However, in the first two games there are three character templates that are implied to be optimal for completing the game: the "warrior", "thief" and "diplomat" templates. The three premade characters in both Fallout 1 and Fallout 2 always fit these templates.

Though in Fallout 1...

It's hinted in future games that the diplomat was canon

.

Final Death: Once a team member is killed, they're dead forever. This is Earth, not Toril, and there are no such things as resurrection spells. In the first two games, every NPC (including essential quest killers) is killable. In Fallout 3, every character except children and those deemed essential are, meaning you can always progress in the game but can screw yourself out of a lot of potential loot and XP. In Fallout: New Vegas, your allies are just KOed for a few seconds in normal mode. In Hardcore though, it's Final Death.
Five-Token Band: Varies by game, but you're almost always going to have a colorful entourage. Humans, ghouls, Super Mutants, robots, dogs, robot dogs and even a friendly neighborhood Deathclaw!
From Nobody to Nightmare: Deathclaws. What pre-war animal did they mutate from? Jackson's Chameleons.
Fun with Acronyms: Loads of them:

Strength. Perception. Endurance. Charisma. Intelligence. Agility. Luck.
Generalized.Occupational.Aptitude.Test.
Garden of Eden Creation Kit.
Vault-tec Assisted Targeting System.

Gameplay and Story Segregation: Various issues specific to each game can be found on their pages.

No matter how dangerous- or mutated-looking your henchmen are, NPCs will never react with the immediate violence that one might expect from bringing, say, an eight-foot-tall creature in an all-concealing robe (Goris) - or a giant yellow-green mutant with a gatling laser (Fawkes) - into their secret base/peaceful village.
Up until Fallout 4, SPECIAL stats and Skills had no correlation besides the former giving a small boost to the latter. This allowed for the amusement of a character with a Charisma of 1 being able to max out Speech to be a slick smoothtalker, or a character with an Intelligence of 1 to max out Repair and Science to be a master craftsman and programmer.

Gatling Good: Miniguns are generally pretty good weapons, though not particularly reliable against heavily armoured opponents. They tend to veer between Ludicrous Gibs and just bouncing off.
Gay Option: Only for lesbians in the first game, but in Fallout 2 there are options for both sexes, though slightly more for women than men (though only men can have kids, by sleeping with female NPCs; one area has not one but two alternate endings because of this). Fallout 3 mostly avoids the issue altogether by not even including a straight option. Male and female player characters can hire Nova, the town prostitute in Megaton, and Bittercup, the town goth in Big Town, develops a crush on the player regardless of gender (though her crushes are mostly her turned into a Perky Goth and giving you whatever crap she found in the patrols). You can also nail one ghoul chick in Necropolis, she gives you a stimpack. Fallout: New Vegas adds 2 new perks, Confirmed Bachelor for men, and Cherchez La Femme for women, which will give special dialogue options when dealing with an NPC of the same sex, (and a 10% damage bonus against the same sex) much how the Black Widow and Lady Killer perks function when dealing with the opposite sex. If you have this perk, you can recruit one follower (which one depends on your gender, there's one for each) bypassing the usual skill check needed by flirting with them, essentially giving you a same sex romantic option. If you are a man with the perk, you can also get all your stuff repaired for free any time you want by flirting with an NPC and asking him to be "friends". Unrelated to the perk, but you can also hire same-sex prostitutes, male or female, in New Vegas if you should so choose.

In Fallout 1, rescuing Sinthia at the hotel in Junktown will get the player a 'reward'… whichever the main character's gender may be.

Generation Xerox: Everyone from the original Vault 13 Dweller's bloodline seems to have pure Badass embedding in their genes. First there is the original Vault Dweller, who stops a plot to turn the population of the Wasteland into super mutants by destroying 2 underground lairs, saves quite a few communities along the way, and ends up as the chief of a tribe, before going adventuring again in old age, presumably dying somewhere out in the wastes. Then, 80 years later, his grandchild, The Chosen One, stops a plot to commit a holocaust on the Wasteland by blowing up an oil rig, again saving some developing communities along the way, and ends up becoming head of a new civilization. And then there is the Chosen One's illegitimate bastard-child he had with one of the women from the Bishop crime family, who, already at age 13, takes control over the family, and leads it to victory over New Reno's other crime families and, despite been a powerful mafia boss in crime ridden city at a time where the average lifespan is about 35 years, manages to live the age of 73, where he dies peacefully in his sleep. This ending was confirmed as canon in Fallout: New Vegas, by Bruce Isaac, who fled town after stealing from the casino and sleeping with Mr. Bishop's daughter.

Likewise, the Cassidy clan are also hardasses with a tendency to associate with legendarily awesome people.

Genetic Engineering Is the New Nuke: The "forced evolutionary virus", although it doesn't quite work as intended.

And of course because this is Fallout, the Pre-War government's love of genetic engineering, though great, doesn't hold a candle to the Pre-War love of nukes.

Giant Robot: Surprisingly uncommon. But there are a few.

Liberty Prime.
Fallout Tactics features a few as enemies towards the end of the game. Best dispatched at long range with volleys of plasma/laser fire.

Global Currency: Bottle caps in the first game, endorsed by the Water Trader's Union, which also mints them (many of the 'caps' are not actually caps but rather cap-shaped coins). New California Republic Dollars in the second, as the NCR is the dominant power in the region. Ring pulls in Fallout Tactics. Caps again in Fallout 3, since it takes place 3000+ miles away from the NCR, and there is no group big enough to mint money on the East Coast. Caps again in Fallout: New Vegas because the NCR lost the gold it backed its dollars with (there is NCR paper money and Legion coin, but those are treated as barter items in most cases).
Good Is Not Nice: The Brotherhood of Steel in general, though it does have a few genuinely kind members.

Despite being one of the nicest major factions in the series, many of the New California Republic's actions in Fallout 2, such as hiring raiders to attack Vault City and having dealing with the crime families at Reno, are morally questionable. There are also certain political elements within the government who are attempting to turn the alliance into more of fascist police-organization. As one NPC puts it, "their heart is in the right place, but their head is up their ass!"

The Great Offscreen War

: The Great War that created the setting.
Grenade Tag: Planting explosives on someone via pick-pocketing.
Groin Attack: The first two games featured the groin as a legitimate target on any creature. Yes, you can punch rats in the groin. Even better, you can sledgehammer a rat in the groin. Which is still nowhere near as twisted as firing a rocket at a child's groin.
Hegemonic Empire: New California Republic have annexed regions by military force, but they prefer to expand through peaceful settlement and inviting existing frontier settlements to join them. By the time of Fallout: New Vegas, it is engaged in a three-way power struggle over control of New Vegas, a very advanced, prosperous and independent settlement.
Hello, Insert Name Here: Used in the first two games for all non-voiced dialogue.
Hero of Another Story: Many, but especially your companions.

Harold, who has lived for almost four centuries, been in every game but Fallout Tactics, has wandered almost the entire United States Wasteland, was buddies with the Master before they were both mutated, and

may eventually bring life back to the world

.

Hide Your Children: Majorly averted in Fallout 1 and Fallout 2. Kids are a regular part of the civilian population, and you can freely blow them away in a variety of gruesome ways. The game even produces funny *wink* *wink* *nudge* *nudge* combat dialogue if you do so. Further, in one town, you are practically encouraged to do so, as the little bastards hang around in front of quest-critical stores and attempt to pickpocket you (and no matter how high your steal skill, it's nigh-impossible for you to take what they have back; you have to buy them from the merchant they report to). Note, however, that actually killing children will mark you as a "Child Killer," which causes pretty much everyone except the most evil characters to hate you on sight. This was taken literally in the European releases of both games, in which the children were simply made invisible (they're still there - they will steal from you and occasionally say things and can be killed with explosives). Fallout 3, though used the "children are present but invulnerable" variant (though you can at one point help a slaver kidnap one and sell another into slavery yourself).
Horror Hunger: Cannibalism is a mutation. Ordinary humans who eat human flesh too often sicken and die, but a subset have a natural hunger for human flesh and an ability to eat it without getting fatal rad poisoning (at least not as fast). Several organizations of cannibals exist who have either kicked the habit, tried to, or found a substitute.
Humanoid Abomination: Frank Horrigan, the genetically engineered synthetic cyborg homocidal maniac specially created by the Enclave, who is forever sealed in a suit of power armor that continually pumps him with life support. Dead Money, Fallout: New Vegas DLC, has the Ghost people. The Cloud apparently changed normal human beings into feral, nocturnal, gas proof, limb-regenerating, and hard to kill abominations sealed in hazmat suits, with their only purpose now being to stab, throw a spears, and chuck bombs.
Human Resources: In Fallout 1, your character could discover through simple investigation that the meat used by Iguana Bob, the local fast food vendor, was secretly made out chopped up human cadavers. If the player has high enough stats they can blackmail Bob. By Fallout 2, his great-grandson has built an entire franchise...
Hyperactive Metabolism: Played straight, eating nets you a few HP. This can also be gained as a perk, it increases your vulnerability to poison and radiation, but increases the health you get back from food and medicine. Builds favoring the Survival skill over Medicine in New Vegas can actually heal gunshot wounds better by eating than by using stimpacks. There's even a drug ("Hydra") that can regrow broken limbs!
Hypocritical Humor: Liberty Prime has a few choice slogans that fall into this category. "Democracy is non-negotiable!"
Identical Grandson: Confirmed by Fallout: New Vegas; the Chosen One from Fallout 2 looks almost exactly the same as his grandfather. And is just as Badass.
Idiot Savant: Your character can be mentally retarded to the point of being incapable of forming coherent speech, but can still learn to hack advanced computers and repair complex machinery. Lampshaded by Loxley in the original:
Loxley: Bloody fine job making it through the defenses, mate! I'm rather impressed. Toss me your name!
You: Nuhhh?
Loxley: Well, "Numa-numah-num-nuhhh", how did a total moron, such as yourself, get past my defenses? Sorry, no idiot savants allowed, we like good conversation here. Jasmine, show our drooling friend the door please.