Jurassic World: Dominion Dominates Fandom Wikis - The Loop
Play Sound

YMMV •

Radar

•

Quotes

• (
Funny •

Heartwarming

•

Awesome) •
Fridge

•

Characters •

Fanfic Recs

•

Nightmare Fuel

•
Shout Out

•

Plot

•

Tear Jerker

•
Headscratchers •
Trivia •

WMG

•

Recap

•
Ho Yay

•
Image Links

•

Memes

•

Haiku

•

Laconic

•
Source

•

Setting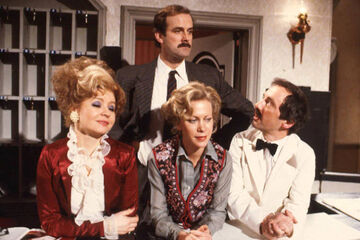 A sitcom created by John Cleese and Connie Booth which focused on Basil Fawlty, a bad-tempered snob who runs "the crummiest, shoddiest, worst-run hotel in the whole of Western Europe".
"NO!, No, I won't have that! There's a place in Eastbourne..."

—The Major

One of the all-time classic TV shows, it benefited greatly from its cheerful willingness to create horrible human beings and let them act according to their nature at all times: Basil doesn't get a single Pet the Dog moment, ever. The series was intelligent, effervescent and daring, and the only complaint one can make is that there wasn't enough of it (only 12 episodes were ever made).
In 2000, the British Film Institute declared it the best British television programme ever made. A few years ago, it was voted best UK sitcom ever in a poll, and J. Michael Straczynski said in a book on screenwriting that if a writer watches Fawlty Towers and The Mary Tyler Moore Show, they will have had the best possible grounding in how to write comedy.
In 1999, CBS attempted to remake Fawlty Towers as a John Laroquette vehicle entitled Payne (after Laroquette's character, "Royal Payne"). It lasted even fewer episodes than the original (which lasted for 12). There was also an earlier attempt by ABC to remake the show. It had the original title, but Fawlty was a woman played by Bea Arthur.
Came fifth in Britain's Best Sitcom.
See also Fawlty Towers Plot.
Tropes used in Fawlty Towers include:
Basil: (takes Sybil's hand) Seriously, Sybil, do you remember when we were first... manacled together? We used to laugh quite a lot.
Sybil: (pully her hand away) Yes, but not at the same time, Basil.
Basil: That's true. That was a warning, I guess. Should have spotted that, shouldn't I?
Mr. Carnegie the Health Inspector: "Lack of proper cleaning routines. Dirty and greasy filters. Greasy and encrusted deep fat fryer. Dirty, cracked, and stained food preparation surfaces. Dirty, cracked, and missing wall and floor tiles. Dirty, marked, and stained utensils. Dirty and greasy interior surfaces of the ventilator hood. Inadequate temperature control and storage of dangerous foodstuffs. Storage of cooked and raw meat in same trays. Storage of raw meat above confectionary, with consequent dripping of meat juices onto creme products. Refrigerator seals loose and cracked, icebox undefrosted, and refrigerator overstuffed. Food handling routines suspect. Evidence of smoking in food preparation area. Dirty and grubby food handling overalls. Lack of wash hand basin — which you gave us a verbal assurance you'd have installed at our last visit, six months ago — and two dead pigeons in the water tank."
Basil: "Otherwise okay?"
Basil: (to his nurse) My God, you're ugly, aren't you?
Sybil: Basil?
Nurse: I'll... I'll get the doctor.
Basil: You need a plastic surgeon, dear, not a doctor.
Sybil: If I find out the money on that horse was yours, you know what I'll do, Basil.
Basil: ...you'll have to sew them back on first.
| | | |
| --- | --- | --- |
| |  - I'd like to welcome your war, your wall, you all... | |
| | | |
| --- | --- | --- |
| | START!! Start, you vicious BASTARD!!! | |
Mrs Richards: (Counting money) "It's ten pounds short."
Basil: (Rather annoyed, having just seen £75 slip through his fingers) It's not! TEN POUNDS SHORT! Oh, My God! Don't panic! We'll have a whip 'round!
Starts shaking out the charity collection tin
| | | |
| --- | --- | --- |
| | "A gin and orange, a lemon squash, and a scotch and water!" | |
"You're very cheerful this morning, Mr. Fawlty!"
"Yes, well, one of the guests has just died!"
"You are wicked!"
Mr Hutchinson: This afternoon I have to visit the town for sundry purposes which would be of no interest to you I am quite sure, but nevertheless shall require your aid in getting for me some sort of transport, some hired vehicle that is, to get me to my first port of call.
Basil: Are you all right?
Mrs. Richards: Now, I've reserved a very quiet room, with a bath and a sea view. I specifically asked for a sea view in my written confirmation, so please be sure I have it.
Manuel: "¿Qué?"
Mrs. Richards: "K"?
Manuel: Si.
Mrs. Richards: "K.C."?
Manuel: No. "Qué": "what".
Mrs. Richards: K. Watt?
Manuel: Si. "¿Qué?": "what".
Mrs. Richards: C. K. Watt?? Who is C.K. Watt? Is he the manager?
Manuel: Ah! Manager! Mr. Fawlty!
Mrs. Richards: What?
Manuel: Fawlty!
Mrs. Richards: You silly little man, what are you talking about?! (to Polly) [This man is telling me] the manager is a Mr. C. K. Watt, age forty.
Manuel: No, no, Fawlty.
Mrs. Richards: Faulty? Why? What's wrong with him?
Polly: It's all right, Mrs. Richards, he's from Barcelona.
Mrs. Richards: The manager's from Barcelona?