Doctor Strange in The Multiverse o Madness - The Loop
Play Sound

Quotes •

Headscratchers

•

Playing With

•

Useful Notes

•

Analysis

•

Image Links

•

Haiku

• Laconic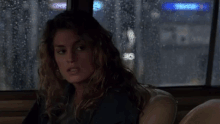 "I think Michael has nice buns. Ha ha ha ha! I like buns. I think a butt is like the most awesome thing on a guy and if he doesn't have a nice butt, I don't even look twice.

—Karen Croney commenting on contestant Mike Reda at the Perry Ellis Hotbody Contest on Bikini Open 2: Celebrate Spring Break

The Female Gaze is a Gaze trope about the way a work is presented as from a female perspective or reflects female attitudes, either because of the creator's gender or because it is deliberately aimed at a female audience. While it can contribute to it, Female Gaze is not restricted to looking at sexy men but is more importantly about the expectations of how the (presumptive) audience relates to the work.
Female Gaze is (almost) a Distaff Counterpart to Male Gaze, the trope page for which is currently full of "ogling women" examples but extends beyond that into the stuff that's currently on Most Writers Are Male. We write "almost" because of the fact that Male Gaze is pervasive and the default for works aimed at mixed-gender audiences, whereas Female Gaze is mainly found in works that are either assumed to be exclusively for women, like soap operas, chick flicks, Shoujo Manga, or more idiosyncratic and personal works by female creators. Besides, it's only fair that if straight men and lesbians receive Fan Service, straight women and gay men should be able to get some of their own...
May overlap with Homosexual Male Gaze. Compare Eating the Eye Candy and Longing Look. See also Girl Notices First.
Examples of Female Gaze include:
For obvious reasons, every Yaoi series.
Though not a Yaoi series, pick up a volume of Black Butler. Any volume. Turn to a chapter. Any chapter. You will most likely be greeted with loving pans of the body of a prepubescent boy, along with his Bishounen Battle Butler's hands all over him.
Currently depicted above is from Seitokai Yakuindomo. Ironically for female viewers, it's less about turn-ons than it is about cheap laughs. In at least one case, it prompts the only significant resident boy to tell the girls to raise their heads.
The Bathtub Scenes from Tower of God give you shots of the abs of Ja Wangnan, Hon Arkraptor, Nya Nia, Kang Horyang, Rapdevil and most importantly, 25th Baam.
Dragon Ball Z. Granted, of course, this is a series that prides itself on heavily muscled men beating the snot out of each other. Still, there are far more long panning shots up spandex-clad male bodies than can possibly be justified by dramatic reasons. May explain part of the show's relatively large female following.
In the Baseball Episode of Haruhi Suzumiya, Tsuruya is introduced, and she promptly looks at Kyon's crotch. Lampshaded in The Abridging of Haruhi Suzumiya, obviously.
G Gundam: Domon Kasshu, making Super Robot fanboys everywhere... vaguely uncomfortable since 1994.

All of the Shuffles are subjected to quite a bit of female gaze when suited up. It certainy helps that they all have different body types: George is the archetypical slender and graceful Bishonen, Chibodee has a rather ample chest, Sai Saici is youthful-looking and Keet-ish, and Argo is very buff. Any wonder as to why this series is pretty popular among girls?
As bonuses, Domon and Chibodee get several Shirtless Scenes. Specially Chibodee, being a boxer and all and having a well-toned frame. Yay.

Gundam Wing. Trowa Barton. Shirtless Trowa from the Endless Waltz OVA. Wheeeee.

Treie Khushrenada. Bubble bath with rose petals. Ooooooh.

Mobile Suit Gundam 00 has Tieria Erde's infamous Shower of Angst, as well as Alejandro Corner in a bath robe and Ribbons Almark in a midroff-baring top and white undies.
Mazinger Z: Kouji Kabuto. In the anime he was shown half-naked more often than Sayaka. And in the manga he visited a hot springs resort, and stripped himself once for not reason at all. Duke Fleed from UFO Robo Grendizer also "suffered" from it. An example was when Kouji went to Duke's room late in the night to discuss a matter was worrying him, and both of them were naked up waist during the conversation.
Basilisk: Once, as Oboro and Gennosuke walk through a very thin path in the mountains, we follow Oboro's gaze as she looks at Gennosuke's back...
Axis Powers Hetalia gives us England's post-hot bath Shirtless Scene in Japan's house, which was notoriously more fanservicy in the anime than in the original webcomic.
While Karakuridouji Ultimo is very much Shonen, you'll find that more than half of the fanbase are girls due to the fact that almost all of the robots look like girls, and the Yaoi undertones between Rune and Yamato's relationship.
Code Geass is very good about the Male Gaze, yeah, but it also has some fanservice for the ladies, such as Lelouch's Shower of Angst and Suzaku's very well-shaped ass.
Soul Eater: Kid has a nice ass.
In Eden of the East, Saki's reaction to getting hit with a Naked First Impression is to stare at the man's groin for about ten seconds.
While Bleach has lots of Male Gaze, the female fans are given quite a bit of eye-candy too. How many times has Ichigo gotten Clothing Damage, to start? And what about Renji, his very tattooed body, and his very sexy Slipknot Ponytail? Let's not forget Byakuya wearing a tuxedo in some pictures, Ikkaku and his own share of Clothing Damage, and specially Grimmjow.

Don't forget the time Ichigo failed to land a scratch on Ulquiorra, but suceeded in ruining his shirt.

Okamoto's mech in Star Driver has a "Fanservice Mode" that lets her see into her opponent's cockpit and through his clothing. While he's preparing to attack her. Oops.
One Naruto two page color spread had "female gaze!" all over it. The girls are all happy and relaxed and you don't see too much of their bodies... but the boys bicker all over and they're all naked and you see almost everything of Rock Lee... Okay, there's Chouji too, but he looks very happy and he DOES have his fangirls too.

In her début episode Karin apparently held a lengthy conversation with Sasuke's chest. That was where the camera was aimed, anyway...

Tiger and Bunny spoils female viewers often, with eye-candy like Barnaby's muscled body after a shower or Kotetsu as a male Bandage Babe frequently figuring into the show, especially in later episodes; at times the writers also seem to throw in references for a certain type of fangirl specifically, such as the Running Gag of Barnaby catching Wild Tiger in a "bridal carry" whenever the latter finds himself thrown into the air. That's not to say that the show lacks Male Gaze, either, considering some of the focal shots on the resident Ms. Fanservice, Blue Rose.
Gatchaman: while Jun got quite the focus on her lean legs, nice butt and white panties, the camera wasn't exactly shy about showing the girls how Tall, Dark and Handsome Ken and Joe were.
When Lucien first appears

in his true form as Lucifer

- completely naked - pretty much the first thing he says is "What are you looking at, Miss Yoko?"
In Persona 4: The Animation, quite a lot of shots are focused on Yousuke's butt. And Narukami certainly likes to undo his shirt's top buttons, hm?

And after Kanji shows up, he's often seen wearing a sleeveless shirt, which lets the animators focus quite a bit on his rather nice and muscular arms.
Taken Up to Eleven in the animated rendition of a certain school trip in which everyone gets drunk. He ends up totally sloshed and with his shirt open while the girls make drunken passes at him in their own ways. Niiiiiice abs, Narukami.

Albeit unintentionally, the Getter Robo G ending sequence lets us know that Ryoma has REALLY nice legs. And his ass is nothing to sneeze at either.
The Sengoku Basara 3 manga puts a lot of emphasis on Yukimura's muscular bare torso and Mitsunari's slender legs, especially during fight scenes.
Yoh Hinomura undressing is usually followed by a full-page splash panel displaying his really nice body.
Nightwing isn't the only male superhero to get it. But he's the one who gets it the most. That infamous Secret Six panel? The artist even wrote "Hot" when she sighed it.
This trope, in combination with Most Fanfic Writers Are Girls, is possibly responsible for much of the more visceral male Hatedom of fanfiction. While we've come a long way from Slash being regarded automatically as Crack Pairing, there's still kind of a ghetto effect with it, since lots of fanboys get turned off by Slash, Het and even Original Flavor works featuring sexually-objectified male characters and assume fanfic is 'all gay'. (Women, of course, have to get used to the Male Gaze being the default in the media they consume.) Of course, this is all broad generalisations and straight young teenage boys do read and enjoy fic with a Female Gaze, especially in small fandoms or fandoms where it's only the Yaoi Fangirl Periphery Demographic who are old enough to spell.
Kanin in The Tainted Grimoire has, on at least one occasion, checked Luso out when he was training, in just swimming trunks.
Throughout My Immortal, Ebony checks out every hot guy she meets. She has a very specific fetish — mainly, looking like Gerard Way. Lucky for her, every hot male looks identical to Gerard Way, which must get very confusing. She never checks out girls, however, despite a throwaway mention of her being bisexual.
Batman Forever and especially Batman and Robin, would provide the audience with loving close-ups of the dynamic duo's chest, crotch and rear every time they suited up. Either it's an example of the Female Gaze or a homosexual version of the Male Gaze (Male Gays?). Considering how Camp the Batman movies had become by this point, it could be hard to tell, though considering that Batman Forever and Batman and Robin were directed by Joel Schumacher, it's probably the latter.
After Lola meets Sam in Confessions of a Teenage Drama Queen he walks away, and the camera briefly focuses on his butt.
The Twilight films. Jacob. 'Nuff said.
As if any girl can watch Labyrinth without staring at David Bowie's... incredibly tight pants.
In the film Sunshine, there's a nice scene of Capa getting into his space suit which is clearly Fan Service.
Shows up briefly in Tyler Perry's Why Did I Get Married? After a character's husband, who pretty much defines "bastard"

tells her he's leaving her for her friend and walks off

she starts over in a new town. Thankfully there is a handsome, sensitive Christian sherriff around, who also has a nice butt judging by the scene where he climbs up on a ladder and Sheila finds herself staring. We get a POV shot.
What Women Want has Mel Gibson's character taking advantage of hearing a woman's inner monologue about repeatedly looking at his crotch to do whatever he can to make her do it again.
Chris Hemsworth as Thor was already quite easy on the eyes. Add in a Shirtless Scene and him wrestling in the mud and you can hear the girls Squeeing from miles away.
Chris Evans in the Fantastic Four movie, and in Captain America: The First Avenger. Oh, yes.
In Exit to Eden, Dana Delany is seen checking out both the men and women as they're introduced at her sex fantasy resort.NSFW
In The Crush, Alicia Silverstone steals a glimpse of Cary Elwes' bare butt by peeking through the bathroom door. NSFW
Kamen Rider Double Forever has a brief scene that includes a gratuitous close-up on Philip's lips as Maria touches them.
Literature
Non-sexual example: In Judy Blume's Superfudge, when Peter is suffering a Potty Emergency because his little brother is taking his time on the toilet, the only alternative that comes to his mind is to wee on a large potted houseplant. A male author would probably have thought of him using the sink first, considering it's right there next to the toilet, but a female author (or reader) is more likely to recall male movie and TV characters whizzing on trees than to think of this option.
The X-Files episode directed by Gillian Anderson starts with the Male Gaze (camera just below armpit level, directed past Scully's bosom) and turns to Female Gaze (Mulder asleep in bed).
In both Buffy the Vampire Slayer and Angel, there is lots of this going on. Angel, in particular, seems to like being shirtless for absolutely no reason at all. And then there's Spike — who is the only one that's ever naked in sex scenes(whereas Buffy is completely clothed).

Which could well be symbolic either of the relationship and respective vulnerability status of the pair, or of the fact that a show about a vampire-slaying young woman with large amounts of character drama might just have a reasonably sized female demographic.

Amy Pond gets in on this when she watched the Doctor change clothes in Doctor Who. When asked if she was going to turn her back on him, she cheerfully replies "Nope!" (This also gave gleeful Matt Smith fans a Shirtless Scene.)

Of course, there's the entirety of the Russel T. Davies era. For example, the women in the show are consistently introduced face-first, rather than from the legs up, so the audience views them as subjects rather than objects; the Tenth Doctor is regularly lingered-over by the camera; and almost every recurring male character has had a Shirtless Scene.

Honestly, in Adam-12, we've got reasonably attractive actors in tight cop uniforms. Then there are Anvilicious seat-belt buckling scenes, and the camera likes to focus directly on Reed or Malloy's crotch while they perform the maneuver.
John Crichton in Farscape is given a wardrobe-upgrade to leather as the series progresses, involved in a variety of Fetish Fuel situations, is hit on by a majority of the main cast (and raped by one female villain), and is subject to a surprising amount of topless, rear-angle and crotch-level camera shots.
Eric Northman from True Blood at the beginning of season 3. Do I need to say anything more?
Supernatural becomes more and more dominated by the female gaze as the series progress. Admittedly, the entire cast was ridiculously attractive with plenty of Fan Service for everybody, but -starting around the middle of season two - Sam and Dean spend increasingly longer crying, hugging and being tied down to things.

Also, Sera Gamble(s?) , one of the lead writers used to write porn for women. So, yeah....

In Community episode Interpretive Dance Troy has to call Britta out on this because she won't stop looking down when talking to him while he is wearing a leotard.
In her Playboy video profile there's a scene in a diner in which Playmate Lindsey Vuolo is shown looking at the cook's butt. In real life the butt is her favorite male body part below the neck.
In 2004, when she was interviewed on The Tonight Show with Jay Leno First Lady Laura Bush said that her personal trainer has a nice butt.
Although most of the fanservice on Game of Thrones is of the male gaze type, there is quite a bit of fanservice for those who appreciate muscular bodies. The first episode has a scene where Robb Stark, Jon Snow, and Theon Greyjoy get shaved and are all shirtless (this was actually done because footage from the pilot was shot months apart and the three characters have facial hair in certain scenes). Khal Drogo and most of the Dothraki males are almost all shirtless, as well. The series also showed a few shirtless scenes with Renly Baratheon and Loras Tyrell, who are lovers.
Bikini Open 2: Celebrate Spring Creak: At the Perry Ellis Hotbody Contest, Karen Croney sizes up the male contestants. When contestant Mike Reda appears, he's mostly shown from behind when she makes the comment that's quoted on the top of this page
Almost Live: Parodied in the "Great Butts" sketch.
Gackt's solo career has been one long courtship of this trope. Whether he's appearing nude in photo shoots and TV commercials, or dancing suggestively while groping his chest, abs, and crotch, or ripping off his shirt in front of cheering crowds of women and men, Gackt is no stranger to the Female Gaze.
A good deal of Metal Gear Solid is geared towards the Female Gaze, given how taut and firm Snake's ass is, even when he's an old man.
During the various acrobatic stunts Ezio pulls in Assassin's Creed II, quite a few of the female NPCs will take time to compliment his, er, tight pants. Male NPCs as well.
Resident Evil 4, zooms into Luis's crotch immediately after he states that he has something for you....coincidence or subliminal messaging? You be the Judge.
Mass Effect has been known to cater to this as well as Male Gaze; while not as frequent as Miranda, Jacob gets some camera-ogling, especially on his abs.

In Mass Effect 3, if Kaidan is still alive and you've been pursuing the romance with him, FemShep (and the camera) will spend time checking out his ass while they're walking aboard the Normandy. The opening scene also has a female NPC whose eyeline suggests that she's checking out his ass as she walks by. This has not gone unnoticed.

As fighting games have become more popular among female gamers, the male characters with either Bishonen looks and/or nice Heroic Builds have steadily increased in number. (And sometimes, so does the Ho Yay between them as well). Even males who didn't start as Misters Fanservice have become more handsome with time, attracting a rather sizable number of ladies to the fandoms. In the Street Fighter saga we have Ryu, Ken, Fei Long, Yun, Yang, Charlie, Guy, etc; in The King of Fighters there's Kyo, Iori, Benimaru, Shen Woo, Terry, Kensou, Shingo, etc.; from Guilty Gear there is Ky, Anji, Sol, etc. All of them are handsome dudes with nice bodies, and the artwork for the games reflects that. A lot.
The Fire Emblem series gives the ladies and gay/bi men something to look at as much as they do the men and bi/gay gals:

Hawkeye in Blazing Blade is buff, thick, tan, and goes around in just boots and a loincloth. Linus of the Black Fang also shows off his impressive pecs.
Tellius has no shortage of sexy men: Tibarn wears an open pirate coat with nothing under it, Largo is shirtless, and Ike's legs get quite the focus in the cutscenes. Then Radiant Dawn comes along and shows off just how much Boyd and Ike have grown up...
Awakening features a lot of shots from the back of characters like Chrom, Basilio, Vaike, and Frederick. Vaike himself is shirtless, too, and the male dark mage costume (save for Henry's) is just as see-through as the female version. Then there's Chrom and Gaius's swimsuit DLCs. Gaius's chest is on display, while Chrom shows off how well his swimsuit fits him.
Fates gives us Odin, whose default costume leaves little to the imagination and makes it obvious he's not wearing anything under it. This is the default for all male dark mages, too, and the male diviner costume is shirtless and very low cut in the back. The beach DLC also returns, with all four royal brothers shirtless plus a nice view of Takumi's ass. Fuga is shirtless, and the male fighter costume is basically a thong.
Atlas's redesign in Echoes is very easy on the eyes, and Saber gives the player a decent look at his chest.
Balthus in Three Houses. Not only does he not wear a shirt under his coat, he brags about his sexy abs, and he's extremely justified in it. The grappler and War Master classes also don't cover very much.
Doug Walker is more than aware of his large female fanbase and has been invoking this frequently. We're fairly sure that giving a blowjob to a joystick or having a minute long series of orgasm faces weren't meant for his male fans. Unfortunately there's a downside to putting himself in the stereotypically girl position, as he gets a gross amount of body-shaming and death/rape threats for "being slutty".

In general, That Guy With The Glasses invokes this unusually often. Especially notable in that by and large it's actually more common than the Male Gaze.
Apparently, Channel Awesome has discovered that this and

suggestions

that the male cast are hot for each other are the keys to attracting more female viewers.
As early as the brawl vlogs, Noah justified his constant directing the camera to Doug's butt and legs (who in turn, was crawling, bending over all the time and lifting up his jacket so we could get an even better look) as being for the ladies.
Speaking of Noah, SWS2 (with Sage, Critic and Joe) was a lot more objectifying than the first one with Chick, Goggles and Benzaie. Critic was shirtless, Sage was giving an offscreen blowjob and Spoony went on at length over how slutty his conquests were.

Done in Suburban Knights. While guys got Chick cleavage in the first part, Critic was the one to show the most skin and Wario!Jareth's crotch gets weaponized.