Doctor Strange in The Multiverse o Madness - The Loop
Play Sound

YMMV •

Radar

•

Quotes

• (
Funny •

Heartwarming •

Awesome) •
Fridge

•

Characters •

Fanfic Recs •

Nightmare Fuel

•
Shout Out

•

Plot

•

Tear Jerker •
Headscratchers •
Trivia • WMG •

Recap

•
Ho Yay

•
Image Links

•

Memes

•

Haiku • Laconic •
Source

•

Setting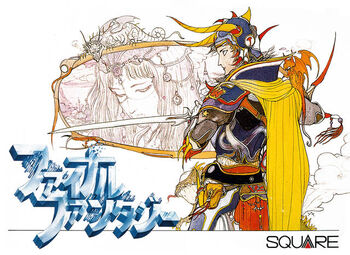 The first entry into the then-unknown (but now lip-smackingly popular) Final Fantasy series, and the one that started it all.
You see, near the late 1980s, a little game publisher called Square had made failure after failure. It seemed like they couldn't do anything right. One day, the president decided to produce one last game and retire. Pouring nearly all of their remaining resources into the title, he fully expected it to be Square's last game ever.
He aptly named the game Final Fantasy.
The name had a few different meanings. From another point of view, it had to do with creator Hironobu Sakaguchi's personal situation: if the game had been a failure, he would have quit the video game industry and gone back to university. The word "Final" can also be a synonym for "Ultimate" or "Definitive".
The story focuses on the trials of the Light Warriors, four people who were either thieves, white mages, black mages, warriors, monks (black belts in the the original translation), or red mages. Each character class had different abilities in battle, and had a variety of weapons and armor to choose from, and to top it all off, one quest you can take has as its reward an upgrade of your classes into a more powerful version, most of them with brand new abilities. The game also had three modes of transportation besides walking - ship, canoe, and airship. This was mind-blowingly new and different for a console game. [1] Compare it to its main competition in Japan, Dragon Quest II, where you only had three characters with pre-set abilities and a single mode of transportation.
And then there was the plot: The Light Warriors had to save the world from the evil Chaos.
...Yeah, that's pretty much it. There really wasn't much of a story to back it up — it was almost purely gameplay, with the extent of the story being: "Please save our town"... save town... go to next town... lather, rinse, repeat. Then again, the story was still more complex than the typical Excuse Plot.
But even so, Final Fantasy I helped change the RPG industry.
The popular webcomic 8-Bit Theater is very loosely based on this, and pays homage to the fact that much of the first game's mechanics were drawn from Dungeons and Dragons.
Tropes used in Final Fantasy I include:
↑

Different party combinations yield different results.