Jurassic World: Dominion Dominates Fandom Wikis - The Loop
Play Sound

YMMV •

Radar

•

Quotes

• (
Funny •

Heartwarming

•

Awesome

) •
Fridge

•

Characters •

Fanfic Recs

•

Nightmare Fuel

•
Shout Out

•

Plot

•

Tear Jerker

•
Headscratchers

•
Trivia •

WMG

•

Recap

•
Ho Yay

•
Image Links

•

Memes

•

Haiku

• Laconic •
Source

•

Setting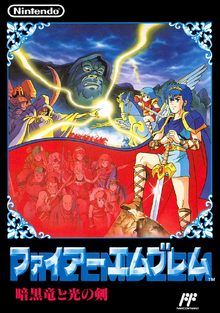 Long ago, Medeus, king of the dragonkin, conquered the continent of Akaneia, beginning an age of fear and despair for all its people. That tyranny was broken, however, thanks to a miracle. A young man hailing from the Altea region appeared with a divine blade in hand. He stood against the Shadow Dragon, and struck him down.

[...]

However, after a century's passing, the Shadow Dragon returned. He forged an alliance with a fiendish sorcerer who sought to rule the world, and their combines might topple kingdom upon unsuspecting kingdom. Again, darkness threatened to engulf the continent.

—Shadow Dragon prologue

The original Fire Emblem timeline, and by far the one most proliferated in the franchise, sporting a respectable three main games, two remakes, four Satellaview maps, an OVA and countless manga adaptations. Yes, these are the ones with Marth.
Also present in the Akaneia canon are countless manga retellings, as well as a two-episode anime OVA adaptation of Mystery of the Emblem. It actually was dubbed and released in the US by ADV Films, long before Super Smash Bros happened, but remains quite obscure. Additionally, the next two Fire Emblem games, Genealogy of the Holy War and Thracia 776, are set in the same universe as the Akaneia games but in the distant past and on a completely different continent, Jugdral; the stories are pretty much only connected through Naga, the Divine Dragon God who has a large role in the histories of both continents. Fire Emblem Awakening is set in the distant future of the Akaneia universe, with the Royal Family of Ylisse (including The Protagonist Chrom, his sisters Emmeyn and Lissa, plus his future daughter Lucina, Lissa's future son Owain and any of Chrom's other prospect kids) being the descendants of Marth and Caeda. Posterior games like Fire Emblem: Warriors and Fire Emblem: Heroes often feature Akaneia characters as well, almost always led by Marth and Caeda.
---
This sub-series provides examples of:
| | | |
| --- | --- | --- |
| |   "Sir Marth, there is a desert ahead of us." | |
| | | |
| --- | --- | --- |
| |  Malledus: "Sire... You must live. Drink deeply now of these injustices; sip on these slights they serve. Remember them!" | |
Redemption Equals Death: Having been nursed back to health by his sister and

not quite killed by the other

after apparently dying in FE1/FE3 Book 1/FE11,

Michalis

(formerly someone evil enough to kill his own father) dies stealing

Starlight from Garnef

to give to Marth's group in FE3 book 2/FE12. It is possible to keep him alive in FE12, then he loses his scars and becomes a king, then leaves to become a king on another continent.
Ret Canon: The 12th game properly introduces a lot of bits that were originally just Word of God backgrounds to the story proper. For example, a conversation between My Unit and Ogma brings up Ogma's fighting style being based on gladiatorial fighting.
Send in the Clones: When confronted at Thabes in Shadow Dragon/Book 1, Gharnef creates two clones to confuse the player. It's taken further in New Mystery with Roro, whose clones endlessly replace themselves until the real one is defeated.

You can even control some of his clones in a downloadable episode.

Someone Has to Die: The final prequel chapter in Shadow Dragon requires that the player select a unit to act as a decoy for a pursuing army. Interestingly, the game actually accounts for a few variations: it won't let the player send Marth, and the locked door preventing escape will open if you kill Gordin as an enemy or if Marth is the only unit to survive that long.

Subverted as of New Mystery,

Frey

(who is the canon sacrifice) explains what really happened...

Spell My Name with an "S": All over the place, by necessity of how long they went without an official translation; very few names are remotely consistent and standardised, among them being "Marth" and "Camus". A particularly interesting example occurred long before then: Marth being called "Mars" in the dubbed OVA (though it was still pronounced closer to "Marth" than it was how "Mars" is normally pronounced). The English release of Shadow Dragon managed to both put many of the name quandries to rest AND create even more with differences between the European and American versions!
Spiteful AI: Seemingly, the computer are more interested in scoring casualties rather than killing Marth, even if they can. they know that if a character dies, the player's likely to consider the battle "lost" and restart anyways.
Sudden Sequel Death Syndrome: In Mystery of the Emblem and its remake,

Lorenz dies at the end of chapter 1, which is his only appearance in the whole game; later, Boah is strongly implied to have died in his brief appearance late in the game.

The Computer Is a Cheating Bastard: Very much so, especially in harder difficulties, there are mooks using forged version of otherwise unforgable weapons. Also, especially in the remakes, many enemies have their own unobtainable weapons such as Swarm, Meteor, and Glower tomes.
Time Skip: The events of Mystery of the Emblem happen 2 (or 4) years after Dark Dragon. The new prologue chapters in Shadow Dragon happen 3 years before the latter.
Translation Train Wreck: The Mystery of the Emblem fan translation is... unfortunate, with an overly literal interpretation of the dialogue that can be pretty stifling to read at times. Luckily, some redemption is coming in the form of New Mystery's fan translation.
Two-Part Trilogy: Zig-Zagged. Unlike other examples of that trope, it's the middle one of the trilogy that's disconnected, only sharing a couple of characters and the world in common.
Vendor Trash: In the NDS remakes, there are items called 'Bullion' which serves only as this with three different values depending on its size.

In FE3 Book Two, you can obtain three Silver Axes over the course of the whole campaign; however, there are NO units that can actually equip them, thus rendering them little more than free gold.

It gets worse in Book Two towards the tail-end of Chapter 20 when you obtain the Gradivus, the strongest lance in the game — when the next chapter is the only place the player can effectively use it before the Final Chapter. Normally, Armors and Cavaliers (and their promoted classes) can equip the Gradivus assuming they have sufficient weapon skill. Unfortunately, Cavaliers can only wield lances when mounted, and they are forced to dismount indoors and fight with swords, and to make things worse, the Final Chapter is entirely indoors. This leaves the two Armors (Draug and Sheema), who are unfortunately very subpar units and not worth using in the last level. This often results in players either using the Gradivus exclusively in Chapter 21 and/or selling it so they can buy the higher quality swords, tomes, and stat boosting items.