Jurassic World: Dominion Dominates Fandom Wikis - The Loop
Play Sound

YMMV •

Radar

•

Quotes

• (
Funny

•

Heartwarming •

Awesome

) •
Fridge

•

Characters •

Fanfic Recs

•

Nightmare Fuel

•
Shout Out

•

Plot

•

Tear Jerker

•
Headscratchers

•
Trivia •

WMG

•

Recap

•
Ho Yay

•
Image Links

•

Memes

•

Haiku

• Laconic •
Source

•

Setting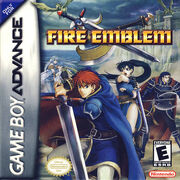 Once, dragons and men coexisted. They shared a peace forged in wisdom, a peace that lasted many generations. All that was lost when mankind disrupted this balance in a sudden onslaught.

Man fought dragon in a savage war that shook the foundations of their world. This war was called The Scouring.

Defeated and humbled, dragons vanished from the realm. In time, man rebuilt and spread his dominion across the land and on to the islands beyond.



A thousand years have passed

since those dark days ended.

—Opening of Blazing Sword

The sixth and seventh games in the Fire Emblem series, comprising its third canon and timeline, and being the first to be completely separate from its predecessors. It was this canon which was both responsible for sparking interest among western gamers, then actually following through by being the franchise's international debut. It was also the first set of games to come following the departure of series creator Shouzou Kaga.
Fire Emblem: Binding Blade (Game Boy Advance, 2002) stars Roy, Fire Emblem's other representative in Super Smash Bros Melee, as he attempts to repel the invading forces of Bern. The game received a mixed reception among fans, as it was forced to drop (due to technological constraints) many of the complexities the series had picked up on consoles, and the characters lacked depth in the opinion of some players. It did, however, introduce the super-popular "Support" feature, which allows characters to build their relationships by spending a lot of time together in battle and remains a big draw for the series.
Fire Emblem: Blazing Blade (Game Boy Advance, 2003) was the franchise's international debut and the beginning of it finally averting No Export for You. A Prequel to Sword of Seals, it stars Roy's father
, Eliwood, as he investigates the disappearance of his own father with his friends Hector and Lyn, leading them to clash with a brotherhood of assassins called the Black Fang. This game remains a favorite of many western fans because it features one of the longer quests of the Western released games, and features a large amount of replay value.
Rounding out the Elibe canon was a 12-volumes manga adaptation, Fire Emblem: Champion's Sword[1]. It revisits and slightly modifies the plot of Sword of Seals through the point of view of four original characters exclusive to this manga, Al, Tiena, Gant and Kilmar. They help Roy and his troops in the war against Bern, while on their own quest: searching for the Fire Emblem.
---
Binding Blade provides examples of
Authority Equals Asskicking:

King Zephiel

, to a lesser extent Murdock.
Badass Adorable: Fa, also known as Fazilla. Her dragon form is ridiculously cute, and she attacks by sneezing flame breath on her enemies. So cute!
BFS: Exaccus, which somehow turns into a trident when not in use.
Black Magician Boy: Lugh is a walking firestorm with a juvenile smile.
Chivalrous Pervert: Saul.
Dangerously Genre Savvy: The first thing Zephiel does when he reaches Lycia is lead a direct assault on Lycia's main army, going personally with two of his best generals to make sure Hector doesn't make it out alive. The result being that Lycia is very nearly defeated by Bern days after the two go to war.
Dark Is Not Evil: Rei and Sophia.
Different As Night and Day: Rei and Lugh, respectively. The former sports a snarky grin and has a reputation for being cold and heartless, whereas the latter is kind and cheery. Both are potent magic users though.
Faking the Dead: It is revealed that

Zephiel

did this after a failed assassination attempt in order to turn the tables on his would-be murderer,

King Desmond

. This event is alluded to in the epilogue of Blazing Sword.

Prince Mildain of Etruria did likewise.

The Grotesque: Years of mistreatment had led Gonzales to genuinely think he's a monster, as he'd been rejected by villagers and used by his lord as a mindless pile of muscles only good for spreading havoc, until Lilina saw through his scary exterior. A rare subversion of Beauty Equals Goodness in the series.
Karma Houdini: Subverted with Erik. After helping his father's attempt to start a war in Lycia and kill Eliwood and Hector in Blazing Sword, he apparently "reforms" and becomes the Marquess of Laus after his father's death. Years later he betrays Lycia again, but this only leads to him getting killed by Roy.
Last of His Kind: Yahn claims to be the last dragon, even his battle theme is named after that fact. Technically, there are other dragons around, but Idoun is not a "true" dragon since she became a Dark Dragon and the war dragons she created are not real dragons, either. There are other dragons on the other side of the dragon's gate, though. Plus a few in Arcadia.
Lighter and Softer: The art style, sprites and battle animations when compared to all of the previous games in the series, especially the Jugdral Series.

However, colourwise, this was actually justified because by the time these two games came out, the original Game Boy Advance (The one without backlit screens) was still commonplace - it made it easier to see. You can spot a change in Sacred Stones gaining a more brown tone compared to these games, while still retaining the artstyle though.

The Load: Roy receives his promotion via story event very late in the game. It's not hard for him to ram level 20 long before this, so he can't fight or else the rest of the party loses experience.
The Unpronounceable: In Fa's B support with Elphin:
 Elphin: Fa...the name has a unique feel to it. Is it your real name?

Fa: No, Fa's real name is verrry long. But they say that it's a sound that humans can't hear. Fa's the only part that you can.
Blazing Blade provides examples of
% Lyn's Story ("Lyndis' Legion") -
% Eliwood's Story -
% Hector's Story -
↑ commonly known just by its untranslated Japanese name, Hasha no Tsurugi