Jurassic World: Dominion Dominates Fandom Wikis - The Loop
Play Sound

YMMV •

Radar

•

Quotes

• (
Funny •

Heartwarming •

Awesome) •
Fridge •

Characters •

Fanfic Recs

•

Nightmare Fuel

•
Shout Out

•

Plot

•

Tear Jerker •
Headscratchers •
Trivia • WMG •

Recap

•
Ho Yay

•
Image Links

•

Memes

•

Haiku

• Laconic •
Source

•

Setting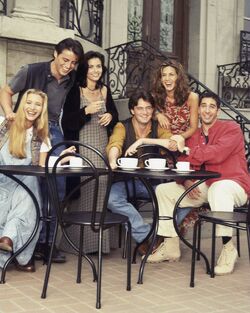 | | | |
| --- | --- | --- |
| |  So no one told you life was gonna be this way... (clap, clap, clap, clap) | |

A sitcom that ran from 1994-2004 which centers on a glamorous circle of Manhattan singles.
Though admittedly formulaic, Friends featured a top-notch cast and, at least in the early seasons, some legitimately outstanding writing. The Ross-and-Rachel relationship easily ranks as the most tired Will They or Won't They? plot in sitcom history. Interestingly, they became a couple early on, only to break up on account of Ross' cheating. Despite this, the characters managed to reconcile and even conceive a child without officially getting 'back together.'
A giant success in its day (the stars graced the covers of a dozen entertainment and gossip magazines every week), and accordingly one of the more polarizing shows of recent memory. "Seinfeld or Friends?" became a kind of shibboleth used to determine one's television street cred.
Friends is famous for its Idiosyncratic Episode Naming that referenced how the episodes would be most likely to be referred to when discussed among casual fans. All episode titles follow the format "The One With..." or "The One Where...". The two exceptions are "The Pilot" (which, even then, has been RetConned with the name "The One Where Monica Gets A Roommate") and "The Last One".
Over its 10-year run, the show featured literally dozens of big-name guest stars — Sean Penn, Brad Pitt, Julia Roberts, Jean-Claude Van Damme, George Clooney, Alec Baldwin, Billy Crystal, Robin Williams, Reese Witherspoon, Jeff Goldblum, Charlie Sheen, Bruce Willis, Ben Stiller, Gary Oldman, and Jon Lovitz to name just a few. They even got Charlton Heston!
The main cast of Friends grew to be real-life True Companions; Tom Selleck commented in an interview that he often felt 'left out' during the filming of his appearance (A not-uncommon sentiment among guests on a hit series, but nonetheless.) The cast as a whole demanded equal salaries, leading to the show holding the world record for "best-paid women actors in a TV show" for many years. And they insisted that, should they be nominated for awards (which they were), they all be in the same category: you couldn't nominate Matt Le Blanc (Joey) as "Supporting Actor" and David Schwimmer (Ross) as "Lead Actor"; both of them had to be Lead or Supporting.
Trope Namer for:
Tropes used in Friends include:
A to I
| | | |
| --- | --- | --- |
| |  Joey: *looking at food* "How YOU doin'?" | |
 Chandler: Where's Joey? His mom's on the phone.

Monica: In the bathroom. I don't think you wanna go in there right now!

Chandler: Oh come on, we're roommates. (enters bathroom, runs out screaming) GAAAAAAH! MY EYES! MY EYES!
In "The One Where Everyone Finds Out", Phoebe sees Chandler and Monica having sex, and screams the exact same line.
In "The One with the Prom Video," Monica accidentally stumbles upon a tape of her parents having sex. In the later episode "The One Where Joey Moves Out", she unfortunately catches the live show.

In a much later season, Monica's dad then walks in on her and Chandler.

"The One With The Jellyfish" has everyone traumatized when Chandler had to pee on Monica after she got stung.

Break-Up Bonfire Monica, Phoebe, and Rachel burn mementos of their exes when they find themselves all single on Valentine's Day and decide to do something to "cleanse" their bad luck. The firemen who attend when it inevitably gets out of control tell them that Valentine's Day is one of their busiest nights of the year, for exactly that reason.
Brick Joke / Call Back: Joey's "Southern" (read: Jamaican) accent

Also, when Joey brings in a crib to convince a pregnant Rachel to stay at his apartment, he has his stuffed penguin toy Huggsy as a stand-in for the baby, but balks when Rachel believes he's going to give it to the baby. When Rachel and Emma live with Joey, Emma takes a liking to Huggsy, which Joey has a big problem with, as alluded to before.

Brought Home the Wrong Kid: In one episode, Joey and Chandler worry they've done this to Ben (they left him on the bus by accident as well) but it turns out to be the right kid in the end.
Brutal Honesty: In "The One With The Butt", everyone says non-committal positive-ish things about Joey's terrible play, except Chandler, who says "Awful play man, woah!". He's too excited about the beautiful girl who just agreed to go out with him to care about lying.

Even Phoebe couldn't hide it.
 Joey: Wow, an agency left me its card! Maybe they wanna sign me!

Phoebe: Based on this play? ...Based on this play!
| | | |
| --- | --- | --- |
| |  Phoebe: It's my friends. They have a... liking problem. With you. In that they don't. | |
 Ross: But we used a condom!

Rachel: Right, honey, but they are only 97% effective.

Ross: WHAT? They should put that on the box!

Rachel: They do!

Ross: No they don't! (Storms off to his bedroom. Pause. Returns with a box of condoms in hand) WELL THEY SHOULD PUT IT IN HUGE BLOCK LETTERS!!!
| | | |
| --- | --- | --- |
| |  Chandler: You know, on second thought, gum would be perfection. (Thinking) Gum would be perfection? Gum would be perfection. Could have said, "Gum would be nice," or "I'll have a stick," but no no no no no. For me, gum is perfection. I loathe myself. | |
| | | |
| --- | --- | --- |
| |  Joey: "That's...never happened before." | |
Continuity Nod In an early episode Chandler mentions he used to have a "Flock of Seagulls" haircut. In a S10 flashback Chandler is seen with a "Flock of Seagulls" haircut
 Monica: Go Team Monica!

murderous glares

Monica: Okay, we'll think of a name later.
| | | |
| --- | --- | --- |
| |  Ross: Chandler Muriel Bing. Your parents never even gave you a chance, did they? | |
 Ross: If only he were a woman.

Rachel: Yeah... (they awkwardly look at each other and walk away)
 Phoebe: Muahahahahaha!!!

Joey: Ho, ho, ho!

Phoebe: It's not Santa's plan!
Joey's stalker (played by Brooke Shields) has a pretty scary laugh.

Evil Twin: Phoebe's twin sister, Ursula, is by all accounts a bad person: she's an awful waitress, nearly cons a man into marrying her, has no affection for Phoebe, and becomes a porn star using Phoebe's name. She also didn't tell Phoebe that their mother had left a suicide note, and tried to improvise one on the spot before admitting she'd thrown it away.
Exactly What It Says on the Tin: Many episode titles, such as "The One Where No-One's Ready" and "The One in Vegas", exhibit this.
Eye Scream: Rachel's phobia.
Face Doodling: During an escalating prank war on the plane to Vegas, Ross draws a beard and moustache on Rachel's face. She doesn't notice until they reach their destination and discovers that it won't come off. Later on Ross suggests that she draws on him so she won't feel so self conscious. She gives him whiskers and writes 'Ross' on his forehead. They then stumble drunkenly about Vegas together, calling one another Mrs Ross and Mr Rachel.
The Faceless: Ugly Naked Guy, the only time we see anything of him.
Face Your Fears: Joey advocates this.
| | | |
| --- | --- | --- |
| |  ...the way I see it, you face your fears same as anything else, you've got a fear of heights, you go to the top of the building. You've got a fear of bugs... get a bug. In your case you've got a fear of commitment so you go in there and be the most committed guy there was. | |
 Joey: Hey, hey, they're running!

Chandler: See, this is the brilliance of the show. I say always keep them running. All the time, running. Run! Run Yasmine, run like the wind!
 Phoebe: Oh my god! Shouldn't we stop this?

Joey: What? Are you out of your mind? Lets throw some Jell-O on them!
In "The One With The Birth Mother", Phoebe and Rachel discuss helping each other try on bras, and Phoebe says "Wait a minute. Are we in Joey's imagination?"
In the "What If" episode, "The One that Could Have Been", Ross is still married to Carol. She suggests a threesome in order to spice up their sex life. Ross later confesses to Joey that he was mostly a passive participant, and he even made a sandwich while watching. However, Ross mentions to Joey that he got a little bored while watching (which is the reason he made the sandwich), in which case that'd make this an aversion. An example of "Girl On Girl ISN'T Hot".
In "The One with George Stephanopoulos", when the guys want to go to a hockey game:
 Ross: You know what, I'd better pass on the game. I think I'm just gonna go home and think about my ex-wife and her lesbian lover.

Joey: The hell with hockey, let's all do that!
In "The One with Joey's Big Break", Rachel is afraid to take her eye drops, and Monica tries to force her, and ends up straddling her and pinning her arms down. Rachel says: "You know, if Joey and Chandler walked in right now, we could make a fortune!"
In "The One with the Chick and the Duck", Monica slams into Rachel when she practices roller skating, knocks and falls on top of her. When Joey sees them, with Rachel moaning (in pain), he says: "Oh, my!"
In "The One with the Flashback", when Janice asks if anyone of the group ever slept together:
 Joey: Well, there was that one time that Monica and Rachel got together.

Monica and Rachel: What?!!

Rachel: Excuse me, there was no time!

Joey: Okay, but let's say there was. How might that go?
In "The One With The Nap Partners", Phoebe, in a desperate attempt to win the judges' vote for maid of honor, makes a toast regarding her and Rachel:
 Phoebe: I can't believe that Monica and Chandler are getting married. I remember talking about this day with Rachel, while we were showering together... naked.

Joey: And she's back in the game.
 Ross: Are there any questions?

(hands go up)

Ross: About paleontology?

(hands go down)
| | | |
| --- | --- | --- |
| |  Phoebe: I can be a waitress. Okay, watch this. Um, gimme two number ones, 86 the bacon, one Adam and Eve on a raft and rick'em, la-la-la-la-la, la-la-la-la-la. | |
| | | |
| --- | --- | --- |
| |  "He must decide / He must decide / Even though I made him up, he must decide!" | |
 Monica: Rachel always cries!

Rachel: (crying) That's not true!
J to P
| | | |
| --- | --- | --- |
| |  "It was like she was torturing me for information and I wanted to give it up, it's just, I didn't know what it was." | |
 Monica: We could have a dinner party and just invite her close friends.

Joey: Ross! We're having a surprise party for Rachel!

Ross: (from the bathroom) Okay!

Joey: Done.
Ross got mugged by a homeless person who is a friend of Phoebe's. She says "I'm sorry if I have friends outside the six of us".

It's a Small World After All: Throughout the series, the gang bumps into Janice (Maggie Wheeler) often. In her final apperance, near the end of the series, Janice makes a cameo in the neighbouring house of the one Monica and Chandler are buying. Chandler lampshades the unlikelihood of bumping into her every now and then.
 Janice: What a small world!

Chandler: And yet, I never run into Beyoncé.
One-Hour Work Week: One Cold Open features the characters bitching about how their employers hate them. Joey: "Maybe it's because you're in a coffee shop at 11:30 on a Wednesday morning?"
Another Cold Open in the premiere of season 3 sees the cast walk into the coffee house and see that another group of six friends (writers of season 3) has taken their spot on the couch. Chandler notes, "Huh," and they turn around and walk out.
Later in the series, you can occasionally see a "Reserved" sign on the table in front of the couch as an explanation of how they manage to always get "their" spot.

The very last joke of the series:
 Rachel: Do you guys have to go to the new house right away, or do you have some time?

Monica: We've got some time.

Rachel: Okay. Should we get some coffee?

Chandler: Sure. (Beat) Where?
The characters often pointed out minor continuity quirks:

In season four, Chandler offers to get Rachel a date.
 Rachel: Hang on, now. I've been single before, how come you didn't offer to get me a date then?

Chandler: Well, I have a girlfriend now, so I'm happy. I no longer need to deprive others from being happy.
In season six, Rachel needs to move out and find a new place to stay. She asks Phoebe if she can stay with her, but Phoebe says she already has a roommate. The others immediately point out that they have never heard of said roommate; Phoebe HandWaves this by saying they never listened when she was talking about her.

Chekhov's Gun: "TOW The Poking Device". Joey makes a poking device out of chopsticks he'd been saving for no reason.
When Rachel's mom came to visit and tried to relive her youth, Rachel asked why her mom couldn't have just copied her hair style. This was a jab at the popularity of Rachel's hair style at the time.

Large Ham: Janice. Most guests also count, from which Gary Oldman is the most memorable.

In-universe examples are Phoebe and Ross. They tend to go over the top when they "act".

Also, Ross when disguised as the HOLIDAY ARMADILLOOOO!!!

This seems to be what Joey is trying for when he acts, particularly as Dr Drake Ramore.

Last Het Romance: Ross to his ex-wife, who became a lesbian.
Last-Minute Baby-Naming:

Ross names his son Ben after a series of mishaps which befall Ross and his ex-wife's partner at the hospital while she's busy having the baby; at one point

there is a janitor's coverall involved which has the name "Ben" on it.

Prior to that they were feuding over what to name him.
Soon after Rachel gives birth, she can't decide what to name her daughter. When Monica tells her that she plans to name her own future daughter Emma, Rachel likes the name so much that Monica lets her have it.

Like a God to Me: Joey about a guy who got Phoebe to sleep with him and not try to call him.
Likes Older Women:

Frank Jr.

just doesn't care if his wife is twice his age.

He's the only character who actually married his older love interest, but there were other instances in the show, like Elizabeth and Ross, or Monica and Richard. Or Monica and Young Ethan (TOW The Ick Factor.)

Limited Social Circle: And how!
Local Hangout: Central Perk, conveniently located on the first floor of the gang's apartment building.
Loony Fan: Joey's Daydream Believer stalker, as well as the Fonzie-obsessed doctor who delivered the triplets.
Mars and Venus Gender Contrast: A major plot-driving force.
 Joey: Hey Phoebes, do you think it would be okay if I asked out your sister?

Phoebe: Why? Why would you want to do that?

Joey: So that if we went out on a date, she'd be there.
 Chandler: Was it the thing we rarely do or the the thing we NEVER do?

Monica: The thing we NEVER do.

Chandler: [With respect] Shovelly Joe...
| | | |
| --- | --- | --- |
| |  Rachel: These are my friends! And Ross. | |
My Sister Is Off-Limits: Ross explodes when he first finds out about Chandler and Monica, until they both say that they're in love and not just fooling around. He immediately becomes happy for them. Of course, he was taking anti-rage drugs at the time.
Naked People Are Funny: Ugly Naked Guy

Though he only stays until mid-Season 5 and Ross moves into his apartment

.

Poked fun at in a flashback episode, where the girls mourn the fact that "Cute Naked Guy is getting fat".
Joey revealed in one episode that he cooks while naked.
| | | |
| --- | --- | --- |
| |   Joey: "Oatmeal, toast. Nothing that spatters." | |
| | | |
| --- | --- | --- |
| |   "Why do you think it takes me so long to answer the door?" | |
| | | |
| --- | --- | --- |
| |  "Oh, my God! That's our friend! It's naked Ross!" | |
Name's the Same: meta-example: Joey is played by Matt Le Blanc, Chandler by Matthew Perry. Directors didn't always catch on to this.

Lampshaded by Matt Le Blanc in one of the blooper scenes that aired before the final episode.
 Director: A little louder, Matt.

Le Blanc: Which Matt? (Beat) Nine years and still happens.
| | | |
| --- | --- | --- |
| |  Monica: All right, look. She's obviously unstable, okay? I mean, she's thinking about running out on her wedding day.... (In the first episode, Rachel ran out on her wedding) Okay, fine, but... I mean, look at the position she's putting him in. I mean, what's he going to do? He's like... Ross is going to run over there on the wedding day and break up the marriage? Who would do that? (Rachel did this when Ross & Emily were getting married).... Okay, fine. All right? But that's... you know, that was different. Although it did involve a lot of the same people. | |
Q to Z
And of course, to Monica, anything related to cleaning, cooking, and weddings is extremely serious business. Even when the wedding's not even her own.

Shaking Her Hair Loose: Ross and Monica's cousin Cassie shakes her hair loose in slow motion, prompting a sagging jaw from Chandler, Ross forgetting he's related to her and even Phoebe getting turned on.
Ship Tease: Phoebe and Joey had their moments (and legit kisses and even

an engagement, albeit played for laughs

), but most of them were with an obvious wink to pairing spares.
 Joey: You know, Monica and Chandler are married. Ross and Rachel are having a baby. Maye you and I should do something.

Phoebe: All in good time, my love. All in good time.
Matt LeBlanc ad Lisa Kudrow were reportedly keen on the idea that Joey and Phoebe were having casual sex behind everyone's backs, but the writers vetoed the idea.
The only time the writers didn't have Ross and Rachel in this trope is when they were actually dating, which was like a fifth of the series' run.
Surprisingly, Monica and Chandler were teased several times before they actually got together, although prior to the fifth season it was Played for Laughs.

Shock Party: Rachel received one where her parents both show up and the gang are forced to split up the party into both apartments; Monica got two — one when she showed up drunk for her thirtieth birthday party, and one where she has just finished insulting her colleagues when they walk out of their hiding places to say "Surprise...."
Show Within a Show: Days of Our Lives, in hilariously over-the-top parody form.

Also, Mac And C.H.E.E.S.E.

Six-Student Clique:

The main character/The Quirk: Chandler and Ross. A unique case where their positions suggest Ross as the main guy while Chandler's the quirk yet their actual personalities switch this.
The Muscle: Joey
The Pretty One: Rachel
The Smart One: Monica, though her hypercompetiveness (and other neuroses) frequently pushes out of this role. Sometimes Ross is this, as well, given that he has a doctorate in paleontology.
The Wild One: Phoebe

Sixth Ranger (well, seventh): Charlie Wheeler, who happened to be a Twofer Token Minority. Also Richard and Pete, two of Monica's early boyfriends that got their own arcs. And Mike Hannigan,

who marries Phoebe in the end

.

And Fun Bobby, and Marcel the Monkey.

Slut Shaming: Pretty much the only friend not to be shamed for having sex was Phoebe. The network was so concerned about audience reaction that during the filming of the pilot, the crew polled the audience to see how much they judged Monica for sleeping with a guy on the first date.
Snap Back: Chandler goes to Yemen to fend off Janice in "The One With All the Rugby". He is in New York in the next episode.
Snicket Warning Label: Phoebe was protected by her mom from a host of unhappy endings in movies.
Social Semi-Circle: Averted at Monica's place but played straight as an arrow at Central Perk; apparently the couch is directly facing the back wall.
El Spanish-O: Joey shows off his terrible Italian accent: "That's-a what I suspected-a!"
Stop Copying Me: They call it the Shadow Game
Stylistic Suck: Stuff that Joey was in, like the musical Freud! ("Y'know, it's not just Freud, it's Freud!") and Mac And C.H.E.E.S.E., a Buddy Cop Show with a Robot Buddy.
Take Off Your Clothes: Joey asks one of the girls to take off her bra so he can use the underwire to pick a lock.
Teacher-Student Romance: Phoebe's half-brother Frank married his former Home-Ec teacher Alice Knight. Ross dated one of his students.
Team Pets: The Chick and the Duck. Though aside from Joey and Chandler, who treat the birds like their own children, no one else in the group is particularly fond of them.
Terrible Ticking: In "The One Where They're Up All Night", Phoebe is kept up by her fire alarm beeping. She smashes it and it still beeps. She puts on earmuffs and a hat to drown out the noise and also tries throwing it out.
Tertiary Sexual Characteristics: Rachel putting a big bow on Emma's head.

While Amy goes one step further in getting the baby's ears pierced.

Thematic Theme Tune: "I'll Be There for You". The song, performed by jangle-pop band the Rembrandts, was subsequently released as a single and became a chart-topping hit.
The "The" Title: Most episodes are titled "The One with The..." or "The One Where...".
Punctuated! For! Emphasis!: OH. MY. GOD.
This Loser Is You: The main cast goes through several hardships throughout the series. When the series started, Rachel had just ended her engagement, got cut off from her dad's money and was employed as a waittress. Before returning to Days of Our Lives, Joey was frequently low on cash, borrowing money from Chandler, and had to work several part-time jobs.
Three-Way Sex: In "The One Where Ross and Rachel Take A Break" Chandler and Joey once thought they might end up having sex with the same woman. When Joey asked who would go where, Chandler suggested flipping a coin:
 Joey: Yeah, I guess, but what's like heads and what's tails?

Chandler: Well, if you don't know that I'm not sure I want to do this with you!
Hilariously subverted in the same series in a hypothetical What Could Have Been episode, where Ross and Carol, still married, agree to have a threesome with Susan, who was then only a... friend of Carol's. Ross, tossed aside during most of the act, finds out the hard way about his wife's homosexuality...
In the episode "The One with the Jellyfish", it was revealed that Phoebe was conceived from a threeway between her parents and the girl who ended up being her adoptive mother.

Throwing Out the Script: When Monica and Chandler get married, Chandler throws out his vows and improvises new ones on the spot.
Throw It In: The episode "The One with Five Steaks and an Eggplant" dealt with a woman calling Chandler and Joey believing she's calling a guy named Bob, and Chandler picks up, pretends to be Bob, sets up a meeting with her and then shows up to win her over when she's "stood up". The tag scene for that episode had the woman calling again, looking for Bob, this time with Joey hearing the message. The script called for Joey to pick up and say "Bob here", but Matt LeBlanc tripped and fell, desperately trying to grab the phone as he went down. This ended up a lot funnier than the scripted version and was kept for the episode.

In "The One With Phoebe's Uterus" Joey walks in wearing a blue blazer and Chandler quips, "Donald Trump wants his blue blazer black". Awkward pause. "Back. He wants it back." Matthew Perry messed up the line, but the other actors make fun of him over it without breaking character, so they continued the scene.

Took the Bad Film Seriously: A famous actor played by Gary Oldman, who stars in a World War I movie with Joey.
Tranquillizer Dart: Subverted when Phoebe is shot in the backside with a dart. She never passes out, though she does comment that her buttock is asleep (and that the other one has no idea). Of course, the dart was intended for a very small monkey, so there probably wasn't much juice in there anyway.
Trans Equals Gay: Chandler's father is supposed to be a gay drag queen, but he's played like a trans woman.
Trash of the Titans: One of the girls Ross dates with.
Triage Tyrant: The one who ends up with a face full of hockey puck.
Triple Nipple: Chandler is said to have a third nipple, which he calls a "nubbin". He later has it surgically removed.
Trojan Gauntlet: Monica and Rachel once had a long, hilarious scene fighting over the last condom in the bathroom while Richard and Ross awkwardly waited together outside for the two to come to an agreement.
True Companions: Both in the show and in Real Life.
Truth-Telling Session: In "The One Where Ross Got High":
 Monica: Mom! Dad! Ross smoked pot in college!

Mr. and Mrs. Geller: What?!

Ross: You are such a tattletale! Mom, Dad, you remember that-that time you walked in my room and smelled marijuana?

Mr. and Mrs. Geller: Yes.

Ross: Well I told you it was Chandler who was smoking the pot but it was me. I'm sorry.

Mrs. Geller: It was you?

Monica: And Dad, y'know that mailman that you got fired? He didn't steal your Playboys! Ross did!

Ross: Yeah, well, Hurricane Gloria didn't break the porch swing, Monica did!

Monica: Ross hasn't worked at the museum for a year!

Ross: Monica and Chandler are living together!

Monica: Ross married Rachel in Vegas! And got divorced! Again!

Phoebe: I love Jacques Cousteau!

Rachel: I wasn't supposed to put beef in the trifle!

Joey: I wanna gooooooo!

Mrs. Geller: That's a lot of information to get in in thirty seconds!
| | | |
| --- | --- | --- |
| |  "Worst porn ever! Worst porn ever!" | |