Doctor Strange in The Multiverse o Madness - The Loop
Play Sound

YMMV •

Radar

•

Quotes

• (

Funny •

Heartwarming •
Awesome) •

Fridge •

Characters •

Fanfic Recs •

Nightmare Fuel •
Shout Out

•

Plot

•

Tear Jerker •

Headscratchers •
Trivia • WMG •

Recap

•

Ho Yay •

Image Links

•

Memes

•

Haiku

• Laconic •
Source

•

Setting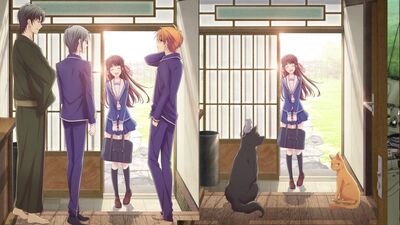 After the death of her widowed mother, the highschool student Tohru Honda has been secretly living on her own in a tent, since her paternal grandfather's home is under repairs and the rest of her family either is out of the question (her mom's) or mistreats her (her dad's, save for the grandpa). Her life changes forever when she stumbles upon the secret of the rich and powerful Sohma family, whose land she has been living on. They are afflicted by a Hereditary Curse that changes some members of the family into animals of the Eastern Zodiac when either they are under absolutely unbereble stress or they are hugged by someone of the opposite sex that is not also a Zodiac member.
Now living with three members of the Sohma clan (her classmate and friend Yuki, Yuki's cousin Kyo who's just moved in, and their older cousin plus guardian Shigure) and working as her housekeeper in exchange for it, every day is an adventure for sweet Tohru, as she gets to know all of the very different family members better, in both common and bizarre situations. But the Sohma family curse is certainly no laughing matter... it also holds horrible cruelty and heartbreak, due to how it affects the clan's relationships between themselves and the rest of the world. Despite this, the members of the Sohma family find a new peace thanks to the presence of Tohru, which leads her to also make discoveries about herself. . . All of this eventually leads her and her newfound Sohma friends to start defying the curse itself and especially the cruel leader of the clan, the much-feared Akito Sohma, who turns out to be a very troubled and broken individual rather than a simple Card-Carrying Villain.
Written by the manga author Natsuki Takaya (real name: Nana Hatake), Fruits Basket (also known as Furuba) ran in Hakusensha's Hana to Yume shoujo magazine from 1998 to 2006. Hailed as one of the best shojo series out there, during its five years in-print in the USA (2004-2009) it was the best-selling shojo manga series in America, and often the second best-selling manga series in the US period, beat only by a certain ninja.
Also see this page for tropes that can be applied directly to the characters.
An animated version was aired in 2001, and it had 26 episodes. A new anime was announced in 2018, and its first season and its 25 episodes ran from April to September 2019; the second season, which also had 25 episodes went from April to September 2020, and the third and last one (Fruits Basket: The Final) ran from April to July 2021. There's also another anime on the work for 2022, said to cover things that were taken out from the second series (specifically, the relationship between Tohru's parents Katsuya and Kyouko); a stage play is also in the works,
There is also a sequel, Fruits Basket Another, which takes place around 20 years after everything and features a girl named Sawa Mitoma and the children of some of the FB characters (plus sidestories written after the end of the proper story). It ran through 2015 (both online and in paper) and had three volumes (and will have some additional chapters).
Tropes used in Fruits Basket include:
 Shigure: Yup, we were inseparable! So much so that they called us the Mabudachi Trio/Three Musketeers.

Tohru: Really?

Kyo: More like the Three Idiots if you ask me.

Yuki: How did Hatori put up with you for so long?
| | | |
| --- | --- | --- |
| |   Hanajima: I could *beep!* her with electro-poison waves. | |