Spider-Man: No Way Home Trailer Dropped - The Loop
Play Sound

YMMV

•

Radar

•

Quotes

• (

Funny

•

Heartwarming

•
Awesome

) •

Fridge

•

Characters •

Fanfic Recs

•

Nightmare Fuel

•
Shout Out

•

Plot

•

Tear Jerker

•

Headscratchers

•
Trivia

•

WMG

•

Recap

•

Ho Yay

•

Image Links

•

Memes

•

Haiku

•

Laconic

•
Source

•

Setting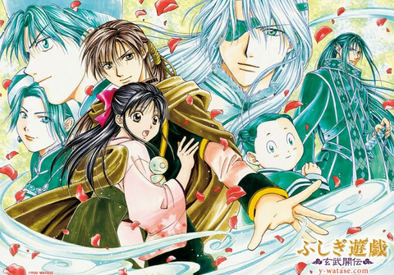 Fushigi Yuugi Genbu Kaiden is a manga prequel written by Yuu Watase to the popular manga/anime series Fushigi Yuugi. The series premiered on April 14th, 2003 in the shoujo magazine Shoujo Comic, then moved to the jousei mag Flowers until 2010; then it moved to the also jousei mag Rinka until its end in 2013.
The series had 12 volumes, and it also spun into 5 Drama CD's depicting the first 5 volumes of the manga, and a video game, Fushigi Yuugi Genbu Kaiden Gaiden ~Kagami no Miko~ for Play Station 2, PSP, and Nintendo DS, marking the first ever video game adaption for a Yuu Watase work.
In the year of 1923, roughly 70 years before Miaka and Yui encountered the book, novelist Einosuke Okuda came back to Japan from China obtaining the original Chinese version of an ancient ceremonial scripture called The Universe of the Four Gods (Shi Jin Ten Chi Sho) where he worked tirelessly translating them into Japanese and bind them into book form. His wife Yoshie is severely ill; she and her and daughter Takiko Okuda recently moved from Tokyo to her mom's hometown in Morioka, for Yoshie's further care. There, an already stressed and depressed Takiko has to put up with a new school life, their cold neighbors, and being constantly teased by her classmates for both being the new kid and having a sick mother. Onto the moment when her mom died, the father and daughter went into a quarrel that led to Takiko angrily, heartbrokenly calling him out for not being there for them, blaming the Universe for the family's unhappiness.
Overwhelmed by her loneliness and uselessness, Takiko took the translated book from her father and tried to going to rip it apart as a symbol of her anger... until the book suddenly started to shine bright and absorbed her into its pages. From then on Takiko finds herself as the Priestess of Genbu, who will have to gather her Senshi and face several trial from then on, which Einosuke follows as he reads the book itself.
The seven celstial warriors' backstories and point-of-views plays an important part for the storytelling of this work. According to Watase, compared to the previous work, the camera viewpoints are more evenly distributed around the interactions between teammates as to just the heroine's character/love developement POV. Therefore you might notice some surprising tropes that can only be found in the character sheet.
Beware that this page contains SPOILERS.
---
This manga presents examples of:
Action Girl (Takiko, who quite knows how to use the naginata.)
All Girls Want Bad Boys: Takiko for Uruki, and

Firuka for Hagas

.
Badass Crew / True Companions: The Genbu Celestial Warriors along with their miko, being the first miko out of all four, and team of all 28 seishis of the world to appear. Compare to the future Suzaku and Seiryu Teams, they are on average, dangerously powerful and badass to the near extreme. Their miko can wield a weapon, the majority of the warriors work very close together as a group, and their relationship is more like a family unit. Literally all bare Elemental Powers, and whom all has to pave way through hells of prejudice, supression, and racism to make a better ground status for the future seishis to come.
 Uruki: "Now I realize...that I..."

Tomite: "Hikitsu, wait!"