YMMV •

Radar

•

Quotes

• (
Funny •

Heartwarming •

Awesome) •
Fridge •

Characters •

Fanfic Recs

•

Nightmare Fuel •
Shout Out

•

Plot

•

Tear Jerker •
Headscratchers •
Trivia • WMG •

Recap

•
Ho Yay •
Image Links

•

Memes

•

Haiku

• Laconic •
Source

•

Setting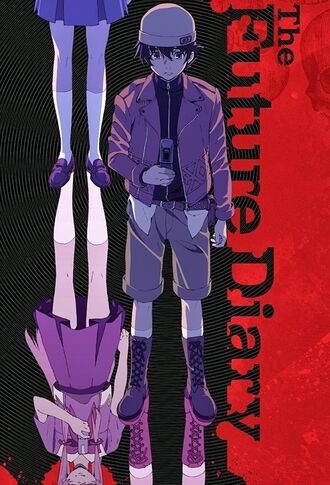 "What are you scheming?"

"An interesting game."

Mirai Nikki (literally Future Diary) is a dark Manga about the asocial middle-schooler Yukiteru "Yuki" Amano, who obsessively keeps journals. One day, he finds that his imaginary friend Deus Ex Machina, the lord of time and space, has made his cell phone diary able to predict the future. After getting over the initial shock of having a supernatural cell phone, Yuki enjoys his newfound powers until he comes across a diary entry stating his exact time of death...
After taking out his would-be murderer, Yuki is invited to a gathering with ten other people, where Deus explains that they are now in a Battle Royale for the position of God. Some of the diary holders have personal reasons to claim the throne; others are psychotically insane. And soon enough, young Yuki finds himself without any true friends or allies aside from a curiously Yuki-obsessed participant, his classmate and the local School Idol, a beautiful girl named Yuno Gasai...
The common traits of all twelve diaries are as follows:
All diaries predict the future. Each diary does so in a different fashion, based on how the owner used it before they were selected.
Each owner is assigned a number from 1 to 12, and until their identity is discovered by the other owners, is only referred to by that number, Yukiteru, for example, being called the '1st.'
The diaries can take any shape or form, but the most common by far are cellphones.
Should a diary owner do something differently or influence events so that the results turn out differently from a diary prediction, the diary changes accordingly. In short, the futures set by the diaries are not set in stone.
Most importantly, a diary is its holder's future. If it is damaged beyond working order by whatever or whomever, the diary's owner will cease to exist.
Mirai Nikki also has two spin-off manga. The first is Mirai Nikki: Mosaics, focusing on the ninth diary holder Minene Uryu and expounding on several of the minor characters. The second is an Alternate Timeline spin-off, Mirai Nikki: Paradox, in which Aru Akise replaces Yuki as the main character.
The manga was licensed by Tokyopop, and released in the United States as Future Diary; 10 of its 12 volumes were released before the US branch of the company went under. An animated adaptation aired between October 2011 and April 2012 with a pilot OVA released beforehand.
A .live action drama called Mirai Nikki: Another World began airing in Japan on April 1st, based in alternate world featuring a familiar plot but with a new cast of characters. Most are expies of the original characters with some differences. Arata Hoshino takes Yuki's place, a Lazy Bum of a college student who has no interest in his future. That is until he receives a limited release cell phone from his friend Rui Moriguchi which happens to have the Future Diary's powers. Now stuck in his own survival game, with his own version of Yuno for company.
Compare and contrast Death Note, which also features a "notebook" as a centerpiece. Also compare and contrast "Kamen Rider Ryuki" which also features a "There Can Be Only One" style royale amongst 13 individuals. See also Devil Survivor, for the counterpart "Laplace Mail".
Definitely not to be confused with Yume Nikki.
Character sheet for this series is now open for business.
---
The manga features the following tropes:
The Abridged Series: By the guy who brought you the Higurashi Parody Fandub, found here.
Absurdly Sharp Blade: Yuno is typically armed with a variety of kitchen implements, but the damage she does with them is out of this world.
Abusive Parents: Yuno's parents, Saika and Ushio, drive this Up to Eleven. They were originally nice to her, but soon gave her only enough food to barely survive to condition her into an "elite" person and imprisoned her in a small cage at the tiniest infraction. The depths of their insanity are particularly exemplified in how they kept and posted for her view detailed statistics on each such infraction, from talking back to coming in late, which is why she eventually reversed the situation and kept them captive in the cage, waiting for them to turn back into doting parents. They never did, so she never let them out and they starved to death..

It's revealed later on however that Saika was the abusive one while Ushio wasn't around to stop it making it Parental Neglect in his case. The anime also portrays Saika as being not all there and mentally unstable like Yuno as well.

Akashic Records: One of the tools used by Deus.
All Deaths Final: However, this can still be worked around -- and eventually is — by going to an Alternate Timeline where they are still alive.
All There Is to Know About "The Crying Game": Actually an in-universe example: since the diaries all give the DEAD END of the user, it forces the user to change tactics in order to avoid it. However, there are unwritten portions that are found within the diary, and, when given the option, the user can take that hidden option, such as when Yukiteru decides to open a suspicious door in Yuno's house that causes every Diary to be rewritten and even surprises Deus.
Alternate Timeline: Paradox. Eventually,

the entire plot of the main series moves to one.

It's shown that the 3rd world is less of a Crapsack World than the 1st world because all of the events that made the main characters' lives crap and motivated them to turn evil never happened. Almost everybody (including Yuno) lives happy, normal lives.

Note that this is mostly because

the game was scrapped once the Mayor read 2ndWorld!Yuki's diary and talked with Deus to forget about it. Since the game, and thus the diary creations did not happen, the 12th, 8th, 7ths and 3rd did not die due to the events that ocurred because of them. The commotion stopped the 6th's parents from dying, which prevented the Ometaka cult from degrading, and consequently prevented the corruption and death of the 5th's parents, which also led to him being a normal person. Minene got Kurusu (the 4th) to check his son ahead of time, so his son was saved, eliminating his reason for his Face Heel Turn IF the diaries had been made. God!Yuno's death ended the struggle, which caused 3rdWorld!Yuno's mother to show she still loved her family. This led to 3rdWorld!Yuno being a normal girl. The rest is inherent to the world however, as Hinata and her father (the 10th) reconciled, Yuki's parents never divorced and thusly, he did not grow up thinking himself a failure. This ostensibly led to him developing the confidence to becoming a couple with his original crush. The only thing that didn't change was that 3rdWorld!Minene was still a terrorist at large.

American Kirby Is Hardcore: The American release changes the cover of the volumes from white to black, adds a skull to the title, and throws in the tagline "Every Text Could Be Your Last".
A Lighter Shade of Black/Anti-Hero: Yuno and Yuki. For a good portion of the series, they're the only Diary Users with no desire to become God and are simply trying to survive, although Yuki changes his mind after his parent's deaths. Minene also qualifies after her Heel-Face Turn.
Anyone Can Die: Given that it is a battle royale for godhood, this is to be expected.
Artificial Human:

Akise.

Attempted Rape:

Tsubaki orders her servants to gang rape Yuno, the same way they did to her for years, as a way to draw out Yuki and kill them both. Yuki manages to destroy her diary before anything happens.

Ax Crazy: Yuno, literally.

This pretty much sums up the majority of the cast, really.
In Chapter 57, there is

Mur Mur's

true form.

Babies Ever After: The epilogue depicts

3rd World Ai (7th) and 2nd world Minene (9th); the first of which is pregnant and the second of which has two babies... who have apparently inherited part of Deus' power which was in her.

Back From the Dead:

Minene, as of chapter 54.

Badass Normal: Akise Aru manages to outwit a number of journal holders. He definitely earned his title of the strongest Non-Diary holder in his Spin-off, Paradox, where in one fell swoop, he

seduces the 6th, befriends the 5th, and allies himself with one half of the 7th and one of the 8th's followers, all without use of a diary.

This because he got bored of following Yuki's path, and so decided to Screw Destiny.

Later, he obtains a secondary diary from the 8th, allowing him to scry the actions of diary holders and fool their predictions. He ends up losing it in the chapter following its debut, however.

Barbie Doll Anatomy: Averted in Chapter 52 after being played straight for the rest of the series.
Batman Gambit: Given that it's a series about people who can predict the future trying to out manipulate each other, this is bound to show up.
Battle Couple: The 7th. Yes, the 7th is two people - Ai Mikami and Marco Ikusaba.

Yuki and Yuno

gradually become this as well.
Big Bad:

Mur Mur. She used Yuno's desire to be with Yuki against her, in an attempt to have the Diary Game replay endlessly for her own entertainment.

.
Big Damn Heroes: Yuki pulls this off early on against The 6th, when she was about to have her minions gang-rape Yuno.

In Chapter 54 Minene saves Yuki from falling off a cliff he was climbing.

Big Entrance: 12th (Yomotsu Hirasaka) does this when introducing himself to the 1st, 2nd, and Sixth in a manner that imitates the Power Rangers thanks to giant explosions going off in the background, a deranged entrance speech, and a five man group colored in 5 different colors doing ridiculous poses.
Bishonen: Yuki and Akise.
Bodyguard Crush: Both Akise and Yuno towards Yuki.
Body Horror: If your diary is destroyed, you die in a manner that appears as though a black hole spontaneously generates in your chest. It's much more noticeable in the anime.
Book Ends: In the first chapter, when Yuki almost stabs Yuno, she tells him "You didn't stab me, that's not the future." In the final chapter,

Yuno considers stabbing Yuki, but stabs herself instead, saying "I can't stab you, that's not the kind of future it'll be."

Bread, Eggs, Milk, Squick: At the end of chapter 23 when Yuki asks Yuno why she can't leave some luggage. She says she can't because of important things like "underwear, towels, meds, and a bunch of other stuff". The "other stuff" is shown to the viewer as

the skeletal heads of her parents

.
Break the Cutie: A rare male example when it happens to Yuki after

both his parents die

. He breaks even further and ends up

killing most of his friends himself

.

Just about any flashback involving

Yuno

.
There's also

Tsubaki, Marco, Ai, Yukki's friends to one and another degree...

Bullying a Dragon:

Tsubaki and Akise

each plant a "Take That!" Kiss on Yuki to spite the notoriously Ax Crazy Yuno. Neither one survives.
Came Back Wrong: The reason why bringing people back after being God doesn't work. See Suicide Pact on this page for more details.
Cell Phone: Apparently back then many Japanese keep their diaries on cell phones rather than on journal/network servers; a usage not followed elsewhere.
Chekhov's Gunman: Remember that girl at Tsubaki's temple? She shows up later

as the female half of the 7th.

Chess Motifs: Only in the beginning, when a DEAD END is compared to a Checkmate. This is why it was such a big deal that Yuki survived; it wasn't meant to be possible.
Class Is in Room X-01: Averted. Yukiteru and Yuno are both in class 2-B initially, and they end up in 2-C and 2-D respectively and their new school. While that can still be considered somewhat lazy, it looks like this was a deliberate aversion.
Clingy Jealous Girl: Yuno towards Yuki, and Akise towards Yuki in a male version.
Crapsack World: You know it's this when the Ax Crazy Yandere and religion-hating terrorist are two of the more sympathetic characters.
Creepy Child: The 5th diary owner, Reisuke "Let the massacre begin!" Houjou.
Cry Cute: Whenever Minene's childhood and her parents' death is brought up, expect the terrorist bomber to at least shed a few tears.
Dark and Troubled Past: Most characters have this.
Dating Catwoman: Nishijima and Minene in Mosaics, though the criminal is the main character.
Dead-Man Switch: Minene rigs one of these up to herself when she holds up the school.
Dead Person Impersonation: Yuno is impersonating herself.

Minene does this as well, killing a rookie police officer and taking her place so she could get close to her target

Disappeared Dad: Yuki's dad, as his parents are divorced.

Hinata's dad is mostly absent from her life due to

his obsession with his dogs

and disappears altogether when

he's killed

.

Does This Remind You of Anything?: When Yuno

chains Yuki up and feeds him herself, Yuki refuses to eat

. It doesn't help that she's in her underwear and sitting on his lap. The following conversation occurs:
 Hinata: He doesn't want it!

Yuno: Nah, he's pleased with it.
| | | |
| --- | --- | --- |
| |  Yukiteru: You said it yourself! The eyes have it! *cue Eye Scream* | |
Which would make both Yukkii and Yuno a case of Becoming the Mask as their experiences together sparked genuine and mutual love.

Redemption Equals Death:

Yuki believes so, and as he asks Yuno to kill him and becomes God he thinks to himself that it's his atonement for killing all those people.

Yuno from the 1st world stabs herself and dies. Her memories are transfered to the 3rd world Yuno.

Red Shirt: The policemen

and the orphans

.
Reset Button Ending An inversion on the usual good-to-bad, in that the 'second world', in which the story takes place, ends, and they create the 'third world', in which everyone - including most of the diary holders - live happily ever after.
Sadistic Choice: In Chapter 55,

Yuno forces one of these on Yuki after they, Minene and Mur Mur jump back in time. Either Yuki hands over the 3rd world's Yuno to be killed, or 1st world Yuno will kill Yuki's parents

.
Screw Destiny: These are people with future-predicting diaries fighting to become a god. Of course this is going to happen.
Scry vs. Scry: The entire premise.
Self-Made Orphan:

Yuno. Subverted by the revelation that she was actually adopted, so it wasn't her biological parents she killed.

Shades of Conflict: A combination of Black and Gray Morality And Evil Versus Evil
Shipper on Deck: Yuki's mom seems absolutely intent on getting Yuno "closer" to her son. Chalk it up to values dissonance.
Single-Target Sexuality: Yuno's crush with Yuki. Also Akise, both in the spinoff Paradox as well as in the MAIN storyline.
Sliding Scale of Comedy and Horror: Yuno's Yandere behavior can be this at times, especially when combined with Yuki's facial reactions.
Spell My Name with an "S": Yuno's nickname for Yuki should be written as "Yukkii" if you go off the katakana for it, though Tokyopop writes it as "Yuki" instead. Most scanlations stick to the former.

More notably, the Eleventh's name is romanized as John Balks in most of the scanlations, but Tokyopop romanizes it as John Bacchus.
That cute little girl in the Causality Hall, ムルムル? Most translations and webpages romanize it as "Muru Muru" or "Murumuru", but the opening for the series reads clearly "Mur mur" (in two lines) in the background behind her. Any relation?.

Spanner in the Works:

Minene near the end of the manga, by Deus' own intervention.

Stalker with a Crush: Yuno. In one of the more disturbing chapters, right after the hero and audience think she's not so bad, the girl

drugs the hero and chains him to a chair

. Of course, this is after we learn that

she killed her parents that abused her.

.
Stab the Scorpion: Happens a ridiculous amount of times in the series.

One chapter ends with Yuki looking as if he's going to abandon Yuno when Akise reveals that

she's not the real Yuno

. Next chapter reveals that he let go of her hand so that he could push to the ground to avoid gunfire from the 11th Diary Holder.
Subverted later in the twin towers when

Minene

points her gun at Yuki. Turns out there was just a mook behind him. She then explains that she will kill him if the plan fails and nearly does. Ends up truly being

Double Dubverted

once she doesn't go through with shooting him and instead helps him to reach 11th.

Stalking Is Love: This series loves playing ping-pong with this trope. The current status of it seems to be "Stalking is love, but only because

you're as crazy as her now

."

In chapter 57, Yuki states that he fell in love with Yuno because "she was always by his side."

Suicide Pact: 1st world Yuki and Yuno decide to do this, as neither could stand the thought of killing the other to become god. Subverted in that Yuno fakes her death, attempting to bring Yuki back to life by becoming god. Unfortunately, in the Future Diary universe, it is possible to bring a person back from death but the god's power can only bring back the body, not the soul of the person. All the god gets is an empty shell should they attempt it. Yuno is not pleased at this last bit of news, to say the least.
Superpower Lottery: The Future Diaries. There are vast differences in their ability to predict, each with its own weaknesses.

The 1st's is one of the strongest but still has the weakness that it doesn't predict his own actions.
On the other hand, The 2nd has the weakest diary, only predicting one person's actions.
Then there is The 5th who can only

make three predictions a day

.
The 4th's can only predict crime cases.
Let's not even get into the 8th's Diary and what it does

and gives to Akise

.
The undeniable winner of the lottery is The 11th who can see other diary users' diaries.

"Take That!" Kiss:

Tsubaki

plants one of these on Yuki when she thinks she's defeated him and Yuno. Unfortunately for her, Yuno doesn't like that one bit.
Taking the Bullet:

Nishijima takes a grand total of eight bullets for Minene and dies.

If both of them had survived,

Minene would have married Nishijima and gave up being a terrorist.

Tear drops...
Taking You with Me:

How the 12th wants to finish the 6th. Yuno kills him.

Also when Yuno was fighting Kurusu and his goons in the hospital.

Subverted in the fact that

Yuno probably didn't know that the grenade she used was only a flash bang. Nobody ended up dying.

Talking Is a Free Action: Oh, so much. "Yuki! There's a mine 1 meter in front of you! Go to the left!" Doesn't sound ridiculous, until you realize that he's sprinting forward, and Yuno's shouting directions to him. And it's commented that he's a good runner, too.

The anime makes this more believable: "Yukki! To the left! ... Now the right!"
Texting is also a free action. Most of the diary holders have lightning-fast thumbs.

Tears of Fear: Yuki, especially in the beginning.
Their First Time: Chapter 52. Twisted later, as Yuki confronts Yuno on Akise's message and she goes Ax Crazy.
There Are No Adults: Vastly averted. Although the two main characters are school age, others are not, and the school-aged kids' parents end up central to the plot.

Read: dead most of the time.

There Are No Therapists: Considering most of, if not all the characters, can be classified as mentally unstable if not out right insane you think half the cast would be in an asylum by now.
There Can Be Only One: God has apparently decided that if

he's going to die anyway

, he might as well see people fight to the death first. And what better way to chose a successor?
Together in Death:

Yuno

averts this, while

Marco and Ai

played it straighter.
Too Dumb to Live: Tsubaki, did you just kiss Yuki in front of Yuno?
Too Soon: Tokyopop changed the name of the Twin Towers to "The Double Tower Building" in volume 9.

It doesn't help that it is attacked by the series' resident terrorist bomber

.
Took a Level In Badass: After

his father is killed,

Yuki retaliated against his would-be assassins using the knife which took his father's life, his darts and blocking gunfire directed at him by using a meat shield (another one of his would-be assassins.

Yuno takes a level during the fight with the 7th, when

Yuki's praise gives her the motivation to block half a dozen thrown knives in an instant

.

Tsundere: Mur Mur pegs Minene as one as she watches the Dating Catwoman antics between her and Nishijima. While Minene insists that she's not going to follow some "shojo manga formula", she can't seem to shake Nishijima off of her, culminating with

him proposing, getting her uncharacteristically flustered

.
Unusually Uninteresting Sight: The 8th. She is a gigantic, Pillsbury Doughboy-like woman roughly three times the size of the children she takes care of. No one seems to notice this, beyond a one-shot joke.
What the Hell, Hero?: Yuki calls Yuno on her claim that she

locked and chained him up in her room

and tried to kill his friends because she loved him.

In Chapter 50, Kousaka calls out Yuki on his cowardly decision to kill all of his friends rather than face the Awful Truth they were trying to tell him. He is later called out on this again, this time by Yuno of all people. This time it sinks in.

Why Can't I Hate You?:

Chapter 56 has an inversion. Yuno desperately tries to get Yuki to hate her so that she can kill him with no regrets, up to and including killing his parents in front of him.
Played straight when she finds out that she still loves him. She goes even crazier than before.

World of Cardboard Speech: Yuki gives one of these speeches to Yuno, telling her he loves her and that she is irreplaceable to him. He vows to save her, all while climbing up a sheer cliff with his bare hands.
Yandere: Yuno isn't just an example, she's the poster girl

and goddess

You Don't Want to Die a Virgin, Do You?:

Yuki and Yuno

, who are both virgins before Chapter 52.
Your Days Are Numbered:

Deus

.
Your Princess Is in Another Castle: Chapter 54 comes across as an epilogue, until the last two pages in which

Minene comes back to save Yuki.
The anime features the following tropes:
The live action drama features the following tropes