YMMV •

Radar

•

Quotes • (

Funny

•

Heartwarming

•
Awesome

) •

Fridge

•

Characters

•

Fanfic Recs

•

Nightmare Fuel

•
Shout Out

•

Plot

•

Tear Jerker

•

Headscratchers

•
Trivia

•

WMG

•

Recap

•

Ho Yay

•

Image Links

•

Memes

•

Haiku

•

Laconic

•
Source

•

Setting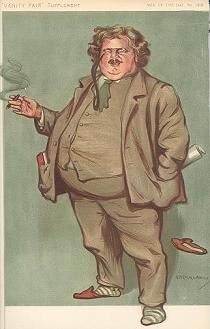 | | | |
| --- | --- | --- |
| | "He is so happy! I can almost believe he has found God." | |

Gilbert Keith Chesterton (1874-1936) was an English author and Catholic apologist in the late nineteenth and early twentieth century. Though best known for his Father Brown mysteries, he wrote prodigiously in a number of genres, both poetry and prose, fiction and non-fiction (the American Chesterton Society reckons that if you wanted to write as many essays as he did you'd have to write one every day for around eleven years).
Chesterton's writing is characterized by a vivid style, with much use of word-play and paradox, and by an often polemical though nearly always hugely good-natured tone. (Typically, he would mock his own large girth and heavy drinking.) Common themes in "GKC's" writing include the romance of everyday life, the superiority of traditional to modern ideals, and the dignity of the common man and ordinary pleasures such as smoking and drinking, especially as contrasted with the puritanical élites of either capitalist conservatives or socialist progressives (whose opposition to each other he considered largely a sham). His swashbuckling attitude toward life was exemplified as well in his personal appearance by the brigandly broad hat, cape, and sword-stick devised for him by his adored wife, Frances.
Chesterton had a great influence on many writers, especially in the early twentieth century. He was for many years president of The Detection Club, an organization for writers of Mystery Fiction (the oath of which, devised by GKC, demanded that members write only Fair Play Whodunnits); such writers as Agatha Christie, Fr. Ronald Knox, and Dorothy L. Sayers were co-members. Chesterton's fellow Roman Catholics Hilaire Belloc (Chesterton and Belloc were collectively nicknamed the Chesterbelloc by Chesterton's "friendly enemy" George Bernard Shaw) and JRR Tolkien were admirers, and GKC's apologetic writings (especially Orthodoxy and The Everlasting Man) helped inspire CS Lewis to (re-)convert to Christianity. Golden Age mystery author John Dickson Carr was such a strong admirer that he modeled his most famous character, Dr. Gideon Fell, on Chesterton's appearance. More recently, Neil Gaiman modeled a character in The Sandman after him, got his inspiration for London Below from The Napoleon of Notting Hill (as he relates here), and Gaiman and Terry Pratchett dedicated Good Omens "To G.K. Chesterton: A Man Who Knew What Was Going On."
Works by G. K. Chesterton with their own trope pages include:
---
Other works by G. K. Chesterton provide examples of:
 "...For the front of the cover shows somebody shot

And the back of the cover will tell you the plot."
 Chesterton: George, you look like you just came from a country in a famine!

Shaw: G.K., you look like you caused it!