Jurassic World: Dominion Dominates Fandom Wikis - The Loop
Play Sound

YMMV •

Radar •

Quotes

• (
Funny •

Heartwarming •

Awesome) •
Fridge •

Characters •

Fanfic Recs •

Nightmare Fuel •
Shout Out

•

Plot

•

Tear Jerker •
Headscratchers •
Trivia • WMG •

Recap

•
Ho Yay

•
Image Links

•

Memes

•

Haiku

•

Laconic

•
Source

•

Setting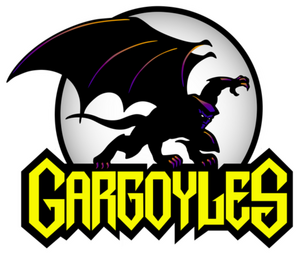 "One thousand years ago, superstition and the sword ruled.
It was a time of darkness. It was a world of fear.
It was the age of gargoyles.
Stone by day, warriors by night,
We were betrayed by the humans we had sworn to protect,
frozen in stone by a magic spell for a thousand years.
Now, here in Manhattan, the spell is broken, AND WE LIVE AGAIN!
We are defenders of the night!
We are GARGOYLES!"

Gargoyles was a rare breed: it was a Western cartoon with a story that followed deliberate arcs and did things very rarely seen in the average Western 'toon. Did we mention that it came from Disney?
The main characters of the series are gargoyles, large winged humanoids (their appearance was vaguely demonic, though saying so is insulting to them) that are extremely (almost literally) nocturnal — they turn to stone, no matter what, when the sun rises. Once, there were many gargoyles, but interactions with humanity have led to their species becoming endangered. The main characters survived purging thanks to a magical spell that made them permanently statues — at least, unless the castle which they were protecting were to ever "rise above the clouds".
One thousand years later, it did. Billionaire David Xanatos (yes, that Xanatos) took the castle from Scotland and transported it brick by brick to the top of his skyscraper in New York City; this broke the curse for good, reviving the dormant gargoyles in a land and time far from their home. He didn't do it for altruistic motives, though; eventually, Xanatos and the clan of gargoyles became enemies. The clan manages to make an ally in New York detective Elisa Maza, however — and with her help, they work to protect their new home while simultaneously adapting to it.
Gargoyles spans fantasy and science-fiction genres, and its plot would eventually involve magic, robots, The Illuminati, god-like fairies, numerous characters straight out of Shakespearean plays, and much more. In general, All Myths Are True in this show.
The show is also famous for the intricacy of its villains and plots. Very few are Card-Carrying Villains; in particular, the charismatic and manipulative nature of Xanatos is why the Xanatos Gambit was named after him. Even the heroes are individuals with their own wants and desires that don't always lead to peaceful relationships.
The initial incarnation of the show lasted two seasons and sixty-five episodes. It was followed by a retooled third season — Gargoyles: The Goliath Chronicles — but since Greg Weisman was only around to write the first episode of this season, a new team of writers who barely had time to familiarize themselves with the show ended up writing the other twelve episodes; as a result, while it was arguably still above average compared to most of its peers in animation, it represented a major drop in quality in both writing and animation. Most fans don't count it as canon (save for the opening episode written by Weisman), and Weisman himself has confirmed that it's not part of the overall continuity.
The series was later resurrected in comic book form in 2006, picking up with an alternate timeline after a comic-book retelling of the opening episode of The Goliath Chronicles before going on to weave an entirely new story; when the company publishing the book were hit with higher licensing fees imposed by Disney, the book was unfortunately cancelled. Greg Weisman has vowed to find a way to continue it.
The show and the universe it created still has an active online fanbase — including the creator.
As a side note: in what became somewhat of an inside joke, many Star Trek: The Next Generation actors had at least cameo roles in the series. Jonathan Frakes and Marina Sirtis played the primary villains Xanatos and Demona; Brent Spiner, Michael Dorn, and Kate Mulgrew all played recurring roles; and the guest stars included Avery Brooks and Colm Meaney.
In the grand tradition of the internet, the show has its own Wiki.
---
This series has named the following tropes:
---
This trope-heavy animated series had examples of:
Tropes A-D
 "Would you prefer I lost on purpose?"

"I'd fire you if you did." Shari and Thailog, in the comic continuation.
Tropes E-H
| | | |
| --- | --- | --- |
| |   Xanatos: "I've created a monster." | |
Tropes I-L
 Demona: You tricked me! You had me under a spell! None of this was my fault, it was the humans! Always the humans!

Goliath: [sighs] You have learned nothing.
Unfortunately, Goliath isn't immune to this trope either. Back in "City of Stone" he tried to convince Macbeth that "Killing her won't solve anything" and "Death never does." He had forgotten that epiphany by the time of "Hunter's Moon," when he went on a Roaring Rampage of Revenge against the Canmores.

I Have No Daughter: Said by Demona when Angela tries to explain their relationship, though in this case, it's because Demona honestly believes her and Goliath's child should be dead by now.

Not really the case since Thailog revealed that Demona knew Angela was her daughter before staging her capture. Angela in turn pulls an inverted on Demona after realizing that she tried to manipulate her into turning on Goliath and her Clan.

I Have You Now, My Pretty: Sevarius acts this way towards Angela when she's his captive in "Monsters", playing with her hair when the Xanatos goons first wheel her out on a gurney, and strokes her chin right before he drags her behind his sub as bait.
I'm Not a Hero, I'm X: ...just doing her job as a police detective, according to Elisa in "High Noon."
Immortality Seeker: Xanatos plans to become immortal, though he is not feeling particularly urgent about it yet.
Impossible Task: Many spells in the Grimorum Arcanorum have these as conditions. Mortal/Human magic has to be cast with a certain condition that makes it possible to nullify/reverse, so generally, most spellcasters simply create their spells under escape conditions that would generally seem to be impossible.
Ingesting Knowledge: The Archmage gains the power of the Tome of Eldritch Lore, not by reading it, but by EATING it. Of course, he was absorbing its power as a magical artifact as well as knowledge of the spells it contained.
Instant Expert: Within a surprisingly short amount of time after awakening, Lexington becomes skilled enough with computers to qualify as the show's Hollywood Hacker. Not as "instant" as most IE's, but in real-life terms he's a very fast learner.

To be fair, he's consistently shown to be exceptionally smart and intelligent. As well, he was always shown to be the most curious and fascinated by their new world so that he was motivated enough to learn such things with a passion made sense. Once you learn the basics of how to operate a computer, get on the internet and Google something, it usually steamrolls from there.
The more dramatic version (apparently forced upon by Executive Meddling motivated by merchandise) is when Lexington repaired and modified a helicopter in the first season. That's right: Only one night for repairing an almost completely wracked helicopter and even improving and "gargoyleing" its design!
Also alluded to when Lex builds a motorcycle. Brooklyn asks him what took so long, since he rode one before, and Lexington snaps back, "You've ridden a horse before, does that mean you could build one from spare parts?"

Interspecies Romance: Goliath and Elisa.

Demona's and Macbeth's relationship was also implied to contain some romantic tension, before paranoia and treachery turned them against each other. In fact, Word of God says that Demona is the equivalent of Lady Macbeth, notwithstanding Macbeth's marriage to Gruoch.
In the comics continuity, this seems to be implied for Thailog and Shari, as a sort of Evil Counterpart couple to Goliath and Elisa.
Also planned for the New Olympians spin-off. And don't forget the Third Race.

Word of God says that the New Olymians themselves are the result of this between the Third Race and humans.

In the Blood: Goliath is terrified that Angela is going to turn out like her mother Demona.
It's All About Me: Xanatos and Demona have this mindset to attempt to justify their actions.
It's a Long Story: Brooklyn returning to Manhattan after his forty-year ordeal with the Phoenix Gate, now with wife Katana, son Nashville, kid-on-the-way "Egwardo," and gargoyle beast Fu-Dog. Only time will tell if TimeDancer actually becomes a successful spinoff.
It's Always Spring: Averted. Episode "The Price" has it snow in New York, and it's not a Christmas episode. However, this is the only snow day we see in the Big Apple.

It's hard to judge with everything playing out at night, but the regular storms and long nights suggest it's perhaps closer to always autumn instead. A show about monsters has to find some way to keep the atmosphere dark...

It's Personal: The original Hunter's vendetta against Demona.
Irony: The Captain's loyalty lay with the gargoyles in Castle Wyvern rather than with the Scots, but

his betrayal of the Scots led to the destruction of the gargoyle clan.

Practically everything Duncan did in the backstory of "City of Stone" was an example of Situational (or Expectational) Irony. Findlaech's death was supposed to prevent Macbeth from becoming king, but instead it indirectly led to Macbeth becoming king. Gillecomgain's marriage to Gruoch was supposed to provoke Macbeth into committing treason, but instead he suffered in silence. The attack on Demona's cave was supposed to prevent Macbeth and the gargoyles from making an alliance; they wouldn't have made that alliance, if Duncan hadn't attacked that cave...

Jackass Genie: "The Mirror" has Puck subverting this trope when he deliberately misconstrues Demona's wishes, not only to screw with her, but to avoid having to kill every human in the city.
The Jailer: One episode turns Goliath into this when he uses The Eye of Odin to become a Physical God. The best way to "protect his friends" is to seal them in a cave for the rest of time. Nothing can get to them there.

Apparently Goliath either forgot about basic ecology during his perusal of Xanatos' library, or he simply just does not consider deep dark squiggly things in caves as worrisome as wars that may never happen anyway (as he could have always simply prevented them in other ways...)

Joe Sent Me: The password to get through the gate to Demona's mansion is "Oberon sent me."
Karma Houdini: Most of the Children of Oberon (like the Weird Sisters, Raven, Anansi and Oberon) that antagonize the Manhattan Clan are never given any comeuppance. The only ones who are punished in any way are Banshee and Puck, and they're both punished for completely different reasons.

Xanatos, arguably. Though Word of God is that Karma did in fact catch up to Xanatos: All that arrogance, had to receive some comeuppance. (Can anyone say Oberon?)

Karmic Transformation: Demona becoming human during the day.
Key Under the Doormat: Sort of; Matt keeps a spare key above the door-frame.
Kick the Dog: It was not enough for Oberon to go after everyone because he is a megalomaniac. No, he is going after everyone because he wants to kidnap a newborn infant. And he put all the humans in New York asleep, likely killing hundreds of innocent people.

Xanatos, in "Metamorphosis", after intentionally irreversibly changing Elisa's little brother Derek into a mutate, and cleverly framing Goliath and his clan for doing so.

Then in "The Cage", when Derek learns the truth, Xanatos also goes the extra mile to twist that knife just a little bit harder by adding, "he's [Sevarius] the doctor. You're just the experiment."
From Weisman's ramble on "City of Stone" there's a rather amusing side-note on the use of this trope for Gillecomgain:
 Gruoch seems cold to her new husband Gillecomgain. We wonder if we should feel some sympathy for a man who has married a woman who loves another. We wonder if he has feelings for her as he gently takes up the rose she was sniffing. But then he crushes it underfoot, so basically we feel okay about hating him again.

Erin asked: "Why'd he step on it?"

And I didn't want to answer, because the writers are trying to manipulate you.
In the same episode, Demona had cast a spell all over Manhattan that resulted in all humans who've heard it to turn to stone at night, which she then proceeds to shatter as many as she could with extreme prejudice. Killing people is bad enough, but killing people who couldn't even see, move, or even realize they're being killed is just crossing the line.

Kidnapped Scientist: Sevarius in "The Cage". Unusual in that it's the good guys resorting to abduction and coercion.

Not that it works, anyway...

Killed Off for Real:

Poor Magus.

King Arthur: Everyone shows up in Gargoyles.
King in the Mountain: King Arthur, natch.
Knight Templar: The Hunters and Quarrymen. It's understandable if they want to kill the genocidal Demona, but they are just as hate-filled and genocidal as she is.
Kryptonite Factor: Even the most powerful gargoyle is helpless during the day.

Not

Demona

. On the other hand,

she has her own Kryptonite Factor: any deadly wound inflicted on her by Macbeth... or inflicted on Macbeth by her.

All of the fair folk and gods are vulnerable to (wrought?) iron.

Lady Macbeth: Ironically, it's not the actual Lady Macbeth. It's Demona, and for Goliath as well as Macbeth (not at the same time). Subverted with Thailog; Goliath's first thought is that she's manipulating him, but

it's actually the other way around.

Large Ham: Sevarius, who despite being quite sane (as far as mad scientists go, which admittedly is not saying a lot) still affects the mannerisms of a cliché psychopath because he finds them so much fun. (Well, he is voiced by Tim Curry.) Thailog has his hammy moments, a trait straight from Sevarius.

"Oberon does not act- Oberon HAMS!"
Don't forget Fang - voiced by James freakin' Belushi:
| | | |
| --- | --- | --- |
| |  "Take a look at me, Al. Do I look like the kinda guy who can waltz into a store and PLUNK DOWN CHANGE FOR A PACK OF BUBBLEGUM?!?! WELL, DO I, AL?!?! DO IIIIIIIIIIIIIIIII?!?!" | |
Goliath has his moments as well:
| | | |
| --- | --- | --- |
| |  "I've been denied everything... EVEN MY REVEEEEEEEEEEEEEEEEEEEENGE!!" | |
Tropes M-P
| | | |
| --- | --- | --- |
| |  Xanatos: Owen, I think I created a monster. | |
Tropes Q-T
Ragtag Bunch of Misfits: Brooklyn, Broadway, Lexington and Bronx survived the genocide of their clan because they were sent to their rooms for misbehaving.
Rain of Arrows: In Brooklyn's time travel arc, in the comics.
Ravens and Crows: Raven is one of Oberon's Children and a more malicious version of the Native American trickster hero, able to change into a human, raven, or raven-headed gargoyle.
"Reading Is Cool" Aesop: For Broadway.
The Real Remington Steele: The identity of the Hunter, which is taken by Macbeth before we find out that the Canmores--who had borne the identity for almost a millennium--still existed.
Reckless Gun Usage: Elisa is at one point seriously injured when Broadway accidentally shoots her while playing with her gun. To be fair, Broadway is a 1,000-year-old gargoyle who had never handled a gun before... but Elisa, a New York police detective, had left her sidearm, holster and gun belt unattended in another room from where she was (she admits later that she should have known better). Notably, she's much more careful for the rest of the series.
Recurring Character: Pretty much all of them; if somebody has a speaking part, you can bet they will appear someplace else down the line.

Vinnie is this trope personified. If anyone remembers him.

Red Eyes, Take Warning: Originally played straight with Demona and Thailog, then the crew realized what they were doing and gave them to Angela as well to make it merely a feminine (and cloned male) trait.
Remember the New Guy?: The show (and comics) have plenty of long-running and well thought-out plots, but at times they introduce new plotlines with the explanation that they have been there all along. When the Hunters reappear in "Hunter's Moon" they explain that they are part of a continuous line of Hunters stretching back for a millennium, and they have been hunting Demona all this time (Complete with flashbacks showing their various attempts), but this supposedly ancient line has never been seen (or even referenced) until this episode.

Demona makes a vague reference to "The Hunter" in "City of Stone" when she fights the disguised Macbeth, and her remark ("How many times do I have to destroy you?") implies that she has faced far more Hunters than just Gillecomgain, Duncan, and Canmore (the three Hunters we saw her confront in the flashbacks of "City of Stone"). On the other hand, this is the only hint to that effect until "Hunter's Moon."

Repetitive Name: Police officer Morgan Morgan.
Restored My Faith in Humanity: Elisa for Goliath.
Retool: The Goliath Chronicles.
Revenge: Notably averted. Those who wronged the gargoyles die a Karmic Death before Goliath gets a shot at them.
Rewarded as a Traitor Deserves: "She betrayed Macbeth; it was only a matter of time before she would have betrayed us. Good thing we had the rest of her clan destroyed. Her kind was an abomination!"
Ripped from the Headlines: The comic's Stone of Destiny arc is based on the real-life Stone's return to Scotland.
Right-Hand Hottie: Owen, right hand of David Xanatos.

Notable that Owen actually sacrificed his hand for Xanatos to test a spell/magic-potion that might have granted immortality. The exact wording of the spell had something to due with the "live as long as the mountain stone" and actually just turned flesh stone (and it was his right hand [from our perspective when he is facing us.])
Lady Titania to Oberon also counts,

until she remarries him, and they become equals.

Robosexual: Hyena is completely attracted to Coyote, even though she knows he's a robot.

Especially after she finds out he's a robot. "A robot, eh? Even better..."

Robot Buddy: Talos and Matrix.
Rock Bottom: "I've been denied everything! Even my REVENGE!!!!" After a pronouncement like that, Goliath must have thought that things couldn't possibly get worse... and that was before he found out that all of the other survivors had been cursed to sleep, and that the page with the spell to wake them up again had been destroyed.
Sadly Mythtaken: Some myths were dead-on accurate, and some changes were obviously made for the sake of the story, but some referenced myths bear little resemblance to the originals. This may be a result of the time limits imposed on the writers for each episode and comic issue. Cuchullain in the "Hound of Ulster" episode is painfully inaccurate... this page goes over it pretty well, actually.
Scaled Up: The Cromm-Cruach, the Banshee's One-Winged Angel form when fighting Cu Chullain. She also uses it later on Odin.
Scary Black Man: Arguably Thailog.

Tony Dracon's right hand man Glasses also fits this trope.

The Scream: Goliath at the end of the first episode, finding his people mutilated.
Screw the Rules, I Have Money: Xanatos is so rich, he can say "hell" on a Disney kids' show and get away with it.

But he still goes to jail for receiving stolen property...

Sealed with a Kiss: Elisa finally worked up the nerve to kiss Goliath at the conclusion of the original show's run; it left him with a smile on his face in his stone sleep.
Secret Identity: Several characters.
Secret Keeper: Elisa, her brother, her parents (and siblings. And the mutates), then Matt Bluestone. This was all before the public learned of the existence of gargoyles.

Despite his desire to bust the Illuminati's organization wide open, Matt Bluestone ends up becoming a Secret Keeper for the Illuminati as well.

Secret Test of Character: In "Revelations," the Illuminati administer a "loyalty test" on Matt Bluestone: an assignment to bring a gargoyle to the Hotel Cabal. Matt brought a gargoyle there and subsequently helped him escape, condemning a senior Illuminatus to a Fate Worse Than Death in the process. Needless to say, Matt demonstrated that he was not loyal to the Illuminati.

In fact, the Illuminati weren't testing Matt's loyalty at all; they were testing his cunning and treachery. Needless to say, Matt passed the test and was inducted into the Illuminati.

Self-Fulfilling Prophecy: Macbeth might never have achieved his destiny of becoming "King of Scotland and father of the king hereafter" if Duncan hadn't done everything he could to prevent Macbeth from becoming king.

In 975, Demona had an encounter with her future self, who told her about the Wyvern Massacre and the sleeping spell on Goliath, and also told her "I am what you will become!" Past Demona did everything she could to prevent the Wyvern Massacre and the sleeping spell, and to avoid becoming a bitter, vengeful terrorist, with predictable results.
It doesn't help that 1995 Demona leaves out the details leading up to the Massacre (maely her bargain with The Captain).

Send in the Clones: Thailog, and the Manhattan Clan clones.

In The Goliath Chronicles episode "Genesis Undone", Sevarius makes this request when he appears to be ready to cure the clones of their illness.
Talon makes the same request in Gargoyles #3 when Goliath comes to check on the clones.

Senseless Sacrifice: After Macbeth was "mortally" wounded by Malcolm Canmore in 1057, Macbeth and Gruoch decided that since he was officially dead and his son Luach wore his crown, the only hope for Luach to defeat Canmore was for Macbeth to remain dead or to disappear. Canmore defeated Luach in 1058.
Shiny Midnight Black: Angela and Selene's hair colors match this description.
Shoot the Rope: In "The Price", Broadway turns to stone in mid-glide, and Elisa has to break a crate full of carpets to cushion his fall. She does so by using her gun to shoot the cable from which the crate is hanging.
Shout-Out: During the Halloween episode, Elisa dressed up as Belle. And when the holiday came around again in the comics, she went as Jasmine.

And she and Goliath start dancing! The eact same waltz in Beauty and the Beast.
In "Awakening" during one scene where Hudson is watching TV, a scene from Quack Pack appears on screen for a second.
Brooklyn, Broadway and Lexington go to the movies and watch Bambi.
One of the workers in the second episode is seen using a power loader.
On one episode, Dingo mentions (sarcastically?) that he always wanted to go to Disneyland.

Elisa in "Shadows of the Past": "Now that was an E-ticket ride."

This one's absolutely obscure: In "The Hound of Ulster", one of the few episodes where Bronx gets the limelight, he is joined by a young Irishmen, who turns out to be the reincarnation of an ancient hero. At one point, the young man says to Bronx that there's more than meets the eye to him. Bronx is voiced by Frank Welker, aka G1 Megatron. The reincarnated hero is cause for a moment of Fandom Rejoicing.
The comic gives a short nod to Star Trek, probably as a thanks for the voice actor thing, when Brooklyn tries to describe his time-travelling dilemma to the medieval Scots.
Gargoyles actually got a Shout-Out in one of the Star Wars Expanded Universe Jedi Apprentice books. In one book, we're introduced to Qui-Gon's psychotic former apprentice-turned Sith...named "Darth Xanatos".
To Shakespeare: More than just a Shout-Out. The cast sheet alone includes Macbeth, Puck, Oberon, Titania, and the Weird Sisters; and the Coldtrio is known unofficially, off-screen as Othello, Iago, and Desdemona. The Bad Guys comic adds another when a guy named John Oldcastle adopts the name Falstaff, and hooks up with a gang of people named after Falstaff's gang.

There's also

Gruoch's suicide after losing the one she loves most.

This is very reminiscent of another famous story.

Shown Their Work: Some of their myths are somewhat inaccurate, and others were altered for the sake of the story, but every episode featuring an actual mythology showed that the writers knew something. The episode "Golem" features an accurate retelling of the story of the Golem of Prague, complete with correct written and spoken Hebrew; Fairies are shown to have an explicit weakness to iron, which is in an integral pat of many European folk-tales; and the story of Macbeth is actually much closer to the real-life history of King Macbeth of Scotland than to the play written by Shakespeare.
Signed Up for the Dental: Mace Malone.
Significant Green-Eyed Redhead: Demona

in her human form

is one of these, and so is Fox.
Similar Squad: In the episode "Bushido," Goliath meets a clan of gargoyles living in Japan. They're led by a tall, deep-voiced gargoyle named Kai, have a policeman ally, and as it turns out later, they're actually being manipulated by a shifty Japanese businessman named Taro who's set himself up as the gargoyles' benefactor. Sounds familiar... Hell, Taro even turns out to have a kick-ass robot suit just like Xanatos, though his is built to look like samurai armor.
Sixty Five Episode Cartoon: arguably, as the third season is not considered as a "real" season by most fans.
Slap Slap Kiss: Hunter and Dingo have this going on big time in Bad Guys.
Slash Fic: Oh Lordy, this existed even BEFORE the announcement that Lexington might be gay.
Sliding Scale of Idealism Versus Cynicism: Count the number of Heel Face Turns and take a guess.
Smart People Play Chess: Xanatos and Fox certainly do.
Sniff Sniff Nom: Broadway does this to a piece of slime in the rookery in the pilot episode.
Something Only They Would Say: How Elisa figures out who Talon is.
The Speechless: Claw of the Mutates.
Spell Book: The Grimorum Arcanorum.

Subverted with the Scrolls of Merlin. Macbeth believes them to be Merlin's personal scrolls of magic, but they turn out to be

his diaries.

Spell My Name with an "S": A lot of fan fiction writers write Elisa's name as "Eliza".

Even turns up on this very wiki. Even on this very page.

Spin-Off: A number were set up in the World Tour, and at least elements of them are being incorporated into new material if/when it gets made:
Squishy Wizard: Played straight with the Magus and the Archmage. Averted hard with Demona and Macbeth.
Stable Time Loop: The explanation for Xanatos' fortune.

Everything regarding the Phoenix Gate implies a stable time loop, as Goliath learns if someone time travels it is the natural way history was supposed to unfold. He even says several times You Can't Fight Fate. Word of God has it that all time-travel works this way.

Brooklyn

involves himself in a spectacular one in the

Time Dancer

series. Along with

Owen/Puck, Brooklyn

arranges for

the alliance between Xanatos and Demona

to take place, leading to

Castle Wyvern being moved to the top of the Eyrie Buliding

.

That makes Brooklyn responsible for the entire series as a result of time travel.

Straight Gay: Lexington
Stripperific: Demona's outfit falls under this. Angela in the comics also.
Strong Family Resemblance: Elisa lampshades it when she first sees Angela: "I couldn't help noticing that Angela looks a lot like Demona, except her coloring is different (read: exactly the same as Goliath's). Whose daughter is she, anyway?"

It becomes a serious issue when the Canmore siblings mistake her for Demona and almost fatally wound her in "Hunter's Moon."

Sunglasses At Night: Brooklyn.
Super Dickery: In Revalations, Matt Bluestone apparently betrays Goliath to Mace Malone.

However, it turns out to be a plot to expose the Illuminati.

Super Toughness: The Gargoyles aren't indestructible by any means, but they are ridiculously tough even for creatures of their size and weight. To prove this point, in the pilot Goliath catches the downstroke of a Norman sword in his bare hand, and though he bleeds some, the cut appears relatively minor compared to the major damage (complete loss of the hand) that a human being would take from trying something similar. Combined with their ability to apparently perfectly heal any wounds short of total dismemberment they received before sleeping, this makes the gargoyles incredibly difficult to put down.
Take a Third Option: In the SLG comic, the clone Delilah opts

to return to the Labyrinth with her fellow clones rather than side with Goliath or Thailog.

Take Care of the Kids: Right before allowing the Magus to put him under the same indefinite sleep spell as the rest of his clan, Goliath asks the Magus and the Princess to protect his clan's eggs. They do.
Taught By Experience / Powers Via Possession: Puck's prime method of training young Alexander Xanatos in the use of magic. Only it's he and Alex that do the possessing.
Television Geography: In the Bad Guys comics, it looks as if the Notre-Dame cathedrale in Paris is just next to the official entrance of the Catacombs. In real life, there are about 2,6 km between these two places. On the other hand, the Parvis archaeological crypt, a site exhibiting history going back over 2,000 years, actually is directly in front of Notre Dame just across the square from it. Even if the comic unambiguously meant the Catacombs, confusing them for another historical burial ground seems like a relatively minor mistake.
Tears From a Stone: Happens twice in one of Demona's flashbacks, and again with Goliath when Elisa is thought to be dead in "Hunter's Moon".

In "City of Stone" when Demona reveals the password

... Alone.

Technology Marches On: Most notably those enormous 90s cell phones.
Theme Naming: Some of the gargoyle clans employ it: the Manhattan Clan uses local place names, several Avalon Clan names have to do with angels, the four pendant wearers of the Guatemalan Clan the stones of their pendants, and so on.

Demona hung a lampshade on the theme by having a set of clones based on the Manhattan Clan and naming them after place names in Los Angeles.
Also, Goliath's main rival is named David.
Evil Demona's daughter is the much kinder Angela. Purely a coincidence in-story, as (a) Macbeth named Demona for her fighting prowess, not because she was evil, and (b) the Magus, Katharine, and Tom (who named the gargoyles of the Avalon Clan) didn't know anything about Macbeth and Demona, nor vice versa.
The Pack, a group of American Gladiators/Power Rangers knockoffs who moonlight as bounty hunters, are all named after wild dogs. Wolf, Hyena, Fox, Dingo, Jackal and Coyote. Except that Hyenas are not actually dogs, they're closer related to weasels.
Of Brooklyn's family from TimeDancer, his mate and daughter are Katana and Tachi, after Japanese swords. His son Nashville extends the existing "American location" theme.

Theme Tune Cameo: The unfortunate Gump Vinnie who trails Goliath and Hudson throughout the "Vendettas" episode wanders off afterwards, humming the Gargoyles theme.
They Have the Scent: Bronx is frequently required to sniff out the bad guys. Boudicca does the same for Oberon in "The Gathering."
Those Wacky Nazis: In "M.I.A.," the main antagonists are the Nazi bomber planes who attack London during World War II. The pilots even grin evilly!
The Three Faces of Eve: Angela is the child, a Wide-Eyed Idealist. Elisa is the Mother, as per her Team Mom role. Demona is the Seductress... in a way. She has given over to passion...ate hatred of humans.
Timm Style: An early example.

Token Twofer

: Eliza Maza is half-black and half-Native American.
Tranquillizer Dart: When Brooklyn is hit with one, he goes down almost instantly, but is still blinking groggily when he's dragged away — so it may not have put him out completely at all.
True Companions: All of the gargoyle clans, to the extent that most gargoyles from different countries and sometimes even different times instantly treat each other as such.
Twenty Minutes Into the Future: It's primarily Urban Fantasy, but it uses this to add some sci-fi elements to the plot. Though the world mostly resembles America in the late 1990s, there are a few William Gibson-esque MegaCorps with everything from Powered Armor to Cool Airships to nanobots at their disposal.
Two-Faced: Coyote the robot after Bronx bites off half his face
TV Never Lies: The plot of the first Pack episode.
Tropes U-Z
Unholy Matrimony: Xanatos and Fox.
Unknown Rival: Gillcomgain, Vinnie.
The Unmasqued World: Occurs after the existence of gargoyles is revealed to the world at large in season 2's finale.
Untrusting Community: New Olympus towards humans, and humans towards gargoyles. Probably Oberon and his court to humans, although they get on with Katherine and the rest fairly well/neutrally.
Unusual Euphemism: The gargoyles and Elisa tend to use "jalapeña" as a general euphemism for more modern curse words and exclamations.
Unwitting Pawn: While Goliath

and Derek

are the most obvious examples, and Mr. Renard lampshades a few more in "Outfoxed," Xanatos himself gets special mention for making a clone of Goliath, teaching that clone his trademark trickery, and then getting duped by that same clone in "Double Jeopardy."
Wronski Feint: Used many many many times throughout the course of the series.
| | | |
| --- | --- | --- |
| |  Brooklyn: (immediately after he and Angela cause two pursuing Steel Clan to crash into each other) "You'd be surprised just how often that works." | |
Xanatos Gambit: Obviously. This may be one of the reasons Gargoyles is so well-remembered and became a watershed moment in Western Animation. It was never as simple as "Good Guys Win." More often than not, even if the good guys won, the bad guy (usually Xanatos, natch) still benefitted.

Note that Xanatos Gambits are not exclusive to Xanatos; the Weird Sisters, for example, pull one off in "High Noon." they brainwashed Macbeth and Demona into fighting the new york clan when their real goal was distraction so they could steal magical items. If Macbeth and Demona won, however, that would be an additional bonus.
Demona takes a note from Xanato's playbook in "Mirror": She stages a robbery which of course is foiled by Goliath...just as she knew it would be. While he's pursuing her, her accomplices sneak in and steal the artifact she wanted.
 Xanatos: Fox and I are getting married tomorrow night. I would like you to be the best man.

Goliath: You can't be serious.