Quotes •

Headscratchers

•

Playing With

•

Useful Notes

•

Analysis

•

Image Links

•

Haiku

•

Laconic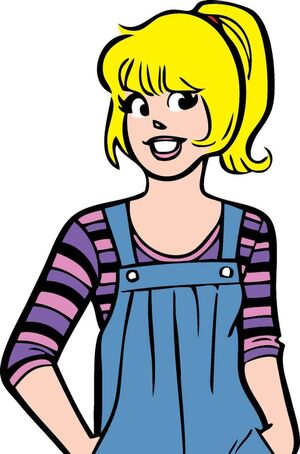 The girl next door is used to indicate what is seen as general and 'wholesome' femininity. She is neither masculine nor overtly feminine, not promiscuous, but might be a foil to one who is, like the down town girl in Town Girls. Typically pretty in a generalised way, although since it's essentially about her personality, there are several girls of this trope that are considered beautiful in the narrative.
She's the kind of girl the male main character might have known and been friends with all his life. She's easy to talk to, like a Tomboy, but she doesn't force her presence on anybody – or she keeps to herself, like a Naive Everygirl, while not rejecting social interaction. Naturally, the girl next door is every bad boy's fantasy because he is drawn to her "good girl" image, since she has the 'goodness' of the light feminine in Light Feminine and Dark Feminine. Not only is she good, she doesn't act like she's all that.
Often when the Girl Next Door is involved you have one of three types of plots: she is the Unlucky Childhood Friend to the male lead (usually a jock); she has a male Unlucky Childhood Friend that is chasing after her; or she is the Betty in a Betty and Veronica Love Triangle. Occasionally, all three combine in a huge mess. This was used more or less in several movies by John Hughes.
Possibly she is with the main character as childhood, college or High School Sweethearts, but despite what The Other Wiki lists as examples, this is not necessarily so.
The Spear Counterpart, Boy Next Door, is pretty much the same, only, you know, male. Compare with Tomboy and Contrast with Femme Fatale. Also compare with The All-American Boy, who might of course be her High School Sweetheart.
For the 2004 film, see The Girl Next Door. For Numbuh 3 and Numbuh 5, see Codename: Kids Next Door. Also not to be mistaken for Crystal Bernard's album, The Girl Next Door.
Examples of Girl Next Door include:
Anime and Manga
Comic Books
Archie Comics: Betty Cooper.
Spider-Man: Played with, with regards to Gwen Stacy. As portrayed in the comics, Gwen was more of an exotic flower whom Peter only met after he left Forest Hill and "went out into the world", i. e. Manhattan and college. She came from an upper-class background, her first boyfriend, Harry, was the son of a millionaire and in her first appearance she was introduced as a high-school beauty queen. However, as she became the Betty to Mary Jane's Veronica, she moved into this.
Sin City: Shellie is sassy, but meek enough to qualify.
Film
Literature
Animorphs: For Cassie, high fashion is socks that actually match for once. She's also gentle in being the team's moral center and doing what she must but hating the need to fight.
The Baby Sitters Club: Kristy and Mary Anne.
Harry Potter: Harry's best friend's little sister, Ginny Weasley, his helpful intellectual friend, Hermione Granger, and his loyal, optimistic companion, Luna Lovegood.

Michelle & Debra

:

Jack Weyland

's 1990 book tells the story of teenage best friends where Michelle chooses to be the good, obedient, religious girl while Debra strays.
Pride and Prejudice: Sweet, shy, and sensible Jane Bennet is this to neighbor Charles Bingley.
1632: Julie Sims is a Girl Next Door with a rifle. Because, you know, all small town Americans are really Badass.
Sunshine has the titular character

the vampire-slaying, magic-wielding version

.
Tom Sawyer: Rebecca "Becky" Thatcher is classic and makes this Older Than Radio.
Twilight: Bella's hometown acquaintance, Jacob.
Urn Burial: Ruby, Ralph's girlfriend, is literally the Girl Next Door; she's lived in the house next door to him since they were born, and whilst not drop dead gorgeous is plenty attractive enough for being familiar and not having any pretensions.
Vanishing Acts: In Jodi Picoult's story, Delia is this to Eric, the Victorious Childhood Friend, and Fitz, the Unlucky Childhood Friend.

by the end of the book the tables have turned and Eric is the unlucky one.
Live-Action TV
Ace Lightning: Samantha Thompson before she got Put on a Bus.
Arrow: Laurel Lance.
Beverly Hills, 90210: Andrea
Boy Meets World: Topanga
Buffy the Vampire Slayer: Willow is straight up this, while Buffy's toughness mixed with her femininity make her character average out.
Dawson's Creek: Joey Potter
Degrassi the Next Generation: There's Liberty, Emma who foils provocative Manny, and Terri who foils queen bee Paige and top dog Ashley.
The Flash: Iris West.
Gilligan's Island: Mary Ann
Gilmore Girls: Rory Gilmore is straight up while her mother Lorelai knows how to put an outfit together, host a fun party and is a role model to Rory making her a double subversion. Rory's first boyfriend Dean was the male version until he Took a Level In Jerkass.
How I Met Your Mother: Maggie is explicitly described as this.
iCarly: The titular character, Carly Shay. Cute and feminine but not overtly sexual, Freddie's known her for a long time, and they have the Unlucky Childhood Friend and Just Friends thing going on. Carly is popular at school and with her webshow without being the Alpha Bitch, and will rebel against authority if she perceives unfairness in the treatment of her friends. Carly does have enough aspects of the Genki Girl to qualify her for that as well, but there Aint No Rule that says she can't be The Genki Girl Next Door. See The Chick and Tomboy and Girly Girl.
Kyle XY: Amanda takes the Betty position with Kyle, who also has the wholesome traits to apply.

Also Andy and Josh have a very easy time becoming boyfriend and girlfriend because they're each like a typical teenage boy.

My Babysitter's a Vampire: Sarah. It is the theme song after all.
One Tree Hill: Haley James.
Riverdale: The ostensible Trope Namer, Betty Cooper. Also Midge Klump.
Sabrina the Teenage Witch: Sabrina and each of her friends
7th Heaven: Mary starts going out with a neighbor guy who she used to play basketball with. After she breaks up with him he says that playing a game together will help him feel more like they're friends again.
Smallville: Unlucky Childhood Friend Chloe Sullivan, and Lana Lang, who has an Unlucky Childhood Friend in Clark.
Supergirl: Kara has those traits, albeit she's hiding her true superhero identity.
Terra Nova: Maddie.
That 70s Show: Donna Pinciotti is an excellent example of the Tomboy version of the trope.
The Wonder Years: Winnie Cooper is a good tv example.
Music
Theater
Patrice in 13. Subverted in that Evan has not known her his whole life, rather he has just moved there and she is the first friend he makes.
Video Games
Luna from Lunar: The Silver Star.
To some extent, Alyx from Half Life as well. Only debatable thing is that when she was living in Black Mesa, she was only a baby. But then came the Combine occupation and she became a rather hot tomboy by the time Gordon returned two decades later. Since then, they've been together for most of the time.

If by "to an extent" you mean "purposefully designed by Valve to fit this trope in every way". Alyx is essentially designed to provide the player with the "girl next door" kind of experience, and it works; she's an EXCELLENT companion.

Eileen Galvin in Silent Hill 4 is one.
Tifa from Final Fantasy VII.

Refia from Final Fantasy III. Pretty, but not sexy? Check. Features that make her plain? Check. Endearing adorable somehow? Double Check.

In Kingdom Hearts, there's Kairi.
Link gets a few of these in the Zelda series. In The Legend of Zelda Ocarina of Time there's Malon; in The Legend of Zelda Links Awakening there's Marin; in The Legend of Zelda Twilight Princess there's Ilia. However, Ilia is the only one who is Link's lifelong friend — he meets the others in the course of their respective games. And despite being the princess, Zelda herself comes across like this in The Legend of Zelda a Link To T He Past and The Legend of Zelda the Minish Cap, particularly the latter as it's explicitly stated she and Link have been friends since they were very small. The same also applies to The Legend of Zelda Skyward Sword's Zelda, who, apart from being Link's closest childhood friend, happens not to be a princess this time around.
Fire Emblem gets a few, though they can be HEAVILY disputed. Counting by appearance, there's Caeda/Sheeda, Lilina, and Tana.
Webcomics
Web Original
The protagonist of

Take A Lemon

is rather upset when a college physics experiment turns her into a classic Girl Next Door overnight. Especially since He used to be a bit of rock guitar playing lech.
Western Animation
In The Fairly Odd Parents, Tootie is a geeky girl who lives near Timmy and quite obviously loves him. Although Timmy at first doesn't return her affections, he sympathizes with her since they both have to deal with Tootie's meaner older sister and Timmy's babysitter, Vicky.

According to the Live Action movie Many years later, Tootie returns to town a transformed woman, and Timmy falls in love with her

.
In American Dragon Jake Long, Rose, at start of the series, has a lot of this trait.
Joan to Abe in Clone High.
Roxanne to Max in A Goofy Movie.
In a male example, Jeremy to Candace in Phineas and Ferb. There's also Isabella for Phineas, who hasn't noticed her feelings yet.
Like Buffy, Kim Possible is a double subversion because she's insecure about boys, dating, and the social order, and has very few close friends; however, she's admired by her peers, involved in every school activity, and is an international kung-fu-fighting pro-bono action heroine.
In another male example, Gil Nexdor to Susan and Mary Test in Johnny Test.