YMMV •

Radar

•

Quotes

• (

Funny

•

Heartwarming

•
Awesome

) •

Fridge

•

Characters

•

Fanfic Recs

•

Nightmare Fuel

•
Shout Out

•

Plot

•

Tear Jerker

•

Headscratchers

•
Trivia

•

WMG

•

Recap

•

Ho Yay

•

Image Links

•

Memes

•

Haiku

•

Laconic

•
Source

•

Setting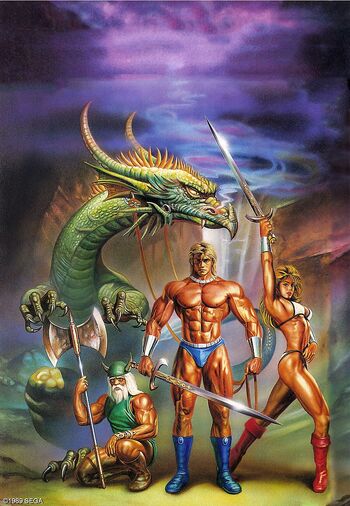 One of Sega's early hits, Golden Axe combined Beat'Em Up gameplay with a fantasy setting to create one of the best games in the arcade.
The story follows the efforts of three warriors on a mission to gain revenge by killing the tyrant known as Death Adder, who not only conquered the land of Yuria and captured both the king and the princess of the realm, but killed a family member of each of the protagonists. The playable characters include:
Ax Battler: A barbarian who wields a broadsword (not an axe, as one might expect) and is able to use explosion-based magic. His mom died at the hands of Death-Adder.
Gilius Thunderhead: A dwarf who wields an axe and uses lightning-based magic. His twin brother died at the hands of Death-Adder.
Tyris Flare: An amazon who wields a longsword. She uses fire magic. Both of her parents, the Royal Couple of a nearby kingdom, died at the hands of Death-Adder.
The game had several unique features such as a magic gauge which would increase the power of your magic attack and change its animation depending on how many magic potions you had, and the ability to ride fire-breathing dragons and other animals.
Golden Axe was ported to various platforms and inspired a series of sequels and spin-offs on various Sega platforms. The full list of games in the series are as followed.
---
This series provides examples of: