Cobra Kai Season 4 - The Loop
Play Sound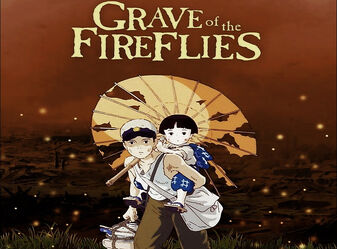 | | | |
| --- | --- | --- |
| |   You are forced to watch as everything two small children do to survive WWII-era Japan fails miserably until they both die of starvation. | |

Grave of the Fireflies (火垂るの墓 — Hotaru no Haka) is a 1988 film directed by the late Isao Takahata and produced by Studio Ghibli. It was released theatrically as one-half of a double feature; the other half was My Neighbor Totoro.
The story is based on the 1967 novella of the same name written by Akiyuki Nosaka, who based much of the plot on his own childhood in Japan during and after World War II. The story follows the trials of the 14-year-old boy Seita Yokokawa (Nosaka's proxy) and his 4-year-old sister Setsuko; after losing both parents — their father aboard an Imperial Navy cruiser, their mother in the 1945 Allied firebombing of Kobe — the pair are thrust upon an aunt who resents the addition of two extra mouths who don't provide any income and is not thrilled when Seita focuses much more on taking care of Setsuko than helping the family out. After one too many tail-behind-the-leg clashes, Seita finally decides he and Setsuko can fare better on their own. Turns out, not so much.
Compare Barefoot Gen, Garasu no Usagi and Kono Sekai no Katasumi ni (In this corner of the world). All of these are set in a similar time frame and feature young people thrown in the chaos that fell over Japan towards the second part and end of World War Two.
There are two live-action movies based on this. One, from 2005, is from the perspective of Seita and Setsuko's aunt and cousin, explaining why the aunt was so harsh on the kids. The other, from 2008, "returns" to Seita and Setsuko's point oof view.
Tropes used in Grave of the Fireflies include: