Wiki Targeted (Entertainment)
Play Sound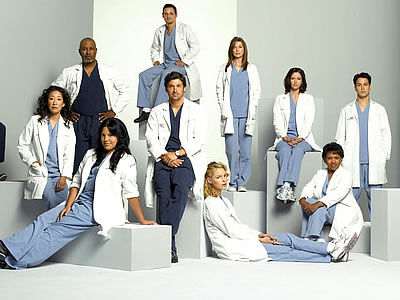 Grey's Anatomy is a Medical Drama. Beginning its life in 2005 as a Midseason Replacement, Grey's quickly became known for being sort of, well, quirky, especially given its genre: in addition to McNicknaming and using the world "seriously" as much as we use the word "Egregious", the show focused primarily on the romantic and sex lives of its characters rather than on the medical cases. In recent years, the show and its characters have matured a bit; the wackiness and sexcapades have been largely toned down, resulting in a more serious character study (or a textbook example of Seasonal Rot, depending on who you ask).
The show follows the lives, both personal and professional, of a group of surgeons at Seattle Grace-Mercy West Hospital[1]. Each episode is narrated by the eponymous Meredith Grey, introduced as a world-weary intern struggling to deal with her mother's Alzheimer's syndrome. Though initially focused on five interns and their immediate superiors, the show has introduced numerous characters since its onset, resulting in a large ensemble cast.
Grey's Anatomy's main cast currently consists of:
Loads and Loads of Characters? Wait 'til you see the list of characters who used to be on the show, but have been written out. In order of dismissal:
Trope Namers for Grey's Anatomy Emergency Medical Response (duh).
Should not be confused with Gray's Anatomy, the famous textbook on human anatomy the title is based on.
---
Grey's Anatomy provides examples of:
| | | |
| --- | --- | --- |
| |  Cristina: "So please, please, please, as you weigh your options here, just, you know, consider the possibility... of shutting the hell up!" | |
Break the Cutie: Lexie tends to lead the pack on this, though she's far from the only one. Recently Lampshaded by Meredith, who worries about her emotional strength.

April is the latest victim of this. In spades.

Butch Lesbian: Arguably Erica, even though the writers said that it would be a little too obvious and stereotypical to make the tough, confident woman (who turned down Sloan) a lesbian...and then made her one. And then fired her. Saved only by Brooke Smith's excellent acting (see the "you are glasses" speech).

To be fair, the writers didn't fire her. The network did.

The Casanova: Dr. Sloan, to the point where the nurses start a society in protest.
Cassandra Truth: One elderly patient complained of pressure in her chest for years, but everyone thought it was just in her head. Turns out her previous surgeon (Dr. Burke) left a towel inside of her.
Character Filibuster: In earlier seasons, this happens once or twice. Per episode. In later seasons, however, this is generally limited to Meredith's voiceover narrations, which play over a series of scenes beginning or finishing each character's episode storyline.
The Chew Toy: April and George.
Closet Key: Callie and Erica were this for each other.
Code Emergency: "It's the End of the World" & "(As We Know It)" features "Code Black": Armed bomb on premesis (this one is actually a rocket in a patient's abdomen).
Code Silver: The Season Six finale.
Contractual Immortality: Mostly played straight, but notably Averted Trope once. Isaiah Washington (Dr. Burke) was fired from the set for making homophobic comments towards T.R. Knight (George O'Malley), who is gay in real life. This was worked into the script:

Burke leaves Cristina at the altar and doesn't even have the guts to come back to get his own things, sending his mother in his stead.

Played completely straight at the end of Season 5, which ended with two characters (

George and Izzie

) on the brink of death. During the summer hiatus, it became common knowledge that one of those actors (

George's

) has not had their contract renewed... and sure enough, when Season 6 started, that character had died.
Also recently applied at the end of season 8. In the penultimate episode there's a plane crash with six of the doctors and previews for the finale promised that one would die. Since the actors for Meredith, Derek, Christina, and Mark were all confirmed to have contract renewals prior, that meant only Lexie or Arizona could fit this.

It turned out to be the former.

Convenient Miscarriage:

Cristina

was all set to get an abortion but ended up having a miscarriage before her appointment.

According to show creater Shonda Rhimes this was Executive Meddling, she wanted to have her go through with the abortion but the network was worried it would alienate viewers. For the record, Rhimes is on the board of Planned Parenthood.
Arguably happened to

Meredith

as well

Deus Angst Machina: Meredith has an emotionally abusive mother with Alzheimer's, a Disappeared Dad, and her boyfriend turns out to be married… in Season One. By Season Six, her mother has died, her stepmother died, and her father blamed her for it. Along the way, she went through hell to get her man, however, and did actually succeed. They are now happily married, except for the fact that she

just miscarried their child

.
Double Standard Abuse (Female on Male): In the episode "Brave New World", a man is in the hospital with a nasty gash on his head because his wife threw the TV remote at him. As he gets stitched up, she mocks him and tells him that she'll divorce him as soon as he gets well. The doctor working on him doesn't even think to notify the police, and the scene is pretty much played for laughs.
Drill Sergeant Nasty: Not literally, but Dr. Burke's "pick on one guy" intern training method is based on a technique employed by actual DIs. Yes, this makes George Private Pyle.
Dropped a Bridge on Him: George being dragged by a bus would qualify. In all fairness, he was saving Lindsey from The OC.

one-upped at the end of Season 8, which dropped a plane on poor Lexie.

Dysfunction Junction: Really. Every character who had a happy (or simply unmentioned) childhood seems to have had it counterbalanced in their adult life... and every character who did not? It managed to get worse.
Early Installment Weirdness: In the pilot the five interns are four as Alex barely appears (there is a nurse who has more lines), the hospital is laid out differently (understandable for a pilot), the interns corridor where they hide is close to the action and has vending machines, no patients are admitted (later in the series we always meet patients at the door), the Grey House is a different house, Webber doesn't seem to know Meredith (in retrospect this is really odd), no one says "Mc" anything (Cristina invents that meme in episode 2), Meredith's narration is actually a conversation with her mother and in the second episode the pediatrics department is seen and they have light purple scrubs (two seasons later they have the same color as the surgery interns). The credits sequence is also cut in mid-season two.
Embarrassing Full Name: Calliope Iphigenia Torres.
Embarrassing Nickname: In Season 1, George's freezing up during his first surgery earns him the nickname 007 (because he has a "license to kill").
Fan Service: The infamous scene of Sloan only barely wearing a towel. As well as his first apperance when he was shown briefly shirtless.

Avery takes off his shirt at least once every other episode

First Episode Spoiler: The big twist of the Season 1 finale, that Derek is married, is old hat to pop culture, particularly now that his wife Addison has her own Spin-Off (Private Practice). Other big twists (such as the deaths in the Season 5 and 6 finales), are also spoiled, though to a lesser extent.
Five-Man Band: with initials spelling M-A-G-I-C!
Florence Nightingale Effect: Izzie falls for heart patient Denny Duquette. Unfortunately, nothing good came of this.
Forgotten Fallen Friend: after the first few episodes of the sixth season,

George

is barely ever mentioned again.
Good Girls Avoid Abortion: Averted by

Cristina, who gets an abortion in the season eight premiere

Grey and Gray Morality: Meredith's Morality is most definitely Grey. She tampers with the Alzheimer's Trial to help Da Chief's wife which puts her in a very bad spot with her husband who accuses her of not knowing the difference between Right and Wrong.

In the season seven finale, she gives an excellent speech on how she firmly believes the world is this way.

Happily Married: After a hell of a lot of seasons before reaching that point, Derek and Meredith finally qualify (though their marriage contract relies on a post-it...).

They got legally married towards the end of season seven.

Owen and Cristina

, two extremely damaged people, seem to take that road, thanks to some Character Development of the latter in season 7.
As of early season eight

Meredith and Derek

are still married, but very unhappily, though things seem to be improving by the season's midpoint.
Callie and Arizona are also happily married (though they don't appear to be legally married, as Washington State doesn't currently recognize same sex marriages).

Has Two Mommies: Sofia, who is being raised by biological parents Mark and Callie as well as Callie's wife Arizona. Should Mark ever get married, she'll have three.
Head-Tiltingly Kinky: One Season Two episode involves a Patient of the Week whose pain medication is porn (with the flimsy justification of it resulting in the brain/body releasing endorphins). The girls watch a bit of one, and one of them remarks, "There's no way that can be comfortable," as they all tilt their heads to watch. Meredith's response ("Trust me, it's not") causes some surprised stares.
Hello Boys: An episode that aired after a Super Bowl started with female cast members showering. Turns out, George is dreaming. It ended the same way, only

Izzie and Cristina were cleaning the remains of the Bomb Squad guy off Meredith, with George watching

.
Heroic BSOD: Recovering from this is Owen's major character arc. Derek in Season 5 after

accidentally killing a pregnant woman

. Such a strong BSOD that he passes it on to Callie and Owen. Then Derek (again) and Cristina in Season 7.

Alex, who was unable to take elevators after the season 6 finale events until Richard persuades him to do so. Granted, he almost

bled to death inside of one

. Plus, let's not forget that he freaked out way back in the first seasons of the show while he was trapped in a elevator with O'Malley and a patient who he was unable to operate. If you take that history into account, it's no wonder Alex doesn't want to climb into one anymore.
Actually, he failed his boards in season one, and was forbidden by the chief to perform any medical procedures for a week or so until they organized a make-up test. That's why O'Malley got rid of his 007 status. Karev was sore 'cause he was no longer considered a lean, mean, surgical machine for a while, but he was hardly traumatized by it.

Heterosexual Life Partners: Meredith and Cristina.
Hide Your Pregnancy: The reasoning behind Meredith's liver transplant storyline in Season Six–it was a procedure that would require a lot of bedrest for the character and to get Ellen Pompeo off her feet in real life (Shonda Rhimes has stated she was very pregnant whilst those episodes were being filmed).

Also Chyler Leigh (Lexie)'s overeating during Season 5. It was a bit of an in-joke with the cast.
Jessica Capshaw's pregnancy is hidden in season seven. There was one scene where they failed in the premiere, but they're mostly filming her from the chest up and hiding her behind clipboards. They then sent her character to Africa.
Sarah Drew's pregnancy was also hidden in season eight, since her character is a virgin. Jessica Capshaw's third pregnancy is being hidden in season eight, too.

Hospital Hottie: Lampshaded by Erica Hahn in Season 4:
| | | |
| --- | --- | --- |
| |  Erica: "Do you hire on looks alone, or is actual skill a factor?" | |
 Meredith: Alex, she's not some book you can just flip through!

Lexie: Actually, I kind of am.
↑

formerly just Seattle Grace; the hospital changed its name following a merger with nearby hospital Mercy West in season 6

↑ due to her Photographic Memory
↑

Melissa George's short-lived character