Jurassic World: Dominion Dominates Fandom Wikis - The Loop
Play Sound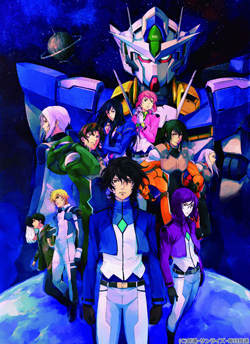 "Everyone, this is Celestial Being's... No. This is going to be

our

last mission."

—Sumeragi Lee Noriega

The first completely new Gundam feature film in 19 years, Mobile Suit Gundam 00: A wakening of the Trailblazer is the continuation of the 2007-2009 series Gundam 00, and is intended to be the Grand Finale of the Anno Domini universe.
The year is 2314. Two years have passed since the defeat of Ribbons Almark, the Innovade who called himself "God", and the world is gradually moving towards peace. In this new world, other people around the planet are beginning to Innovate, including a mysterious man named Descartes Shaman. However, an abandoned probe from an expedition to Jupiter 130 years ago (the same expedition that built the original GN Drives) approaches Earth bringing a new crisis with it, one that threatens all of mankind. Celestial Being, still recovering from their battle with the A-Laws and Innovades, are forced into action to save humanity, and the first true innovator Setsuna F. Seiei finally obtains the Gundam he always wished for. Aeolia Schenberg's plan has moved into its final stage...
In the same way Gundam 00 introduced several new ideas into the Gundam franchise, the film lives up to its name of "Trailblazer". For the first time in the thirty year history of Gundam, A wakening of the Trailblazer introduced a living alien race, known as ELS (Extra-Terrestrial Living-Metal Shape-Shifters).
It was released in Japanese theaters on September 18. A US Premiere took place at the New York Anime Festival on October 10, the DVD/Blu-ray version was released on December 25 in Japan, and July 5 in America.
Tropes used in Gundam 00: Awakening of the Trailblazer include:
Graham Aker: "Young man! Do you need a beacon to the future? I, Graham Aker, will gladly oblige! This is not death; it's for humankind to live on!" *sniff*
Andrei Smirnov: "I am an Earth Federation soldier; I will protect the civilians!"
(Translation of this image from the movie guide.)
Question: Even if Feldt was that close to him, she did not get close to [knowing] his true feelings?
Mizushima: That's right. Feldt was told by Sumeragi, "Think of him", but Setsuna says, "What is this uncomfortable feeling…?" It is a scene where a different matter can be thought of. It is certainly symbolic. Humans communicate using words, but there are things that are not transmitted. I wanted to show these kinds of communication difficulties in the movie. Vague but seems to imply at least that Feldt's feelings weren't rejected rather Setsuna's true feelings are an open-ended question mark.