YMMV •

Radar

•

Quotes

• (
Funny •

Heartwarming •

Awesome) •
Fridge

•

Characters

•

Fanfic Recs

•

Nightmare Fuel

•
Shout Out

•

Plot

•

Tear Jerker

•
Headscratchers

•
Trivia

•

WMG

•

Recap

•
Ho Yay

•
Image Links

•

Memes

•

Haiku

•

Laconic

•
Source

•

Setting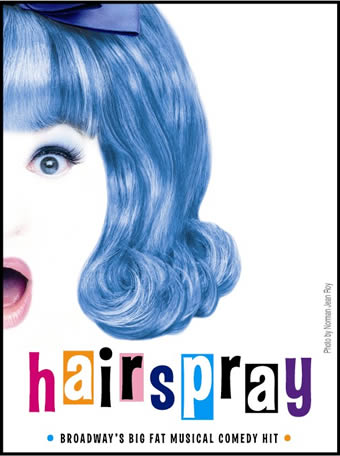 1. The first film John Waters made that got PG, and a great work. It was released in 1988. It starred Ricki Lake as Tracy Turnblad, Divine as her mother, and John Waters's usual repertory cast.
Tracy Turnblad is a huge fan of the Corny Collins Show, which is very like early American Bandstand. She also is a fan of big hairstyles which require hairspray to stay in place - a trend the adults disapprove of. When one of the old dancers has to leave because of pregnancy, an audition is held for a new female dancer, and Tracy gets the spot because of her talent and her exuberant personality. This leads to a chain of events that will change Baltimore forever...
2. The film eventually inspired a Broadway musical. The music was changed for this production. The original film was for the most part not a musical per se, just full of music, and its songs were all Dance Sensation songs of one sort or another. The musical had songs tell the story more directly. The storyline is similar to the original, but some details and some emphases were adjusted (for example, most references to Velma Von Tussle in the tropes below are from the Broadway musical or second film, as her role was greatly expanded from the original). It won eight Tony Awards, and introduced the world to Marissa Jaret Winokur (who previously was more known as the fast-food girl with Kevin Spacey in American Beauty).
3. The musical was successful enough that it itself was made into a film around 2007. It starred Nikki Blonsky as Tracy Turnblad and John Travolta as her mom, among an ensemble cast.
Not to be confused with Hair.
---
Tropes
 Corny: So how long are you going to be out?

Brenda: Just nine months.

Corny: We need a girl who's just as fun lovin', but maybe not as free wheelin'! (wink)
 Corny: So tell us, Brenda, where are you going?

Brenda: College!

Corny: We need a girl who's just as fun lovin', but maybe not as... educated.
From Velma's villain song-
| | | |
| --- | --- | --- |
| |  "Those poor runners up might still hold some grudges, they padded their cups but I screwed the judges!" | |
How about Velma's title as Miss Baltimore Crabs? Considering that she screwed the judges, she might have... picked up something from one of them.

From the 2007 film: "I risked communicable diseases, she'll definitely risk prison."

One of the lines of music from the HIGH SCHOOL script of the stage show, though oddly, not on the album.
| | | |
| --- | --- | --- |
| |  Velma: (to Tracy) With your form and your face, well, it isn't your fault. You're just caught with a case of Miss... Baltimore Crabs! | |
There's one in the "New Girl in Town" song.
 "We're kinda sad and blue,

yes it's true girl

We'd like to say... [two Beats]

to the new girl in town"
The chorus of Seaweed's song is entirely about this, with tons of Where Da White Women At? implications.
In "Timeless To Me", the final line on the album's version is Edna saying "Wilbur, honey, let's take this upstairs". In the script, the reprise includes the lines "You're rounding third base now" / "Holy cow!".
Just before "Run And Tell That", Seaweed has this little gem, which somehow made it into the high school version of the script:
 Penny: The nurse was out sick, but look what Seaweed found!

Seaweed: Band-aids and Q-tips! And a rubber. Wait, guess that's mine. (paraphrased)
| | | |
| --- | --- | --- |
| |  Link: Hey little girl take me off the shelf/'Cause it's no fun playing with yourself. | |
| | | |
| --- | --- | --- |
| |  Link: I'm the prettiest package you ever did see/Take me home and then unwrap me... | |
In the 2007 musical, there is a shot of Penny's mother reading aloud from the Bible during the opening of the pageant. The passage she's reading happens to be about Lot's daughters conspiring to get him drunk and have sex with him.

Girlish Pigtails: Penny.
Graceful Loser: In the second movie, Amber was surprisingly mature about her defeat, indicating Character Development.

She and her mother both become graceful losers in the stage show as well, after much sulking, they give in and realize that they "can't stop the beat". See Heel Face Turn below.

Happily Married: Edna and Wilbur
Heel Face Turn: Amber and Velma in the musical; just Amber seems to get one in the film (walking out on her mother and getting along with a black dancer), even after the unnecessary Humiliation Conga.
Henpecked Boyfriend: Link is henpecked by his girlfriend Amber.
The Hero Dies: Definitely doesn't happen in the musical or the movie, but the final lines of the song "New Girl in Town" imply that the new girl mentioned in the lyrics (Tracy?) was ran over by a moving van and died:
 Hey, look out for that moving van

Look out, look out, look out, look out!

Beat

She was the new girl in... town!
 Link Larkin: I shoulda been there, beside her. I can't sleep. I can't eat...

Edna Turnblad: You can't eat? Well, come on in and worry with us. I'll make you some pork.
Or, in the stage version,
 Link: I couldn't sleep, I couldn't eat, I couldn't even concentrate!

Tracy: You couldn't eat?
"I Want" Song: "Good Morning Baltimore" and "I Can Hear The Bells".
Implausible Deniability: Edna refuses to believe that First Lady Jackie Kennedy's hairstyle has anything to do with hairspray.
| | | |
| --- | --- | --- |
| |  "I believe it is just naturally stiff." | |
 Who cares about sleep, when you can snooze in school?

You'll never get to college but you sure look cool!

Don't need a cap or a gown

When you're the Nicest Kids in Town!
 Tracy: Where do you go after special ed?

Everybody: Congress!