Jurassic World: Dominion Dominates Fandom Wikis - The Loop
Play Sound

YMMV •

Radar

•

Quotes

• (
Funny

•

Heartwarming

•

Awesome

) •
Fridge

•

Characters •

Fanfic Recs

•

Nightmare Fuel •
Shout Out

•

Plot

•

Tear Jerker •
Headscratchers

•
Trivia

•

WMG

•

Recap

•
Ho Yay

•
Image Links

•

Memes

•

Haiku

•

Laconic

•
Source

•

Setting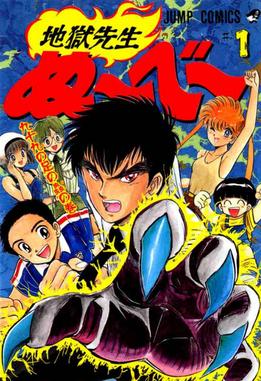 Meisuke Nueno (known as "Nube" by everyone who knows him) was always able to see spirits as a child, thanks to his Psychic Powers; this made him a constant target for all kinds of nasty creatures. Not to mention, his mentor and mother figure Minako-sensei perished because of this...
Fortunately, Nube is able to deal with these spirits by way of his magical left hand; unfortunately, this results in him attracting even more supernatural events to center on him... and to his workplace, which happens to be an elementary school. Luckily for him, his students are often more than happy to give him a hand when resolving his cases.
Hell Teacher Nube (地獄先生ぬ〜べ〜, Jigoku Sensei Nube) is a Japanese manga series written by Shō Makura and illustrated by Takeshi Okano. It was published Shueisha's magazine Weekly Shōnen Jump between September 1993 and May 1999, running for 276 chapters and compiled into 31 tankōbon volumes. It was also adapted in a 49-episode anime series by Toei Animation (plus a movie and three OAV's), and a 10 episodes J-Drama by Nippon TV.
There are also three sequels: Reibashi Izuna (following Nube's Miss Fanservice ally Izuna Hazuki) which ran from 2014 and 2018, Hell Teacher Nube Neo (2014-2018), and Hell Teacher Nube S which is ongoing in Saikyou Jump.
---
This series provides examples of: