YMMV •

Radar

•

Quotes

• (
Funny

•

Heartwarming

•

Awesome

) •
Fridge

•

Characters

•

Fanfic Recs

•

Nightmare Fuel

•
Shout Out

•

Plot

•

Tear Jerker

•
Headscratchers

•
Trivia •

WMG

•

Recap

•
Ho Yay

•
Image Links

•

Memes

•

Haiku

•

Laconic

•
Source

•

Setting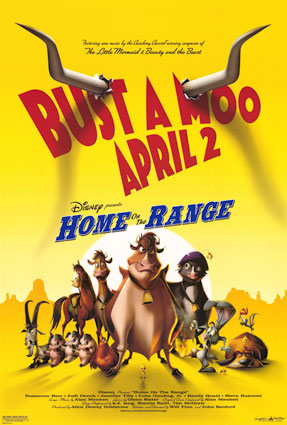 The other Redheaded Stepchild of Disney Animated Canon. Chronologically the last traditionally animated feature released until 2009's The Princess and the Frog. Technically, Brother Bear was the last hand-drawn feature they produced, but this was the last one released.
In Ye Olde Wild West, three cows named Maggie, Mrs. Calloway, and Grace live on a small, cozy farm named Patch of Heaven with other animals. Then the farm is threatened with foreclosure, and our heroines must act to save their home. They plan to achieve this by capturing a big-name cattle rustler named Alameda Slim for his bounty, which is the exact amount they need. The dastardly Slim hypnotizes the cattle by yodeling. And Grace is tone-deaf, so she alone of all of the cows and cattle is immune to his hypnotic yodeling. So... Yeah...
The film was both a critical and financial flop - it is often blamed for nearly killing traditional animation, in fact. The film's soundtrack, provided by our old friend Alan Menken, is often viewed as the only strong point of an otherwise mediocre film.
Two of the cows are voiced by Roseanne Barr (Maggie) and Judi Dench (Mrs. Calloway). Other notable voices include Cuba Gooding Jr., Jennifer Tilly, Randy Quaid and Steve Buscemi.
---
Tropes
| | | |
| --- | --- | --- |
| |  ... My singing? Songbirds SING. Saloon gals SING. Little bitty snot-nosed children sing, I yodel! And YODELING, is an ART!!! | |
| | | |
| --- | --- | --- |
| |  "Yep, they're real. Quit staring." | |
This Line is the reason why the film got a PG rating.
Just from the Villain Song, it's clear that the bad guy's minions are... very interested in his butt. Pulling out the waistband of his pants, slapping it, pulling up his underwear...
When the cows enter a saloon and wreak havoc, one of the saloon gals is revealed to be a Drag Queen.
The beginning of the Cattle Drive Scene
 "Maybe we can help EACH OTHER?" *wink*

"So ah, how does that work exactly? Do ya get to ride him on odd days or even?"