Jurassic World: Dominion Dominates Fandom Wikis - The Loop
Play Sound

YMMV •

Radar

•

Quotes • (
Funny •

Heartwarming •

Awesome) •
Fridge •

Characters •

Fanfic Recs •

Nightmare Fuel •
Shout Out

•

Plot

•

Tear Jerker

•
Headscratchers •
Trivia

• WMG •

Recap

•
Ho Yay •
Image Links

•

Memes

•

Haiku •

Laconic

•
Source

•

Setting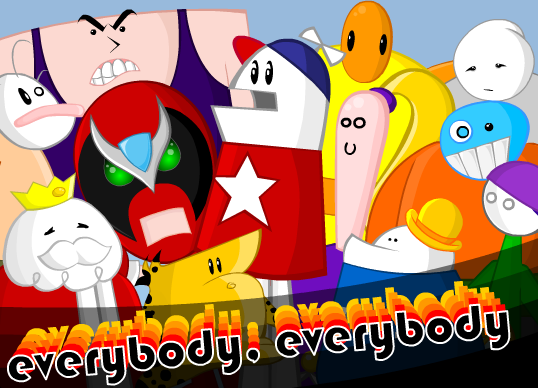 "Everybody loves the Homestar Runner. He is a terrific athlete."

—Original Children's Book, The Homestar Runner Enters the Strongest Man in the World Contest
| | | |
| --- | --- | --- |
| | "Everybody loves the me! I'm a terrific athlete!" | |

Homestar Runner is a comedic and sort-of surreal web-based Flash cartoon by two guys from the state of Georgia, Mike and Matt Chapman ("The Brothers Chaps"). Starting as a dead-tree children's picture book, it eventually found its way to the internet and spread through word of mouth.
The main character is the eponymous Homestar Runner, a goodhearted athlete with no arms and no clue. However, Strong Bad, a narcissistic, loudmouthed "wrestleman" with a Luchador mask for a face and boxing gloves for hands, seems to have exceeded the titular character in popularity. Along with his pint-sized lackey The Cheat and hulking brute older brother Strong Mad, Strong Bad constantly pushes everybody around, especially his gray, depressed younger brother Strong Sad. Other characters include Homestar's on-and-off hippie girlfriend Marzipan, Homestar's best friend and straight man Pom Pom, the verbally challenged and slightly creepy Coach Z, greedy concession stand owner Bubs, the ever-hungry King of Town, and the Poopsmith. And to round out this wacky cast, we also have Homsar, an odd-speaking midget who seems to be able to openly defy physics. Over the years, the series has come to include many recurring and minor characters, many of which simply debuted as one-off jokes.
The most popular part of the site is the Strong Bad Emails (aka "sbemails"), where Strong Bad responds to viewers' questions and suggestions, such as "Why don't you creat a montage?", "What would you do different, if you could do it all over again?", and the ever-popular "How do you type with boxing gloves on?" This usually involves mocking the sender's spelling and grammar mistakes (in fact, the character of Homsar was actually created this way), and quite often not actually answering the question.
Other features on the site include Teen Girl Squad, a comic about shallow teenage girls dying in improbable and hilarious ways, which is written, drawn and narrated by Strong Bad; Old-Timey Homestar, what Homestar Runner would be like if it was made in the 1930s; and the Cheat Commandos, a parody of Merchandise-Driven shows in general and G.I. Joe in specific. The Brothers Chaps have also collaborated with They Might Be Giants a few times. A series of episodic point-and-click adventure games by Telltale Games, Strong Bads Cool Game for Attractive People (or SBCG4AP), was released for PC and WiiWare between August and December 2008, and later ported to Playstation Network in 2010.
Most episodes include Easter Eggs, accessible by clicking on the right part of the screen at the right time.
Thanks to The Wiki Rule and to its Internet longevity, a disturbingly comprehensive wiki has been built up by fans over the years.
Since the birth of Matt Chapman's second child in November 2009, the site's flow of new content has trickled to a halt. However, in late 2011, Matt confirmed via his Twitter page that the series has not been cancelled and that future updates are coming "sporadically and without warning" (and went so far to say that nobody in their right mind would voluntarily quit making Homestar Runner altogether). The Brothers Chaps have worked on other projects, including the game Poker Night At the Inventory, in which Strong Bad meets up with Tycho (Penny Arcade), Max (Sam and Max Freelance Police), and the Heavy (Team Fortress 2), during the hiatus. More recently, Matt has become a writer and director for Nick Jr.'s Yo Gabba Gabba and The Hub's The Aquabats Super Show.
As of Flash Player's EOL, the website itself is still accessible with the help of Flash Player emulator, Ruffle. Content is also available readily across YouTube, and the Brothers Chaps update the official YouTube account with any new toons or sbemails.
If you find the speech hard to understand, the wiki has subtitled versions of most toons
This series is the Trope Namer for:
---
General Tropes about the Homestar Runner Universe
 Crample-O Stow Records presents "Deliberance", the new album from Peacey P! Featuring: Large Craig, featuring: The Overripe MC, featuring: Tenerence Love, featuring: Akryllix & 3rd Lung, featuring: Peacey P!

Peacey P: I'm a guest star on my own album, y'all biscuitheads!
| | | |
| --- | --- | --- |
| |  "W-well, that's simply not true! I have long pants, I wear long pants. I'm a long pants man, long pants long pants... Long pants, Strong Bad! The longest pants! Everybody everybody, longest pants. Long long long long long long pants!" | |
Also, don't hurt The Cheat whenever Strong Mad is around, as Strong Bad learned the hard way in the Strong Bad Email #23 "Little Animal".

Better Than Sex: This Book is Better Than 1st, 2nd, and Quite Possibly Even 3rd Base from the sbemail "studying."
Big Eater: The King of Town.
The Blacksmith: Mostly just a cameo character.
Blatant Lies: So common, the Homestar Wiki has a page to list nearly every occasion of an obvious lie. Most of them are from Strong Bad.

Parodied in the toon "Cool Things" where Homestar falls into a random pit marked "Death Hole". The fact that the pit's, like, three feet deep doesn't stop him from yelling like he's still falling.

Bleached Underpants: The original version of the Poot-Slap song is less than family-friendly.
Bragging Theme Tune: TROGDOOOOOOR!
Breaking the Fourth Wall: Here's a list for all the examples.
Brick Joke: In sbemail #38, titled helium, we discover that Strong Mad's voice doesn't change at all when he sucks helium, to his annoyance. Exactly 114 emails later in sbemail #152, isp, we find out that

Strong Bad's internet connection is so slow because Strong Mad is siphoning his bandwidth through a garden hose. Apparently bandwidth acts like "super helium" and Strong Mad finally gets his helium voice.

The short "The Luau" begins with Homestar peeing behind Marzipan's gazebo. Later on in the short, when Homestar visits Strong Bad's party, and finds out that he can't get the wood to start on fire, Homestar then asks if Strong Bad got the wood from behind the gazebo, in which Strong Bad answers "Yes, why?". Homestar then explains "Well it all started when I drank 32 glasses of melonade..."

The Brute: Strong Mad.
Buffy-Speak: Used a lot.
Butt Monkey: Strong Sad, The King of Town, Coach Z, and Nebulon when he appears. (No one likes his style.)
Captain Space, Defender of Earth!: Strong Badia's space program has Space Captainface. Pretender of the Galaxy.
Cargo Ship: Among other examples, Sign and Cinder Block in "2 years", and Strong Bad and a Wagon Fulla Pancakes in "montage".
Casanova Wannabe: Both Strong Bad and, occasionally, Homestar.
Cash Cow Franchise: Not to the extent of other cash cows, but when co-creator Matt Chapman looked at all the T-shirt orders he received, he wondered "Are there even this many people in the world!?" The creators now live entirely off of the sales of their merchandise.
The Cheat-ed Angle: Homestar and The Cheat are never seen from the front.
Chocolate-Frosted Sugar Bombs: "Cheat Commandos...O's", featured in its own short cartoon.
Clap Your Hands If You Believe: Characters Strong Bad made up in his emails become actual characters. Example; Señor Cardgage was a theoretical Strong Bad, but now is a character in his own right.
Clingy Costume: Strong Bad's mask/head and boxing gloves.
Cloudcuckoolander: Homsar, and possibly Senor Cardgage. Also, Homestar at times.

King of Town certainly qualifies.
Strong Mad qualifies, too, because he has No Indoor Voice and, according to Strong Bad, has "a pretty tenuous grasp on the English language." Example:
 Strong Bad: *calling out* Hey, Strong Mad! What, uh, what's my favorite movie?

Strong Mad: GARBLEDINA!
 Strong Bad: I dunno. Maybe he's just going to the ATM Machine.

Strong Mad: THAT'S REDUNDANT!!!
Development Hell: In-universe: Dangeresque 3: The Criminal Projective, eventually made into the fourth episode of SBCG4AP.
Disco Dan: The Videlectrix guys are ridiculously behind the times, releasing Atari 2600-style games in the present day.

Strong Bad himself, as far as video games and technology are concerned. His computers are all hopelessly outdated, and his most current system is a Turbo Grafx 16. To put that into perspective, Old-Timey Strong Bad is still using the telegraph in 1936, when the telephone had seen widespread use for over 50 years.

That, and only in 2009 has he upgraded to a computer with a graphical interface, having used command prompts on all his previous computers, including his (16-pound!) laptop. Not very surprising when his favorite manufacturer, Compy, still makes house-sized computers. The Cheat, on the other hand...
Bubs too. Strong Bad's internet connection (and, thusly, Bubs' internet service) is so out of date it's still measured in baud (a measurement of connection speed so small in comparison to actual bytes-per-second that it would literally be faster to just wait until you next met up with any given friend and talk about whatever was on the webpage you wanted to see). Then again, Bubs is probably doing this deliberately, in order to take advantage of Strong Bad's unfamiliarity with modern technology.

Distaff Counterpart: According to the toon "Why Come Only One Girl?", Champeen was originally going to be this to Homestar. Unfortunately, she never showed up in any toons (though she does appear in one of the backgrounds of the Dancin' Bubs game).
Does This Remind You of Anything?: Inverted when matters of dating are explained by comparison to sports.
 Homestar: Well, it's Marzipan's birthday, and I don't know what to get her!

Coach Z: Well, Homestar, I tell you. Girls are like a great sports play. You can't just rush in to the score zone! You kiddin' me? You'd be clobbered! You've gotta stick and move and zig and zag to get past the defenses, so youse can score!
This tends to be Coach Z's answer to everything.

Double Standard: Homestar and Marzipan's relationship is a curious example of this at work. For all that Marzipan gets offended and dumps Homestar on a weekly basis, other evidence would suggest that he's actually a much better boyfriend than she is girlfriend; Homestar appears to actually pay attention to her when he isn't inadvertently insulting her in a half-aware fit of ditziness, while Marzipan is just about aware that Homestar is, in fact, rather dim.
Dummied Out: Several secret pages, along with a few of the site components.
Easter Egg: The sbemails are covered in them. Most toons have at least a couple on the final screen.
The Eeyore: Strong Sad.
Egopolis: Strong Badia.

Even more so in "Strong Badia the Free", which had seven "countries" named for their founder... or founders in the case of Marzistar/Homezipan. There are even more if you count inanimate objects like The Stick as characters (it has a country called Sticktenstein).

Elephant in the Living Room: What would happen if Homestar and Marzipan got married and had kids? Also, none of the characters think it strange for the two to be together, despite their two completely different personalities.
Elmuh Fudd Syndwome: Homestaw suffows fwom this. "I have twouble with my aw's."

Lampshaded when he tells Coach Z to "Say words right", while the chalkboard behind him writes this the way he says it, aka "Say wouds wide."

Elseworld: Old-Timey and 20X6 versions of the cast and setting. Interestingly, the two elseworlds have met at least once.
Ensemble Darkhorse: Eh! Steve! is an in-universe parody of this phenomenon. So is Onion Bubs.
Era Specific Personality: The 1936 (and Romans), storybook, early 2000s and 20X6 characters.
Even Bad Men Love Their Mamas: Strong Bad, as seen here starting at about 6:10 and ending at about 6:22. Don't touch his mom.
Everything's Worse with Bears/Everything Is Even Worse With Sharks: The Bear Holding A Shark fulfills both.
Expositron 9000: Strong Bad's computer.
Expressive Mask: Strong Bad's mask is his face.
Extreme Omnivore: The King of Town will eat extreme quantities of things like eggs, butter, and deodorant, but hates peas and "whatsit". Strong Mad will eat nails, rocks, computers

and The Cheats

.

At one point, Strong Mad is actually seen eating bandwidth from a wire hooked to a group of computer towers. And it acted like helium, while actual helium had no effect on him when he tried it earlier.

Fake Band: Limozeen, Taranchula, Cool Tapes, Sloshy, K.o.T. High School Marching Band, Kissy Boots, Fatty's Big Chance, Brainkrieg...this is one of their favorite jokes, actually.
Fake Video Camera View: A number of examples, including the "videos" on the character page and Strong Bad's "most amazing e-mail" from "Weclome Back".
Fan Disservice: Nobody seems to wear pants except Strong Bad.
Fantasy Twist: Not that the Homestar Runner 'verse is mundane, but it doesn't stop Strong Bad from imagining it being more fantastic.
Finger in the Mail: Parodied when Strong Bad's old computers kidnap his Lappy, they send him her "toe" (a keyboard key) through the mail.
Flanderization: Arguably for the better, in that the series took several characters with somewhat generic personalities and gave them memorable quirks which could be mined for humor.
Fridge Logic: A rare case of it being applied in-universe with "Best Caper Ever," in which Strong Bad doesn't quite understand how he and the Cheat managed to get Homestar stranded on an ice floe in the Arctic simply by stealing his melonade and peeing in it.
Funny Answering Machine: Marzipan's Answering Machine is mostly about the funny calls she gets, but some of her answering machine messages can be pretty unusual, too.
Fun with Flushing: In one episode, Bubs turns into a large Godzilla-like monster after accidentally flushing himself down the toilet while shaving. Strong Bad tries to do this himself at the end.
GASP: The webtoon uses a "GASP!" stock effect whenever a character declares they're going to do something daring (or what they think is daring.) A good example is Decemberween.
Gentle Giant: Strong Mad, for all his muscle and hostility, nevertheless has a big heart and a soft side, especially towards The Cheat, to whom he is quite defensive (see also: Papa Wolf). He also is quite childish and naïve.
Getting Crap Past the Radar: Not really much of a radar to get past, as it isn't exactly regarded as being for little kids in the first place, but if it were, their subtle innuendos could help them get away with a hell of a lot.
Girlfriend In Outer Space: Strong Bad claims to have many, many girlfriends... whom we never see because they're supposedly visiting other planets.
| | | |
| --- | --- | --- |
| |  Strong Bad: And she was a very, very special lady. And she loved me so much and had skinny blonde hair and was always hanging out at the beach, gazing at a photo of me... Too bad when she had to go to another planet for reasons too complex to elaborate on. I'll probably never see her again. And neither will any of you. | |
 Strong Sad: It sounds like the fan is broken. You'll have to get it serviced.

Strong Bad: Serviced? But where am I gonna get... Fan Service... around here?

(Trogdor machine comes to life)
Loads and Loads of Characters: For instance, just try and figure out how this character fits into the HR universe.
Loads and Loads of Loading: Depending on your internet connection, especially true back ion the days of dial-up. Taken quite literally in this short.
Load-Bearing Boss:

Ultimate Trogdor

in 8-Bit is Enough. Homestar even calls him a load-bearing

dragon

.

Lampshaded in the email "the paper". Strong Bad finds himself on a sinking island and exclaims "How is this island sinking? I didn't even kill any end bosses!"

Long Pants: Supposedly...
Loud Gulp: The Cheat Commandos say it out loud.

As does Homestar in the 2019 Halloween toon "The Homestar Runner Enters the Spooky Woods." Many times. "To the risk of the listenability of the story," according to narrator Strong Bad.

Malaproper: Senor Cardgage is perhaps the most evident example, but Strong Bad, Homestar, and other characters do this on occasion, as a lot of the series' humor revolves around wordplay.
Man of a Thousand Voices: Matt Chapman voices pretty much every character on the site except Marzipan. And the times when his brother does intentionally bad impressions of the characters for the Cheat's cartoons.
Masked Luchador: Strong Bad wears the mask.
Meaningful Name: This is how a lot of the characters got their original names. Homestar Runner had no arms, is an athlete, and wears a star on his shirt. Strong Bad is mean, Strong Mad is frequently angry, and Strong Sad is constantly depressed. The Cheat was originally created to help Strong Bad, well... cheat.
Menace Decay: Strong Bad. Lampshaded in "your edge", where Strong Bad tries to get his edge back. And fails. Epically.
Merchandise-Driven: Cheat Commandos...sort of, as there actually isn't much real CC merchandise, but they're meant to be this way as a spoof of G.I. Joe.
| | | |
| --- | --- | --- |
| |  "Buy all our playsets and toys!" | |
| | | |
| --- | --- | --- |
| |   Strong Mad: PUT IT BACK ON! PUT IT BACK ON! | |
 Strong Bad: So, Bubs, your approach this year was to ensure that absolutely no one recognized your costume?

Bubs: (dressed as the Clarence Clemons character from Bill and Teds Excellent Adventure) You got it!
| | | |
| --- | --- | --- |
| |  Strong Bad: Or "Coach Zed", as you Canucks call him. | |
| | | |
| --- | --- | --- |
| |  Strong Bad: Congratulations, Coach! I just spent several hours carrying around my brother's internal organs, and you still managed to outdo me on the creepy scale! | |
The Stoner: Probably Senor Cardgage.
Stopped Clock: In the Strong Bad Email "vacation", Strong Bad sends a postcard from (among several other places) "It's that CLOCK (Look at it go!)". Of course, the clock isn't going at all.
| | | |
| --- | --- | --- |
| |  Strong Bad: Okay, the best thing about this postcard is if you look at the clock, that's the exact same time that I first laid eyes on the clock! 2:55, man. And like, iddi—oh, wait, it still says... 2:55. Okay, well, the clock is broken, but still! It's about the best thing I've ever seen [sings] in my whole liiiiiife! | |
| | | |
| --- | --- | --- |
| |   "Sir Strong Bad STOP How do you operate the 'telegramophone' whilst wearing gentlemans' sporting gloves STOP Signed, Sir Elsington Halstindingdingworth STOP" | |
Theme Tune: Everybody! Everybody!

The Very Low Sodium Band made a catchy remix that's actually really good!

Totally Radical: Coach Z.
Trademark Favorite Food: Marshmallows, especially of the Fluffy Puff variety, even though Marshie is creepy as sin. There's also Melonade, contractually speaking.
The Unintelligible: The Cheat, Pom Pom, Homsar to some extent.

Senor Cardgage, albeit to a lesser extent.

Unreliable Narrator: Strong Bad, quite frequently.
The Un-Reveal: Strong Bad's face and the appearance of his parents, as the eventual response to numerous emails about it. The Brothers Chaps have gone on record as stating that these two questions, in addition to the issue of how Strong Bad types with boxing gloves on, will in all likelihood never be given a serious response.

Played for laughs in-universe in sbemail "cliffhangers".

"You missed unmasking the Thnikkaman!!!"

Unusual Euphemism: Strong Bad has a lot of them, like "ample hind-bosom".
Vague Age: On the one hand, they have their own houses and some of them drink beer Cold Ones; on the other, they don't seem to have much choice about going to swimming lessons. In one email, Strong Sad is referred to as an "18-to-24-year-old", and in another the King of Town says he is in his 60s. Bubs and Coach Z are implied to be old men, but exactly how old isn't clear.
Villain Protagonist: Strong Bad, although his status as a villain is mainly in his head.
Vitriolic Best Buds: Strong Bad and Homestar.
Vocal Evolution: Most notably Strong Bad and Strong Sad. Homestar is pretty noticeable, too. And Bubs, who started out as a Redd Foxx.
The Voiceless: The Poopsmith, while Pom Pom "speaks" through soap bubble blowing sound effects.
Walking Shirtless Scene: Strong Bad never wears a shirt, and Homestar gets a few of these as well, but unfortunately he doesn't seem to wear pants.
We All Live In Free Country USA: Intentionally and in-universe, as Strong Bad forces his own unique views onto writers of emails regardless of where they're from.
What Could Have Been: The Brothers Chaps toyed with the idea of making the King of Town Marzipan's father in the early days of the series.
What Do You Mean It's Not Awesome?: E-MAIL. CHECKING.

Also this sbemail, epically the one which made a Seinfeldian Conversation about a napkin some type of action apocalyptic movie.
Also, Strong Bad seems to idolize and admire Senor Cardgage, while everyone else is creeped out by him.

The Woobie: Lil' Brudder is an in-universe example: a parody of this Trope with a hint of Glurge that Strong Bad created to drive others to tears. It works a bit too well.
Word Salad Humor: Homsar and, more recently, Senor Cardgage (although his dialog is a mix of this and malapropisms).
Worst Whatever Ever: Used lots.
Xtreme Kool Letterz: Parodied with such uses as "awexome".
You Mean "Xmas": Decemberween.
Your Answer to Everything: Coach Z's advice to Homestar is always "It's like a great sports play. You can't just rush into the score zone." Lampshaded by Homestar in "The Best Decemberween Ever" when he tells Coach Z that's his answer to everything.
You Say Tomato: Coach Z's schtick
| | | |
| --- | --- | --- |
| |  "You say tomater, I zader matermorts." | |
Tropes specific to individual cartoons
| | | |
| --- | --- | --- |
| |   Strong Bad: Wait — that's not supposed to be possible...!!" | |
Burger Fool: "Blubb-O's"
By the Lights of Their Eyes: Happens to Strong Bad and The Cheat in Strong Bad Email #197, "your edge", when they saw a hole in the floor and fall in through it and into total darkness:
| | | |
| --- | --- | --- |
| |  Strong Bad: Whoa! Where are we? I suddenly feel so... easy to animate. | |
Calvin Ball: The nebulous and nameless sport Coach Z coaches and Homestar plays, as shown in the opening of "A Jorb Well Done".
Cargo Ship: In-universe,

Strong Sad

and some cans of Yella paint in "Cool Tapes".
| | | |
| --- | --- | --- |
| |  Homestar: (when the Chairscoot noise is made, little hearts flutter from Homestar, as he swoons dreamily) Ah! There it is! It's positively dreamy! (faints) | |
Dead Air: In the Strong Bad email "radio", he summes up College Radio in five words: "Dead Air, 'um', Dead Air".
Depth Deception: "Bubs' foot isn't huge! He's just in the foreground!"
Dick Dastardly Stops to Cheat: In the sbemail "pet show", Strong Bad should be able to win the pet show in a walk since his entry, The Cheat, is the only one resembling an actual pet. (The other contestants are a dog-shaped cookie jar, a George Foreman grill, and... Homestar Runner.) Yet he feels compelled to cheat anyway, and proceeds to sabotage the other contestants. And then he almost gets away with it, only to be disqualified for an unrelated rule infraction (The Cheat's unauthorized use of "relish foot").
Did I Just Say That Out Loud??: Coach Z's reaction in an Easter Egg on the cartoon "Trogday 08", when he has said to "Wormdingler" (his snake-like drawing of a "dragon" from the Sbemail of the same name): "You don't need no consummate V's ta be my bride..."
Discredited Meme: Invoked by Strong Bad, who complains in "Trogday '08" that the internet ruined Trogdor, along with "zombies, pirates, ninjas, and Strong Bad!"
The Dog Was the Mastermind: Appears in the "DNA Evidence" arc. After being Arc Words in a number of otherwise unrelated shorts, we get a story about a vial of green DNA Evidence that keeps changing hands and getting stolen. Turns out that it was from

Strong Sad, who doesn't want anyone to find out if he's part elephant

.
Doomy Dooms of Doom: The 2009 Halloween cartoon, "Doomy Tales of the Macabre".
Dramatic Ellipsis: Spelled out by Stinkoman.
Dumb and Drummer: In the Limozeen cartoon, the following exchange takes place:
 Drummer: How come they made me fat and have orange hair?

Lead Singer: Because you're the drummer! You're the Plucky Comic Relief!
| | | |
| --- | --- | --- |
| |  Homestar: Original Bubs, who is totally behind that dishwasher box (cut) behind that washer/dryer box (cut) that hot water heater box (cut) behind that... toothpick sculpture? | |
| | | |
| --- | --- | --- |
| |  Strong Bad: So that's fan clubs, the next worst word you can couple with the word 'fan' is, you guessed it (ominous, eerie music plays) the word (Strong Bad's voice slows down, and the camera zooms in on the word as he types it) fiction. | |
 Strong Sad: I think I've improved on your methods a bit, too. I employed some chiaroscuro shading, and-

Strong Bad: I'll improve on your methods!

(Strong Bad sets Strong Sad's drawing on fire and reduces it to nothing)

Strong Sad: What?! That's not an improvement!
Jail Bake: In "Strong Bad is in Jail", Strong Mad bakes a cake with a jackhammer in it for Strong Bad and The Cheat.
Jumping the Shark: Referenced in-universe.
Killed Mid-Sentence: In the Strong Bad Email "trevor the vampire", when the email ends abruptly, Strong Bad assumes the worst.
Lamaze Class: And Strong Bad didn't even need it.
The Last of These Is Not Like the Others: A borderline example in one of the DVD toons, "Why Come Only One Girl?", in a montage of Strong Bad meeting different ideas for a new girl character.
| | | |
| --- | --- | --- |
| |  Strong Bad: -my style. (gets slapped, cut) -my types. (gets slapped, cut) -my stuff. (gets slapped, cut) -The Cheat. (gets slapped) | |
| | | |
| --- | --- | --- |
| |  "You've made a game for 8-year-olds slightly more of a ripoff. I still don't see how this concerns the military." | |
Offscreen Moment of Awesome: In Weclome Back (sic), Strong Bad states he recorded his very first, very awesome mid-air SBemail check. Unfortunately, he pulled the old mash-Stop-when-you-think-you're-mashing-Record-and-mash-Record-when-you-think-you're-mashing-Stop routine.
| | | |
| --- | --- | --- |
| |   Strong Bad: Oh, the believing is hard to be doing, because that was so incredible! We met so many celebrities in midair! And the part with the narwhale was so illegal. | |
 "Loquentia, Imbruglia, Precipitous, Saraleecheesecakea, Denouement!"

"Bettah ask somebod-ay!"

"Do you even have half a brain!"
| | | |
| --- | --- | --- |
| |  Strong Bad: (rewriting the book text) "De giant mantis is almost here. Get ready to be pistol-whipped, snowman!" | |
Potty Emergency: Happens to Homestar in the long-lost short "A Jumping Jack Contest", after being tricked into drinking too much melonade. He then relieves himself in a jar provided by the Poopsmith.

In the

S Bemail

"Extra Plug", after the power goes out, and they are told to not move, Homestar and Strong Sad start singing about how badly they have to pee, to Strong Bad's disgust.

Precision F-Strike: That is some [BLEEP] up [BLEEP], man! It's obviously bleeped out to keep the family friendly appeal, but...damn!
Recycled in Space: Parodied with the short-lived Limozeen cartoon. Lampshaded in the Strong Bad Email that introduced it.
 Strong Sad: Why are they in space? There's no reason for them to be in space!

Strong Bad: On the contrary, my dear fatson, there's every reason for them to be in space.
 Strong Bad: Fhqwhgads.

Homestar: Fubugrass.

Strong Bad: Say with a flourish: Fhqwhgads.

Homestar: Fubumagu.

Strong Bad: It doesn't sound like it looks. Fhqwhgads.

Coach Z: Forhorglingrads!

Strong Bad: Coach Z, I thought I asked you to leave, like, an hour ago.

Strong Mad: DOUGLAS!!!

Strong Bad: Whoa! We've just had a breakthrough! You get a gold star.
Say My Name / Skyward Scream: Per-duc-ci!!
Scenery Censor: Done to hide the fact that one Limozeen member was played by a woman in one live-action sequence.
Self-Deprecation: The Flash adaptations of The Homestar Runner Enters the Strongest Man in the World Contest and Where My Hat Is At? make a point to have the cast lampshade how ridiculous the plots and scripts are. Example:
| | | |
| --- | --- | --- |
| |  Homestar: [My hat] isn't cooking on the grill? Man, I really thought it'd make complete sense if my non-edible hat would be cooking on a food grill! | |
Serendipitous Symphony: The "One, Two, One, Two" music video is nothing if not this.
Shipper on Deck: Strong Sad seems to ship Strong Bad with Homestar Runner, as evidenced in his fanfic and the "makeromancer" short. Given his usual relationship with his brother, though, this could be a revenge ploy.
Six Degrees of Kevin Bacon: From the sbemail "the movies":
| | | |
| --- | --- | --- |
| |   Strong Sad: Ooh, and he had a cameo as Stevedore #2 in the prequel, and he was in that car commercial with the wisecracking transmission, and he has a Bacon number of 4! | |
This Isn't Heaven: An Easter Egg in the program Macromedia Central features a cartoon where Homestar and Strong Bad are stuck in "blue-fadey-land." Homestar thinks they died and went to heaven, and Strong Bad agrees after they find a Twinkie. Then Homestar says that it's just Strong Bad and him, forever! It suddenly dawns on Strong Bad that they're definitely not in heaven. He pounds on the edge of the frame screaming frantically as the background turns red...
Throw the Dog a Bone: Subverted in the 2009 Halloween toon. Strong Sad, upset at not being invited to any Halloween parties, turns around to discover all of his friends standing behind him to throw him a surprise party. Or so it seems. Turns out that his "friends" are actually a large cardboard prop, and their cheering is provided by a tape recorder. The whole thing was set up by Strong Sad himself to make himself seem more popular to the viewers.
Two Scenes, One Dialogue: The opening scene in "Date Nite".
Tyrant Takes the Helm: Played with in the Cheat Commandos toon 2 Part Episode, where Admiral Flashfight shows up to take over command of the Cheat Commandos from Gunhaver. Unlike your typical Tyrant arc, Admiral Flashfight actually makes the Cheat Commandos effective (the very first thing he does is arrest Blue Laser, who at the time had been invited over to play video games), but since the Commandos are used to goofing off (and he summarily fired Gunhaver, Silent Rip, and Crackotage) they chafe under his leadership.
Villainous Crossdresser: Strong Bad dressed up as a woman for Halloween two years in a row. Sadly for him, this resulted in the King of Town making fun of him.
Villains Out Shopping: One Cheat Commandos episode had the Commandos trying to stop the Blue Lasers from shopping at the supermarket, believing their activities were cover for some nefarious scheme, like trying to "make it snow at the beach or something". However, it turned out that the Blue Lasers truly were just buying groceries.

Then subverted because the latest computer analysis pointed to mold in the showers as the reason the Cheat Commandos remained uncrushed.

Vinyl Shatters: In concert, Strong Bad breaks a Sloshy record over Strong Sad's head.
Vomit Discretion Shot: Used in the Strong Bad Email "bottom 10", when Homestar starts to perform a butt dance for Strong Bad.
What Could Have Been: Pretty much the DVD-exclusive cartoon "Why Come Only One Girl?", which shows ideas for other female Homestar Runner characters.
White Void Room: Homsar's children's show, Whaddaya Know, Haddi-man?.
Tropes unique to the Flash Games