Cobra Kai Season 4 - The Loop
Play Sound

Quotes

•

Headscratchers

•

Playing With

•

Useful Notes

•

Analysis

•

Image Links

•

Haiku

• Laconic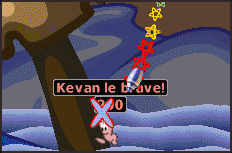 A projectile or attack in interactive media (or a narrative description in non-interactive media) that homes in on its intended target. If you're firing it, it can be an effective means of eliminating targets without putting yourself in harm's way. If an enemy is firing it, you'll need to perform a High-Speed Missile Dodge, whip out a shield, trick its guidance system, Shoot the Bullet, or just outrun it until it loses steam.
A curious trait of most homing attacks is their inability to "lead" a moving target, resulting in them doggedly "trailing" behind if the target can move fast enough. Very few homing attacks will actually plot an intercept course on a moving target.
A fairly common projectile type in Shmups and Tabletop Games.
Subtropes include
Examples of Homing Projectile include: