YMMV •

Radar

•

Quotes

• (

Funny •

Heartwarming

•
Awesome) •

Fridge •

Characters •

Fanfic Recs •

Nightmare Fuel •
Shout Out

•

Plot

•

Tear Jerker •

Headscratchers •
Trivia • WMG •

Recap

•

Ho Yay •

Image Links

•

Memes

•

Haiku

• Laconic •
Source

•

Setting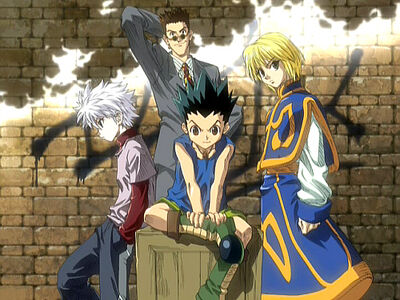 In a world much like our own, but with more danger and more mystery, a young boy named Gon Freecss, raised since infancy by his aunt, discovers from a traveling stranger his father's true identity: Gin Freecss, a world-famous Hunter.
In this world, you see, there are elite mercenaries known as Hunters. And Hunters truly are elite: among other benefits, they get access to world-class amenities and exotic locales that are off-limits to ordinary people. Of course, the life of a Hunter is also dangerous, for Hunters make their living taking on some of the most dangerous missions on Earth. Some scour the world for treasures or exotic goods, while others are Bounty Hunters who track down the world's most dangerous criminals. Gon isn't so much interested in riches or fame, however: he wants to be a Hunter so he can track down his father.
Just becoming a Hunter is an adventure in itself. During the incredibly difficult and incredibly dangerous "Hunter Exam", Gon faces peril both natural and man-made. He also acquires a circle of friends, such as Leorio, a Jerk with a Heart of Gold who wants to become fabulously wealthy: so he can become a doctor and open a free clinic; Kurapika, last of the Kuruta tribe: which was hunted into near-extinction by those who sought the Kuruta's "crimson eyes", which turn a fetching shade of red when emotionally excited; and Killua Zaoldyeck, a White-Haired Pretty Boy who happens to be the middle son of a Dysfunctional Family of notorious assassins.
The series is very noticeable for having many long hiatus breaks during its run, one of which continued for a grand total of 1 year and 20 days! Hunter x Hunter returned in 2010 Weekly Shonen Jump Double Issue #5-6, and ran for 20 chapters. It then went back into a year long hiatus since 2010 Weekly Shonen Jump Issue #26, but has finally returned again in 2011 Weekly Shonen Jump Issue #35-36, for 30 chapters then it went on a break again on Issue #16, 2012. It seems to have settled into a system where we get one tankobon (single volume collecting 10 chapters) every 6 months, instead of every 2 months; this puts Hunter X Hunter on par with mangas that get a new chapter each month, instead of each week.
Weekly Shonen Jump's double issue #35-36 in 2011 ultimaly confirmed that the series would get a complete anime remake, disregarding the previous animated series and OVAs to start from the very begining of the story; it is being produced by MADHOUSE and directed by Koujina Hiroshi, the character designs are being handled by Yoshimatsu Takahiro.
A movie for the series has just been announced.
Manga that go on this long likely have their own character page. This one Needs More Love.
Late Arrival Spoiler warning: To those just starting with the manga/first anime or are watching The Remake, beware of major unmarked spoilers for the first few arcs below!
Tropes used in Hunter X Hunter include:
 Mafia guy: You are all dead. The community will kill you and your family. Torture and cut them to pieces. Give them the suffering of Hell.

Feitan: Family? What's that?
 Killua: Do you have to yell those words every time?

Gon: Huh? Sure. Otherwise it's not like a special attack.

Killua: Maybe...but you're telegraphing the enemy. What if you get attacked while you're yelling?

Gon: I'll dodge and say it.

Killua: What if you can't?!

Gon: I'll still say it.
| | | |
| --- | --- | --- |
| |  Zeno: Well, I suppose it would make little difference whether you looked or not. | |
 Nobunaga: You're aiming to break his arm, right?

Feitan: I was thinking of starting with the fingers. Carefully removing his nails...