Spider-Man: No Way Home Trailer Dropped - The Loop
Play Sound

Quotes

•

Headscratchers

•

Playing With •

Useful Notes

•

Analysis

•

Image Links

•

Haiku

•

Laconic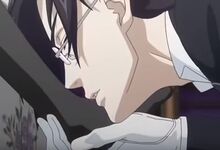 In various media, characters kissing someone's hand is used sometimes for romance, and other times to show humility. Sometimes, though, it's not the hand they kiss, but they aim much lower ...no, they don't stop there! Get your mind out of the gutter!
They kiss the foot.
While kissing hands can mean romance or humility, kissing feet can mean many different things. It often means an even greater humility than hand-kissing, or can be used to show submission ("now you have to kiss my feet!") or devotion. Less often, it is used romantically. In period settings, kissing the hem of a woman's gown is a common substitution.
Even when it's not meant to be... romantic, some people see it that way. Not to be confused with It Tastes Like Feet, although Ross Geller might claim that there's some overlap.
Compare Foot Focus, which is Fan Service for foot fetishists.
Examples of I Kiss Your Foot include:
Anime & Manga
The foot massage in that episode of Death Note is considered Fetish Fuel by some.

Given the rather blatant religious symbolism in that series, the aforementioned massage can be interpreted in a number of ways.

Akio in Revolutionary Girl Utena is a master of foot kissing, and memorably does it to Mrs. Ohtori. Of course, the entire thing is a mind game, so the whole "submissive" thing is more or less reversed.
In Mahou Sensei Negima, after Negi asks Evangeline if she will teach him magic. Her response:"Lick my feet and be my slave". She promptly gets kicked in the head by Asuna. Since Negi wasn't entirely aware of the implications it looks like he may have actually done it if Asuna had not stepped in on his behalf.

Kenichi the Mightiest Disciple has Nijima attempting the same thing on Kenichi in exchange for some information. Kenichi decides to just beat it out of him.

Princess Resurrection just comes out and calls the ED "Kneel Down And Lick My Feet."
A bratty student in Great Teacher Onizuka has a teacher waiting on her hand and foot, but when she tries to blackmail Onizuka into licking her toes as well he just responds by removing one of his (incredibly stinky) socks and telling her to do it first.
In Maria Holic, Mariya has his sister Shizu kiss his foot because of a technicality of Kanokon discovering Shizu's gender and Mariya trying to use that to his advantage.
Used in Anatolia Story, when

Urhi and Nakia use a brainwashed Rusafa to kidnap Yuri. Rusafa has a not-so-secret love for Yuri, and then Urhi leaves, saying Rusafa can finally do whatever he wants to her. Instead of doing something one might expect after everything else so far in the series, Rusafa just kisses Yuri's feet over and over.

In Episode 2 of Umineko no Naku Koro ni, Beatrice demands that Kanon and later Battler kiss her feet to signify their surrender and total submission to her.
In episode 9 of Black Butler an old man is seen briefly kissing the foot of the much younger Alois and later Ciel. In episode 10, Claude is basically orgasming over Ciel, even going as far as to kiss his foot, (as pictured above) while Sebastian is watching outside of the mansion with a somewhat jealous face. (Ciel kicks Claude away, though.)
In chapter 91 of Code Breaker, the main character Ogami defeats his self-proclaimed nemesis Haruto the Mercenary. After knocking him to the floor, Ogami steps on his face and says that he is "purchasing him", and demands that he lick and kiss his shoes and feet. Though he later reveals that it was all an act, to try and get Haruto to repent.
The second OP of Mawaru Penguindrum has Tabuki getting ready to kiss the foot of his girlfriend Yuri.

The foot he actually kisses is Momoka's.
Comic Books
Used when X-Men member Chamber is forced to kiss the boot of a bully at the school where he was operating under cover. Having no mouth, Chamber instead spent the time down there tying the bully's shoes together.
Film
The titular heroine in

Great Catherine

(Jeanne Moreau) tickle-tortures Peter O'Toole's character (who is tied up at her feet) with her toes, and then makes him kiss her bare foot.
The Butler in Mr. Deeds.
The producer in Barton Fink tries to make his assistant kiss Fink's feet, but when the confused assistant fails to do so, he does it himself. Which makes the Downer Ending even more of a downer.
Used sort of in Batman (1989). While being forced up the steps of Gotham Cathedral by the Joker, Vicki Vale falls and loses one of her shoes. The Joker then picks the shoe up, kisses it suggestively, and throws it over the side of the bannister.
Used in the indian movie Mohabbatein: Raj points out that touching someone's feet should be done out of respect, but most students in the school do this to the principal out of fear.

Then at the end of the movie, when the principal announces that he's going to step down and leave Raj in charge of the school, Raj does touch his feet. It's all very dramatic.

Most Bollywood movies have an example of this since touching your elder's feet is a traditional sign of respect in India.

An instance between Kirill and Nikolai occurs very briefly in Eastern Promises. It's because Kirill's ridiculously drunk, though, and crushing on him to boot. Given how uncoordinated he is, it's more like falling on his shoes, too.
In Baazigar, Villain Protagonist Ajay kisses the feet of girlfriend Seema, the daughter of his nemesis Chopra before pushing her to her death.
In Local Hero Danny Olsen meets Marina on the beach - during some tenuous flirtation he starts to kiss her foot (as she's in a full-body wetsuit, it's about the only exposed skin) and discovers with some surprise that she has webbed toes.
In Howard Stern's autobiographical film/book "Private Parts," Howard kisses his co-host, Robin Quivers' foot as part of an attempt to get her back on his radio show.
From Russia with Love - Red Grant is enough of a psycho sadist that merely killing Bond wouldn't be enough:
| | | |
| --- | --- | --- |
| |  The first shot won't kill you. Neither will the second, nor the third...not until you crawl over here and kiss my foot! | |
In The Lion King, when Pumbaa finds out that Simba is the king, he starts groveling in this manner, trying to kiss Simba's paws.
Literature
Live Action TV
Devoted husband Mack in Clocking Off kisses his unfaithful wife Catherine's foot in one episode.
In Ugly Betty, Bradford Mead had a foot fetish, which is how Wilhemina got her hooks into him.
In V's second miniseries, the human collaborator Daniel forces some college schlub to lick his boots.
In Oz Schillinger forces Beecher to lick his boots after the latter spoke up without permission.
Used in a demeaning fashion by the female party on an episode of Blind Date. Being a real demeaning type, she told the man to kiss her ankle — and he DID!
In Blackpool, DI Carlisle does this to Natalie. This happens to be one of the most sickeningly adorable scenes in the entire show.
In the 1980s sitcom Alice, southern waitress Flo used "Kiss My Foot!" as a general purpose euphemism
In the Star Trek: Voyager episode "Q2", Q tries to kiss Captain Janeway in the bathtub, but she blocks him from getting closer by raising her foot, so he ends up kissing her foot.
Music
Newspaper Comics
Gahan Wilson once drew a cartoon for The New Yorker which depicts a psychiatrist kissing his (male) patient's foot, while the patient growls "Doctor, this is not helping my messiah complex!"
Professional Wrestling
After winning the King of the Ring competition, WWE superstar Booker T became "King Booker", an arrogant heel who made other wrestlers kiss his foot, sometimes by force.
Jerry "The King" Lawler initiated a match against then-rival Bret Hart at King of the Ring '95, where the loser had to kiss the winner's foot. Lawler lost the match, and it was not pleasant for him, to say the least.

That was mentioned during Lawler's feud with Michael Cole leading to another Kiss My Foot Match at Over The Limit 2011 and Cole's Humiliation Conga.

And then there's Vince McMahon's much, much cruder version, "The Kiss My Ass Club".
Occasionally put into use on the independent circuit, notably by Davey Richards (who then will follow up with spitting in his opponent's face and/or kicking them in the head).
Theater
 The king's a bawcock, and a heart of gold,

A lad of life, an imp of fame;

Of parents good, of fist most valiant.

I kiss his dirty shoe, and from heart-string

I love the lovely bully.
In Rent, when Maureen is attempting to make up with Joanne over the phone, she offers total submission:
| | | |
| --- | --- | --- |
| |  "I'll kiss your doc martens; let me kiss your doc martens; your every wish I will obey!" | |
This lasts about a month and a half before Maureen gets bored of playing that role and goes back to playing herself in full-on diva mode.
Video Games
Azure Dreams: Selfi, one of the potential romantic interests in the game, at one point suggests that you kneel down and worship her beautiful body, starting by kissing her foot.
In Umineko no Naku Koro ni Beatrice demands Battler, once he loses the game, to take off his clothes, kneel down and kiss her feet - as a sign of humiliation and submission.

And he evetually does it, though the scene itself is not drectly shown in the novel.

She also forces

Kanon

to do this, though without getting naked.
Web Original
Western Animation
Many times in Looney Tunes cartoons.
In Harvey Birdman, Attorney at Law, Blue Falcon is demoted to restroom attendant. When Harvey Birdman comes by, Blue Falcon starts groveling, kissing Birdman's feet. Then he insists on being kicked and spat on, and takes it as an insult that Birdman declined.
Animaniacs: The Goodfeathers, Bobby, Pesto, and Squitt, all kiss the godpigeon's feet every time he appears.
This is frequent in many children's cartoons.
In Batman the Animated Series episode "Fear of Victory", Scarecrow mentions using his Fear Toxin to bring the people of Gotham to their knees and in his own words "...Kissing my feet!"
Rarity kissing princess Celestia's hooves in My Little Pony Friendship Is Magic episode "Sweet and Elite". Since both are ponies, it can be seen as I Kiss Your Hand as well.