YMMV •

Radar

•

Quotes • (
Funny •

Heartwarming •

Awesome) •
Fridge •

Characters •

Fanfic Recs •

Nightmare Fuel

•
Shout Out •

Plot •

Tear Jerker •
Headscratchers •
Trivia • WMG •

Recap

•
Ho Yay

•
Image Links

•

Memes

•

Haiku • Laconic •
Source

•

Setting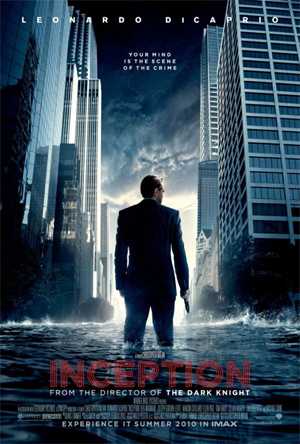 "What's the most resilient parasite? A bacteria? A virus? An intestinal worm? [...] An idea. Resilient, highly contagious. Once an idea has taken hold in the brain, it's almost impossible to eradicate. An idea that is fully formed, fully understood? That sticks."

—Dom Cobb

Inception, a 2010 film from director Christopher Nolan, works like a heist film in reverse: instead of taking something, the main character must leave something behind.
Dom Cobb (Leonardo DiCaprio) works as a freelance "extractor": using a briefcase-full of Applied Phlebotinum and several allies to help him, Cobb enters his targets' dreams and steals valuable information. Cobb's extraction skills make him a great thief, but they've also made him a fugitive, leaving him unable to return home to his family. When an attempt to extract information from a Japanese businessman named Saito (Ken Watanabe) goes wrong, Cobb goes on the run from his current employers.
Saito catches up with Cobb and makes the extractor an offer: his status as a fugitive will be wiped clean — which would allow him to go home — if he can manage to perform an inception on one of Saito's rivals. Whereas extraction involves stealing ideas or information already in somebody's head, inception involves the insertion of an idea into someone's head in a way where the target believes they independently conceived the idea.
Dom accepts Saito's proposal, even though it has one small catch: nobody has ever pulled off a successful inception.
To attempt the impossible, Cobb assembles a Badass Crew of experts: longtime extraction partner Arthur, dreamworld-building architect Ariadne, expert forger Eames, and chemist Yusuf (who devises the compounds that make extraction possible). Cobb's group works their way into the target's mind, but a complication Cobb failed to warn them about arises: inside the dream world, Cobb's own subconscious makes for a worse enemy than their target's.
Nolan wants to make a game set in the movie's universe. (Obviously, the game will have four levels.)
---
Inception contains examples of the following tropes:
A-G
Fate Worse Than Death: Limbo. It's an unformed dream state where you go if you die in a dream but are too sedated to just wake up. The time dilation is so pronounced that a few minutes of real time is experienced as hundreds, if not thousands, of years. You're going to be there for a very long time. If you've got 30 minutes to go before your kick hits, or if you've missed the kick and are gonna be under for hours until the sedative runs out you'll be in limbo for an effective eternity.

And then subverted when it's shown you're also effectively God there. So no, it isn't that bad.

Fauxshadow:

Ariadne's and Arthur's totems.
The insane time dilation as they go further down, such as the third level experiencing 400x the time of the first level.

They spend maybe a few hours at each level.

Faux Symbolism: Most probably the train. Who would think that it's just a coincidence when the only female member of the team gets into the car, and without warning a giant phallic shape comes out of nowhere at massive speed, kicking cars to the sides left and right and trashing everything in its path. But it's actually just a symbol for leaving behind an old life for a new one. And by that also another manifestation of the main characters guilt for driving his beloved wife into suicide.
Film Noir: Christopher Nolan has effectively mixed Noir chocolate with Cyberpunk peanut butter, and it's as tasty as it sounds.
Fire-Forged Friends: By the time

he rescues him from Limbo

, Cobb and Saito seem to share a deep bond and trust.
Flipping the Bird: Done by Yusuf to a projection when he sets off the kick in Fischer's first dream layer.
Foreshadowing:

An interesting variation, as most examples feature characters discussing events they already know about, but the audience does not; the characters may be calling back to an event in the chronological past we have yet to see, or predicting the future using information we have yet to learn.
An example calling back to the characters' past: Mal asks Cobb in one of the first scenes whether she will die from jumping off the building. She had committed suicide already by this point, and this is Cobb's projection of her haunting him. If you look at the room behind her on the ledge, it's identical to the one he's in, but you might not notice if you were focused on the characters.
An example of a conversation that does foreshadow future events, but which the audience does not know what they are speaking about (in this case,

Cobb's projections of Mal sabotaging the mission

):
 Arthur: And you. What the hell was that?

Cobb: I have it under control.

Arthur: I'd hate to see out of control.
Fischer says to Saito after the avalanche "Couldn't someone have dreamed up a goddamn beach?" Later,

he dies and goes to limbo which starts on beach.

)
In Ariadne and Cobb's second session, Cobb's subconscious starts to get aggressive:
 Ariadne: Mind asking your subconscious to take it easy?

Cobb: I can't, it's my subconscious.
Taken into context with Mal and Cobb's repeated projections of her that's revealed later, this line suddenly takes on a whole new meaning.

In the beginning after Cobb wakes up he mutters:
| | | |
| --- | --- | --- |
| | | |
H-M
| | | |
| --- | --- | --- |
| |  Eames: You mustn't be afraid to dream a little bigger, darling. | |
More Than Mind Control: In order for inception to work, it's necessary to manipulate the subject into finding the idea that is to be implanted emotionally appealing on a subconscious level - otherwise the mind will reject it.
Mortal Wound Reveal: After the shootout/car chase in the first level, it's revealed that the only character who didn't escape unscathed was

Saito

.
Mr. Fanservice: At least half of the male cast counts, especially the guys in the inception crew. General consensus is that Arthur and Eames are particular favorites (helped by their choice of wardrobe and their actors).
The Musical: Fan-made, but done.
N-S
 Eames: Too much free champagne before we went under, eh Yusuf?

Yusuf: Ha ha bloody ha.
 Arthur: But you'd have to buy out the entire cabin. And the first class flight crew.

Saito: I bought the airline.

[Everyone looks at him incredulously]

Saito: [awkward] It seemed neater.
T-Z
---
| | | |
| --- | --- | --- |
| |  How did you get here? Where are you right now? | |