Jurassic World: Dominion Dominates Fandom Wikis - The Loop
Play Sound

YMMV •

Radar

•

Quotes

• (
Funny •

Heartwarming •

Awesome) •
Fridge •

Characters

•

Fanfic Recs

•

Nightmare Fuel •
Shout Out

•

Plot

•

Tear Jerker •
Headscratchers •
Trivia

•

WMG

•

Recap

•
Ho Yay

•
Image Links

•

Memes

•

Haiku

• Laconic •
Source

•

Setting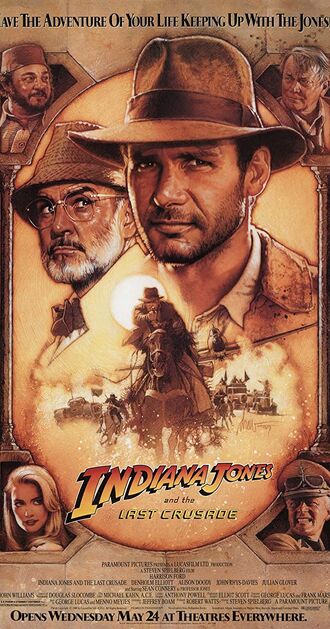 The quest for the Grail is not archaology. It's a race against evil! If it is captured by the Nazis, the armies of darkness will march all over the face of the earth!

—Professor Henry Jones Sr.

The third film in the Indiana Jones series.
Indiana had a troubled history with his father, Henry Jones, who was also an archaeologist. But one day, his father disappears when a major breakthrough is made in Henry's life's work, the search for The Holy Grail. Now Indy has to find his father and the Grail, while keeping Nazi Germany from once again getting their hands on an artifact that could make them all-powerful.
During the filming of the young Indy scenes, George Lucas saw the potential of a prequel series. He would soon develop and produce Young Indiana Jones.
As for the movie series, though the original intent was five films, Spielberg and Lucas would decide to just end the series here - feeling it was best to go out on a high note and cap off a trilogy. Obviously, that didn't take and after a lengthy Development Hell, Indiana Jones and the Kingdom of the Crystal Skull was released nineteen years later.
---
Provides Examples Of:
| | | |
| --- | --- | --- |
| |  Indy: This is an obsession, Dad. I never understood it. Never. Neither did Mom. | |
And later, aboard the zeppelin:
 Henry Sr.: Actually, I was a wonderful father.

Indy: (incredulously) When?

Henry Sr.: Did I ever tell you to eat up, go to bed, wash your ears, do your homework? No, I respected your privacy and I taught you self reliance.

Indy: What you taught me, was that I was less important to you than people that have been dead for several hundered years and in other countries. And I learned it so well, that we've hardly spoken for 20 years.
Captain Obvious: Both Indiana's father and the grail-guarding knight.
Cassandra Truth: During a tense confrontation, Indy is told to surrender or else Elsa dies. Henry tells him its a bluff, as Elsa's a Nazi herself.
| | | |
| --- | --- | --- |
| |  Elsa: You should have listened to your father. | |
 Indiana Jones: "Don't call me Junior!"

Henry Jones Sr.: This is intolerable!"
| | | |
| --- | --- | --- |
| |  Henry Jones Sr.: Our situation has not improved. | |
 What, what are you gonna do?

Indy: I don't know. I'll think of something.
| | | |
| --- | --- | --- |
| |  "You call this archaeology?" | |
Land in the Saddle: Indy tries this one in the prologue sequence. The horse moves. The mooks chasing him repeat the process, but with a truck.
Lighter and Softer: The film is more adventurous and light-hearted than the previous Indiana Jones and the Temple of Doom.
The Load: Henry Jones, Sr. (usually)
MacGuffin Delivery Service: Double Subverted, when Indy literally hands Hitler the book explaining everything about the Holy Grail, its location, and how to retrieve it safely. Hitler has absolutely no idea of the book's significance, and mistakes Indy for an autograph hunter.
Meaningful Name: Colonel Vogel's name is German for bird. Fittingly, he gets thrown out of a zeppelin by Indy, and later goes off a cliff in his tank.
A Minor Kidroduction: Boy Scout Indiana in Utah, 1912. Then the film AgeCuts from River Phoenix to Harrison Ford, under the fedora hat.
The Mole:

Dr. Elsa Schneider and Walter Donovan

, who are actually working with the Nazis. Word of God is that

Donovan was a double mole and Elsa seems perfectly willing to be one as well once she's actually holding immortality.

Mondegreen: Indiana and Elsa during the boat chase
 Indy: Are you crazy?! Don't go between them.

Elsa: Go between them? Are you crazy?!
 Elsa: Is that what you think of me? I believe in the Grail, not the swastika!

Indiana: Yet you stood up to be counted with the enemy of everything the Grail stands for. Who gives a damn what you think?!
 Vogel: Tell me about this miserable little diary of yours. The book is useless and yet you come all the way back to Berlin to get it. Why? (slaps Henry with his glove) Why? (slap!) What are you hiding? (slap!) What does the diary tell you that it doesn't tell us?

(Henry catches Vogel's hand before he can slap him.)

Henry: It tells me that goose-stepping morons like yourself should try reading books instead of burning them!
 Henry: I find that if I just sit down to think...

(he sits down on a chair, which leans back and opens a stairwell which Indy falls into)

Indy: (yelling) Dad!

Henry: ...the solution presents itself!