Jurassic World: Dominion Dominates Fandom Wikis - The Loop
Play Sound

YMMV •

Radar

•

Quotes

• (
Funny •

Heartwarming •

Awesome) •
Fridge •

Characters •

Fanfic Recs •

Nightmare Fuel •
Shout Out

•

Plot

•

Tear Jerker •
Headscratchers •
Trivia • WMG •

Recap

•
Ho Yay

•
Image Links

•

Memes

•

Haiku • Laconic •
Source

•

Setting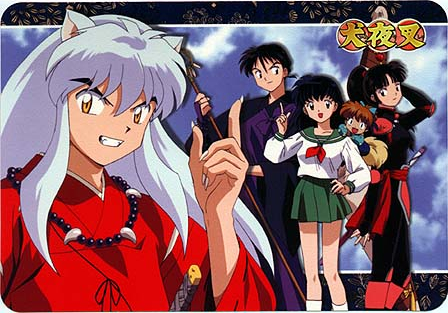 Inuyasha is an enormously popular Anime based upon the similarly popular Manga of the same name by Rumiko Takahashi. Seven seasons totaling 167 episodes were made and shown on Japanese television, with the series ending in September 2004 in Japan. Adult Swim aired the final episode of a very decent English-language dub in October 2006, and the series continues to air in the very early Sunday morning slot, where it has been airing continuously since the series' end (the only other show to have run longer on Adult Swim is Cowboy Bebop). Inu-Yasha and friends appear in the Massive Multiplayer Crossover game, Sunday VS Magazine Shuuketsu Choujou Daikessen.
Typical Japanese teenage Ordinary Middle School Student, Genki Girl Kagome, granddaughter of a Shinto priest, has the ability to climb down into an ancient well on the grounds of her grandfather's shrine and, in doing so, Time Travel to allegedly-feudal-Japan, except for the fact that demons, goblins, vengeful ghosts, malevolent wizard-priests, short-tempered twelve-foot-tall ogres, and all manner of other creepy-crawlies[1] are all over the place and you can barely swing your arms without hitting one of them. Another noteworthy difference from most anime is that almost all of the characters who are supposed to be Japanese humans are actually depicted with black hair. If you've seen just a bit of anime, you might recognize how unusual this is (other Hair Colors are much more common).
One of the first characters she meets is the titular Bishounen Inuyasha - an obnoxious, abrasive, arrogant half-demon teenage boy with long flowing white hair and super-cute doggy ears on top of his head; his father was apparently a dog-demon with a taste for human women. Inuyasha, needless to say, actually has a heart of gold, though he requires Kagome's insistance to do good deeds. You all knew that was coming, didn't you? Right? Right.
Oh, and did we mention that Kagome happens to be the Reincarnation of a girl named Kikyou? Who's the Miko that Inuyasha once loved 50 years in his past, who just happened to be the one who fired a sacred arrow which sealed him to the sacred tree, essentially killing him?
Kagome's arrival in the past is pivotal in that she is the one who releases Inuyasha from his "death" by pulling the arrow from his chest. Her connection with his past love allows her to perform this otherwise impossible feat.
In addition to the romance angle between Inuyasha and Kagome, there is an overarching plot about Kagome and her adventuring companions wandering pseudo-medieval-Japan in order to collect the pieces of the shattered Shikon no Tama/Jewel of Four Souls, but the overall structure of the show is very much episodic.
There is also the plot thread concerning the evil incarnate that is Naraku, a human-turned-demon that seeks the Shikon Jewel in order to taint it and become a full-fledged demon with powers far beyond anything any demon has ever known. Over the course of the series, Inuyasha and company confront Naraku several times, but each time he gets away, gaining more shards of the Jewel - and an extra power or two - in the process.
Naturally, Status Quo Is God (no matter how much it seems like things are building towards a resolution), and the anime was consequently Cut Short with no proper ending, due in large part to the anime actually catching up with the production of the manga (and thus running out of episodal stories to do). The remaining chapters of the manga that the anime didn't cover before its abrupt end were adapted into the 26-episode series Inuyasha: The Final Act, which picks up where the original anime left off and tells the remainder of the manga's story through to its conclusion.
Viz has posted a licensed subtitled version of Inuyasha online on Hulu. For those who can't wait for the dub of The Final Act, a sub for it is also available.
As of 2020, a TV series named Hanyou no Yashahime has begun. A sequel set some years in the future, it features the adventures of three half-demon young ladies: the twins Setsuna and Towa (daughters of Sesshoumaru and a currently unknown human lady) and Moroha (the daughter of Inuyasha and Kagome).
---
Inuyasha provides examples of
Tropes #-D
Miroku: Sango, would you consider bearing my..."
Sango: SPARE ME, WOULD YA?!
| | | |
| --- | --- | --- |
| | Kagome: If there's a person right there who I can save and I'm told she can only be saved by me, of course I'll choose to save her! | |
Tropes E-J
Earn Your Happy Ending: After everything the main characters went through, almost all of them got a happy ending. Miroku and Sango are Happily Married and have three kids; Shippo is learning to get better with his powers; Kohaku, accompanied by Kirara, is atoning by helping other people; Rin is staying with Kaede and is often visited by Sesshoumaru; and even though they were separated for three years, Kagome and Inuyasha are reunited at the end.
Eat Me: Naraku lets Moryomaru absorb him so he could get close to Akago and consume both of them from the inside.
Effeminate Misogynistic Guy: Jakotsu.
Eldritch Abomination: While Naraku likes to consider himself one,

Magatsuhi,

the composite youkai who killed Midoriko fits the bill.
Embarrassing Cover Up: Made by Kagome's grandfather.
Emotionless Girl: Kanna, at least before she dies.
Empathic Weapon: Several weapons in the series are this, most notably Tessaiga, Tenseiga and Hiraikotsu. Tokijin starts off as one, but its will is completely suppressed by Sesshoumaru's.
Episode Title Card: Always read aloud by Inuyasha himself.
Even Bad Men Love Their Mamas: Princess Abi joins Naraku to save her dying mother.

A female bone-youkai stole Sango's weapon to try and save her father.
While it's hard to tell how he and his mother feel about each other, a significant part of Sesshoumaru's character development involved getting over his daddy issues which required her help.

Even the Guys Want Him: Inuyasha not only is in the middle of a Love Triangle with Kagome and Kikyou, but Villainous Crossdresser Jakotsu is explicitly and obsessively in love with him. Jakotsu was also attracted to Sesshoumaru and Miroku, but concluded that he preferred Inuyasha.
Everyone Can See It: Everyone (heroes, villains and modern-day characters alike) can see Inuyasha and Kagome love each other. Everyone can also see Sango likes Miroku, except for Inuyasha.

Often gets exploited in Inuyasha and Kagome's case, as many villains use the former's fierce protectiveness of the latter to lure him into a trap, with Naraku being a prime culprit.

Everything's Worse with Bees: The Saimyoushou, the poisonous insects Naraku uses.
Evil Evolves: Naraku. Oh, Naraku.

Tessaiga, though just demonic and not technically evil, qualifies as well late in the series, absorbing power from the demons it slays.

Evil Plan: Each villain has one but its Naraku's that drive the plot.
Evil Weapon: Tokijin.
Eviler Than Thou: Moryomaru's a mean guy but he's just a thug compared to Naraku.
Excalibur in the Rust: In the hands of almost anyone except Inuyasha, Tessaiga looks like a katana that has seen better days. When Inuyasha wields it, the blade takes its true form.
Expy: Mostly of Ranma ½. Rumiko Takahashi herself admitted that the InuKag romance was supposed to be the Ranma/Akane romance as it should have been written. Sango resembles Ukyo Kuonji in terms of design and Miroku looks a lot like Shinnosuke (and like the young Luckyosai, Happosai's "old friend"). Also, Myoga resembles manga-Happosai in looks though not personality. And if you look at it the right way, Koga/Ryoga Hibiki.

Bonus points for the fact that Ranma and Inuyasha share voice actors in BOTH Japanese and English (Kappei Yamaguchi and Richard Ian Cox, though only for the latter half of Ranma in Richard's case), and Kelly Sheridan is the English voice for both Ukyo and Sango. Further, David Kaye voices both Soun and Sesshomaru, and Paul Dobson voiced both Happosai and Myoga.

Eye Scream: In the manga, Sesshoumaru stabs Inuyasha's right eye in order to get the black pearl that's hidden there, a portal to his father's grave.
Face Fault: Justified via phlebotinum: "SIT, BOY!".
Face Stealer: Muso.
The Fair Folk: The demons tend to be otherworldly and ruthless. Some are very ugly, others very beautiful. It's stated that the most powerful and dangerous ones are those that look like humans.
Family Theme Naming: The three named characters from the demon slayers' village — Sango, her younger brother Kohaku, and their pet Kirara — all have names referring to semi-precious stones (coral, amber and mica, respectively). Additionally, Kikyou and her younger sister Kaede both have names that begin with K and refer to plants (bellflower and maple).
Fan Service: Kagome does seem in many shots to be almost entirely made up of very shapely legs, though we never see up her skirt. Twice, Kagome's breasts were bared though this is edited for the American releases as is the short shot of Shippo disrobing for a dip in an onsen. Also, Sango's Taijiya uniform is very form fitting. All of the main girls have been subject to nude scenes shortly after their introduction. Kagura's top gets ripped off numerous times.
Fantastic Racism: Humans and demons don't get along very well, even when they aren't straight-up killing each other.
Fantastic Romance: Inuyasha and Kagome.
Fate Worse Than Death: Midoriko and Magatsuhi, having to battle each other forever inside the Shikon Jewel.
Feel No Pain: Yakurou Dokusen offers a "medicine" to Miroku so he'll stop feeling pain everytime he sucks poison into his curse but it won't cure the shouki wounds that are killing him. He takes it.

Shikon shards in the body will make it insensitive to pain no matter how severe the injuries are, which is how, for example, Sango manages to go toe-to-toe with Inuyasha in her first appearance despite being grievously injured.

Field Power Effect: The one night of the month half-demons lose their powers.
Final Battle: The series' final battle takes place when the Five-Man Band plus Sesshomaru's group go inside Naraku after he transforms into a giant, floating spider.
Fire-Forged Friends: The main group was formed because all the members (except Shippo) share a common goal, and at first they were hostile to each other. Inuyasha and Kagome are forced to work together to find the Shikon shards, they let Miroku join after learning they share a common enemy and Sango joins for the same reason. They warm up to each other and end up being best friends since they don't really have anyone else.
The First Cut Is the Deepest: Kikyo to Inuyasha
First Law of Resurrection:

Kikyo

, and arguably

Rin

. And definitely

Kohaku

First-Name Basis: Inuyasha starts to call Kagome by name after defeating Yura. Miroku jumps directly to first name basis with no honorifics with Sango, the only woman he addresses in such a fashion.

Averted by Sango, who never uses Miroku's name at all, always calling him "Houshi-sama" even after she's promised to marry him. (This and Miroku's use of yobisute mentioned above are distinctions not carried over into the English dub due to the difficulty of translating them effectively.)

Fish Out of Temporal Water: Both Kagome and Inuyasha.
Five-Man Band: The main group fit this pretty well:
Florence Nightingale Effect: How Onigumo falls in love with Kikyo.
Follow the Chaos: Naraku, along with his "stink", also tends to leave behind trails of dead bodies everywhere he goes
Foolish Sibling, Responsible Sibling: Plays with this. Kagome isn't flighty per se, but often forgets to bring her homework to class, only for Sota to pick up the slack. Then again, considering she's spending most of her time in the Feudal Era, she can hardly be blamed for losing focus on her supposed off days.
The Force Is Strong with This One: Most of the main characters are able to detect youki.
Foreshadowing: A brilliantly blatant yet easy-to-miss example occurs when Naraku manipulates Sango into stealing Tessaiga for him. He is able to hold it and briefly uses it against her. Amids the ensuing drama, the audience isn't likely to remember that said sword was suppossed to have a demon-repelling barrier around it that should've left a full demon like Naraku with some ugly burns on his hand... this is explained when we learn that Naraku isn't a full demon at all...

Another moment occurs as a result of the same incident. Sango tells Inuyasha's group that they can't trust her because, if Naraku attempts to use the same tactic on her in the future (making her choose between friends and a loved one), she'll make the same decision all over again. Right at the end of the manga, Naraku attempts what Sango feared and does indeed try to repeat the incident.

This time, it's a choice between Rin's life and Miroku's life and, as warned, Sango does indeed make the same decision again: attempting to kill Rin to save Miroku.

Another throwaway comment, this time by Totosai. When Inuyasha first masters the Kaze no Kizu while fighting Sesshomaru and it's revealed at the same time that Tenseiga has chosen Sesshomaru as its true master, Totosai mutters to himself "Whether Tenseiga lives or dies will depend on Sesshomaru's heart". It takes hindsight to show us just how significant that statement proved to be.

The Four Gods: a Quirky Miniboss Squad in one of the late filler arcs (first half of the anime's sixth season) is a squad of four Demon Ninjas based on them; Byakko of the Snow (Byakko the White Tiger), Genbu of the Darkness (Genbu the Black Turtle), Seiryuu of the Moon (Seiryuu the Azure Dragon), and Suzaku of the Flower (Suzaku the Vermillion Phoenix).

The villains of the the fourth movie, "Fire on the Mystic Island", are also based off of The Four Gods, though somewhat less blatantly than the aforementioned Demon Ninjas.

Free Sample Plot Coupon: Downplayed. Kagome already has the Shikon pearl inside her at the start of the series, but after some unsavory events it is fragmented into several pieces, scattered through Feudal Japan. Thus the objective is to retrieve them, and the first of them is held by a very powerful opponent, negating the trope entirely.
Fuel Meter of Power: The Wind Tunnel is constantly expanding (a process that is accelerated every time it's used and even more so if it's injured) until it's big enough to break the seal and kill Miroku.
Full-Frontal Assault: Muso, although it is toned down by Barbie Doll Anatomy. Moral Guardians, you know...
Future Spandex: Sango's fighting outfit includes this under her body armor.
Gatling Good: Renkotsu battles Inuyasha with a giant gatling gun that seems to fire mortar rounds or cannon balls.
Gentle Giant: Jinenji.
Get a Hold of Yourself, Man!: After Miroku hallucinates about the Wind Tunnel absorbing him, Inuyasha has to hit him to get him out of the shock.
Giggling Villain: Kukuku.
Go Out with a Smile: Several instances, most notably

Kagura

and

Kikyo

.
Good Is Not Nice: Inuyasha.
Good Parents: Mama Higurashi.
Good Scars, Evil Scars: Scars in the shape of a spider on one back mark incarnations of Naraku; it's a taint that he can't get away from because of the part of him that's Onigumo.
Good Thing You Can Heal: Inuyasha.
Guys Smash Girls Shoot: Inuyasha and Kagome. Inverted by Sango and Miroku.
Half-Human Hybrid: The title character.
Handicapped Badass: Sesshoumaru lost his left arm fighting Inuyasha in his first appearance. He still was one of the most powerful characters in the series. He even got his arm back towards the end in a Crowning Moment of Awesome.
Handsome Lech: Miroku
Harmful to Minors: Poor Shippo, Kohaku and Rin.
He Will Not Cry, So I Cry for Him:

Jaken does this for Sesshoumaru when Rin dies.

Head Pet: Inverted. When Shippo travels on Kirara, he usually does it on her head.
Healing Factor: Everyone with youkai blood. Sesshoumaru ups this to eleven later on in the series, however, which results in him being able to regenerate his missing left arm.
Healing Shiv: Sesshomaru's sword Tenseiga can revive the dead by cutting down the pallbearers of the afterlife as they come to collect the dead person's soul. However, as is eventually revealed under tragic circumstances, people can be revived in this manner only once.
Held Gaze: This type of gaze occurs a few times between several different pairs, including a moment between Sesshoumaru and Kagura. As her life ebbs away, they talk, run out of words, and finally hold each other's gaze as she distintegrates into the wind.
Hero Stole My Bike: Miroku stole Kagome's bike and the Shikon Shard she carried when they first met.
Heterosexual Life Partners: Kagome and Sango. Inuyasha and Miroku eventually become this too.
High on Catnip: In a filler episode, a villain incapacitates Kirara with catnip.
Hime Cut: Many, notably Kikyou and Sango.
Hoist by His Own Petard: Taigokumaru picks the wrong time to mouth off about his son Tsukuyomaru's death to Shiori, his granddaughter. Guess what happens.
Homage: Doesn't the whole plot around how only the "right" person can pull the sword Tessaiga from the place it stands remind alot of King Arthur?
Home, Sweet Home:

All the protagonists settle down in Kaede's village at the end.

Honor Before Reason: Inuyasha refuses to run away from a fight, even when he's human or seriously injured.
Horse of a Different Color: Kirara and Ah-Un.
Hot Amazon: Sango is wanted by both Miroku and Kuranosuke because of her beauty and her strength. Definitely Kagura's main appeal.
Hot Dad: Miroku, by the end of the series, with Sango as the (predictable) Hot Mom.

Judging by the flashbacks, Miroku's father wasn't so bad either.
Inupapa looks like Sesshomaru with a ponytail.
Shiori's dad, Tsukuyomaru is a Dark-Skinned Blond bishonen.

How Do I Shot Web?: It takes quite some time for Inuyasha to master the Wind Scar.
Human Shield: Naraku uses Rin as a shield while prompts Sango to kill him.
Hurting Hero: Kikyo, Sango, Miroku is the cheerful kind, Kohaku after he regains his memories and Inuyasha after some Character Development.
Hypocritical Humor: Miroku: "What a terrible guy, to trick girls with a fake medicine"
I Am a Humanitarian: Several Youkai feeds on humans/humans innards, but Tokajin the sennin takes the cake. Seriously toned down in the anime.
I Am Not Weasel:

In the episode "The Mysterious, Lecherous Monk" , Inuyasha and Miroku persist in referring to a weasel demon as a "raccoon dog" (tanuki) even when he tries to remind them that "I'm a weasel, dang it!" This despite the fact that one of Miroku's oldest friends (and frequent accomplices) is a tanuki, so you'd think he'd know the difference.
It's also a Running Gag that Shippo is constantly mistaken for a tanuki or a squirrel, leading to him saying "I'm a kitsune!" (i.e. a fox).
In one of the episodes with the Thunder Brothers, Shippo transforms into a bow. Kagome thinks he turned into a snail...

I Am Your Opponent: Used several times by Inuyasha and Sango; inverted by Naraku.
I Can Still Fight: Mainly Inuyasha and Sango.

Sesshoumaru, too,

at one point - although he manages to avoid these exact words, he still ends up in an argument with Inuyasha over whether he should be on the battlefield at all.

Actually, at least in Inuyasha's case, it's usually TRUE. Very rarely will he actually reach a point where he can't fight anymore. When this happens, he usually continues anyway via Deus Ex Machina demonic blood.

I Choose to Stay:

After finishing her education, Kagome opts to remain in the past with Inuyasha.

I Die Free: Kagura only desire is to be free but doesn't want to die to get it so she does everything in her power to get Naraku killed without him knowing. When she chooses Kohaku's life before her own and

gets impaled by Naraku for her troubles, she realizes that dying was the only way to be free. (Further confirmed by Byakuya who mentions that the detachments would die anyway when Naraku is killed).

I Have You Now, My Pretty: Mukotsu, on Kagome. Jakotsu, on Inuyasha.
I Have Your Wife: Naraku revived and brainwashed Kohaku just to mess with Sango.
I Just Want to Be Free: Kagura.
I Just Want to Be Normal: Kikyo.
I Know You Are in There Somewhere Fight: Basically every time Sango encounters brainwashed!Kohaku.
I Never Told You My Name: In the Hoshiyomi filler arc, demons manage to get a photo of three of Kagome's friends from her backpack, and use it to create puppets of them in order to trick Kagome and Hojo into handing over the magic blade that their master needs. Kagome is suspicious to begin with, but her suspicions are confirmed when one of the three calls her by her name - which she hadn't mentioned to them.
Informed Attribute: In the anime, Kagome and Kikyo don't look much alike at all, Kikyo having much paler skin and smaller eyes, just to mention a couple differences at a glance. Averted in the manga, where they do indeed look very similar.
Irony: Where do we even start?
I Shall Taunt You: Mouryoumaru tries to goad Inuyasha into getting so angry he does something stupid by insulting Kagura's death. To everyone's shock (including Mouryoumaru's) the one who flies into an Unstoppable Rage is actually Sesshoumaru instead.
I Take Offense to That Last One: Inuyasha called Miroku a "fake lechering monk" once. His response? "I may be a lecher, but how dare you call me a fake!"
I Want My Beloved to Be Happy: This is Miroku's reaction when Takeda proposes marriage to Sango, much to Kagome's frustration.
I Was Just Passing Through: Sesshoumaru's favorite excuse whenever he helps the heroes.
I Will Definitely Protect You: Inuyasha to Kagome: "Shut up! I'm saying I'll protect you!"
Identity Amnesia: Kohaku.
If I Can't Have You: Naraku with Kikyou.

He tricks Kikyou and Inuyasha into betraying each other, in hopes that he might be able to whisk the girl away after she's killed her former lover, but to much of his dismay she decides to choose death. Then when she's resurrected, he tries to kill her over and over again until he finally succeeds. He even wanted her to die in his arms, hoping that Inuyasha would be too late.

Impaled with Extreme Prejudice: Happens several times in the manga, bad guys impaling good guys, good guys impaling bad guys. Brothers impaling each other. One of the most dramatic occurances, however, takes place in the latter stages of the manga when Magatsuhi impales Sesshoumaru through the heart, bringing the entire cast to a shocked, disbelieving stand-still.
Implied Love Interest: Sesshoumaru and Kagura, whose feeling are never specifically confirmed but whose significance to one another is clear in the later parts of the storyline (and helpfully spotlighted by Rin).
Impossibly Cool Clothes: The demon slayers' uniforms, not to mention Inuyasha's fire rat kimono.
In the Past Everyone Will Be Famous: Subverted. When Inuyasha and Kagome meet a young samurai named Nobunaga, she immediately asks for his autograph excited to be meeting the famous Oda Nobunaga. It turns out he's Amari Nobunaga and is offended to be mistaken for that "idiot".
Incendiary Exponent: The first time Inuyasha turns into a human, he ends up having to fight a spider demon. So he pulls up a bunch of wooden grave markers amidst cries of blasphemy, sets them on fire, and then uses them as flaming javelins.
Infinity+1 Sword: By the end of the series, Tessaiga can generate huge energy blasts, reflect incoming energy attacks, launch a spray of adamantine spikes, cut through energy barriers, siphon demonic energy, and CREATE DIMENSIONAL PORTALS TO THE UNDERWORLD.
Interrupted Suicide: Inuyasha arrives just in the nick of time to stop Sango from killing her brother and committing suicide.
Interspecies Romance: Inuyasha, Shiori and Jinenji all have human mothers and Youkai fathers.
Intoxication Ensues: Inuyasha: "I ain't drunk. And why are there two Kagomes?" On another occasion he ends following a butterfly and falling off a cliff.
Involuntary Shapeshifting: Inuyasha turns human during the night of the new moon. He also transforms into full youkai when in danger (and not having Tessaiga near to seal his blood) and when a very corrupt Shikon shard is nearby (and not having Kagome near to purify him).
It Only Works Once: Tenseiga can revive the dead, but only once. A second revival requires a trip to hell and a Did You Just Punch Out Cthulhu?, and that likewise will only work the one time.
It Was with You All Along: Toutousai explains that

Bakusaiga was this to Sesshoumaru.

It's Personal: Everyone wants revenge against Naraku.
Jerkass: Naraku, big time! There is a very good reason why almost nobody in the series can stand him, namely that he manipulates and torments almost everyone of them for his own twisted amusement. It becomes even more obvious after he

becomes all-demon

, after which he ditches his Faux Affably Evil persona in favour of being a Smug Super.

He's the biggest example, but he's far from the only one. Taigokumaru, Tokajin, Hiten and Manten (except towards each other), the Band of Seven (especially Renkotsu), Goshinki, the Infant and Hakudoshi all definitely count as well, as well as Inuyasha (pre-Character Development) and Sesshomaru (pre-Character Development).
Jaken is a more subtle example, since no-one takes him seriously, but he really doesn't give a damn about anyone except himself and Sesshomaru and is highly rude and condescending towards everyone else even though he really doesn't have much to brag about. And unlike Sesshomaru, he never does anything heroic (protecting Rin) without an ulterior motive (Sesshomaru will kill him if she dies).

Jerk with a Heart of Gold: Inuyasha, Sesshomaru, Koga, Totosai and Myoga.
Jidai Geki: The story (while not in the present) takes place during the Sengoku Jidai.
Joker Immunity: Naraku in the anime.
Joshikousei: Kagome
Journey to the West: A Shout-Out only found in the anime version is the appearance of a Boar Demon named Chokyukai, who claims to be a descendent of Chohakkai, aka "Disciple Pigsy". He also has a monkey and a scrawny kappa as his slaves, and claims that they are descendents of Shagoyjo (aka "Disciple Sandy") and Son Goku (aka "Monkey", aka "Sun Wukong"). Kagome has to explain to Inuyasha and co. that Chokyukai is talking about the famous tale of a Monk who travelled to India alongside a pig demon, a water demon, and a rebellious monkey god to retrieve sacred sutras.

The main characters mirror the Journey's main characters to some extent. Inuyasha just like Goku is bad tempered, is set free from a long curse at the beginning, has an elongable weapon, has animal traits and is subdued by a talisman which is under control of the person he's protecting. Kagome, like Tripitaka, is on a quest for a sacred item, is the reincarnation of a noble soul of the past, is the preferred target of demons and is helpless compared to most other characters. Miroku and Sango have some traits in common with Pigsy and Sandy respectively.

Just a Kid: Lord Kagewaki: "The most skilled [slayers]? But I see here before me a young girl, and you even brought a small child".
Just Following Orders: Byakuya's excuse to Sesshoumaru when he interferes with Sesshoumaru's pursuit of Mouryoumaru is, "don't hate me, I'm just doing my job".
Tropes K-O
| | | |
| --- | --- | --- |
| | Kikyo: We are the same. But there need only be one of us. | |
Naraku is intent on killing Inuyasha. Although he also is intent on killing the other cathetus.

Nakama: Our Five-Man Band.
Naked First Impression: Miroku to Kagome (she didn't see him).
Naked on Arrival: Kikyou was resurrected naked.
Never Trust a Hair Tonic: Two demon brothers kidnap Kagome. She thinks they simply want to eat her, but it turns out one of them is severely balding and embarrassed about it, and he has heard you can get a hair growth potion by boiling down a human maiden. At hearing this, Kagome angrily insists they eat her instead.
Nice Girl: Kagome, full stop.
Nice Job Breaking It, Hero: Literally for Kagome. She managed to kill the youkai that had stolen the Shikon no Tama but in the process also broke the jewel, putting into motion the plot of the story.
Nigh Invulnerability: Naraku in many different ways depending on his current body.
No Cure for Evil: Sesshoumaru, courtesy of Tenseiga, at least until he receives Character Development.

Averted with Kikyou, who spent much of the manga as an evil mockery of her former gentle self while continuing to retain her healing abilities and her desire to heal. Eventually, her kind nature was saved and restored.

No One Could Survive That: That's why Sango was Buried Alive. Later on, Magatsuhi succeeds in impaling Sesshoumaru through the heart and then bundles the limp body into his own ready for Naraku to absorb later. He survives.
No Ontological Inertia: The only way for Miroku to free himself from the Wind Tunnel is to kill Naraku, the one who placed the curse on his grandfather.
No Social Skills: Inuyasha.
Noble Demon: Inu-no-Taisho was probably one. Sesshoumaru's mother might also be one, but her single appearance leaves it difficult to tell: although she participates in Inu-no-Taisho's plan to teach Sesshoumaru compassion, interpretations vary as to whether or not she demonstrates a Lack of Empathy. Character Development eventually lands Sesshoumaru in this category; other examples include Totosai, Housenki, and the fathers of Jinenji and Shiori.

As a rule, if you have a half-demon child, you are probably a Noble Demon.

Non-Human Sidekick: Kirara.
Normally I Would Be Dead Now: Sango. Also, Kagura who gets blasted through the heart and only survives because Naraku had confiscated her heart.
Not Brainwashed: After Kohaku regains his memories, he decides to act like he's still under Naraku's control to be near him and find a way to kill him.
Not Quite Dead: Kikyo quite a few times. She seems to be prone to falling off cliffs.
Not-So-Harmless Villain: Subverted by Koryu, The Dragon (literally) of episode 68. Normally, he's a tiny red dragon, to the point of being mistaken for a flying snake by Kagome. However, hitting his head three times causes him to turn into a lightning cloud that fires energy arrows.... that, as it turns out, are extremely weak and can't even harm a human.
Not What It Looks Like: When Inuyasha refuses to let Kagome check on his injuries after their battle with Yura of the Hair, she tries to tear off his shirt in order to check for any serious damage. When Kaede and some of the children from the village bump into the two, they think they're doing....something else.
Now or Never Kiss: The reason why Sango kissed Miroku. Unfortunately for him, he was unconscious.
Nun-Too-Holy: Miroku is a Buddhist monk... who chases after women, has tried to peep on women bathing at least once, is willing to use violence to make others agree with him (he's beaten up the Tanuki Hatchi at least once, and then threatened to use the Wind Tunnel on him a different time) and is quite willing to fake exorcisms in order to get food, money, lodgings or any combination of the aforemention. Of course, this kind of plays on real-world stereotypes of actual monkish behavior from that time period.
Obfuscating Stupidity: Totosai.
Ocular Gushers: Kagome's grandfather, particularly.
Oddly Visible Eyebrows: Everyone, but especially Inuyasha.
Offing the Offspring:

Naraku.

Oh Crap: Naraku has several, like when Kagome blew up his body realizing she's Kikyo's reincarnation or when Kohaku tried to purify him with the light in his shard. In those instances he's always quick to run. His servants likewise get more than a few, especially Byakuya who thought he could handle

Sesshoumaru with an army of a few thousand youkai to back him up.

He was wrong.
Old Retainer: Myoga and Jaken.
"On the Next Episode of..." Catchphrase: Kagome's 'See ya soon!'
One-Man Army: Despite the back-up his friends give him, Inuyasha is more than capable of this. His sword can slay a hundred youkai with a single swing... and that's its weakest ability. Then there's Miroku, who can take out many youkai with his Wind Tunnel (when he's allowed to use it).

And Sesshoumaru's final sword, the Bakusaiga, can slay thousands of youkai with a single swing.

The One That Got Away: Debatably Sesshomaru and Kagura, sounds like a classic case of losing the one you love before getting a chance to tell them how you feel.
One-Winged Angel: Naraku has 5 of them in the final battle.
Only Six Faces: It's not as obvious as, say, Ranma ½, but there are a lot of characters with the same faces as each other.
Only the Chosen May Wield: Tessaiga can only be wielded by Inuyasha. Tenseiga can only be wielded by Sesshoumaru.
Open-Minded Parent: Nobody in her family minds that Kagome is gone for days or weeks at a time adventuring in a past era full of Youkai and missing a lot of school to do it, or that she's falling for a guy who's only half human; on the contrary, they cheerfully make up excuses for her to explain her absences.
Opposites Attract: Kagome and Inuyasha. She's polite, calm, fights with a bow and has Chronic Hero Syndrome, while he's rude, short-tempered, fights with a sword and has Bystander Syndrome.
Ordinary High School Student: Kagome
Ornamental Weapon: Kouga carries a sword he never uses. He even admitted he just had it for decoration after having to use it to free himself from Moryomaru.
Our Dragons Are Different: Ah-Un is a kind, loyal, two-headed dragon-horse that travels with Sesshoumaru. In the anime, he's also made herbivorous.

Ryoukotsusei is a giant elder Dragon whose Nigh Invulnerable and speaks through what looks like a Noh mask in the middle of his forehead. Inuyasha's father is fatally wounded fighting and sealing him.

Our Time Travel Is Different: Wormhole Time Travel through the well.
Our Zombies Are Different Type R: Kikyo, Kohaku and the Band of Seven.
Out, Damned Spot!: Inuyasha, and later Suikotsu (the good one).
Outdoor Bath Peeping: With Miroku around, it was inevitable.
Overtook the Manga: The first anime ended without any resolution when it overtook the manga. After the manga ended, a second anime Inuyasha: The Final Act was made and continued the story from where the first one left off.
Tropes P-T
 Naraku: Blah, blah, blah your soul will be corrupted. Blah, blah, blah."

Kagome: You are rather talkative!
 Naraku: "If you kill me, my shouki-stained body will rain upon the village"

Sesshoumaru: "So what?" Bakusaiga!
 Kaede: "Little youkai, will you be staying here too?"

Jaken: "That's Jaken-sama to you!"

Rin: "You sure talk big..."

Sango: "... for such a little body."
 Magatsuhi: "Hmpf. It seems that you've put on quite a show for me. However, this is still a borrowed body. I feel neither pain nor..."

Slice.
 Byakuya summons a swarm of demons

Sesshomaru: "You can't stop me with dozens of these demons"

Byakuya: "Oh, I know that. That's why I've summoned thousands of them"

Sesshomaru easily tears them apart

Byakuya: "Maybe I should have gone for millions..."
Tropes U-Z
And her mom follows suit in the same book. "Are these... real?" (tweak tweak)

Jakotsu prefers human Inuyasha, but he does want to keep his dog ears as a trophy.
The twins love them too.

Unwanted Revival: Kikyo. She had chosen to die to follow Inuyasha and to take the Shikon Jewel with her to the afterlife, but things didn't quite go her way. She was not only reincarnated (along with the Shikon Jewel) but she was revived into a clay body.
Urban Fantasy: When the stories are set in the present.
Urban Legend Love Life: Miroku.
Van Helsing Hate Crimes: The series plays on this occasionally; all humans fear youkai and hanyo, but not all youkai and hanyo want to hurt humans. This trope is even inverted with a villain who is convinced that all humans want to hurt demons.

One example is the "Spider-Head" arc, where the girl Nazuna exhibits considerable prejudice towards Inuyasha and Shippo, despite Inuyasha having saved her from a fall, though she realizes and accepts that not all youkai are bad by the end.
Then there's Jinenji, a Gentle Giant hanyo who is constantly bullied for being a hanyo. When people in his village are discovered eaten, he is immediately the prime suspect to their eyes, and the true culprit, a nest of insect demons, is only revealed to the villagers after said villagers form an angry mob and burn Jinenji's house to the ground. Having realized their error by the end, the villagers help Jinenji and his mother rebuild their hut as an apology. Of course, it helps that Jinenji gave them herbs to treat their wounds first.
In another episode, they meet a morally gray demon hunter who condemns Rin and the humans in Inuyasha's group for even associating with demons/youkai and half-demons/hanyou, going so far as to brand Kagome, Sango, and Miroku hypocrites for doing so. Unlike Nazuna and the people in Jinenji's village, he doesn't learn any lesson by the end.
Even the young hanyou-girl Shiori was badly treated and marginalized by the other villagers. Even the children threw her to the ground and beat her up.

Victim of the Week: As with other fantasy stories, the main purpose of the villagers are to be either held hostage or brutally killed ten ways to Tuesday in order for the heroes to know just how bad the Monster of the Week is.
Victor Gains Loser's Powers: Tessaiga works like this. Any time Tessaiga slays a powerful demon it acquires a new ability.
Viewers Are Goldfish: The recaps can get pretty ridiculous. The Japanese version also reminds you who every single character outside of the Five-Man Band is, every episode, by showing their name over the entire lower half of the screen.

Even the Five-Man Band wasn't immune to this, with their names being verbally announced along with onscreen captions during the opening credits.

Villain Exit Stage Left: Naraku.
Villain Team-Up: Naraku and Sesshoumaru.
Villains Act, Heroes React: Constantly. Inuyasha's group are always a step behind Naraku and persistently keep falling into his traps rather then plan out anything ahead of time.
Villainous Crossdresser: Jakotsu. He gets Character Development and becomes more Affably Evil, getting an Alas, Poor Villain death.
Violently Protective Girlfriend: Both inverted and played straight. If you hurt or threaten either Inuyasha or Kagome, the other will make you pay.

To elaborate, Kagome blasts Naraku apart just because he made fun of Inuyasha. She threatens the Peachman so much so that even Miroku and Shippou are amazed. Plus she blasts Kikyo's souls out of her TWICE for trying to kill him while she was in her Yandere days. She even shoots at Sesshoumaru and threatens him twice. Where would Inuyasha be without his girlfriend to protect him?

Vitriolic Best Buds: Inuyasha and Shippo. Sometimes, Inuyasha and Miroku too.

Let's not forget Inuyasha and Kouga.

Voluntary Shapeshifting: Shippo, Hachi and Naraku.
Walking the Earth: The Inu-tachi and their quest. Sesshoumaru as well.
Warring Natures: Inuyasha and every other hanyou.
Warrior Therapist: Shishinki plays the role of the evil version of this trope.
Weapon Tombstone: The demon slayers tombs are marked like this.
Weapons That Suck: Miroku's Wind Tunnel.
Welcome Back, Traitor: The group forgives Sango quite easily for betraying them (and almost getting everyone killed, herself included), after Naraku forces her to choose between doing what he says (steal Inuyasha's sword and give it to him) or letting a loved one (Kohaku) die. Even when she warns them she will do it again, they still forgive her.

During the final battle, Naraku makes

Sango face exactly the same choice again: do as he says (kill him by killing Rin) or let a loved one die (Miroku this time). She fulfills her earlier warning by making the exact same decision. Although Sango gives her life to Sesshoumaru in compensation for trying to kill Rin, he seems to forgive her as easily as Inuyasha did, albeit with far less fuss.

What Kind of Lame Power Is Heart, Anyway?: It's eventually explained that the reason that Midoriko, the Miko sealed in the Shikon Jewel, was so powerful was because her heart bore each of the "four souls": Aramitama, Nigimitama, Kushimitaka, and Sakamitama. That is, Courage, Friendship, Wisdom and Love. An anime Villain of the Week reveals to Inuyasha and friends that other Shikon Jewels can be made if you can find four souls that strongly embody each of these four characteristics and seal them into a single gem with a Miko as the center. In fact, he attempts to defeat the group because Kagome (the Miko), Inuyasha (Courage), Shippo (Friendship), Miroku (Wisdom) and Sango (Love) are pefect candidates for this process.

A more canon example, this is the lesson Sesshoumaru's entire journey through the manga leads him to learn.

What You Are in the Dark: During Kagome's vision at the end of volume 46 she has to choose whether or not to save Kikyo. The Spirit Advisor points out that Inuyasha would never know if she decided to let Kikyo die. Kagome tells the fake Kikyo off and realizes that she has nothing to be jealous over.
When All You Have Is a Hammer: Wind Scar. Doubles as The Worf Barrage
When She Smiles: Who could forget the adorable smile that little Rin bestowed upon stoic Sesshomaru in episode 35 of the anime?

More tragic examples:

Kagura's dying

smile which stayed with Sesshomaru, sparking a more selfless compassion and

Kikyo's dying

smile at Inuyasha.
Subverted by Kagome, whose smile when she's trying to pretend nothing's wrong is apparently terrifying to her friends on both sides of the temporal divide.

Where It All Began:

Naraku and the Shikon no Tama are destroyed at the Well that brought Kagome to the past at the beginning.

Whip Sword: Jakotsu's sword.
White-Haired Pretty Boy: Two of them, Sesshomaru and Inuyasha, but Inuyasha is a subversion.

And Hakudoushi (White Child) is the shota version.

Will They or Won't They?: Inuyasha/Kagome and, in a lesser extent, Miroku/Sango. They Do, in both cases.
With Great Power Comes Great Insanity: When Inuyasha transforms into a full demon he gets incredible strength and resistance, but it's too much power for his half-human body to handle and he'll start to lose his sanity with each transformation until he'll end up being a mindless killing machine that will keep fighting until he destroys everyone around him or gets himself killed.
Wolverine Claws: Suikotsu's weapons of choice.
Womb Level: The Final Battle happens inside Naraku's body.
The Worf Effect: Sesshoumaru is the favored "test target" for Naraku's new abilities/henchmen.
Would Hit a Girl: Inuyasha impaled Yura through her chest with his hand, Kouga hit Kagura in the face and Miroku punched Sango (and other girls) to free her from a youkai in her stomach possesing her.
Would Hurt a Child: Naraku has no compunctions about doing any horrible thing to anyone, children included. Various other youkai such as Goshinki share his willingness to harm kids; even Kouga has no issue with letting his wolves kill Rin during his first appearance (although his personality is considerably softened thereafter). Kagura may be a notable exception, given that she fails to do anything more serious than kidnapping Rin, and becomes quite protective of Kohaku. Thanks to a multiple personality disorder, Suikotsu flipped between being a gentle doctor who wouldn't hurt a fly to a homicidal maniac that was willing to include children in his body count.
Wrecked Weapon: Goshinki broke Tessaiga, breaking with it the seal on Inuyasha's youkai blood.

To save Miroku, Sango sacrificed Hiraikotsu spreading in it a very corrosive poison that succeeded in destroying the youkai they were fighting, dissolving the huge boomerang as well.
On the other hand, Sesshoumaru didn't give a damn when Tokijin broke.
Honouring a promise to Inuyasha, Sesshoumaru sacrifices his claim to both swords by deliberately shattering Tenseiga's blade against Tessaiga to pass on Meidou Zangetsuha. The broken Tenseiga responds to this by guiding the pair out of the danger they're in and promptly reforges itself. Sesshoumaru can't get rid of this blade even when he tries.

Yamato Nadeshiko: Sango looks and acts the part... and that doesn't stop her from being an effective Action Girl, since her family's tradition is demon slaying. Also, Kikyou was quite the Yamato Nadeshiko Miko before her death.
Yandere: Naraku/Onigumo, the original evil spirit of the Shikon no Tama, and, of course, Jakotsu.
Ye Olde Butcherede Englishe: Attempted with Kaede and the villagers in the early episodes of the dub, to fantastically Narmy results. Later on they just stopped trying.
You Are Not Alone: After failing miserably at defeating Naraku and saving her brother plus having just betrayed her new companions, Sango tries to leave the group but the others don't let her telling her that being alone is not a solution and it's best if they all stay together.
| | | |
| --- | --- | --- |
| |  Sango: "I was really scared... I was scared that I'd be alone" | |
↑ significantly, this is one of the few Japanese fantasy anime that isn't set in a pseudo-medieval-European fantasy world; just about everything in it is based on Japanese myths and legends, and that alone makes it worth your time to look for