Jurassic World: Dominion Dominates Fandom Wikis - The Loop
Play Sound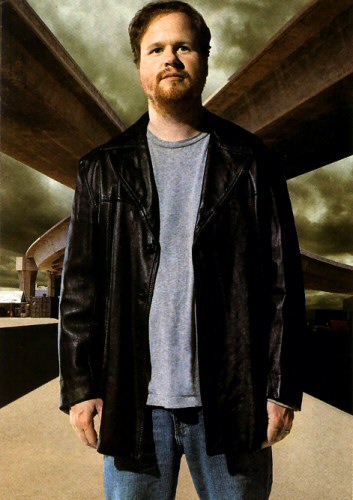 Joss Whedon you Bastard!
Joseph Hill Whedon (born 1964) is a scriptwriter, director, cameo actor, television producer through his famed Mutant Enemy production company, Comic Book author, and as of the live movie-theater broadcast of This American Life a singer. Joss comes from a family of talented writers, and is one of the first third-generation television writers.
Best-known for Buffy the Vampire Slayer, Angel, Dollhouse, the famously-canceled cult hit Firefly and its motion picture, Serenity, Doctor Horribles Sing Along Blog and most recently, The Avengers.
Whedon's characters and scripts are famous among his fans for containing a dry, caustic wit. He can be counted on to do something completely unexpected in every new series. In Buffy, he listed a regular guest-star in the opening credits for the first time — only to kill her off in that very episode. He also gets a lot of praise from feminists for his strong female characters.
Whedon delights in defying the audience's expectations. for example, rather than killing a major character, he'll kill off a lesser-known but much more endearing character. In the DVD commentary for Serenity, Whedon explains that he likes doing such things because people expect the hero to die or be horribly injured at some point during the production — but they don't expect the minor characters to die, so the impact is much greater. Unfortunately, at this point he's done this so often that nobody expects the characters they like to live.
Not to be confused with Joss Stone.
---
List of Works
Films written:
Speed (script doctored by Whedon; Graham Yost, the only credited writer, has said most of the film's dialogue is Whedon's. Which makes sense, because the lines in the film carry the trademark sarcastic humor that Whedon later became famous for.)
Waterworld (script doctored by)
Twister (script doctored by)
Alien: Resurrection (apparently the experience was so bad that he sheds tears when asked about it - apparently due to the script being written as a camp parody, but treated as a genuine horror/action film.)
Titan A.E. (most of it)
Atlantis: The Lost Empire (early scripting, some work on later drafts)
X-Men 1 (one of five uncredited writers; only two bits of dialogue are actually his, only one of which was done the way he intended. The storyline for X Men the Last Stand also adapted several elements and plot points from his run on Astonishing X Men)
The Cabin in the Woods (with Drew Goddard)
Captain America the First Avenger (One of four credited writers, his main role being to make connections to his other film and help find the character's voice)
A new adaptation of Much Ado About Nothing that he apparently made at his house just recently in the midst of shooting The Avengers.
Films directed:
Films Produced:
Television Work:
As Creator/Executive Producer/Director
As Actor

Veronica Mars (Douglas the car rental office boss in "Rat Saw God")
Comics written:
One warning - when approaching his work, whatever the medium, expect angst. Lots and lots of angst. Even when it's a really, really bad idea. And even after, or in the midst of, a previously comic storyline or situation. And don't get attached to anyone, because they're going to die in the name of "dramatic value". But only if the network doesn't do it first.
Also, be prepared for more tropes than you can shake a stick at.
---
This director's work contains examples of:
 IGNFF: Is the presentation ever going to make it to DVD?

Whedon: Not while there is strength in these bones.

IGNFF: Well, I mean, it's one of the most heavily bootlegged things on the Internet.

Whedon: Yeah. It sucks on ass.

IGNFF: Yeah, it does, but it's sort of that archival, historical perspective...

Whedon: Yeah, I've got your historical perspective.
Joss Whedon himself is an example of:
Family Business: Members of the Whedon family have been writing for television practically since the medium's inception, and then, of course, there are his brothers.
Phrase Catcher: Joss Whedon, you Bastard!
↑ Well, first he'll make them, then he'll kill them.