Doctor Strange in The Multiverse o Madness - The Loop
Play Sound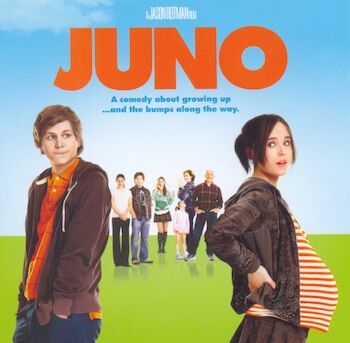 Juno is a 2007 Independent comedy film. It stars Elliot Page and Michael Cera and was directed by Jason Reitman with the screenplay written by Diablo Cody. It was nominated for four Academy Awards; it won for Original Screenplay.
After having sex with her friend Paulie Bleeker, sixteen year old Juno MacGuff finds out that she is pregnant. While confronting her parents, and trying to find a solution to her problem, Juno decides to give her baby up for adoption. Looking in the local newspaper, she finds a couple whom she deems to be the perfect parents. Upon meeting them, though they look like they have a rather nice and almost perfect life, she sees the couple may not have it all together. This causes Juno to re-examine the relationships in her own life, and wonder if any kind of love can really last a lifetime.
Tropes used in Juno include:
Adorkable: Paulie Bleeker.
Alcohol Is Poison: When she first meets the adoptive parents, 16-year-old Juno asks for a Maker's Mark to drink.
| | | |
| --- | --- | --- |
| |   "She's kidding. June-bug has a wonderful sense of humor--just one of her many genetic gifts." | |
To be fair, she was a pregnant sixteen year old.

All Guys Want Cheerleaders: References the trope, but subverts it (Popular Guy seems to find Juno more attractive even if he chooses to date the cheerleader types).
Ambiguously Jewish: A poster of the Hebrew alphabet on Paulie's wall is the only clue.

Jason Reitman points out a Bar Mitzvah certificate on it in the commentary.

An Aesop: Thankfully, it's not "Don't get pregnant as a teenager". It's more along the lines of "A true love will stick with you no matter what happens...even if you have to go through the drama of getting pregnant as a teenager".
Artistic License Biology: Fetuses wouldn't have fingernails that early in the pregnancy. Somewhat Justified since Juno and her friends aren't really the type to research that kind of thing, they took the words of a protester (who, let's face it, was not that smart: "all babies want to get borned" anyone?) at face value and ran with it.
Book Ends: It began and ended with a chair.
Buffy-Speak and/or Totally Radical: Much of the dialogue in the movie. "Honest to blog" is the most infamous line.
Completely Missing the Point: As Juno is telling her parents that she is pregnant:
 Mac: Who is the kid?

Juno: The-the baby? I don't really know much about it other than, I mean, it has fingernails, allegedly.

Bren: Nails, really?

Juno: Yeah!

Mac: No, I mean, who's the father, Juno?
Dating What Daddy Hates: Surprisingly averted. Though he's understandably annoyed that he got her pregnant, Juno's dad doesn't seem to have any real qualms about Juno dating Paulie. If anything, he seems impressed that Paulie was virile enough to get anyone pregnant, though he does still say he wants to punch him "in the wiener" next time he sees him.

On the other hand Paulie's mother doesn't like Juno.
| | | |
| --- | --- | --- |
| |   "She's just... different." | |
 [[spoiler:Bren: What is your job title exactly?

Nurse: I'm an ultrasound technician, ma'am.

Bren: Well, I'm a nail technician and I think we both ought to just stick to what we know.

Nurse: Excuse me?

Bren: Oh, you think you're so special because you get to play Picture Pages up there? Well, my five year old daughter could do that and let me tell you, she's not the brightest bulb in the tanning bed. So why don't you go back to night school in Mantino and learn a real trade?

(Technician shuts up and leaves)]]